Asian Zucchini Chicken Salad – served cold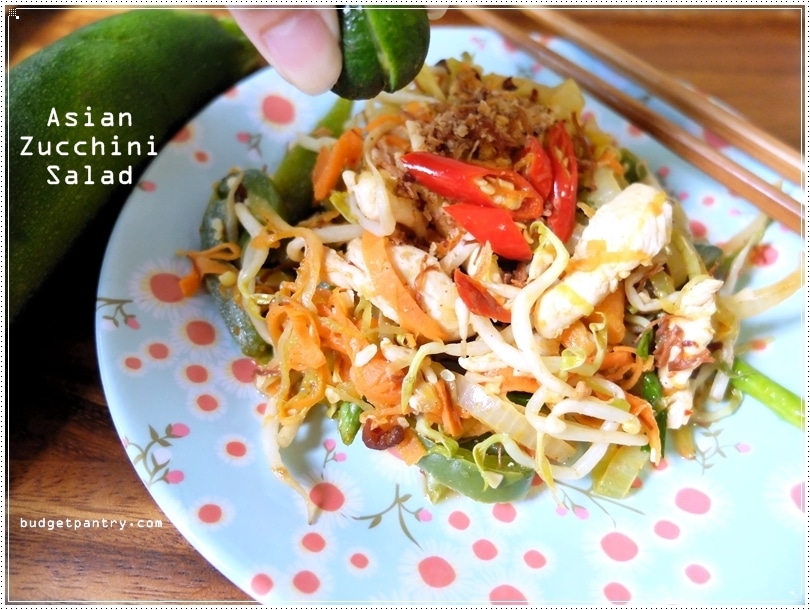 I have to confess that this was dish was initially a flop! I realised my experimental Stir Fried Zoodles wasn't going to work, so halfway through cooking, I quickly decided to transform it into a cold zucchini salad served with a squeeze of lime. Worked beautifully!
My intention was to replace egg noodles with zucchini ribbons since I'm trying to be as low carb as possible. It seemed like a great idea, but as I added more and more ingredients in the wok (chicken, bean sprouts, carrots, bell peppers, onions) and as the zucchini started to give out water, I figured stir fried soggy zoodles doesn't seem that sexy after all.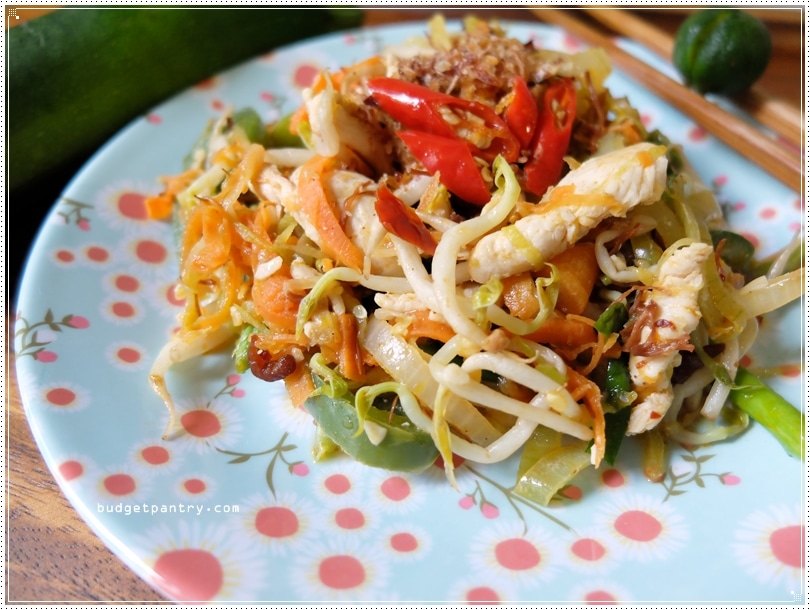 I switched off the flame and got rid of the excess water. By then, I had already seasoned the vegetables. No biggie, I was going to give these crunchy vegetables a new lease of life. Instead of stir fried noodles, they're going to be a cold salad! Chill in the fridge and sprinkle a little sugar (and crushed peanut, if you have it!) on top, then finish off with a gentle squeeze of lime. The husband loved this "refreshing salad" (his words, not mine) but I highly doubt he would say the same if I had fed him this salad's past life.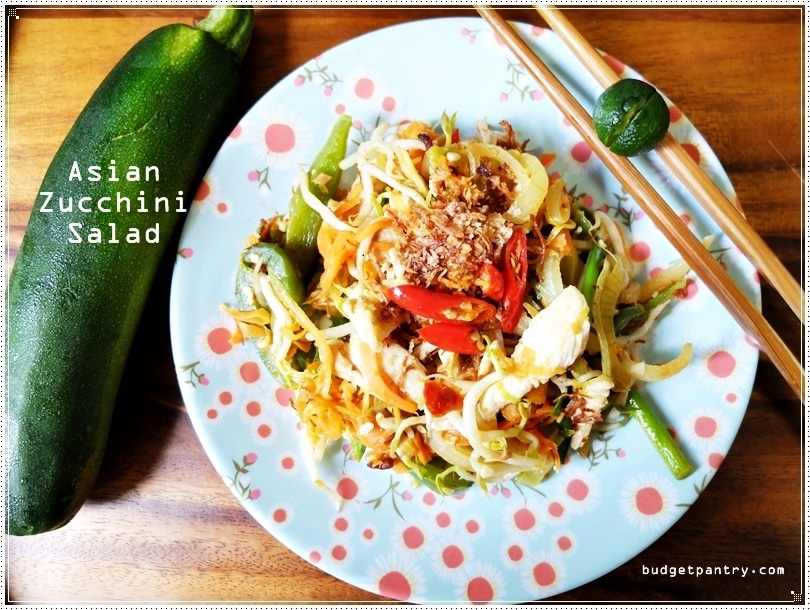 To make zucchini ribbons, I used this spiral cutter that I got from ToTT some time back. It cost about $25 and can be used to make ribbons out of carrots and radishes too.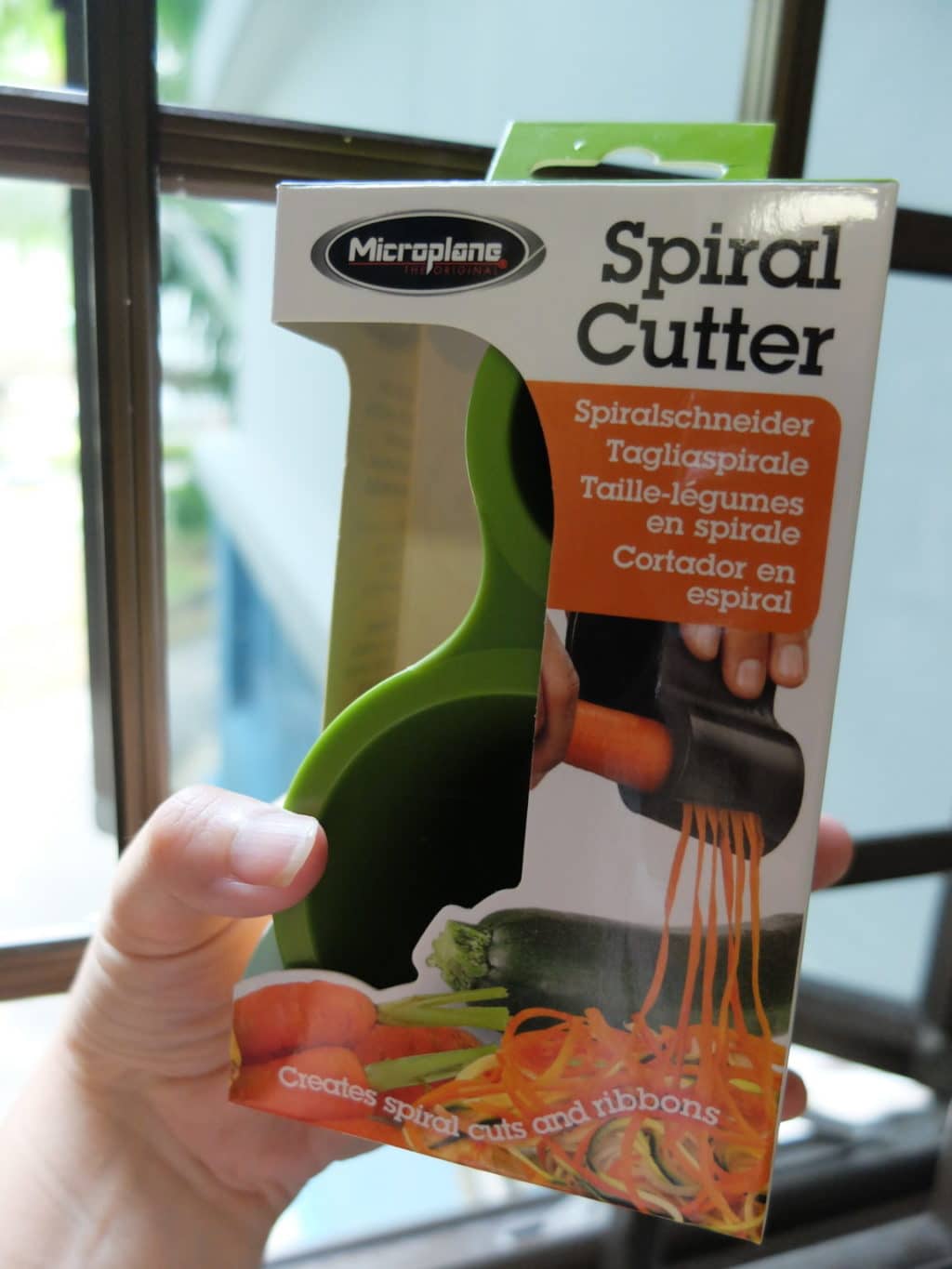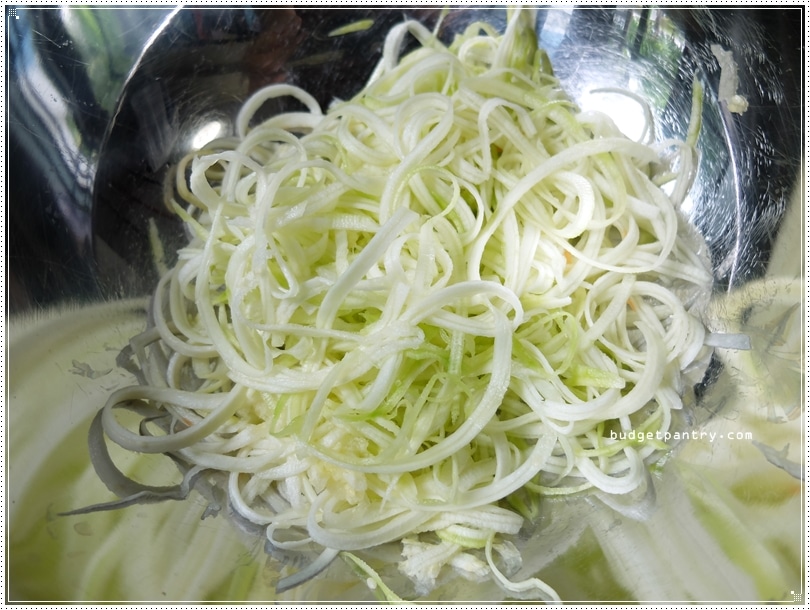 The gadget is fun to have but cleaning is quite a pain. I also didn't like it that it could be stained by coloured vegetables, like carrots. If there's a good brand of spiral cutter that you're using, please buzz me!
This cold salad will be great as an appetizer or as part of a bento box. I can imagine serving it with a lunchbox of rice and teriyaki chicken or salmon. So when you make a mistake in your kitchen, don't throw out that dish! Create something new with it. The results might surprise you!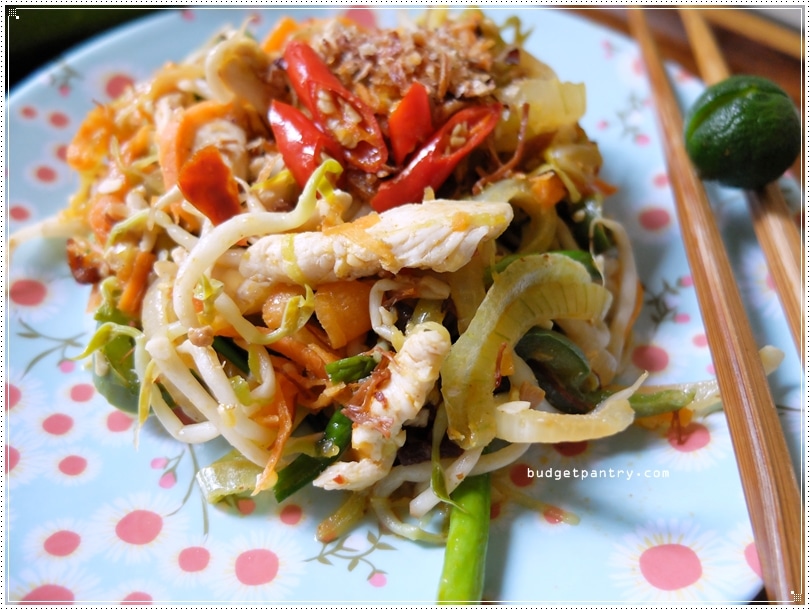 Asian Zucchini Salad – served cold

(budgetpantry.com)
Serves: 5
Total cost per serving: $0.84
What you need:
1 zucchini
1 carrot
1 yellow onion, sliced
1 green bell pepper, sliced into strips
A handful of bean sprouts
3 strips chicken inner fillet, cut into small pieces
1 teaspoon minced garlic
1 tablespoon olive oil
A sprinkle of sugar
Lime
Crushed peanuts (optional)
Sliced red chillies (optional)
Steps:
Spiral both the zucchini and carrot into long ribbons.
On high heat, add the olive oil in a wok and fry garlic til fragrant. Toss in the chicken pieces. Cook for 2-3 minutes till chicken is just starting to turn white.
Add in the onion, bell pepper, carrot, zucchini and bean sprouts and fry for two minutes.
To season, add one tablespoon of light soy sauce and half teaspoon of fish sauce. Toss to combine and off the flame. Using a pair of tongs or chopsticks, remove salad from wok (discard excess water) and chill.
To serve, top with a sprinkle of sugar, crushed peanuts, red chillies (if using) and a squeeze of lime.
How much I spent:
$1.30 for zucchini
$0.30 for carrot
$0.30 for onion
$0.90 bell peppers
$0.20 for bean sprouts
$1.20 for chicken fillet
Everything else from my pantry