Airfried Salmon in Lemon-Butter Sauce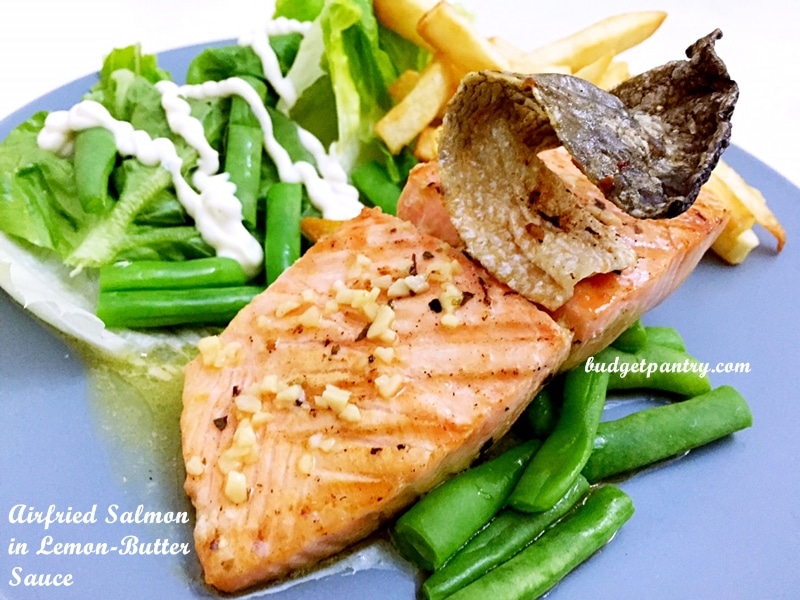 The husband has been having really late nights in the office that I had to think out of the box to entice him to come home early:
So sad right, my life. He probably bribed all the women in the office and every one of them was "appealing" on his behalf. Only my family was leaving comments like these:
But in the end, of course he got to eat. I was already preparing the ingredients as I posted the Yoda picture. How could I be so mean? I was in a good mood though, yesterday, but that's another story.
The truth is, I was dying to cook some moist and creamy salmon. Just a week ago, I overcooked the salmon so badly that it was as if I wanted to make sure it was 100% "confirm, guarantee and chop" dead. It's a Singaporean thing, this "confirm, guarantee and chop". And "chop(ed) dead", geddit?! HAHA I'M SO FUNNY.
Anyway. Some tips on cooking salmon in the airfryer. I don't usually preheat the AF, but when cooking salmon, I do. For this dish, I airfried the fries for 12-15 minutes first at 180C, and immediately after the fries were done, in went the salmon. For just 6 minutes. Please note the timing of the salmon. These were really soft, moist and creamy.. really so good! It flaked apart immediately when the fork touched it.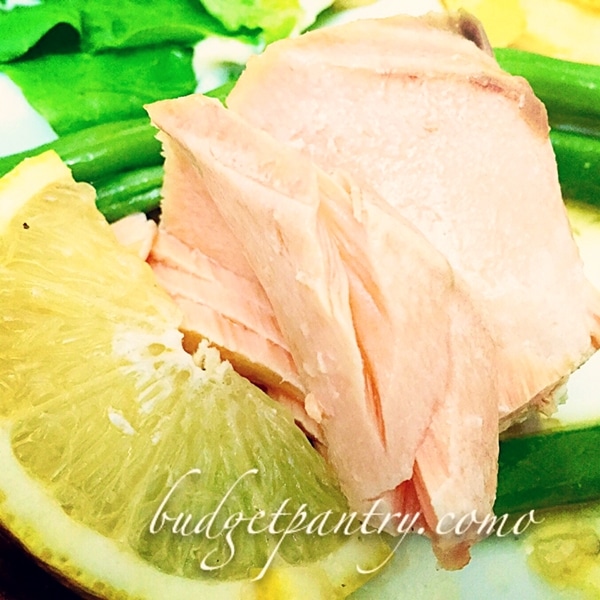 If you are ok with eating soft salmon skin, then that's all you need to do. Your dish will turn out like this: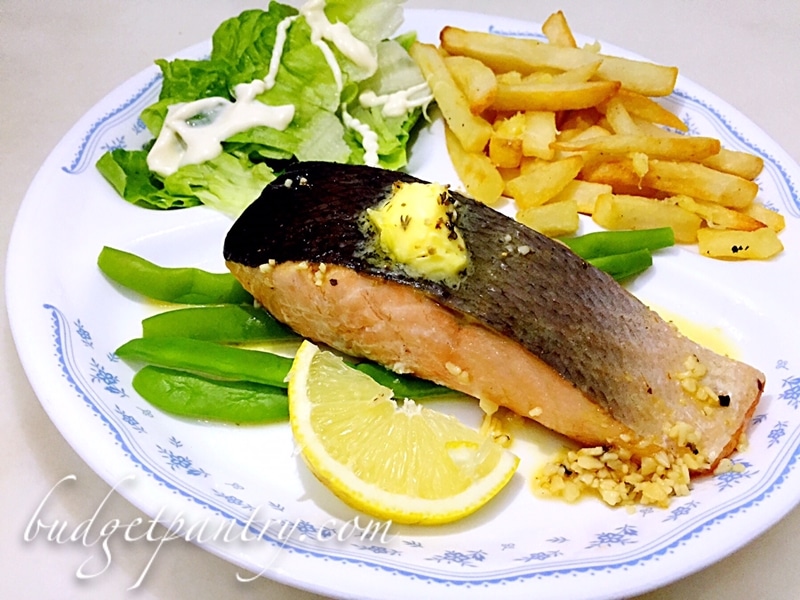 Still super moist, but no crispy skin. If you want crispy skin (who doesn't), open the airfryer at the 4th minute mark, and using a pair of tongs, carefully peel off skin. It should take no effort at all and will come off easily. Fry the skin alongside the salmon. When the time is up, remove the salmon and continue to fry the skin for 2-3 minutes until the timer goes off. Let it remain in the airfryer for 1-2 more minutes so it'll be super keropok style crispy. Oh, and the skin will fly, so you'll need to put in a metal spoon or something to hold it down. THEN, your salmon will look like this: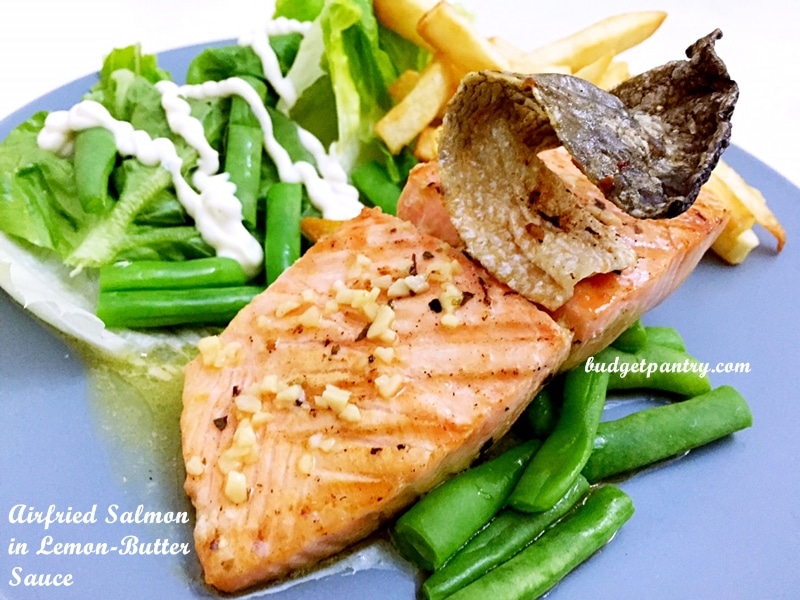 Sorry for the less than perfect pics- they were taken with the mobile phone under very bad lighting conditions. I hadn't intended to blog about this but this is too yummy to leave out!
Airfried Salmon in Lemon-Butter Sauce
Makes 2 servings
What I used:
2 portions salmon fillet (pat dry and sprinkle salt both sides)
For the lemon-butter sauce
2 teaspoon minced garlic
1/2 teaspoon olive oil
1/4 cup white wine (I used chardonnay as that's what I have)
2 tablespoons lemon juice
2 tablespoons salted butter, cold (about 28g but please use agaration)
Sprinkle of dried italian herbs/ garlic onion seasoning (optional)
Steps:
1. Preheat your airfryer for at least 10 minutes at 180C. Place salmon on grill pan and set timer to 6 minutes. Follow instructions above (in the blog post) if you wanna get the super crispy skin.
2. In the meantime, make the lemon-butter sauce. On medium high heat, sauteed garlic in the olive oil. Once fragrant, add the white wine and lemon juice. Bring to boil, lower heat and continue to cook for 5 minutes. Remove from heat and stir in the butter. Add in a sprinkle of italian herbs and garlic/onion seasoning if you have them on hand.
3. Spoon over salmon and serve with your choice of sides. I made truffle fries with shaved gouda cheese plus some beans and salad.