Introducing AsianCutz.com: premium meats without the price tag!
Advertorial
This is a collaborative post with Asian Cutz but as always, all ideas, experiences and reviews are my own.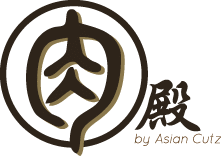 I don't know about you, but when my siblings and I have a steamboat and grill gathering, this is what the table usually looks like: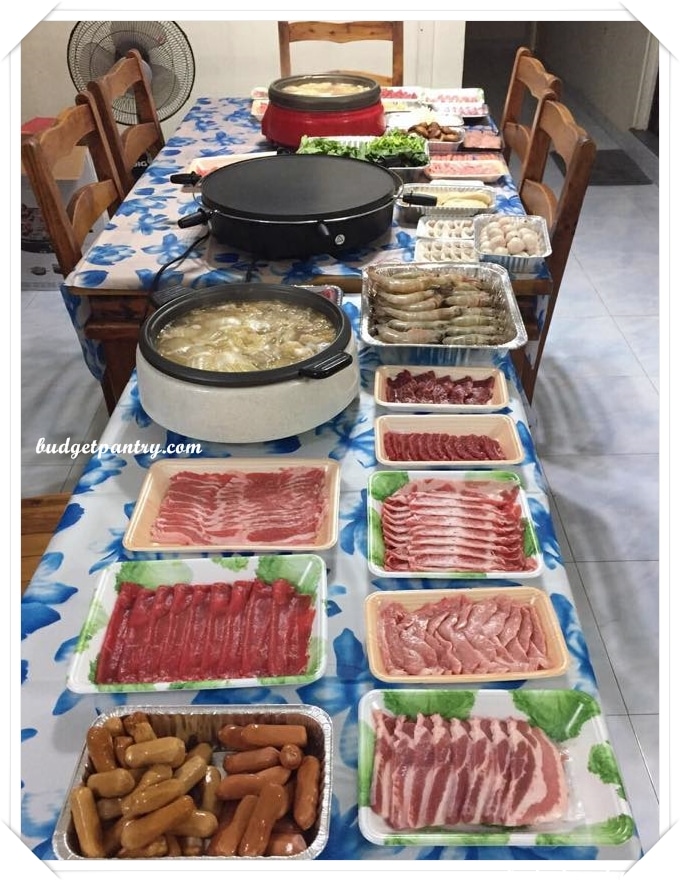 This is an old photo from our steamboat session two months ago.
You see, all four boys (yes, I have four brothers) + a sister-in-law (who's a damn good cook) are MEAT EATERS. For me, I particularly love shabu shabu slices (they make me feel invincible and that I can eat a lot). Before each of our steamboat sessions, one of us is given the honourable task of getting the meats from Isetan supermarket or sometimes Meidi-ya, when we're in the area (very far for us at Daimaru Liang Court). And even if we're there, the supermarket sometimes doesn't even have the selection that we want or they are simply left with a few pathetic trays that can't feed the bottomless pits at home. It's heart breaking.

So imagine how stoked I was when I got to know we now have another choice: ASIAN CUTZ, a new online butchery which has been around for just a few months. They are a local startup made up of Singaporean foodies just like you and me. I think they were as pek chek as me that there's no other decent places to get good quality meats (especially shabu shabu!) that they started this online meat store. I really like their concept:
1) Shop Online (their website here)
2) Check Out (pay by Paypal, credit cards, or even IB transfer!)
3) Get your meats delivered to your doorstep! (within 3 days or even earlier)
And what else can I say but, support our local brands! Here's what their online store looks like (click on the pictures to see for yourself!):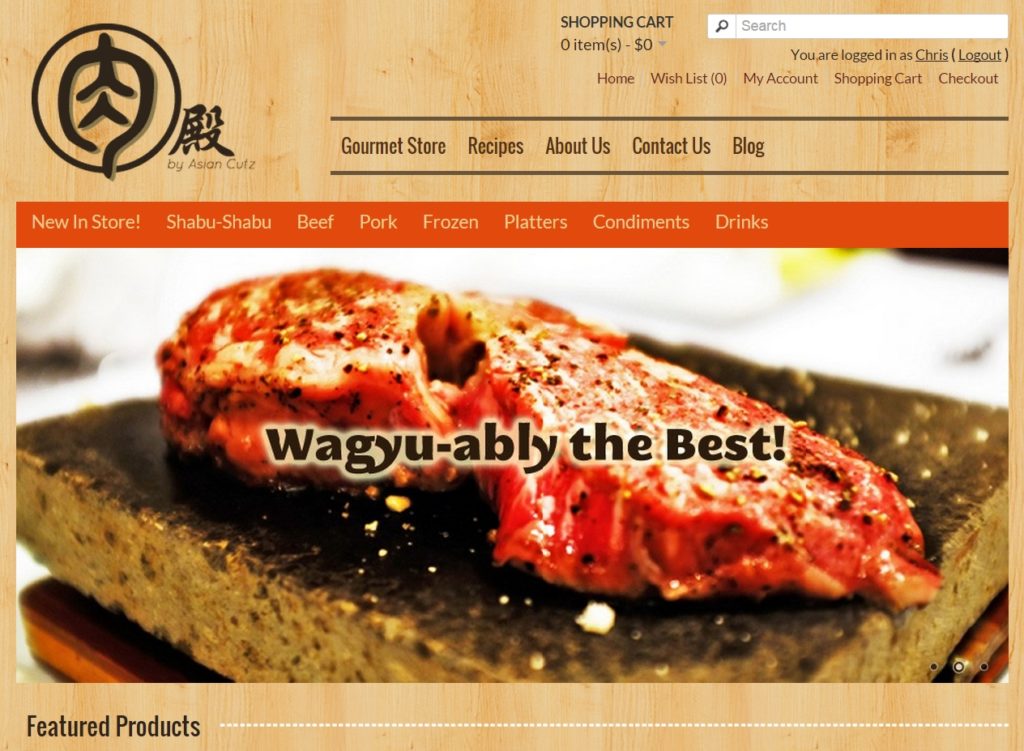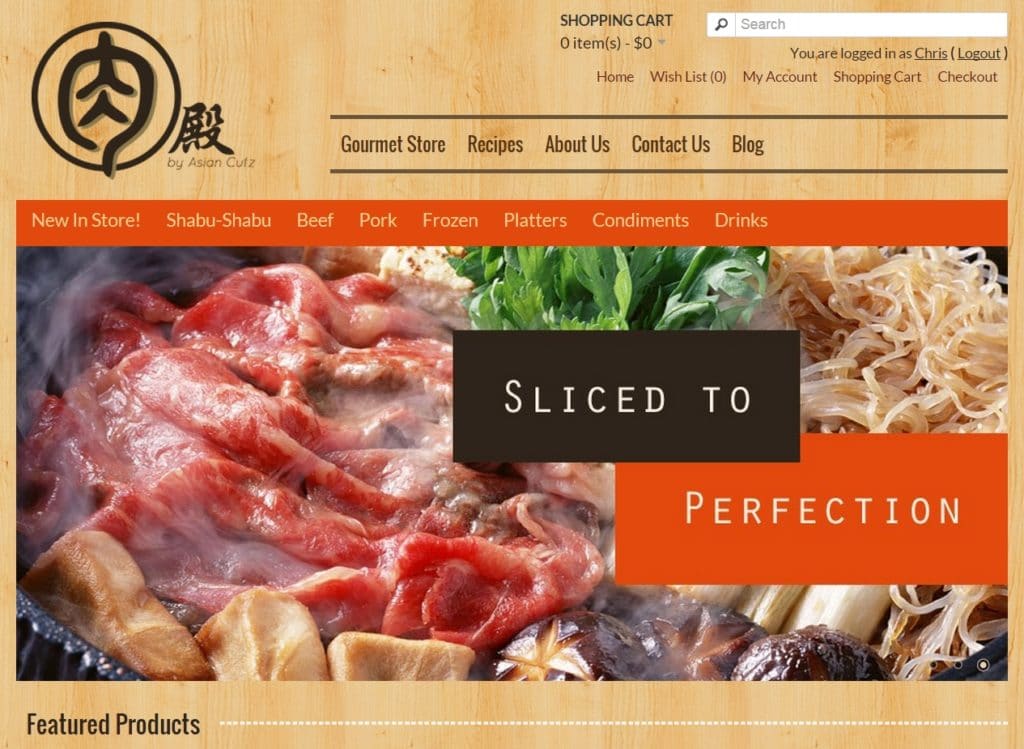 Being a Shabu Shabu fan, it is a no-brainer which section I clicked first. Look at some of their selections!
Miyazaki A4 Wagyu Ribeye Shabu Shabu Slice:
Australian Darling Downs Wagyu Ribeye Shabu Shabu Slice:
Momoiro Pork Loin Shabu Shabu Slice: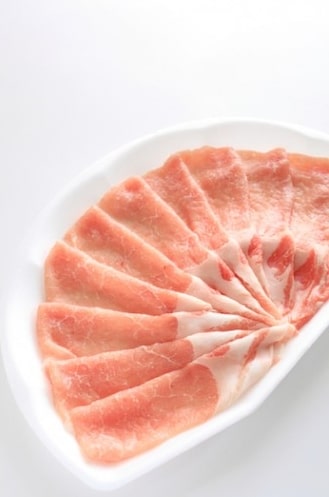 US Kurobuta Pork Belly Shabu Shabu Slice: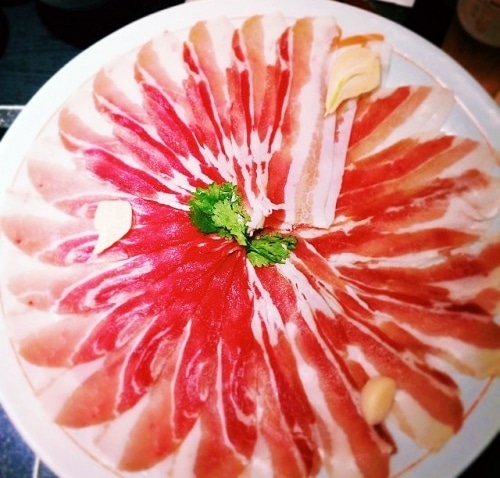 Insane or what? I have seen different cuts and types and marbling on steaks, but I haven't seen so much variety for Shabu Shabu! Asian Cutz's Shabu Shabu slices are cut to 1.2 mm – 1.5 mm thickness instead of the 2 mm typically available in the market. Because they are so thinly sliced, the texture is really tender and melt-in-your-mouth. And in case you're wondering, the meat is sold by weight, so it doesn't mean that the thinner it's cut, the less value you get. You actually almost double the enjoyment cos there's more portions! I know how most of your brains are programmed!
And so! Because I was so excited, once I got the meats, I called my sister-in-law (she's on my speed dial) to arrange a steamboat and grill session like IMMEDIATELY. And being the coolest sister-in-law ever, she agreed, also immediately! Alex (eldest bro), Slimer (second bro) and Cheng Wu (the youngest) quickly agreed. Cheng Lip (the fourth), as usual, was nowhere to be found but we didn't have a problem with that BECAUSE WE COULD EAT MORE BEEF and we choose wagyu over him anytime anyway. We fixed Saturday for THE DAY that NOBODY could have any other dates because steamboat is so important you know? Yeah, we really mean it when we say we need to spend quality siblings time ok?
Because we were only having a "small gathering", this was what we had prepared that day: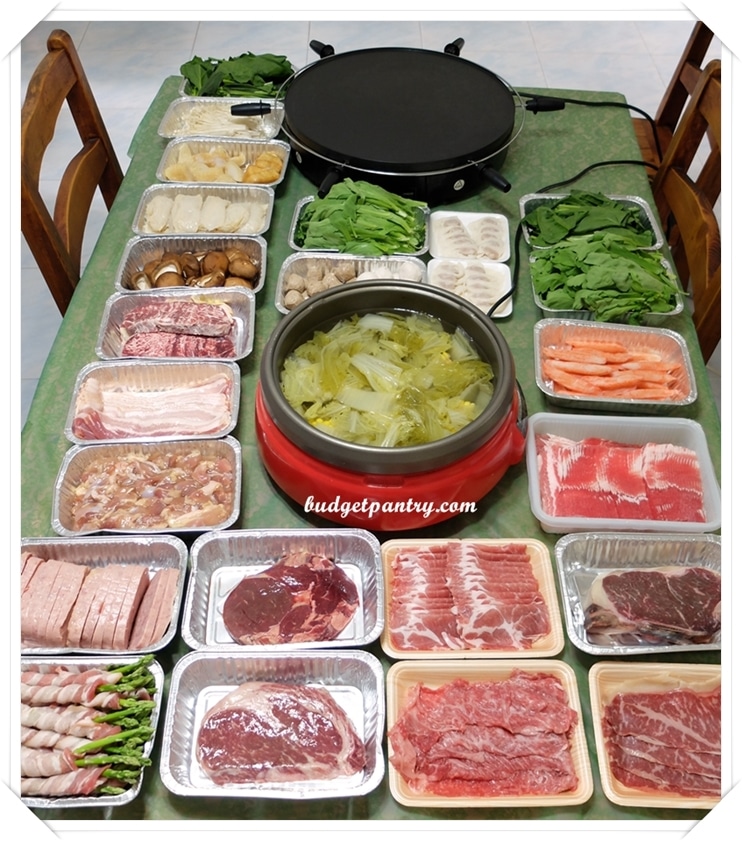 Not much la, just a few normal steamboat stuff, a few wagyu steaks here and there, and of course Asian Cutz's selection of Wagyu Shabu Shabu (we tried Australian, Japanese and US Shabu Shabu!) and beautiful steaks (Australian Darling Downs Wagyu Ribeye, Australian 45-day Dry-aged Bone-in Sirloin and New Zealand Grassfed Ribeye– all amazing!).
We started off with the steaks. Once the grill was hot enough, we were ready to sizzle our first steak!
Australian Darling Downs Wagyu Ribeye Steak (Marble Score 6) 250g
All that this outstanding steak needed was some salt and pepper, and just a little bit. One of the best steaks I've ever tasted. We even went crazy enough to wanna BLOW TORCH it so that the meat + fat got slightly charred. WE DID NOT REGRET IT. The fat exploded against the meat ON THE SPOT and brought the flavour to the next level. Absolutely delicious. Cheng Wu kept hovering around me as I was preparing the meat. Cannot wait ah?! Must feed Slimer first ok? Who ask his daughter so cute?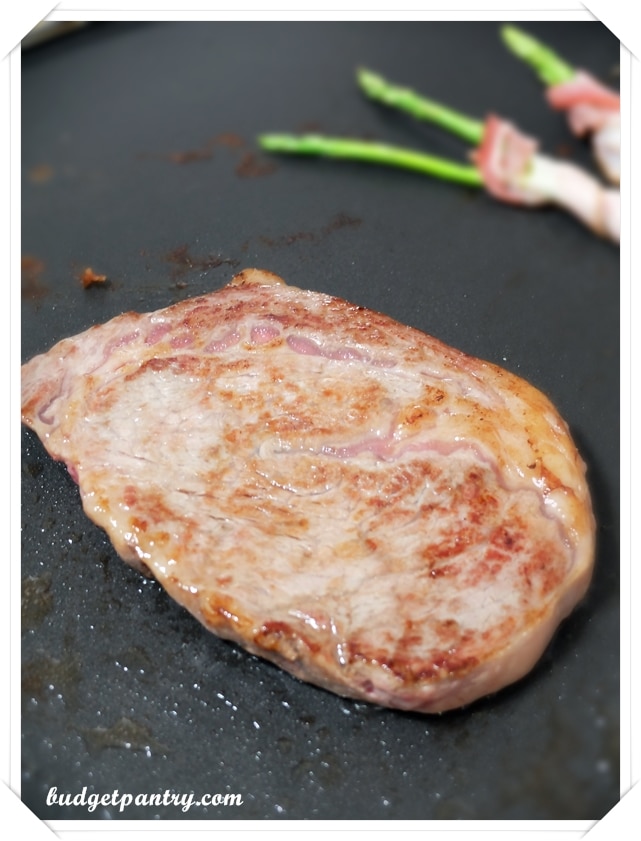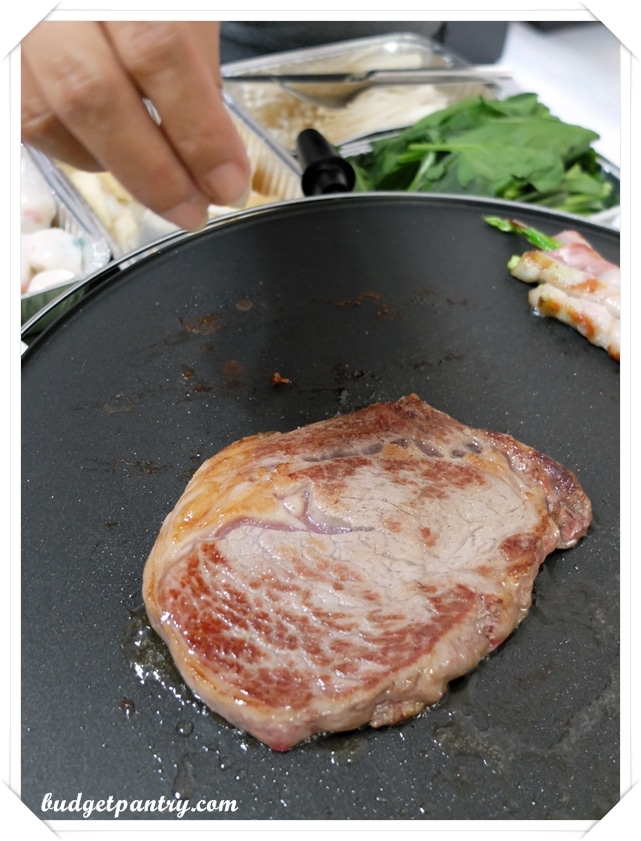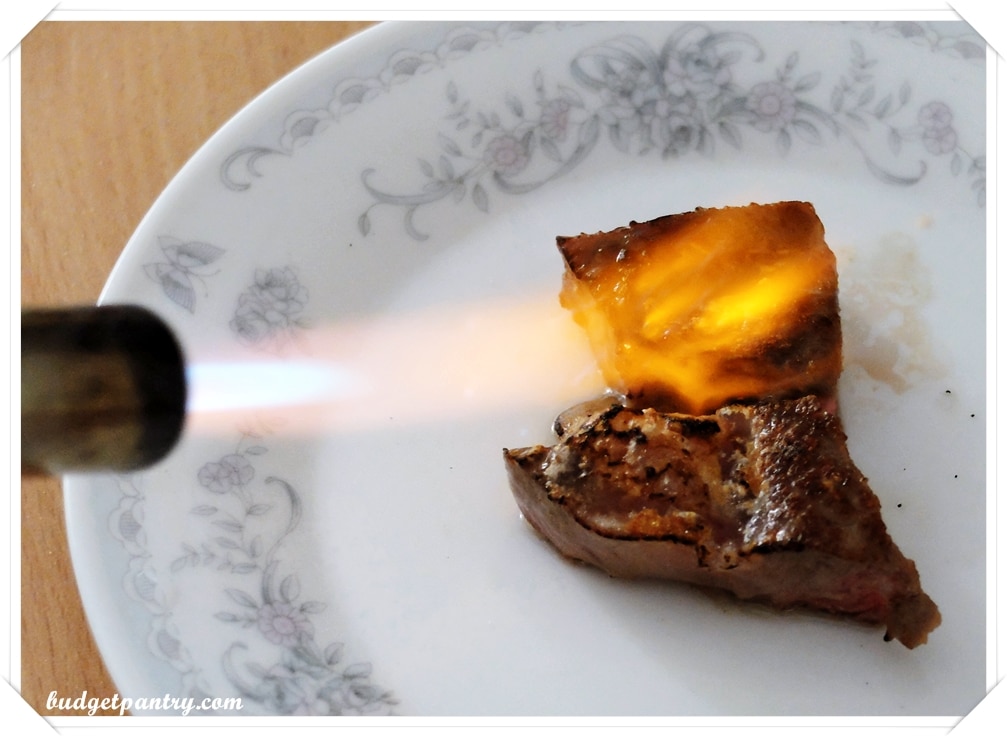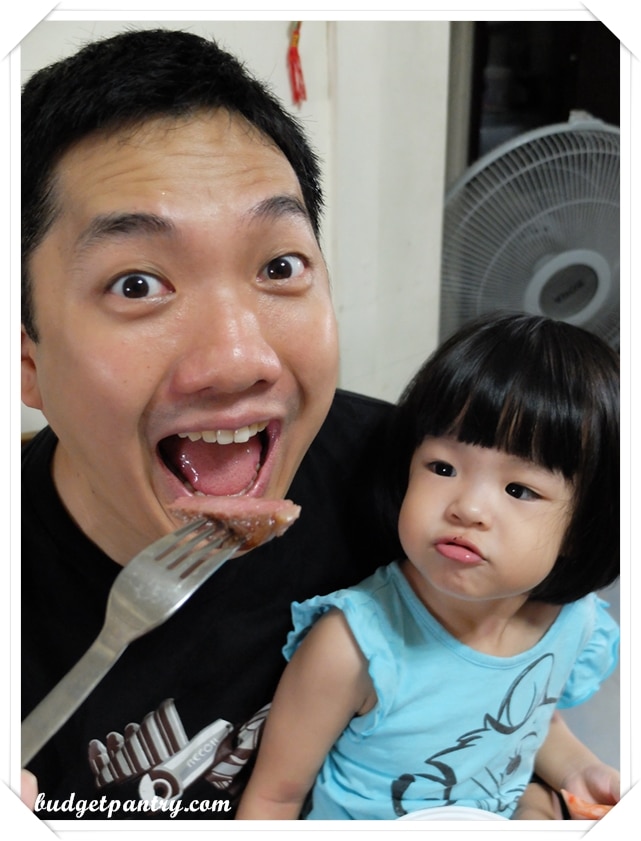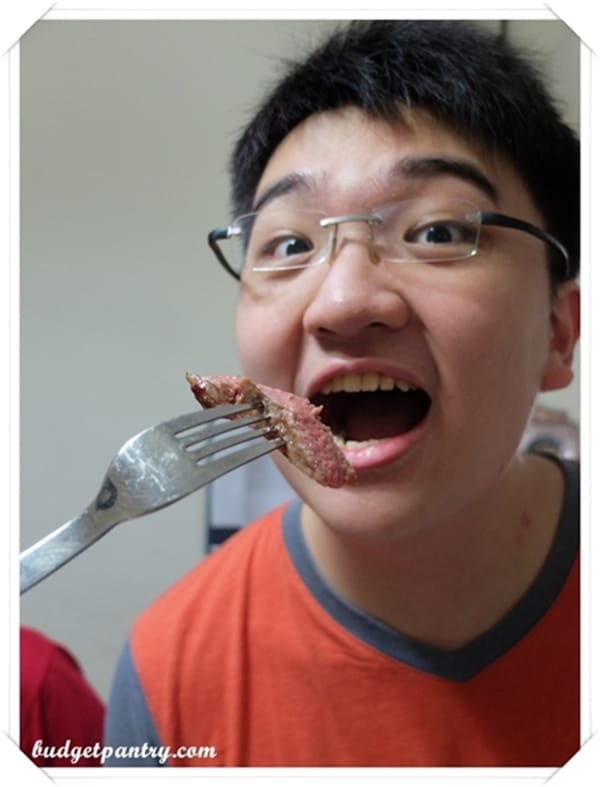 Australian 45-Day Dry Aged Angus Striploin Steak 300g
I gotta confess I didn't think I would like this as I assumed a 45-day dry aged steak was gonna be too much for me, but this is the steak that I can't take my mind off til now! My sister-in-law described it as having the characteristics of cheese.. the intensity increases with time. I'm not a fan of aged cheese, but I do like this steak. Incidentally, Slimer was also asking about it today, days after the steamboat session. Very interesting and unforgettable.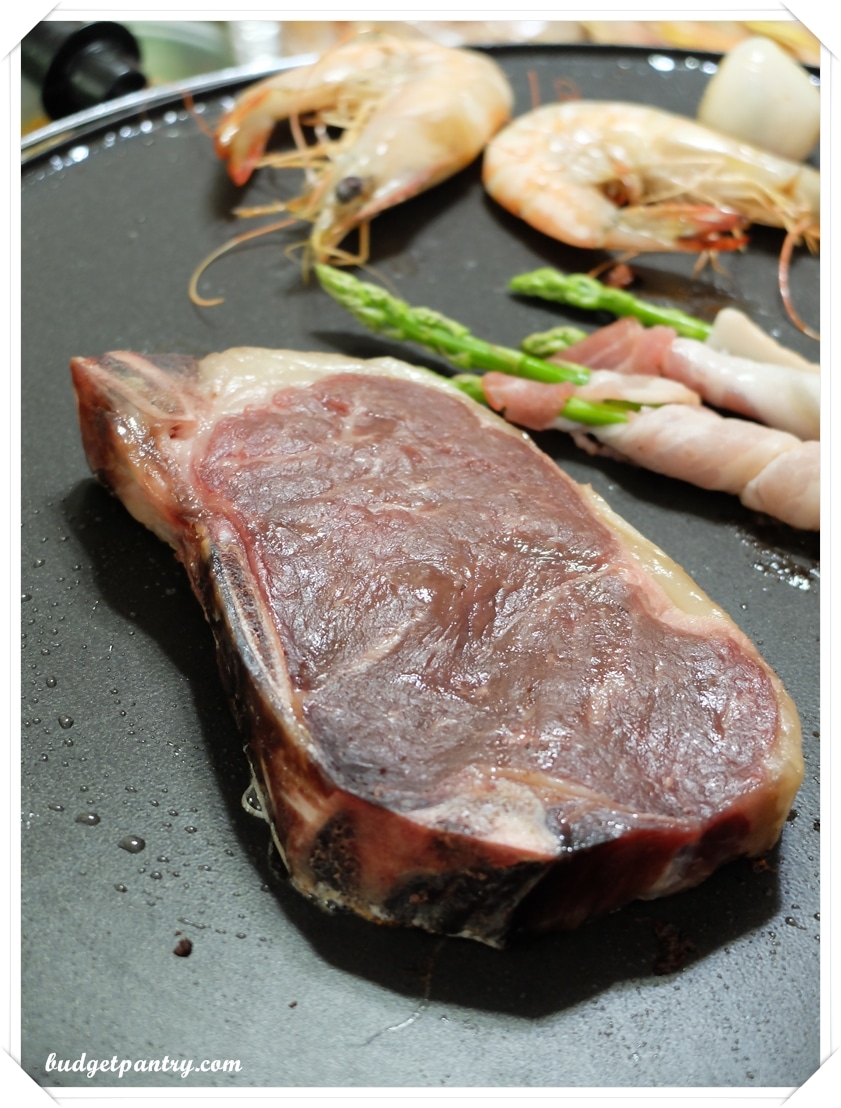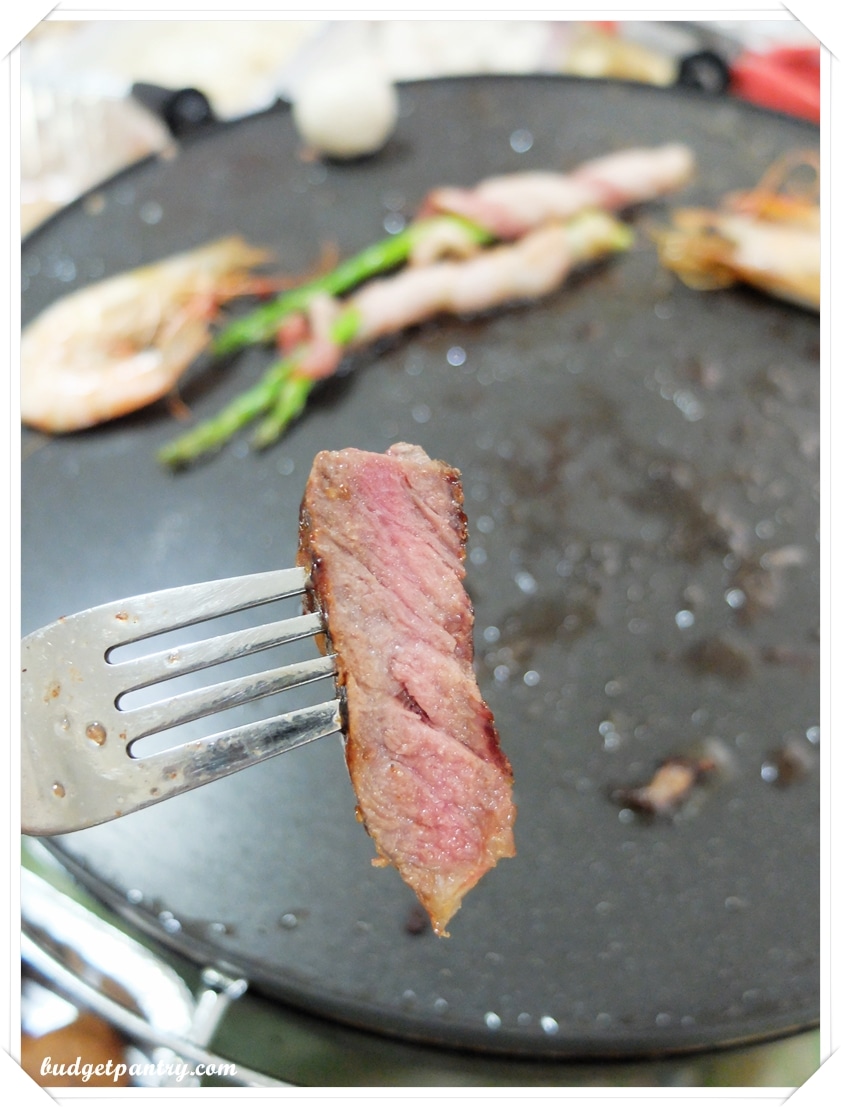 New Zealand Grassfed Ribeye Steak 250g
Whenever I go to steakhouses, I always order a ribeye steak over sirloin. It has significant marbling and isn't as lean. I love this! Can you believe that this will just cost you $11 on Asian Cutz?!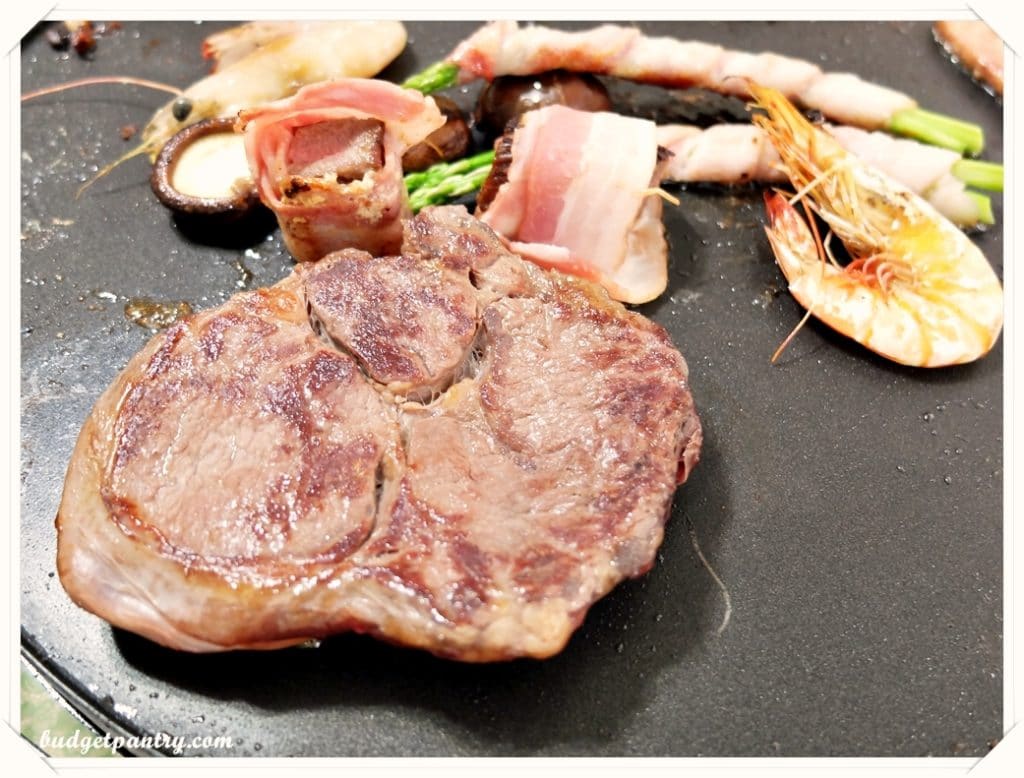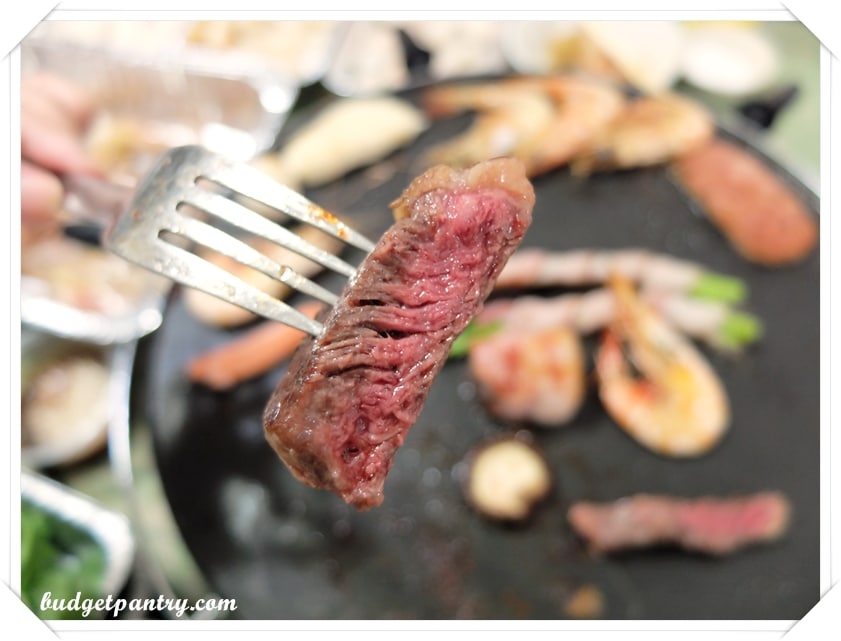 And we move on to the Shabu Shabu! All it takes is a few swishes in boiling hot stock. Absolutely nothing else needed.
Australian Tajima Wagyu Sirloin Shabu Shabu Slices(Marble Score 6)
THIS Australian Tajima Wagyu Sirloin Shabu is one of the most beautiful slices of meat I have ever seen. This almost looks like art please. The meat to fat ratio is just right.. excellent if you're someone who prefers just a little more "bite". Slimer loved this!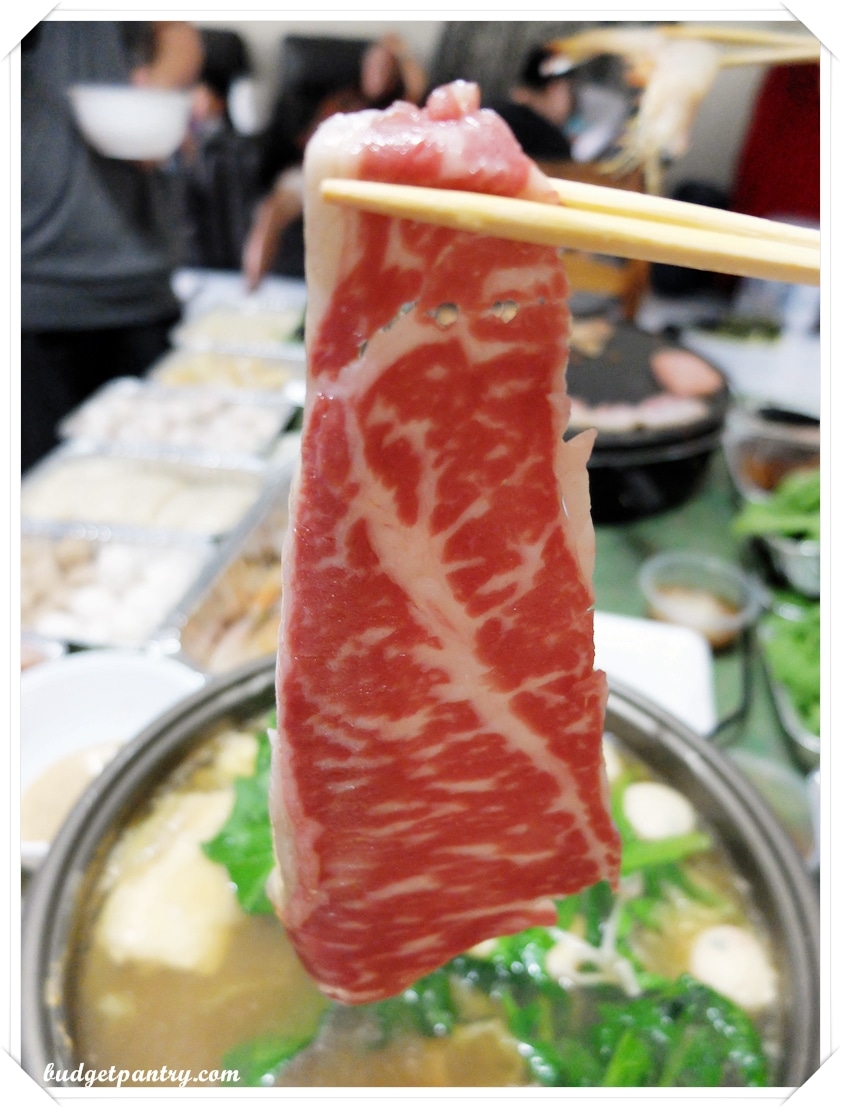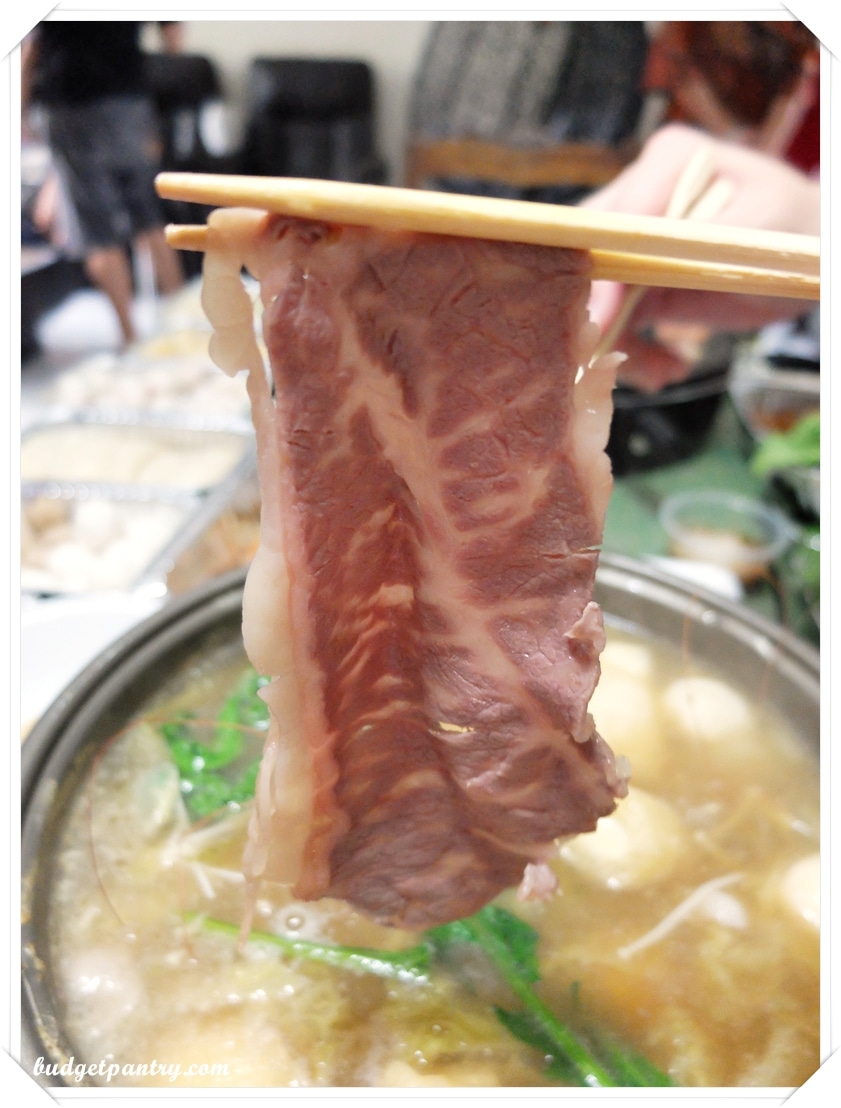 Miyazaki A4 Wagyu Sirloin Shabu Shabu Slices
See the marbling? This was my favourite! I don't know what kind of magic was done to the beef, but the meat was absolutely, intensely flavourful.. like nothing I have tried before. This Wagyu Sirloin Shabu Shabu comes from Japan's Miyazaki prefecture, famed for producing one of the highest quality Wagyu beef anywhere in the world.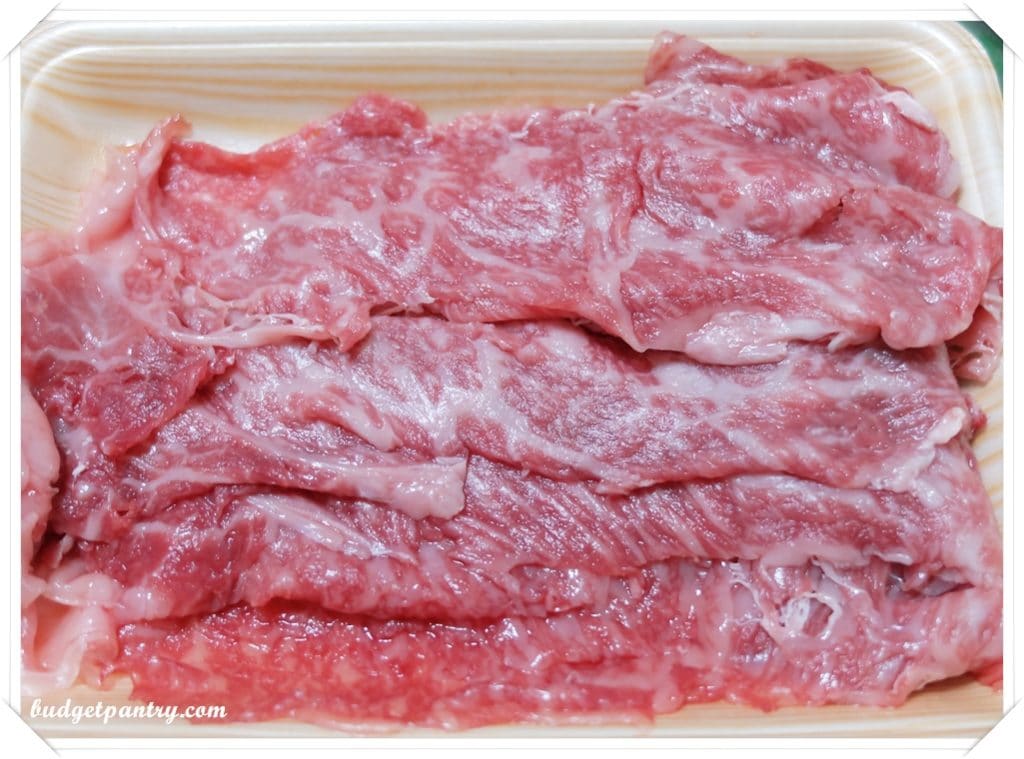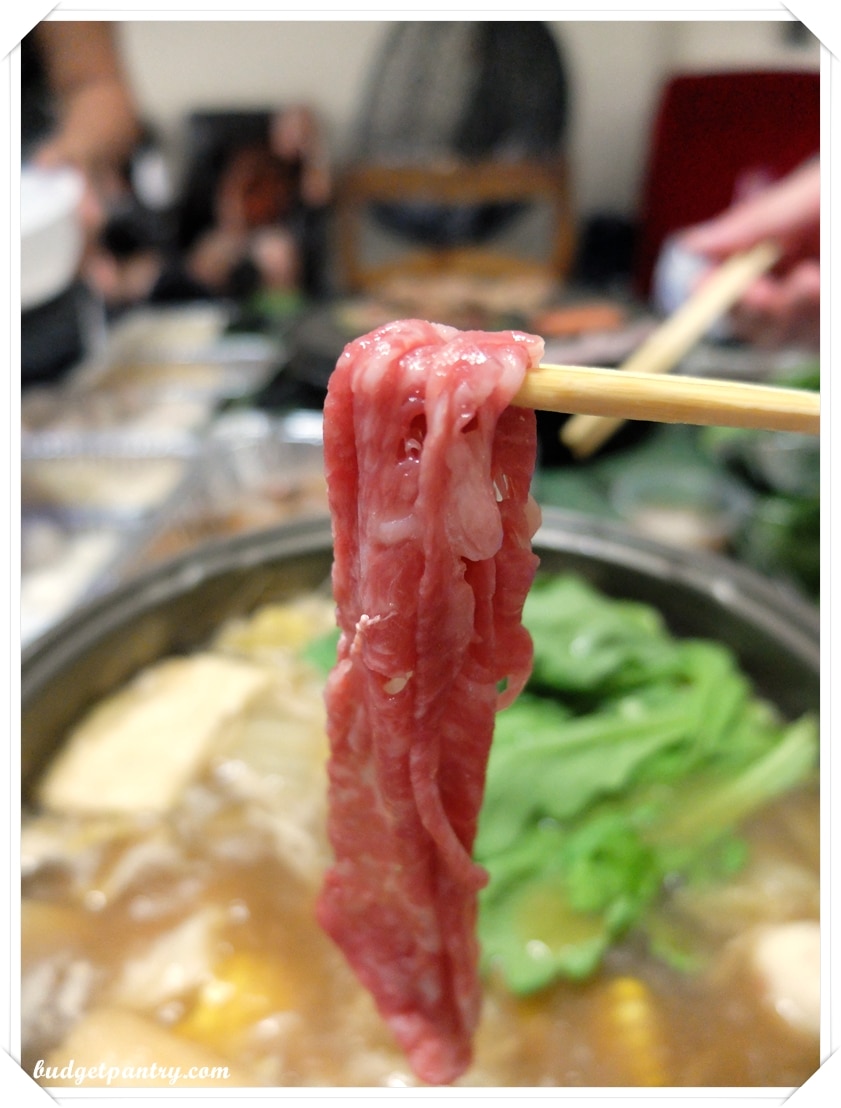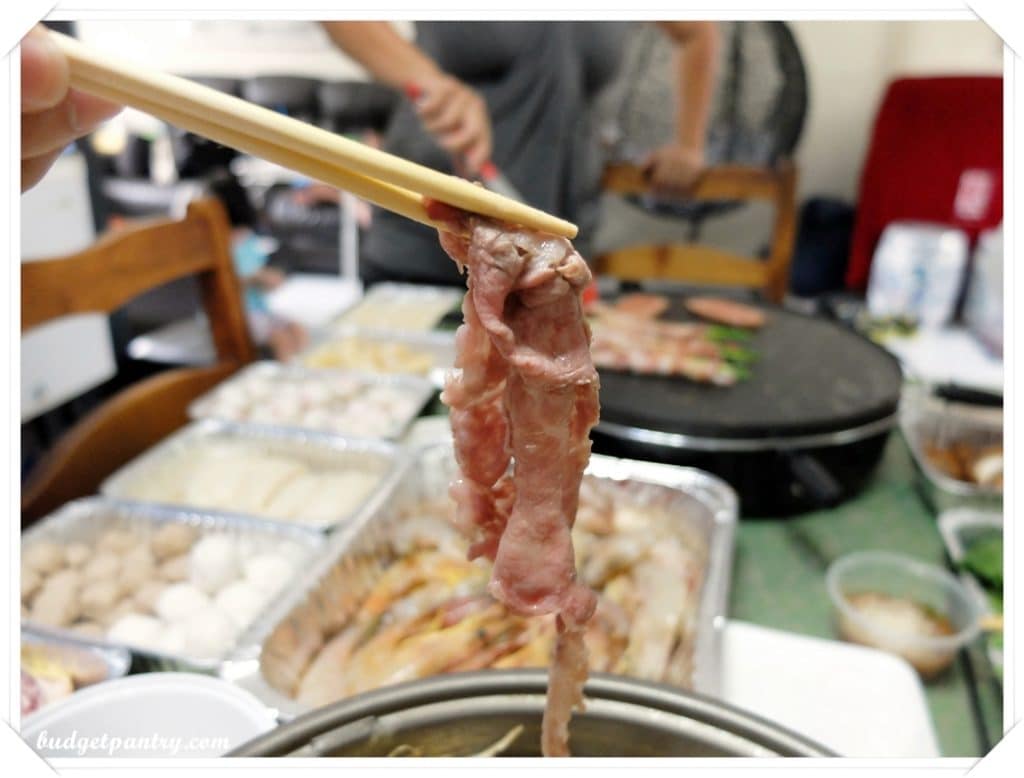 US Kurobuta Pork Collar Shabu Shabu Slices
I have a thing for Kurobuta pork. I love the texture of this premium meat, especially when it is sliced to just 1.5 mm thin. Look at how beautifully pink it is when swished just 3-4 times in boiling hot stock! I am sooo tempted to make pulled pork sandwiches with this.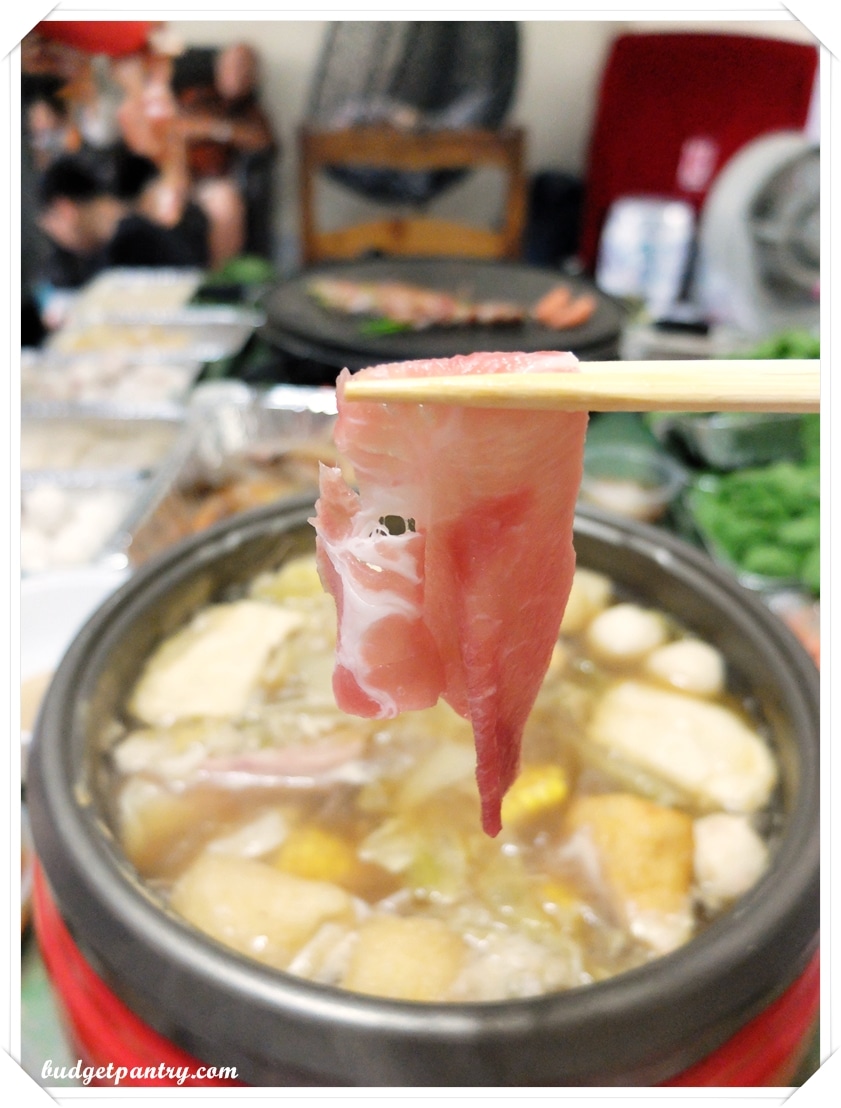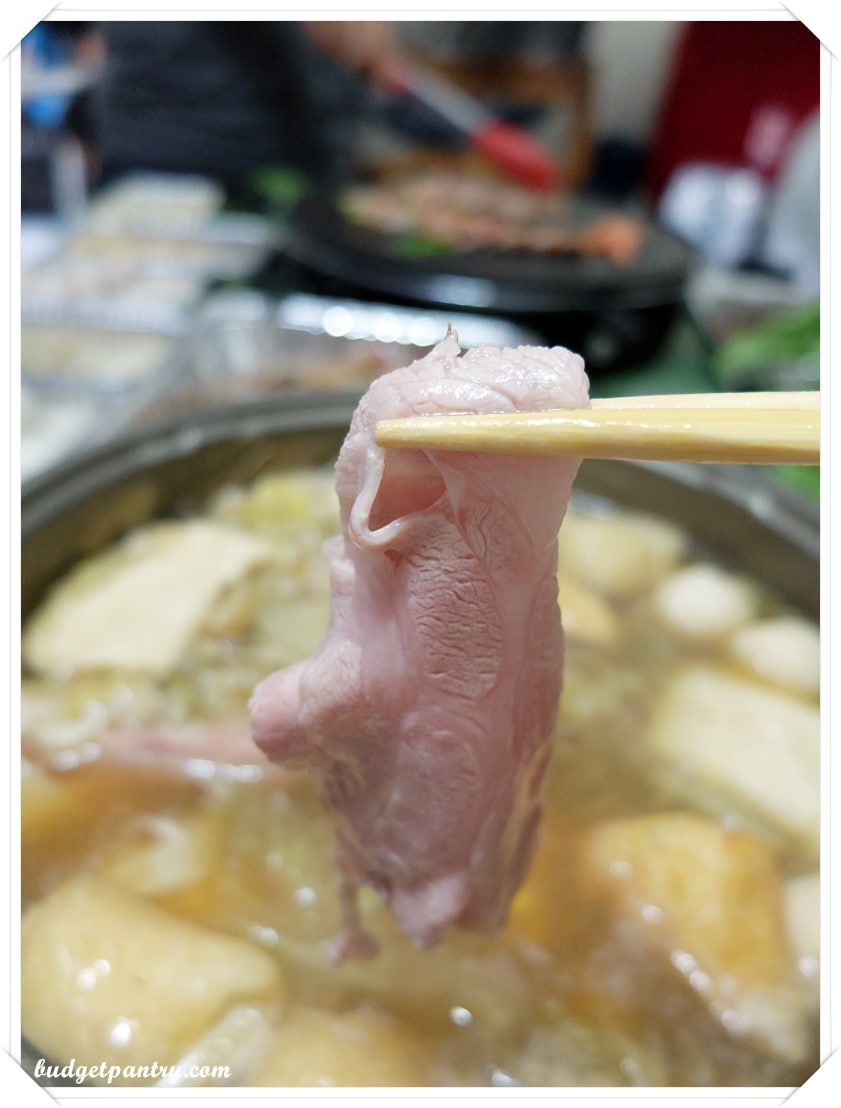 We really, really enjoyed our steamboat and grill with the excellent meats. I especially loved their Australian Darling Downs Wagyu Ribeye (a wagyu-angus cross originating from Queensland and usually supplied only to restaurants) and Miyazaki Wagyu Sirloin Shabu Shabu. And no wonder, these are two of their top sellers! Check out Asian Cutz's website if you have any questions on delivery, or if you are looking for certain types of meat not listed on their website, contact them or give them a call at 87260682. I promise they will do what they can to help!
And specially for budgetpantry's readers, get 5% off your total order with a minimum spend of $50. Simple enter coupon code "budgetptry" to enjoy the discount when checking out. And if you haven't, "LIKE" them on Facebook for the latest news, offers and promotions!
Asian Cutz – Wagyu-ably the Best! Order from them for your next steamboat + grill session!
Website: http://www.asiancutz.com/
Facebook: https://www.facebook.com/AsianCutz