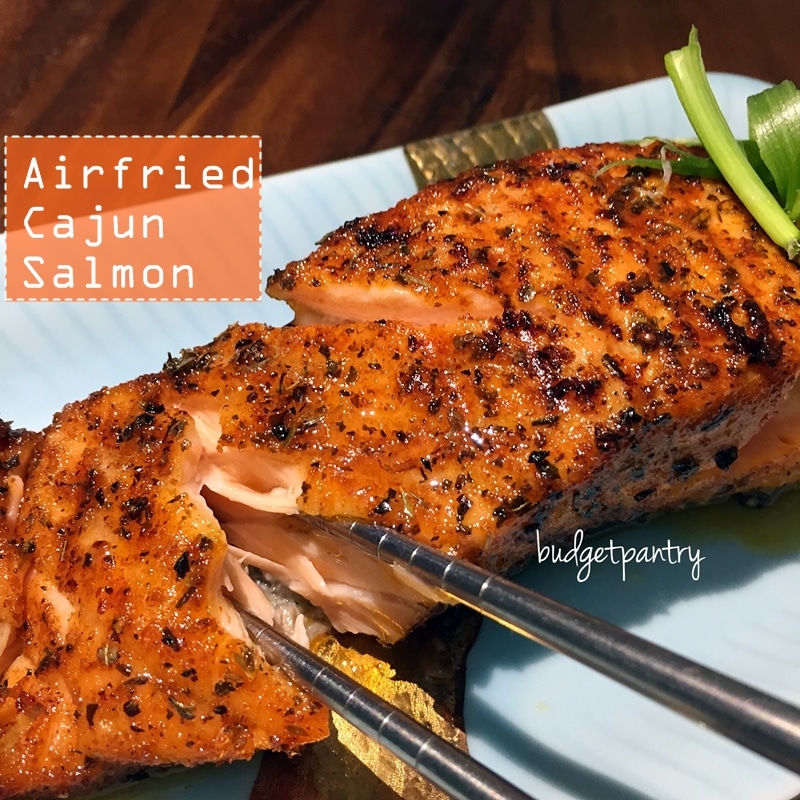 The problem with most home-cooked salmon is that it tends to get overcooked. I've heard many people (my own family included!) say that salmon sashimi 'always tastes better than cooked salmon' because it is so moist and tender, and cooked salmon tend to be dry. That's because you're frying your salmon to death!

I've seen lots of recipes cooking salmon in the airfryer for 15 minutes and the cook wonders why the salmon is tough after cooking. If your salmon is about 3/4 of an inch thick (as most salmon fillets are), all you need is 6-7 minutes in a preheated airfryer. For even thinner slabs like the tail part, 6 minutes max is all you need.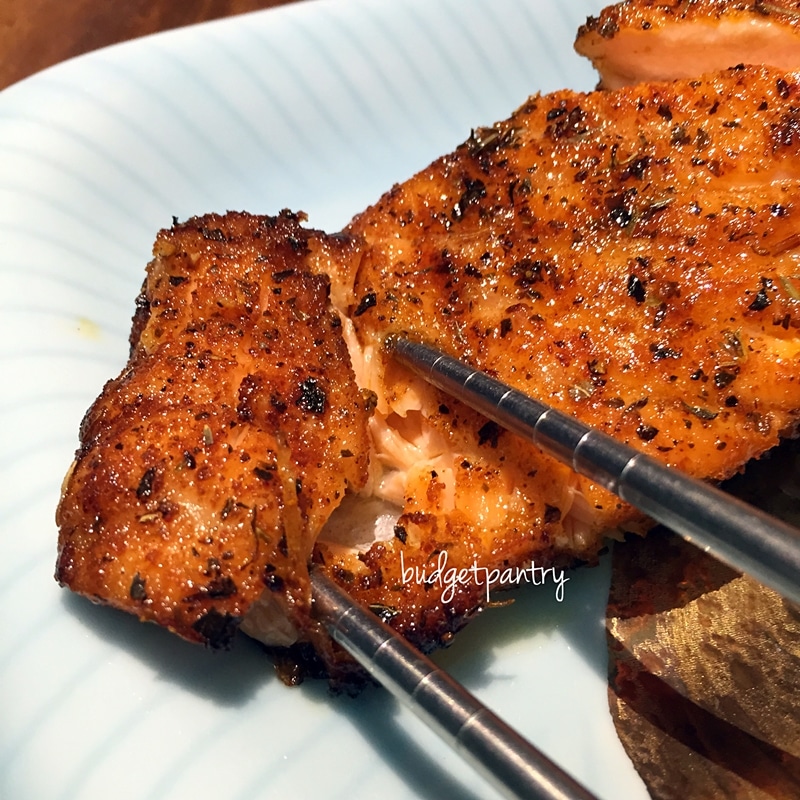 I use the first-generation Philips 9220, so I set the temperature to 180C, then turn the knob to 5 minutes. In the mean time, I prepare my fish (just sprinkle Cajun seasoning all over – not too much, just enough to coat) and when the orange light is off, I fry my salmon skin side up, on the grill pan for 7 minutes. Eat immediately and don't let it sit in the airfryer. You don't want the residual heat to continue cooking the fish. I use this Cajun seasoning but you can use any other brand:

Optional step: If you like crispy keropok-style skin like in this old Airfried Cod Fish recipe, just open your AF drawer at the 3rd or 4th minute and use a pair of tongs to gently lift the skin off the salmon. Fry the skin alongside. When the time is up, remove the salmon and continue to fry the skin for 2-3 minutes until the timer goes off. Let it remain in the airfryer for 1-2 more minutes so it'll be super keropok-style crispy.
Have fun with this super-simple recipe. You'll never have to eat dry salmon ever again. Moist, juicy and delicious, always!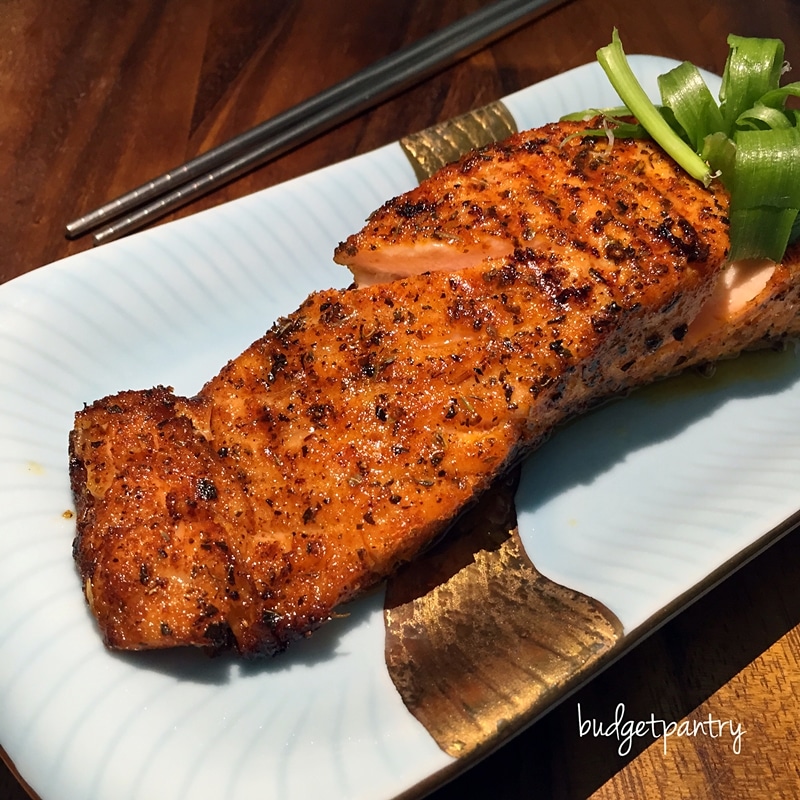 Airfried Cajun Salmon

(budgetpantry.com)
Serves: 1 (or 2, as part of a Chinese meal)
Total cost per salmon fillet: $8
What you need:
1 piece fresh salmon fillet (about 200g)
Cajun seasoning (just enough to coat)
A light sprinkle of sugar (optional)
Juice from a quarter of lemon, to serve
Steps:
Preheat your airfryer to 180C. For the Philips airfryer, the orange light will go off to indicate that the temperature has been reached. For other brands, typically just preheat for 5 minutes.
Clean your salmon and pat dry. In a plate, sprinkle Cajun seasoning all over and ensure all sides are coated. You don't need too much. If you prefer a tad of sweetness, add a light sprinkling of sugar. NO seasoning time required. I airfried direct.
For a salmon fillet about 3/4 of an inch thick, airfry for 7 minutes, skin side up on the grill pan. Serve immediately with a squeeze of lemon.
How much I spent:
$8 for fresh Norwegian salmon
Everything else from my pantry