10 things I ate in Malacca
I was in Malacca a week ago for a short holiday. Since we've been to Malacca a couple of times, this trip essentially became a rest & relax and eating trip! We stayed at Cheng Ho residences which is just one perpendicular street – literally a minute – from Jonker Walk. Took a coach from WTS Travels which dropped us at Casa del Rio hotel, just 5-8 minutes on foot to our hotel. Here's what the spacious room looks like – it's for 3-4 people but from the second night onwards, Jason and I had the room all to ourselves cos Jonny flew us aeroplane. Thanks Jonny!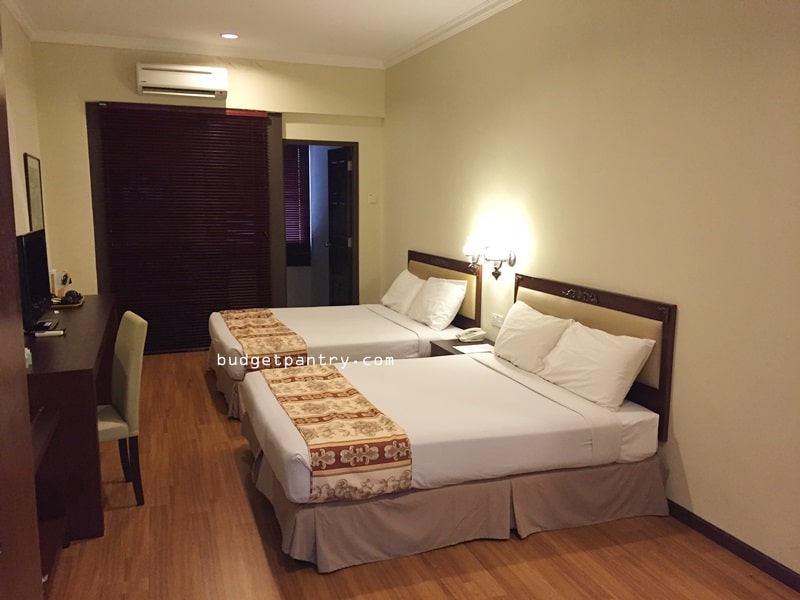 It's better than I expected and in a great location with good price, about SG$100 per room per night. I'm sure the double/twin room is cheaper. It's near to Jonker Walk, within walkable distance to local sightseeing places and even to Mahkota Parade area (about 15 minutes on foot). I recommend this place!
Cheng Ho Residence
101, Jalan Tun Tan Cheng Lock
75200 Melaka, Malaysia
Ok now, FOOD! There were a few 'must-try' places that we read about. We tried a number of them, some hits and misses.
1. Good New World Restaurant 好世界酒家
131, Jalan Melaka Raya 10, Taman Melaka Raya, 75000 Melaka, Malaysia
Jason's only request was eating at Good New World Restaurant – the old-school restaurant where his buddy (he's a local) held his wedding dinner. He said it was the best (tasting) wedding dinner he's ever attended.
Not many people have written about this place still stuck in the 70's, but we really love their food! We ordered yam ring, hot plate tofu and delicious tender fried pork + rice for RM55 ~ SG$18.30. Jason kept looking at other people's suckling pig but we can't possibly finish la! Love the 家乡炸肉 the best. The pork belly is first braised till fall-apart tender and then fried till the exterior is crispy and shiok! Near Dataran Pahlawan Megamall.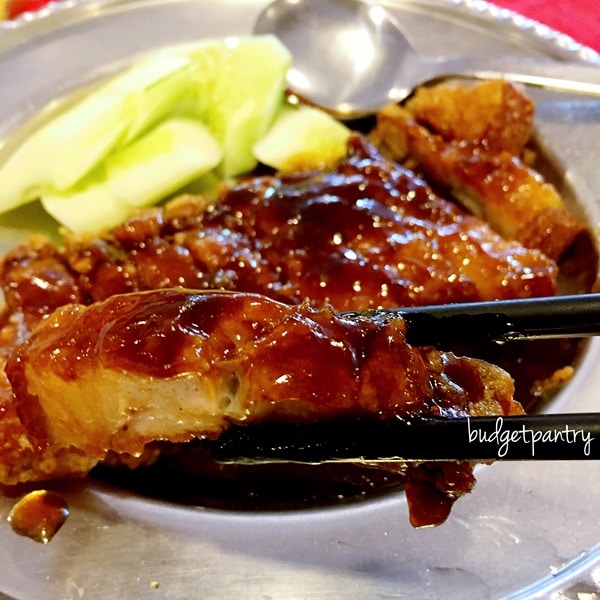 Delicious fried pork with sticky sauce.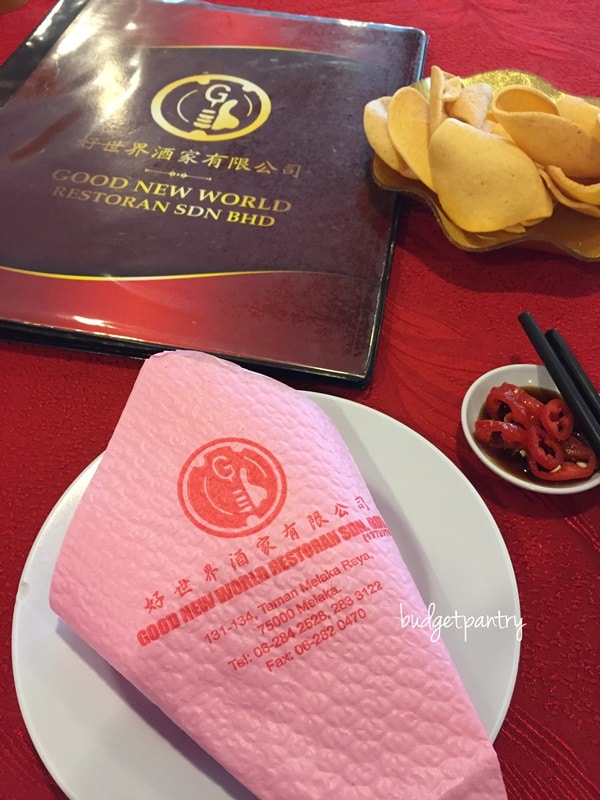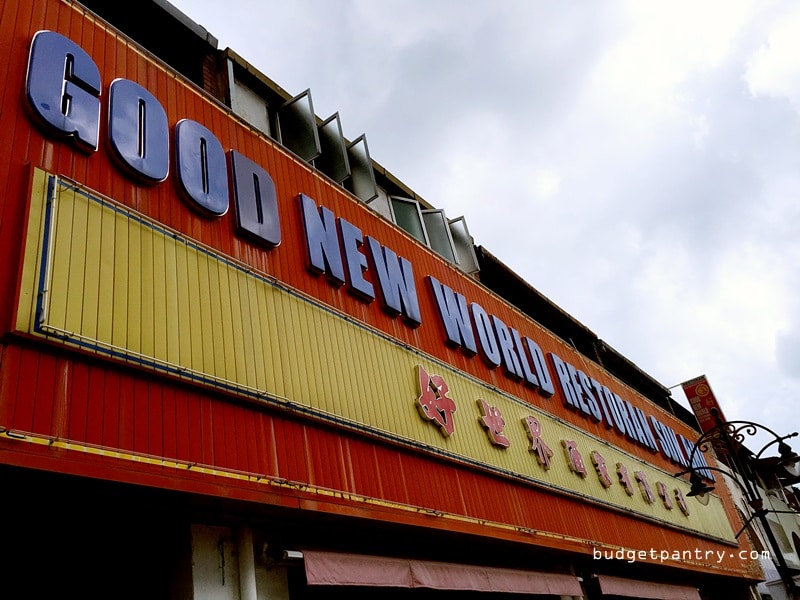 2. Nancy's Kitchen
13, 13-1, 13-2, Jalan KL 3/8, Taman Kota Laksamana, Seksyen 3, 75200 Melaka, Malaysia
Take note of their new address as of September 2015. They have shifted from their old outlet off Jalan Tun Tan Cheng Lock. Some say Nancy's Kitchen is overrated, but we don't think so. The food is delicious! We made a next-day 11.30 am reservation on their website and received a confirmation in a few hours. Wanted to try the Ayam Rendang but it wasn't available the first day we went (yes we went back!). Ordered Chicken Curry (Jason gave it 9.5/10), Steamed Otah (8.5/10), Deep Fried Squid (8.5/10) and the BEST Chendol we've ever had (10/10!), beating even the one at ABC Market. Everything was good! Total lunch bill for the first day was RM49.50 ~ SG$17.
Luckily for us now opened selected Tuesdays in December. We returned to try other dishes just before heading back home! This time, we tried the Ayam Rendang, Bak Wan Kepiting and Crispy Fried Fish in Ginger and Scallions. I've had better Bak Wan Kepiting and prefer the chicken curry on the first day (as compared to the Ayam Rendang) but the fried fish was really good.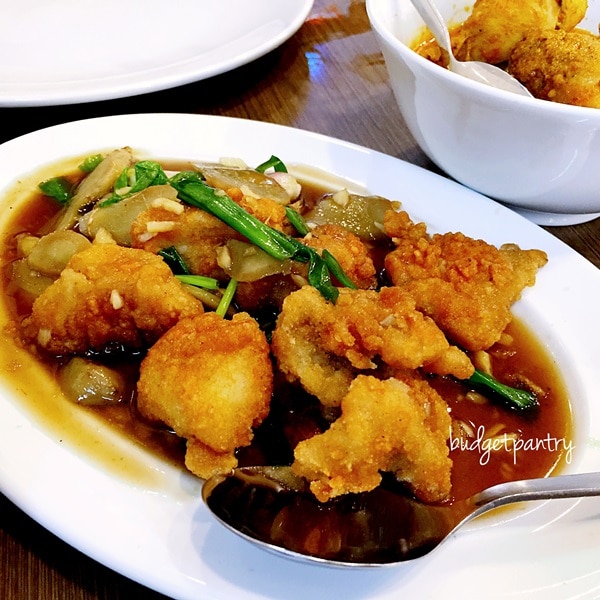 Crispy fish with ginger and scallions.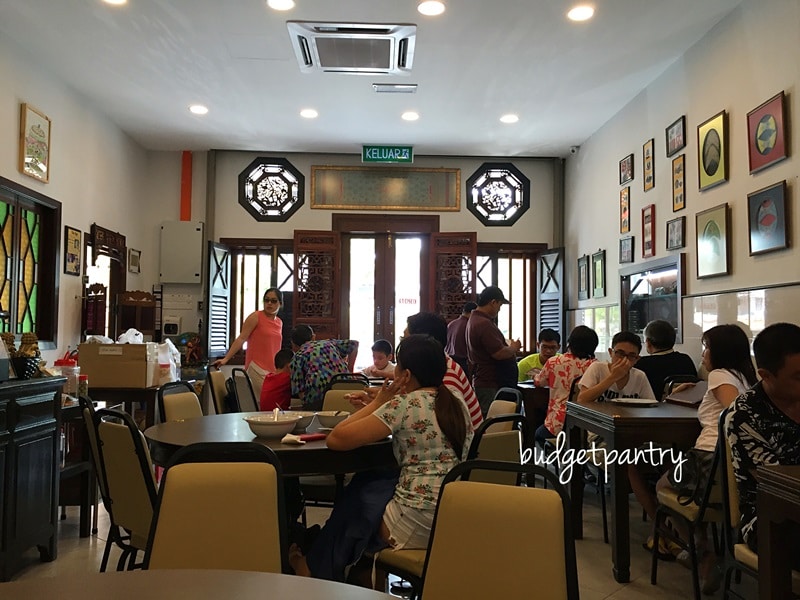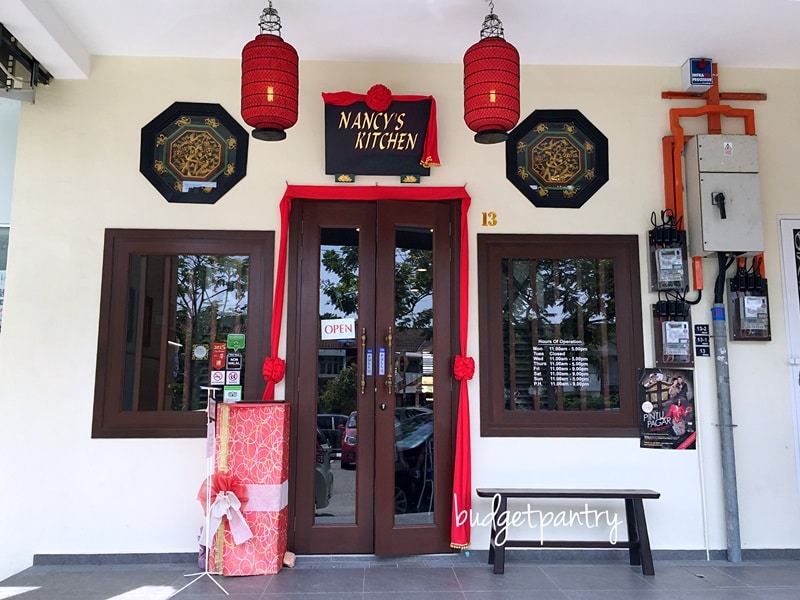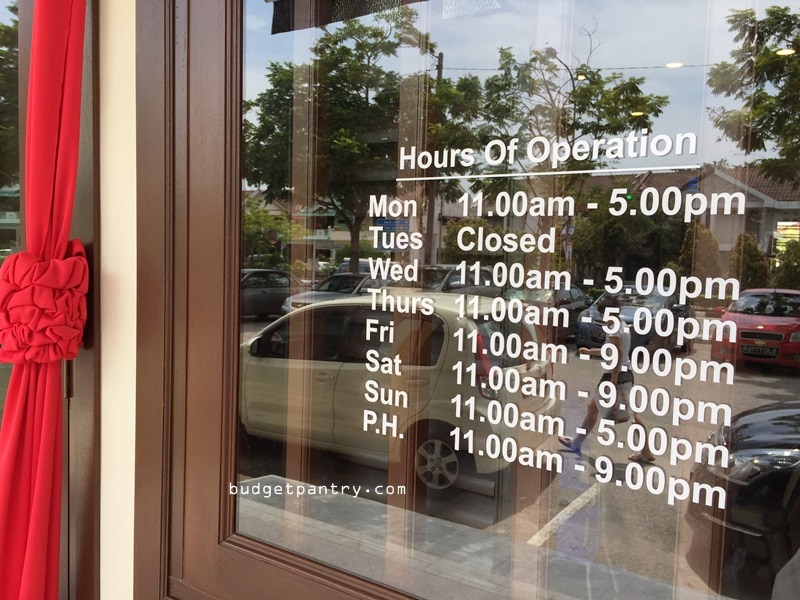 Some also say Kocik Kitchen just opposite Nancy's old location is a close competitor. We tried both places – there's no fight.
3. Kocik Kitchen
100, Jalan Tun Tan Cheng Lock, 75200 Melaka, Malaysia
I dare say this was the worst meal we've had in Malacca. And this was dinner on our first night! Nancy's Kitchen's move to Taman Kota Laksamana must be the best news for Kocik Kitchen. They were a minute away from each other, now Kocik Kitchen is on its own in a really prime location with almost no competition! But I wouldn't eat there again even if it's convenient. Among three people, we ordered the Otak/Ngo Hiang mix plate (RM12 ~ SG$4), Sambal Petai Prawns (RM20 ~ SG$6.50), Chap Chye (RM14 ~ SG$4.50), Nonya Laksa (RM8.80 ~ SG$3), rice and drinks. The total bill about RM70 ~ SG$23. We can get better food elsewhere for sure.
The Otak was like packaged otah fishcake (strangely dry and bouncy), the Ngo Hiang quite tasteless, the Chap Chye err I can cook better (swear), the 'Laksa' we couldn't bring ourselves to finish it – no fragrance, no oomph, nothing! Only the Sambal Petai Prawns were barely passable. Very disappointing! I really liked the décor though, very traditional with a family feel, plus the service was not bad. Too bad the food left much to be desired.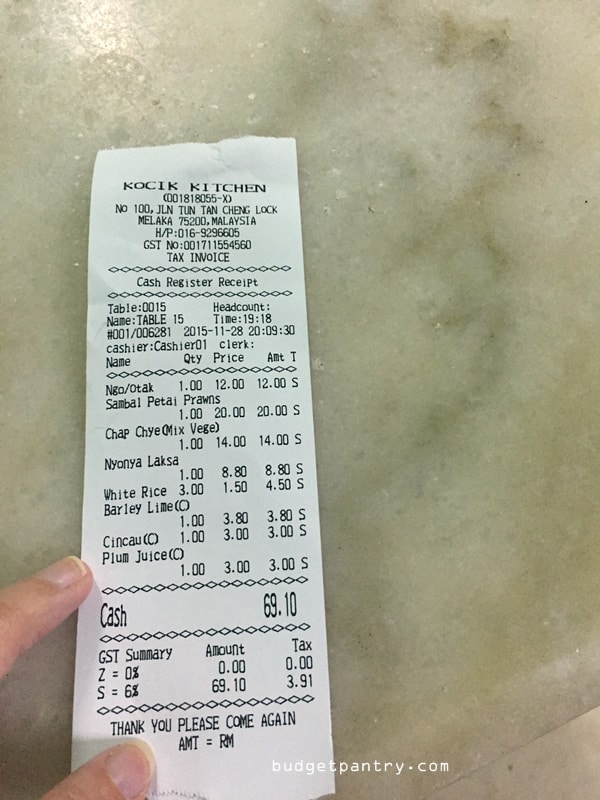 4. East & West Rendezvous
60 Lorong Hang Jebat, 75200 Melaka, Malaysia
It is easy to find this place while you are at Jonker Walk. Just turn left at the junction of San Shu Gong, walk for a minute and the shop is on your right. We thoroughly enjoyed the Nyonya dumplings here (the boss' black face is another matter altogether though).. and even having eaten countless Nyonya dumplings in SG, I have to say, this one in Malacca wins any other versions I've tried. It is that good! I mean there are nice food in Malacca but most of what we had were just so-so. But this was delicious! Chockful of meat, winter melon strips and delicious mushrooms. I could do with one right now. RM6.50 ~ SG$2.15. I LOVE BAK CHANG!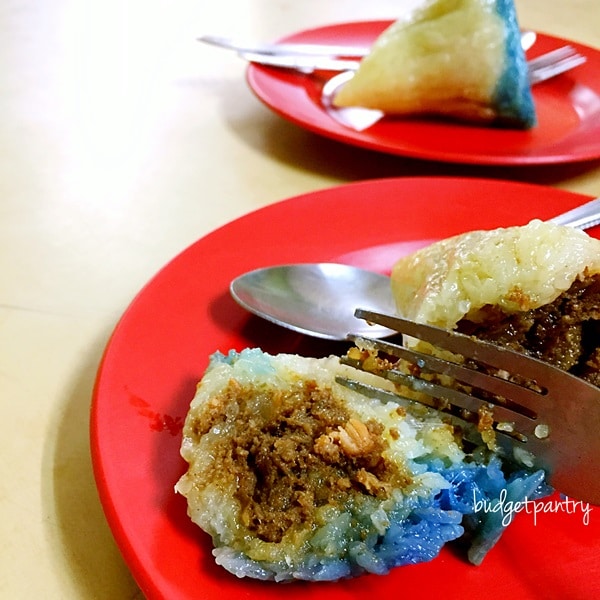 The best Nyonya chang in the universe.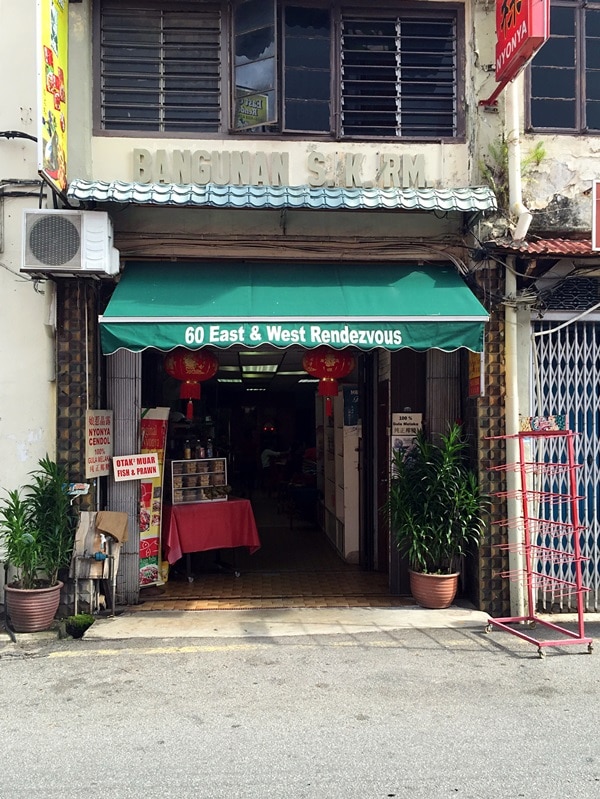 5. The satay stall at Lung Ann Refreshments coffeeshop 马六甲古里街隆安茶室
93/807, Lorong Hang Jebat, 75200 Melaka, Malaysia
Just diagonally across from East & West Rendezvous is this supposedly yummy satay stall. We bought 15 sticks to share among three of us (we were stuffed!) and I let the boys have the rest of my four sticks after trying one. I didn't think the meat was well-marinated nor was the satay sauce good. The meat was too tough and the sauce was watery. I won't recommend it but you can buy a few to try at RM0.70 ~ SG$0.25 a stick. Sorry my house opposite the satay nicer.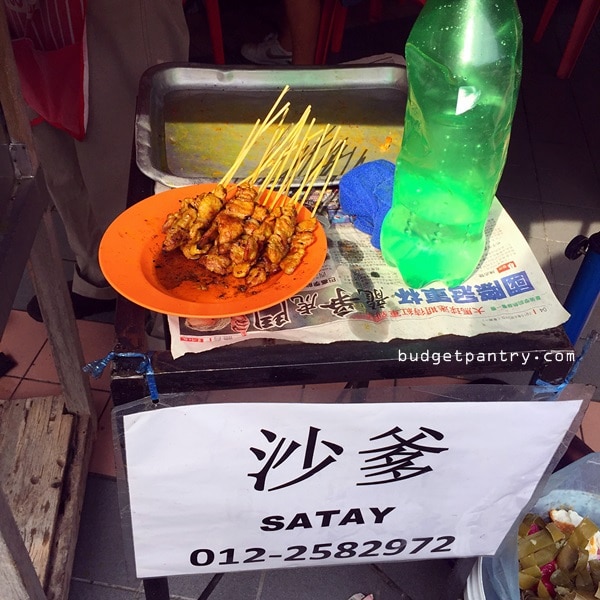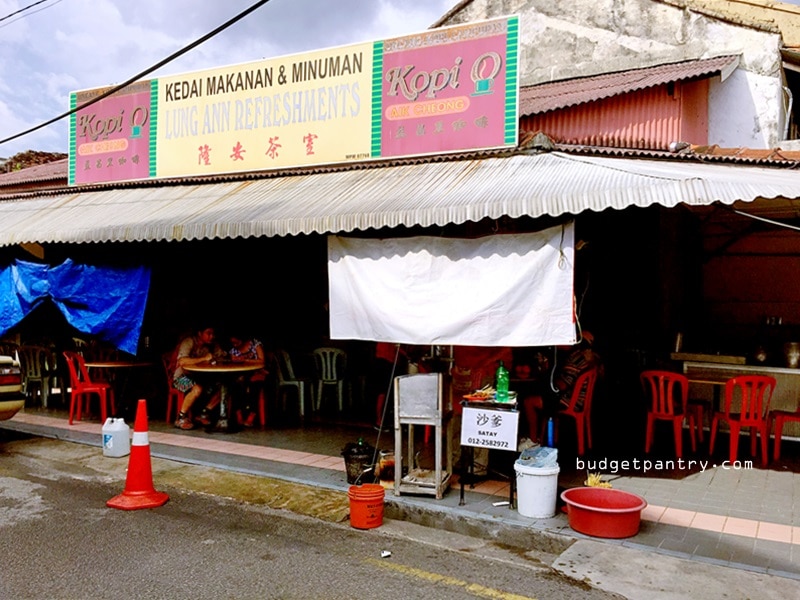 6. Jonker 88
88, Jalan Hang Jebat, 75200 Meleka, Malaysia
Most people would agree that this is the most popular eatery in Jonker Walk. Our Malacca friend told us he used to frequent this place in his school days, but since it became popular with tourists, he's not been back. The Baba Laksa wasn't as tasty as I remembered it to be.. fragrance was lacking and the curry wasn't thick enough. We ordered three bowls of the same thing – only one was complete. One bowl came without egg and the other came without cucumber and onions shreds. The cook must be too busy till dizzy. The chendol was also just ok, but delicious enough for me on a scorching hot day. The place was crazy packed at 3pm. We had to eat standing up! I only took a photo of the chendol cos it was kinda the only thing I liked there.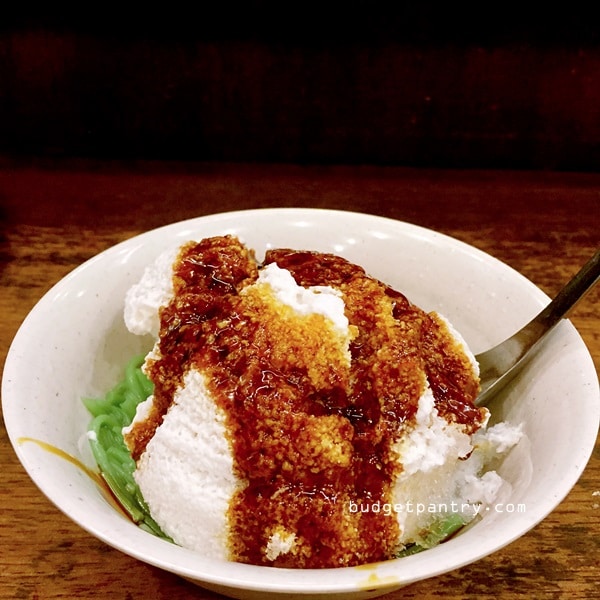 7. Wanton Mee at Heng Huat Coffee Shop
127, Jalan Hang Jebat, 75200 Melaka, Malaysia
Our favourite wanton mee in Malacca! The coffeeshop was full of local families when Jonny and I were there on Sunday morning. The husband was still sleeping so off we went to eat without him. We stood around for a while and I finally decided to ask the stall owners if I could share the table they were using to prepare ingredients (there was enough space for two) and they gladly let us sit there. And it was another 20 minutes of waiting time before we had our delicious QQ wanton mee in front of us. The aunty loosens each ball of noodles by gently dropping it on the countertop before cooking, then blanches them just right. The wanton was yummy and the char siew too lean. The star was really the noodles!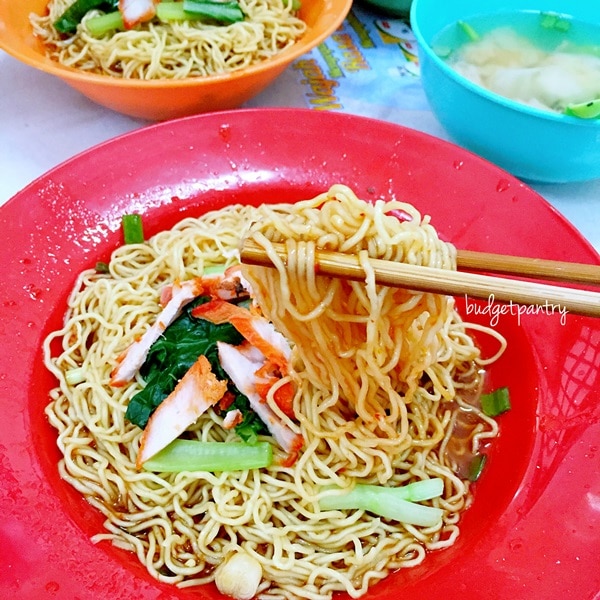 Wanton mee large, RM5.50 ~ SG$1.80
I'm really intrigued by the sauce that they use.. very light but so fragrant and flavourful. Every lovely strand of noodles is perfectly coated.
8. Tengkera Duck Noodle 大树下鸭面
33, Jalan Kota Laksamana 1/2, Taman Kota Laksamana, 75200 Melaka, Malaysia
This stall at Jalan Kota Laksamana is a branch from the main outlet at Jalan Tengkera, which we visited the last time we went to Malacca. It looks nondescript but the duck noodles are still very good. The husband ordered the small version and ate it all, after our lunch at Nancy's Kitchen! I tried a mouthful and indeed the tender duck meat had the same delicious flavours as I remembered and the soup full of herby goodness.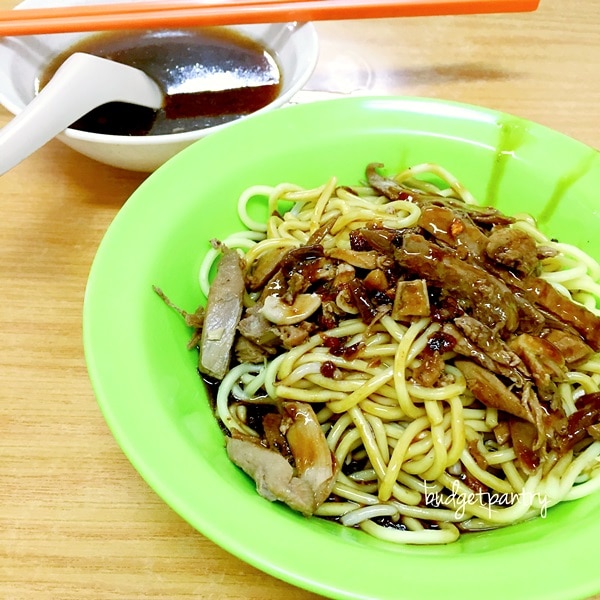 Small serving, RM3.80 ~ SG$1.30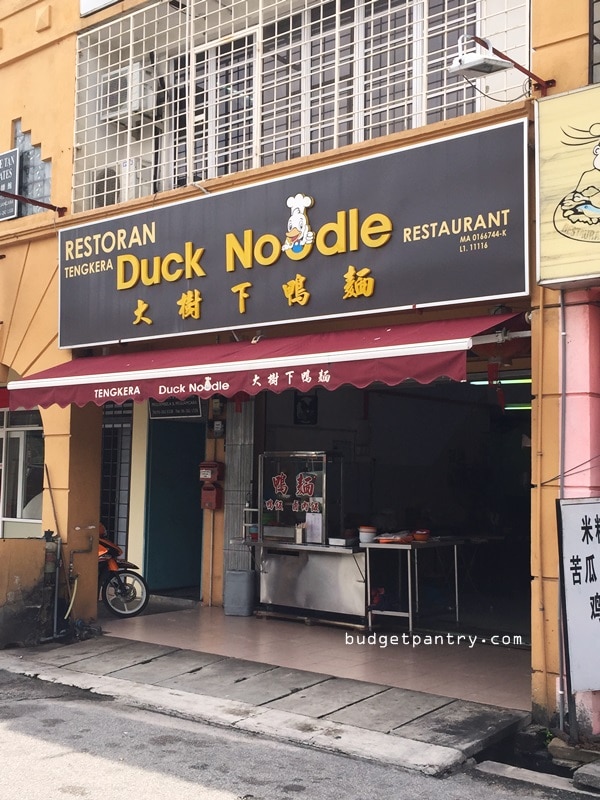 9. Asam Pedas Claypot
86, Jalan Laksamana 5, 75200 Melaka, Malaysia
I had no idea what to eat for our dinner on the second night so I started to google. Turned out that Asam Pedas Claypot is just 2 minutes away on foot from our hotel. And this was also the place Jason's buddy brought them to a couple of years ago when the whole gang went to Malacca for his wedding. They have a few choices of fish: mackerel, stingray, snapper.. prices differ. The server will also place a basket of otah on your table. If you don't want it, don't touch it. They will count the sticks at the end of your meal and only charge you what you ate.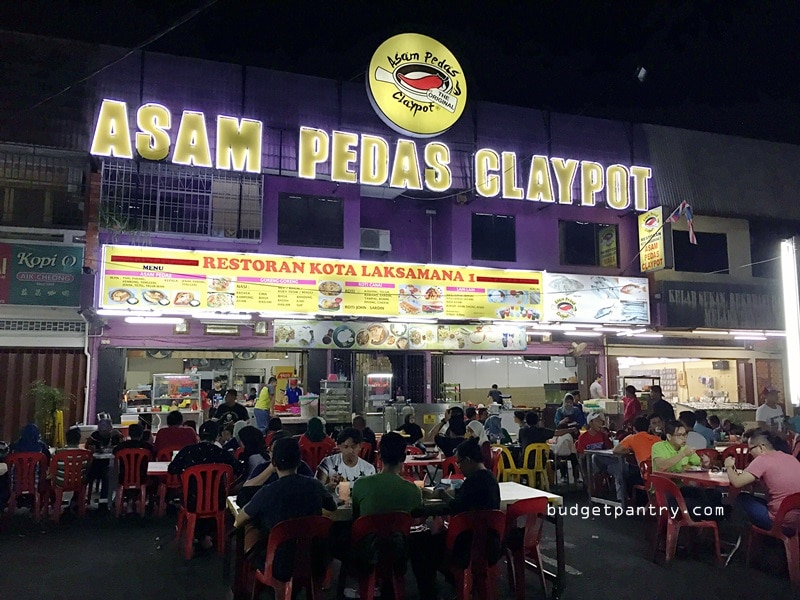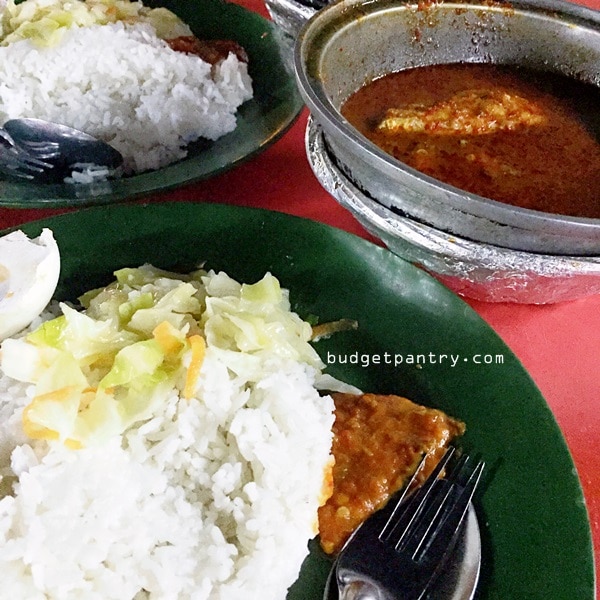 Power chilli and very fresh fish!
10. Pak Putra Tandoori & Naan Restoran
Jalan Laksamana 4, 75200 Melaka, Malaysia
This is one of the most popular places to eat in Malacca! Just round the corner from Asam Pedas Claypot which means it is about 10-12 minutes walk from Jonker. We took a short cut from the back gate of our hotel so for us it was 3 minutes max. It is great as a supper place as it opens from 5.30pm to 1am. I'm not a fan of tandoori chicken and naan but the chicken here is REALLY moist and juicy (you get a choice of thigh or breast) – just look at the pic! The chef told me he cooks it for 20-25 minutes. The naan was really thick and way too doughy for my liking though. We ordered one butter and one double cheese, both were so-so and to me, they're not worth my calories. This place has its legion of fans though. The chicken is yummy but it's hard for me to rave about it cos I just don't like tandoori chicken, but if you do, you'd love it! Jason gave the chicken 8.5/10 and naan 3/10.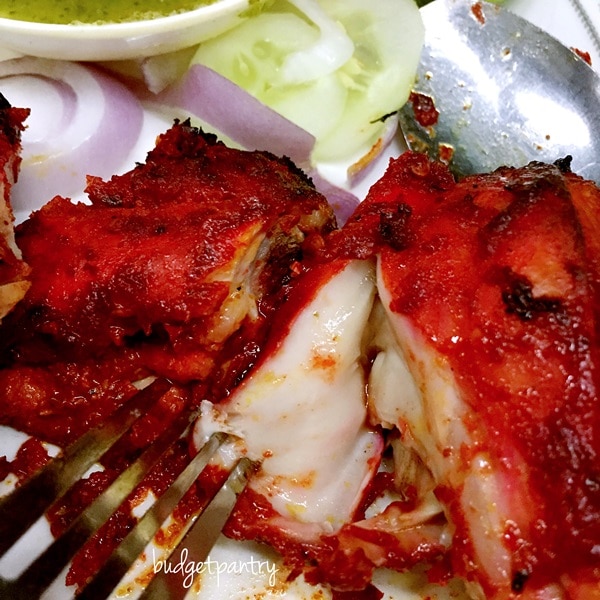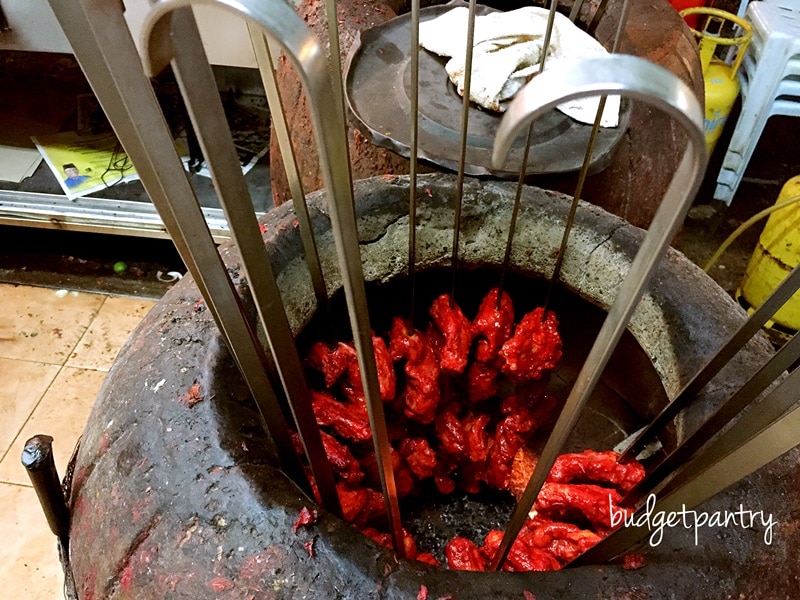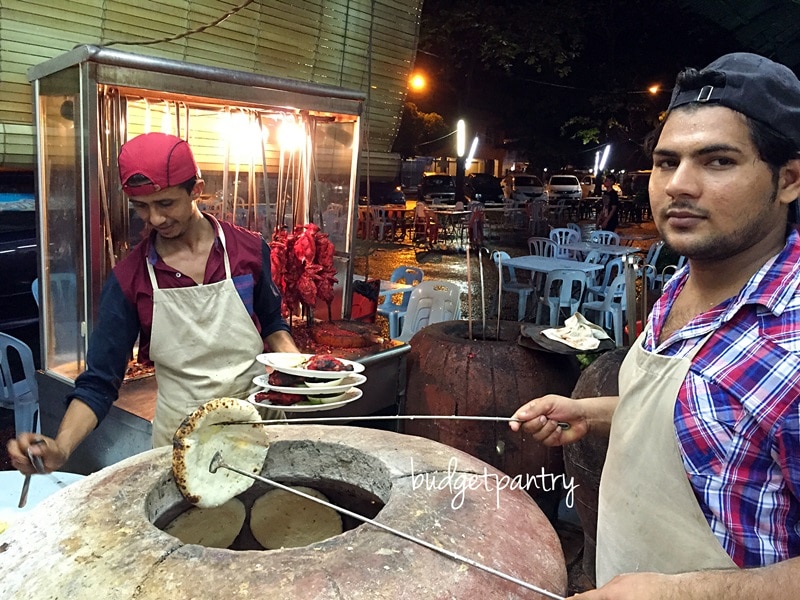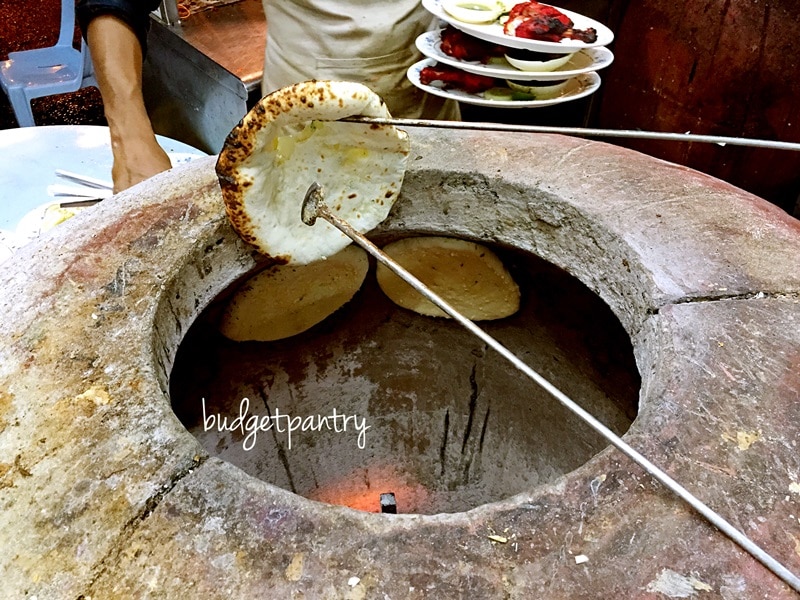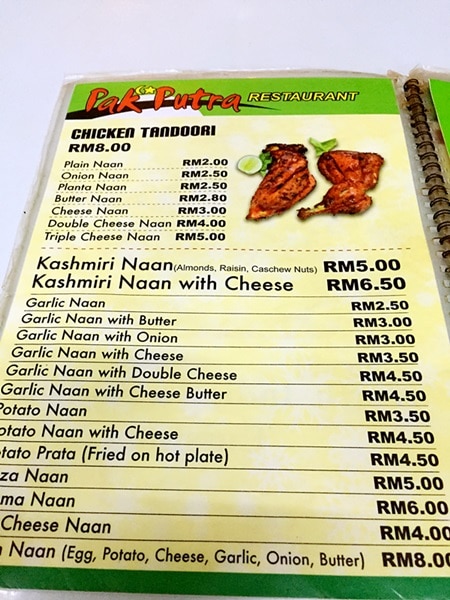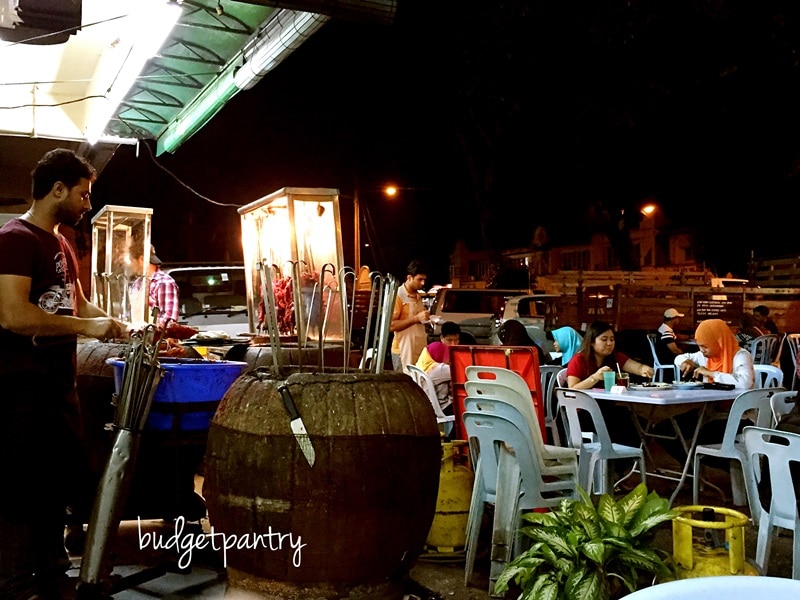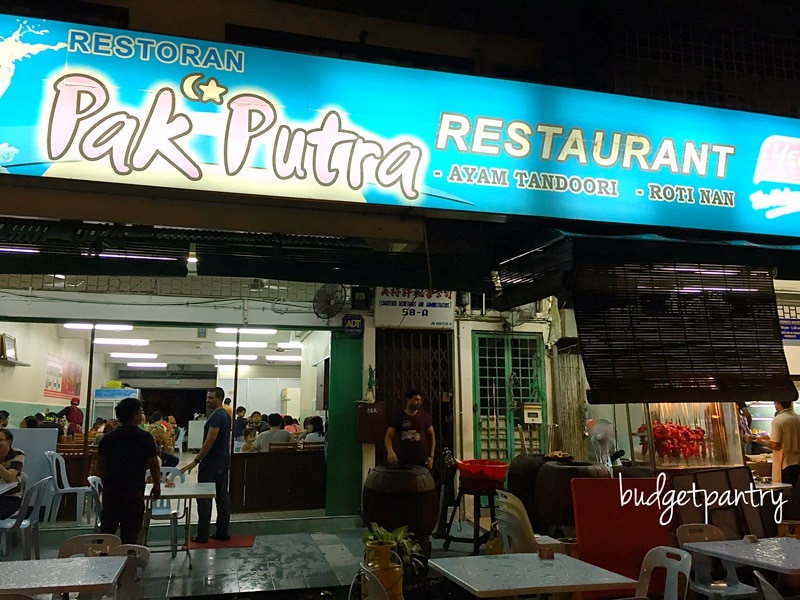 ===================
Overall, top picks of the trip: East & West Rendezvous Nyonya Chang, the Wanton Mee at Heng Huat Coffeeshop and Nancy's Kitchen's chendol. I'm not biased, but apart from these three which really REALLY stood out, give me SG food anytime :)