Airfryer (Philips Airfryer!)
,
Baking
,
Braised
,
Chicken
,
Fish
,
Low carb lunch ideas
,
One-dish Meals
,
Prawns
,
Seafood
,
Snack
,
Soup
,
Stew
,
Stir-fry
,
Under $1
,
Under $2
,
Under $3
,
Vegetables
,
Western Food
,
Zi-char
2015 Budgetpantry's recipe round-up!
I can't believe it's already the end of the year. 2015 seemed to have whooshed by in a flash! I had fun cooking and experimenting, although not as much as I'd like due to job demands and terrible lighting at dinner time :) I hope to bring us even more quick and simple recipes in the coming year!
I have posted about 100 recipes in the past year, and if you're looking for a few to start with, here you go! My favourites of 2015, in order of preference:
1. Creamy Homestyle Chicken Stew, June 2015
Recipe at: https://budgetpantry.com/homestyle-chicken-stew/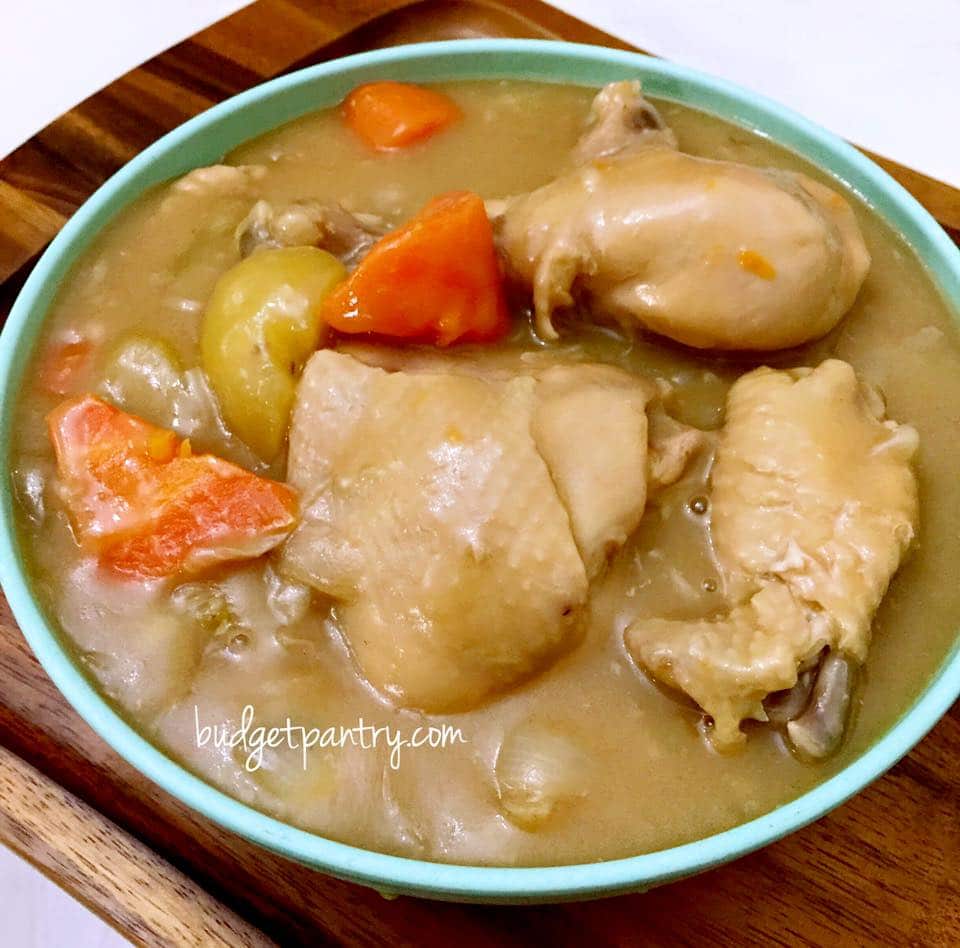 This is a family recipe, passed down from my 80-year-old aunt. I've never seen anyone else cook chicken stew this way! Everything is from scratch and I don't use canned soups or packaged creams. I ate this as a child and still love this today. My favourite way to cook this is on the stove top. This dish is perfect with rice and my #1 comfort food! Try it and you'll know why!
2. Airfried Cod Fish with Crispy Skin, HK Style, January 2015
Recipe at: https://budgetpantry.com/airfried-cod-fish-with-crispy-skin/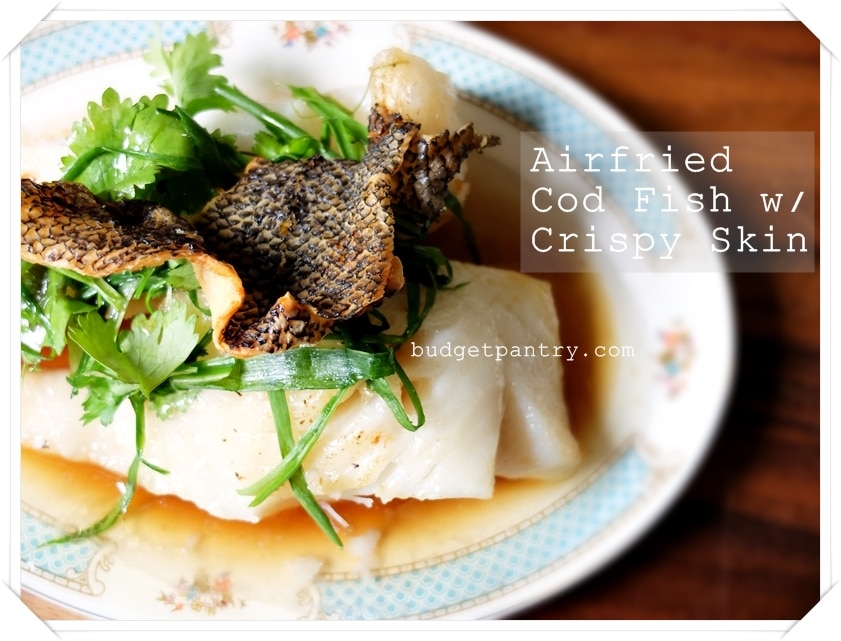 I often cook this dish, or variations of this dish using different types of fish like sea bass and salmon. The best part is that it can be done easily in the airfryer. You don't have to worry about over steaming it, nor do you have to care about skin that sticks to the pan (and messy splatters!) if you choose to fry in oil. I love how the rock sugar and boiling hot oil (that you ladle over at the end) really makes a difference to its flavour.
3. Mongolian Chicken, October 2015
Recipe at: https://budgetpantry.com/mongolian-chicken/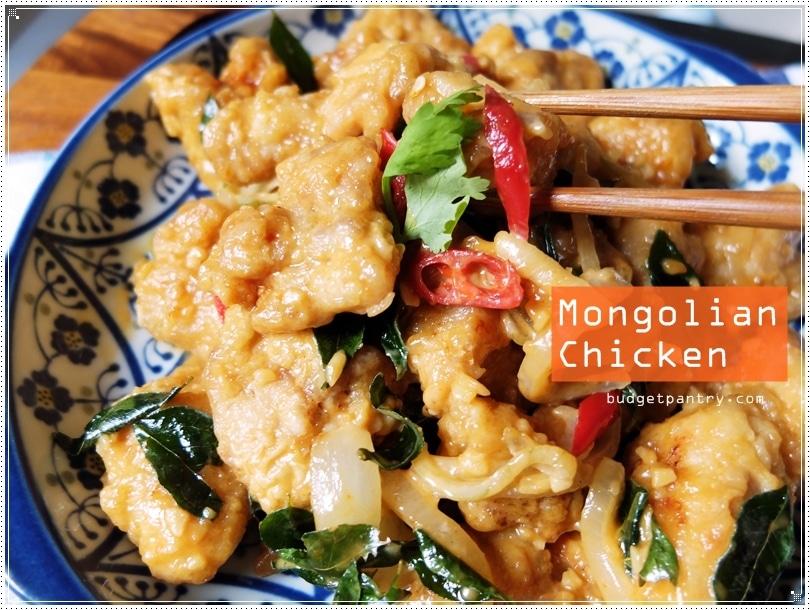 I seldom deep fry my food, but when I do, I make sure it's worth it! And this is worth it! 'Mongolian Chicken' doesn't seem to be available in Mongolia, just like how Singapore Noodles is non-existent here, but deep fried chicken pieces slathered in creamy, buttery gravy perfumed with evaporated milk and curry leaves is too good to pass up, no matter where this dish really is from.
4. Wok Fried Kam Heong Prawns, October 2015
Recipe at: https://budgetpantry.com/kam-heong-prawns/


One of my missions for 2016 is to make seafood-in-a-bag with kam heong sauce! Imagine crabs, prawns, lala, corn and carrots served Dancing Crab style but with kam heong sauce.. I think it'll be a great match. Let's see if it happens!
5. Salted Egg Sotong, March 2015
Recipe at: https://budgetpantry.com/salted-egg-sotong/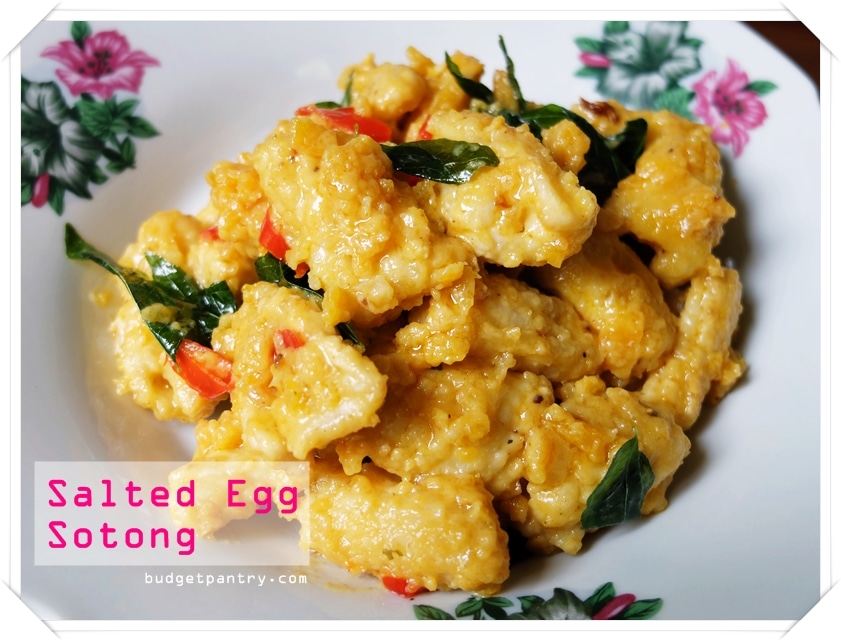 I did a few versions of salted egg sauce this year. This version is my favourite. I prefer not to steam the egg yolks first to get the sandy texture and more fragrance. The addition of stock also made a big difference to how this dish turned out. This recipe recorded the highest hits ever for the blog, with over 5000 unique views in a day!
6. Traditional Pumpkin Rice 南瓜饭, May 2015
Recipe at: https://budgetpantry.com/traditional-pumpkin-rice/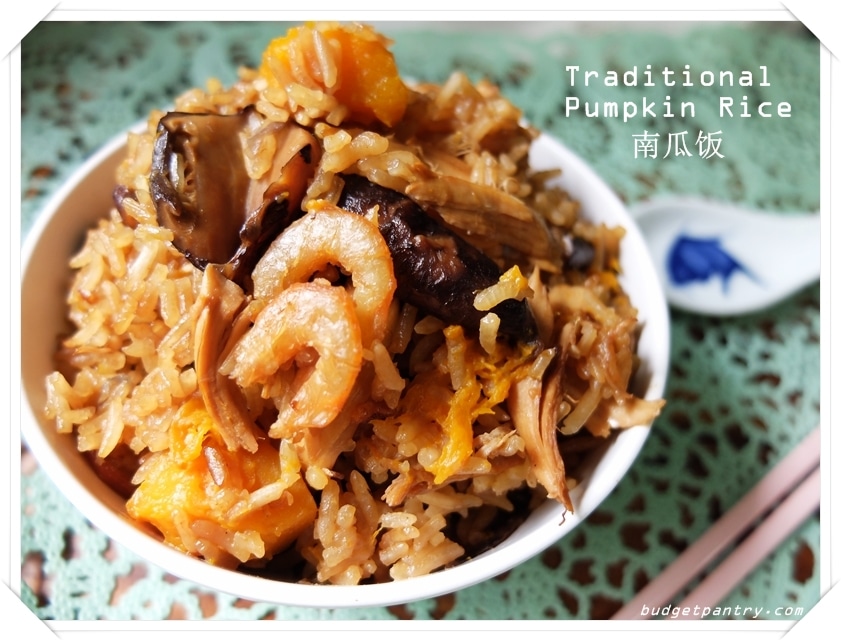 This is another of my go-to recipes for fuss-free dinners, especially when I don't know what to cook! When you're out of ideas, all you want is to throw everything into the rice-cooker and let it do its magic.
7. Airfried Cajun Salmon, December 2015
Recipe at: https://budgetpantry.com/airfried-cajun-salmon/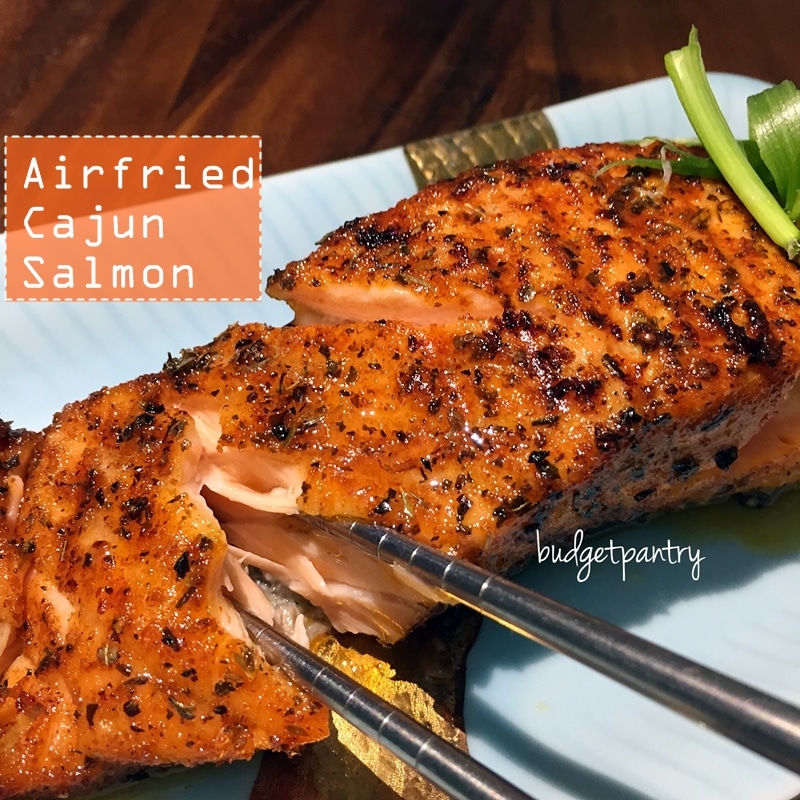 When cooking salmon, always remember not to overdo it! I've had my airfryer for 3 years – it's the first generation Philips 9220 and it has served me well. The one thing I have cooked the most in my airfryer? Salmon. I will never pan fry salmon again with this fool proof recipe. Just wash, sprinkle on Cajun spices, and airfry for 7 minutes in a preheated 180C AF. This recipe is so simple, dinner is literally on the table in 10 minutes, including prep time!
8. Low carb lunch idea: Grilled Cauliflower Steaks, June 2015
Recipe at: https://budgetpantry.com/grilled-cauliflower-steaks/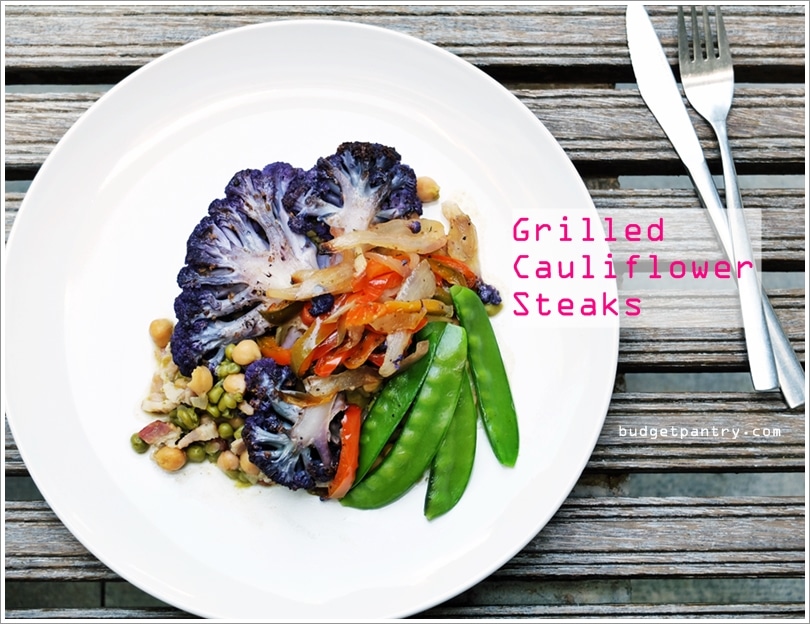 One of the most beautiful dishes I have photographed.. I'm not a fan of cauliflower when it's stir fried but when roasted, grilled or baked, cauliflower is totally transformed, emitting a delicious, intense, nutty flavour. So good!
9. Hakka Abacus Seeds for Noobs, December 2015
Recipe at: https://budgetpantry.com/hakka-abacus-seeds/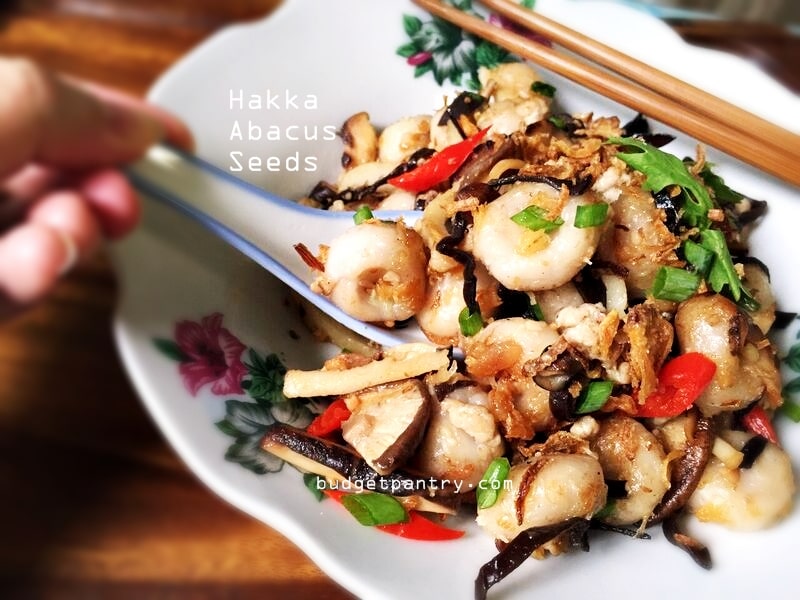 I had to include this because it was the most back breaking thing I have ever attempted. If you're a noob at this like me, you'd like this recipe.
============================================
So that's my round-up for 2015! Thank you for sticking around, especially those who are with me on my Facebook Community – you have no idea how much your likes, shares and comments mean to me!
Love,
Chris