Quick 15-minute Chai Poh Barramundi (Asian Sea Bass with Preserved Radish)
When I say this dish is ready in 15 minutes, it really is ok! I got this ready in less than 15 minutes INCLUDING prep time because it really is so simple.
You can choose to steam or airfry the barramundi. I airfried it at 180C for 8 minutes and the flesh was so tender and moist. Steaming takes about 7 minutes on high heat as you're not steaming a whole fish (I used local barramundi fillets from Sasha's Fine Foods). Top it with chai poh (preserved radish – scroll down to see the brand I use) and a separate soy sauce mixture and dinner or a quick lunch is ready!
About the Barramundi
The local barramundi fillets I used were from Sasha's Fine Foods. The flesh is firm with large, white moist flakes with a sweet and buttery flavour which I really love. The best part is they are caught locally at a sustainable hormone and antibiotic-free aquafarm, Singapore Aquaculture Technologies (SAT) – where water quality is monitored and water is naturally filtered, treated and oxygenated, ensuring well-defined conditions for stress-free growth.
National Day Promo! + use code 'Budgetpantry10' for 10% off
In line with National Day, Sasha's Fine Foods is having a 10% off on local products from 5-12 August 2019! See here for the list. You can still use my code 'Budgetpantry10' for additional purchases on their website. Get your orders in!
Read about Sasha's Fine Foods in my earlier blog post. I really love their no antibiotics, no hormones, sustainable produce!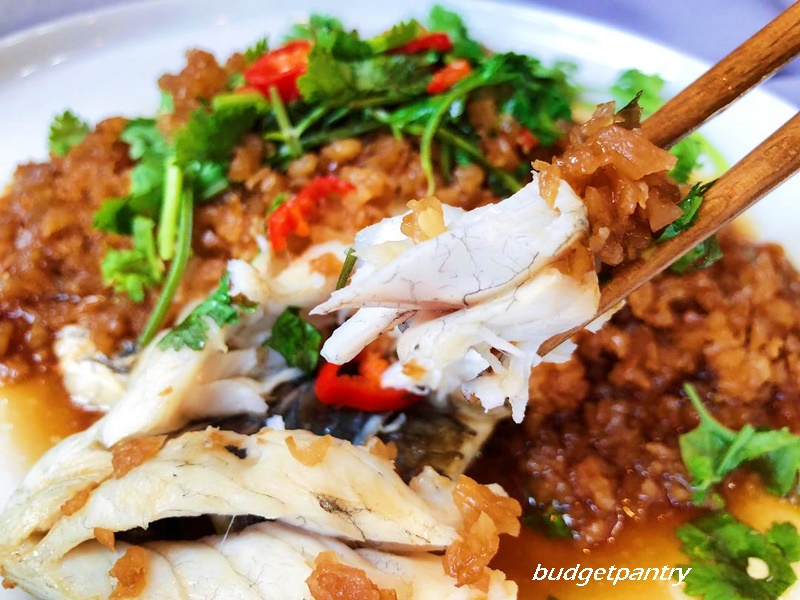 About the preserved radish (chai poh)
Use sweet chai poh, not the salty type. This is the brand I got from Sheng Siong and I see that it is also available on Redmart: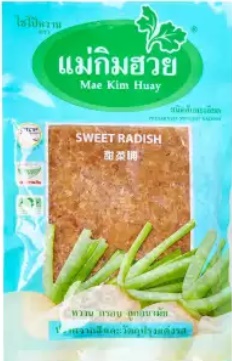 And now for the recipe…
Chai Poh Barramundi (Asian Sea Bass)
(budgetpantry.com)
Serves 2-3
What you need:
2 pieces barramundi fillets (about 400-440g)
1 packet sweet preserved radish (chai poh)
1 tablespoon minced garlic
1 teaspoon sugar
1 red big chili or chili padi, chopped
Handful of corriander, chopped
1 teaspoon oil
For the sauce:
200ml water
2 tablespoons light soy sauce
1 teaspoon cooking wine
1 teaspoon sugar
Steps:
Preheat airfryer for 5 mins at 180C. Or prep your wok/steam oven/steamer for steaming.
Heat the oil in a pan. On medium-low heat, add preserved radish and sugar and fry till fragrant. Add the minced garlic.
Boil all the sauce ingredients and set aside.
Airfry the barramundi for 7 minutes. Top with sauce, chai poh, chili and corriander and serve immediately. (Optional: Heat up 2 tablespoons of oil in a small pan till sizzling. Drizzle over entire dish before serving.)