White Radish Pork Rib Soup 白萝卜排骨汤
One of cbb's best food memories in Taiwan was the 白萝卜排骨汤 at Wang Ji Fu Cheng Rou Zong (王記府城肉粽). And one of mine is HER SPILLING THE ENTIRE BOWL OF HOT SOUP ON THE TABLE and we had to sheepishly clean up and order another.
Ever since that Taiwan trip, she has been bugging me to make this soup whenever she feels like having something light, tasty and sweet. And that's what this soup is. I like adding spaghetti to this (no really, one of my fav dishes is spaghetti in clear soup) and Cbb likes hers with macaroni. Or you could always have it alongside a bowl of steaming hot rice. I hope you like this soup as much as we do!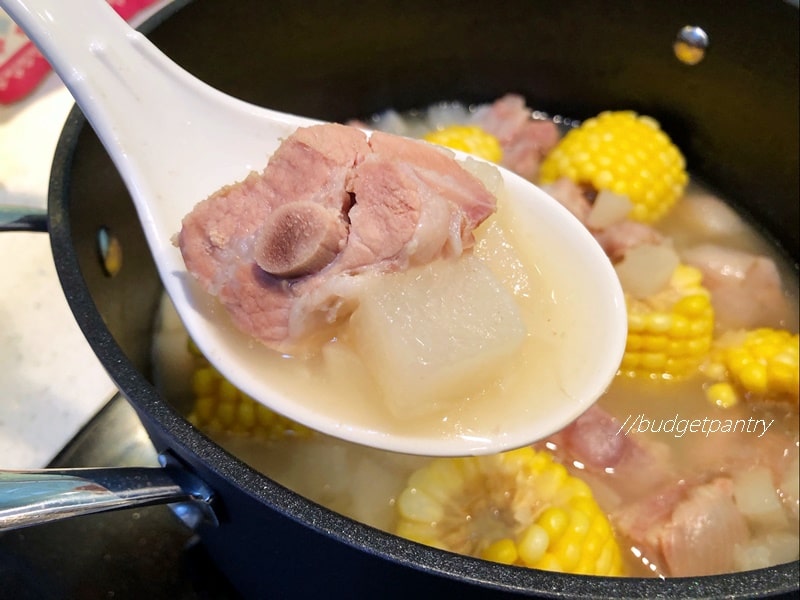 White Radish Pork Rib Soup 白萝卜排骨汤
(budgetpantry.com)
Makes 3-4 servings
What you need:
500g pork ribs (I like to use soft bone)
300g white radish (daikon), cut into small chunks
1 Pearl corn or sweet corn, cut into chunks
1 honey date
1 whole bulb garlic, smashed, skin on
1 can braised peanuts
Salt or mushroom powder to taste
Handful of cilantro
Steps:
Prep the pork ribs: Blanch ribs in boiling water, then rinse under the tap to remove gunk.
In your slow cooker, combine all ingredients along with 3.5 litres water. Cook on auto shift for 5-6 hours. Add the braised peanuts. Add salt or mushroom powder to taste. Top with cilantro before serving.