Vegetable Bake in Cream of Chicken Soup
Who feels ashamed of cooking with cream of chicken soup? Not me! Some cooks that I know scoff at cooking anything with readily available sauces or mixes.. I mean, it is nice if you can make that pesto from scratch but if I decide to cook out of a bottle in less than half the time you took to pound those pine nuts, it is my business. What I do with the extra time I have is also my business. Fresh is always best, but cooking once in a while with processed food is fine, and saves you a lot of time! Combine canned soup and premixes with fresh, colourful vegetables like in this recipe, and you can still eat well!
If you can assemble things, anything, you can put this recipe together! You get to choose the vegetables you like on top of the mandatory potatoes and carrots. I normally choose broccoli and peas, and if you have some leftover roast chicken, add them to your pyrex dish, along with some cheddar or mozzarella. Then bake til vegetables are done, top with crushed Ritz or Julie's butter crackers (or breadcrumbs drizzled with butter) and pop it back into the oven for just a bit, til golden, for a great meal!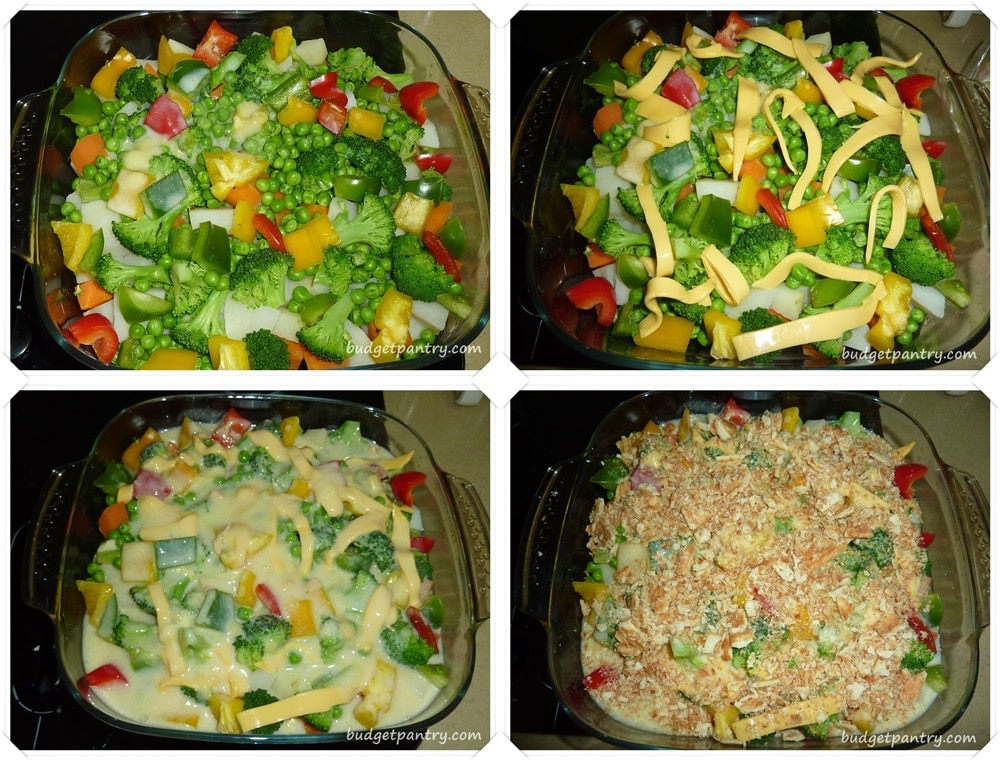 Makes 8 servings
What I used:
2 potatoes, peeled, cubed
1 carrot, peeled, cubed
A handful of broccoli
A handful of peas
Some green, red and yellow peppers, cut into small chunks and coated in some olive oil
2 slices cheddar cheese (you can use shredded mozzarella)
1 can Campbell's Cream of Chicken Soup
200 ml milk
Black pepper
Half teaspoon salt
2 packets Julie's crackers, crushed
Roast chicken, optional, shredded (don't over do it) those bbq spring chickens from Cold Storage will be great for this dish!
1. Preheat oven to 190 degrees celsius.
2. Combine the soup, milk and black pepper in a soup pot. Simmer for a bit on your stove and set aside.
3. Lay out all the vegetables and sprinkle salt over. Add roast chicken if using. Spoon soup mixture on top and add the sliced cheese.
4. Bake for 35 minutes until the vegetables are tender, then take out the dish from the oven and sprinkle the crushed crackers. Add mozzarella cheese if you have some. Bake for 5 minutes til cheese is melted. Keep watching because the crackers burn easily! Alternatively, combined mozzarella and breadcrumbs and drizzle melted butter over. Bake for 10-15 minutes until breadcrumbs are crispy.
5. Enjoy!
——————————————————————-
I didn't have mozzarella on hand so I just baked this simply. You can also do a cheat version by boiling all the vegetables (except the bell peppers) beforehand. Fry the bell peppers in some olive oil. Separately, heat up the soup and milk in a pot before adding the black pepper. Spoon the soup over the vegetables (sprinkle salt!), top with cheese, and sprinkle the crushed crackers over. Bake for 5 minutes til crackers are golden. If you choose this method, you're basically just heating up the vegetables and melting the cheese since everything's already cooked. It saves much more time, but be warned that the taste is not gonna be as good as when you allow the sweetness of the vegetables to come together in a slow, bubbly bake. The choice is yours!