[Travels] Rome: Singapore to Rome on Air France and Transport from Fiumicino Airport
Hello from Rome! (and the first picture you're looking at is airplane food onboard Air France. Wow.)
We flew Air France and transited in Paris, so it was a good 12-hour flight plus a 2-hour connecting flight. We didn't want to transit in Dubai because we would much rather sleep through the stretch instead of waking up in 6 hours, then connect on another 6-7 hour journey. It was my first time flying with Air France and may I say, it was a pleasant surprise! We checked in early and got ourselves a 2-seater. I am sooo thankful for that 2-seater!

I chose the Fillet of Perch with mustard cream sauce and linguine. The taste was ok and pasta was actually good, but I wished they didn't "reuse" the peppers and eggplants for both salad and pasta. I had my bread roll and (unsalted!) butter, so I was still happy. The "almond" cake tasted like banana cake with chocolate, but it was cake, so I was still happy, too.

The breakfast was bread and more bread! The croissant and bread roll were unfortunately cold. The bread and banana pudding was quite good although it didn't look it. We asked for more butter with the bread. Must build up fats mah right, for the cold weather?

While waiting for our transit flight in Paris CDG airport. (Sorry, dear husband, you got to have a big face so mine can be small.)
We arrived in Rome at 11.30am local time. Despite the times I've been in Rome, this was my first time at its airport. We arrived in Terminal 2E. If you are looking to buy a prepaid SIM card, get it when you're on the way to the baggage claim- you will see Vodafone and TIM. If you exit the arrival area before baggage claim, there are no more telco booths outside and you cannot go back in. The next place to get a SIM card is in Station Termini. In Terminal 3 though, there is one lonesome Exactta booth in the arrival area and I can't say I've heard good things about them.
From Fiumicino airport, most tourists head off to Station Termini which is their main connection "hub" to other parts of Rome. It is like King's Cross Station and 台北车站 with hotels and B&Bs readily available.  There are a few ways to get out from Rome Fiumicino airport to Station Termini or to the city:
1. Leonardo Express Train (14 euros one-way to Station Termini. More info here.)
2. Buses (4 euros- the cheapest transport option to Station Termini. More info here.)
3. FL1 Regional Train (8 euros one-way. This is their "local" train and connects to various train networks but does not go to the center of Rome nor Station Temini. We took this train to Roma Trastevere to connect to Roma San Pietro near the Vatican.)
To take the FL1 regional train, look out for the yellow "Train" sign and follow it til you see this booth. If taking the Leonardo Express, follow these same directions- they're at the same place. This was at T3 but don't worry; if you follow the yellow sign, it will lead you right to where you wanna be:
Ignore the booth and head straight down the escalator to the railway station:
At the top of the escalator, you will see a self service ticket machine. You can use the machine or go to the ticket office located just behind it. The customer service speaks English and are very friendly, so go to them if you need help.
When travelling, I always like to buy my own tickets. Ready for some step-by-step instructions?
1. Select language.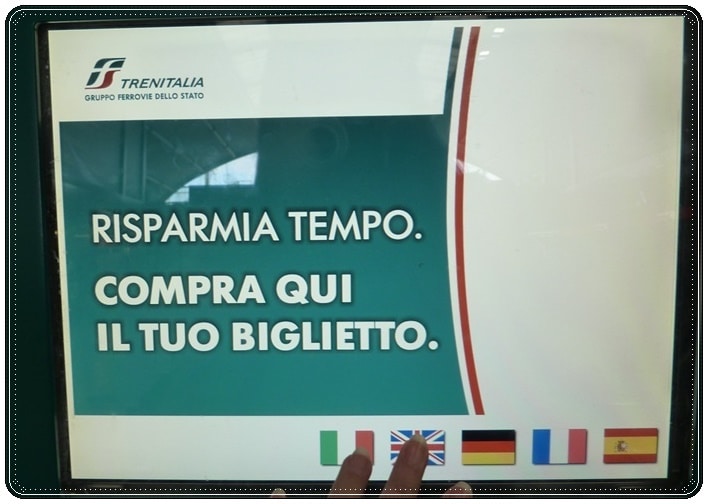 2. Select "Buy Your Ticket".
3. Select "Buy Your Ticket" again (we don't have any loyalty discounts).
4. Select your itinerary. By default, departure station will be the place of purchase; in this case, Fiumicino Aeroporto. We were going to Roma Trastevere seven stops away.
5. Input number of travellers. The journey and class (Ordinaria/ 2nd Class) are by default and cannot be changed.
6. Select your method of payment: Cash or Cards.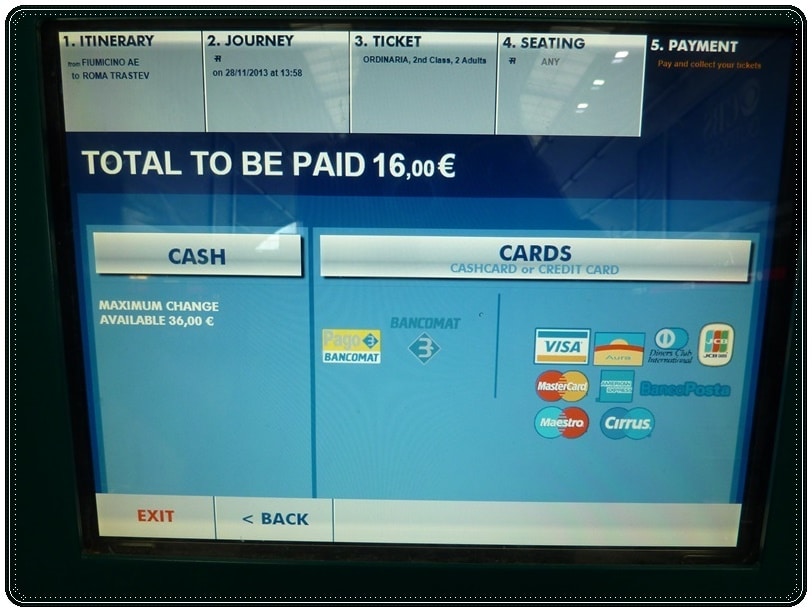 7. We chose cash. Insert your notes to the right of the machine.
8. Get your change and tickets.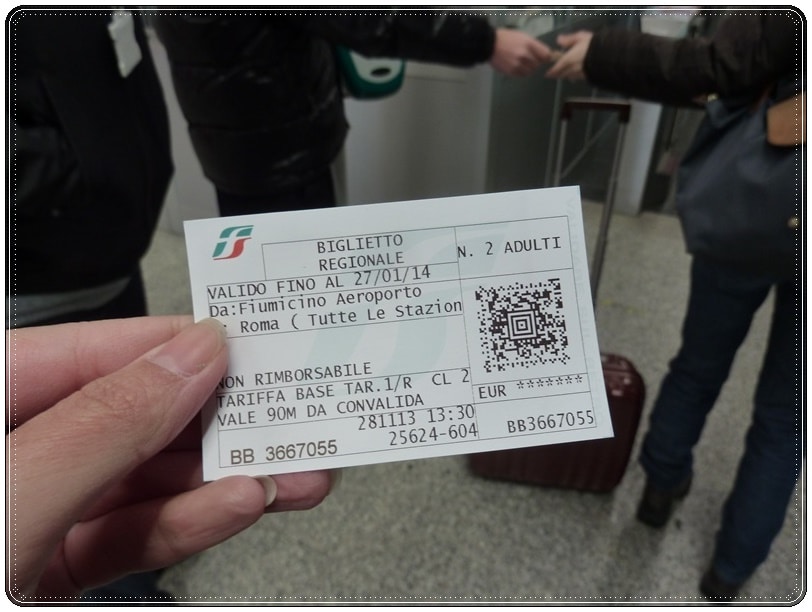 9. Validate your ticket at the green validation machine just before you enter. There should be someone helping you with it. This Italian guy was so funny and talked to me all the way in Italian. He said he was camera shy (I took intensive Italian self-study "classes" and was surprised I could understand it!).
10. You will go straight to the platform. One side will be the Leonardo Express, the other FL1 regional trains. Get on the right one! Please ensure your tickets are validated if not there will be hefty fines. There will be a conductor onboard! We were getting off at "Roma Trast.".
The journey took about 20 minutes to Trastevere. We changed platforms at got on the FL3 train to Roma San Pietro which is two stops away. From there, we walked 5 minutes to our B&B "San Peter Rome B&B".
The day is just starting for us (it's 9am here) and we're heading off to Campo de Fiori market . Will blog more about the B&B in my next post. Ciao!