Easy Mee Rebus with Toast box's Asian Delight Ready-to-Cook Pastes
Advertorial
Toast Box celebrates SG50 with the launch of Asian Delight Ready-to-Cook Pastes

I came home last Friday to a package from Toast Box – they had sent me their new products: Asian Delight Ready-to-Cook Pastes featuring Curry Chicken, Laksa, Mee Siam and Mee Rebus.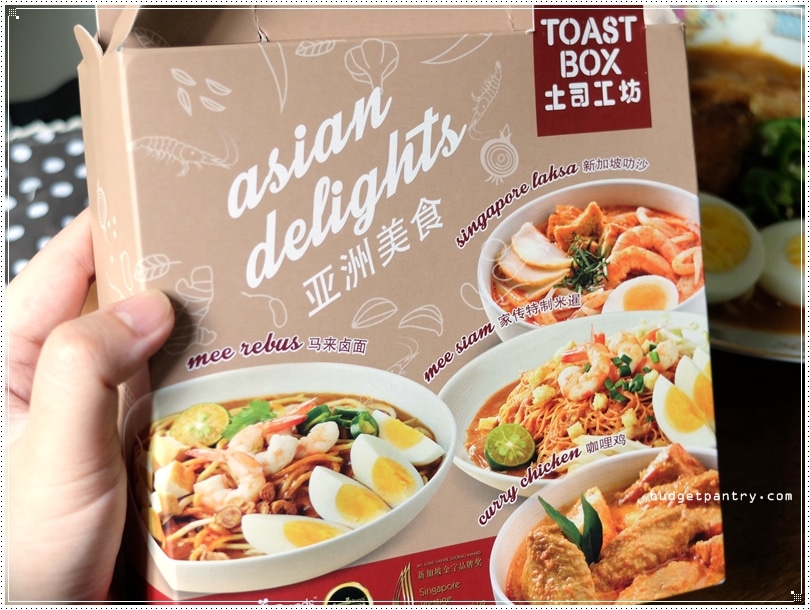 The pastes are sold in individual packets but you can mix-and-match any four and take them home in a box. Toast Box sent me four assorted flavours. The one that caught my eye was MEE REBUS! There are lots of choices in the supermarkets for curry chicken, laksa and mee siam pastes, but MEE REBUS? This is the first time I'm seeing it. Although I am trying to eat less carbs right before my Japan trip, I guess one small spoonful can't hurt right? (it can.) Plus I also air fried some chicken wings last night so this is a sign that I have to cook the mee rebus. MEE REBUS + FRIED CHICKEN WING = diet down the drain.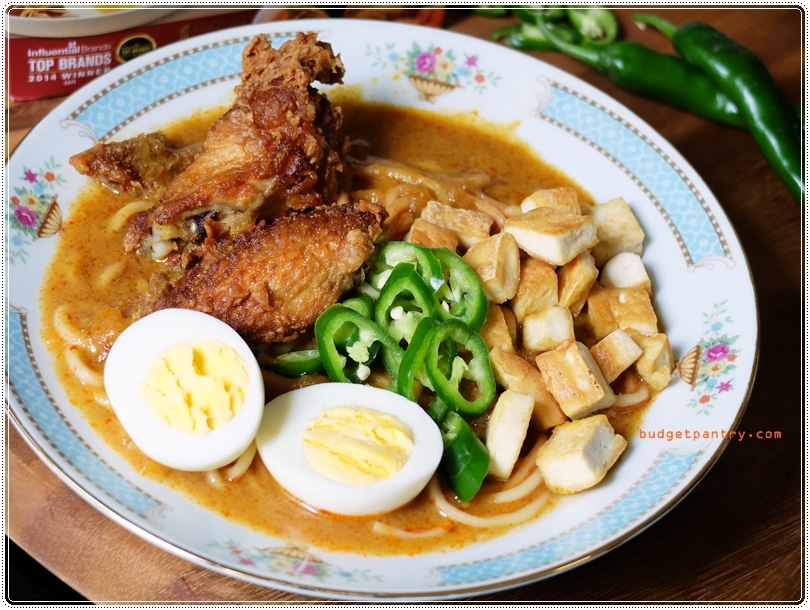 I usually don't eat mee rebus because the gravy and noodles are really heavy, but I do enjoy a good bowl once in a while. This version isn't that thick and actually tastes pretty good. It would have been better if it was a wee bit less sweet, but this is my personal preference. I didn't have bean sprouts because all that I saw in Giant last night were in really bad shape, and it was toooo last minute to order online.
The packet stated that one pack is good for 2-3 people, but I think it could be good for 4 people. You can get four plates of what you see here if you follow the recipe below.
Recipe
Easy Mee Rebus

(budgetpantry.com)
Serves: 3-4
Total cost per serving: $2.40
What you need:
1 packet Toast Box Asian Delights Mee Rebus paste
540ml water
4-5 shallot sections/cloves, peeled and sliced
1 tablespoon olive oil
1 tau kwa (firm beancurd), cubed and pan fried til golden
4 hard-boiled eggs, halved
4 servings yellow noodles, blanched
4 green chillies, sliced
Steps:
Mix the mee rebus paste and the sachet of spice/seasoning/dairy powder (included) with 520ml room-temperature water.
In a wok or saucepan, fry the shallots in oil til fragrant, then add the Mee Rebus gravy mixture above. Bring to boil, then lower the flame to simmer for 10-15 minutes.
Arrange the blanched noodles in a shallow plate, ladle the gravy over, then top with egg, tau kwa, green chillies (and chicken wing :P) before serving.
How much I spent:
$6.30 for Mee Rebus paste ($0.50 off promotion now on. see below)
$1.50 for yellow noodles
$0.40 for tau kwa
$1.20 for eggs
$0.30 for green chillies
Everything else from my pantry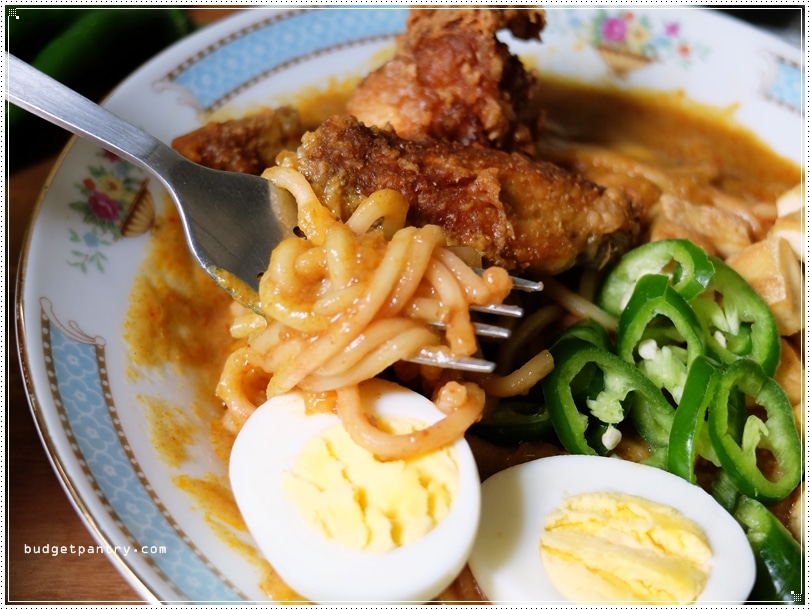 Prices
Each single packet of Toast Box Ready-to-Cook paste is retailing for $6.50 (except Mee Rebus, which is priced at $6.80).
Box of any 4 single packets: $26-$27.20
Availability
They are available for sale at all Toast Box outlets in Singapore except Queenstown MRT Station and Wisma Atria Basement 1.
SG50 Promotion
From 8 July to 10 August 2015, join Toast Box in celebrating the nation's 50th birthday with these in-store promotions:
$0.50 off purchase of any single packet of Asian Delight Ready-to-Cook Paste (U.P. $6.50-$6.80)
$5.00 off purchase of Coffee Brew & Coffee Powder Set (U.P. $27.90)
Customers can also purchase a box of any 4 packets of Asian Delight Ready-to-Cook paste at $25 (U.P. $26-$27.20)
Terms and conditions apply, while stocks last. Check in-store for more details. Thank you Toast Box for sending these samples my way!