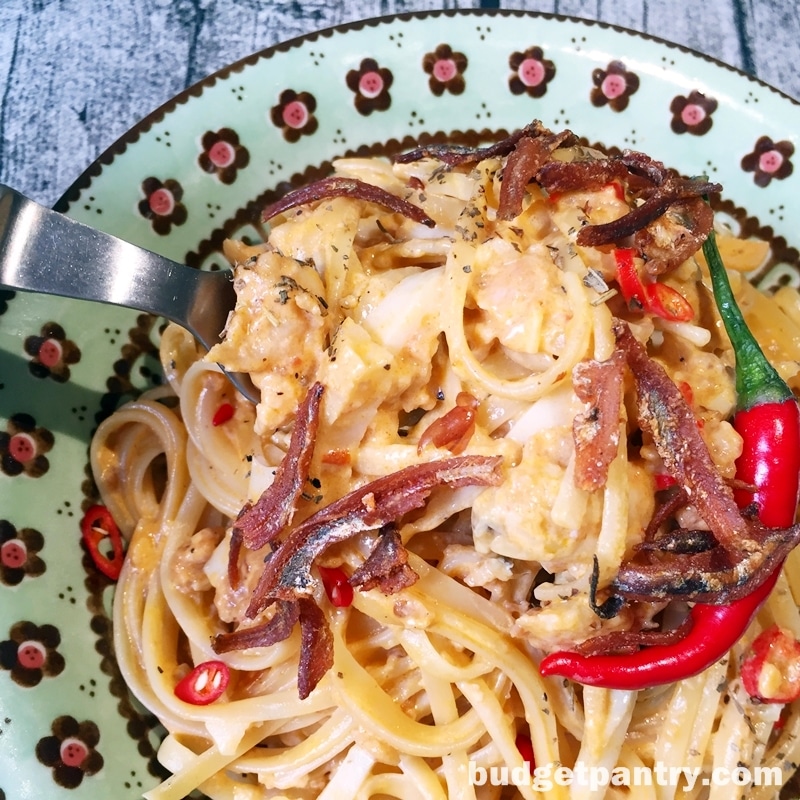 The husband suddenly decided to eat at home on Saturday and told me just "随便吃 lor". He must be joking how can I just let him anyhow eat? As long as he watches cbb I will be happy to cook a feast for him. I miss cooking! Happy that I can cook in peace, I decided to cook something new.

Pasta is the fastest, but aglio olio and carbonara are too boring. I had some delicious chunky otah in the fridge.. I had to make otah pasta! Never would I have thought using otah as the sauce base could taste so amazing. Thank you to Otah-soh of BBQBOYS's for recommending it to me!
For a no-frills meal, all you need: chunky otah, pasta (I used linguine), coconut cream and garlic. Then it's on to the ingredients. I didn't have prawns if not I would have added them. I only used sliced fishcake, and fried up some crispy ikan bilis as topping and it is already woww. Some bouncy squid sounds delicious too.
For the otah, get those muar types which are thicker and fleshier. You don't have to get them fresh. Frozen ones from the supermarket will do too, just defrost before using. If you have some finely chopped laksa leaves, sprinkling a little on top will make this dish even more interesting. Chili padi is optional although if you can take the heat, add it! This wowed me today cos it's so easy and delicious.. the hubby gave it 10 points!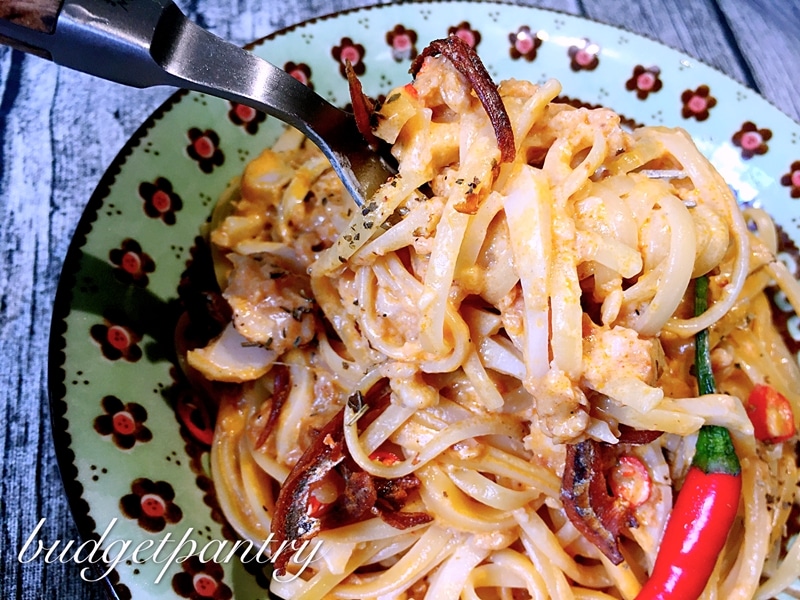 Spicy Otah Pasta
(budgetpantry.com)
Serves 2
What you need:
200g chunky muar otah (about 1 large pc), defrost if frozen
2 servings linguine or spaghetti
1 large fishcake, sliced thinly into strips
1 tablespoon chopped garlic
1 tablespoon olive oil
150ml coconut cream
180ml reserved pasta water (3-4 ladles)
Pinch of salt, to taste
Sprinkling of black pepper
1 tablespoon ikan bilis, fried and drained
2 chili padi, chopped
Finely chopped laksa leaves (optional)
Prawns or squid rings (optional)
Steps:
Cook pasta according to package instructions. Drain and reserve pasta water. Set aside. Do not run pasta under tap water!
On medium flame, heat up the olive oil and sauté garlic for a few seconds. Add the otah and mash with your spatula. Continue mashing for 1 minute before adding the fishcake, prawns and squid (if using).
Add the coconut cream and mix well, followed by the reserved pasta water (add it ladle by ladle and observe consistency). Simmer for 2-3 minutes till the sauce comes together. If it looks too dry, add more pasta water. Sprinkle black pepper and chili padi. Add salt to taste, if needed.
Add the cooked pasta and toss well with the sauce. Dish up, garnish with fried ikan bilis and laksa leaves before serving.