Shredded Chicken Noodle 鸡丝面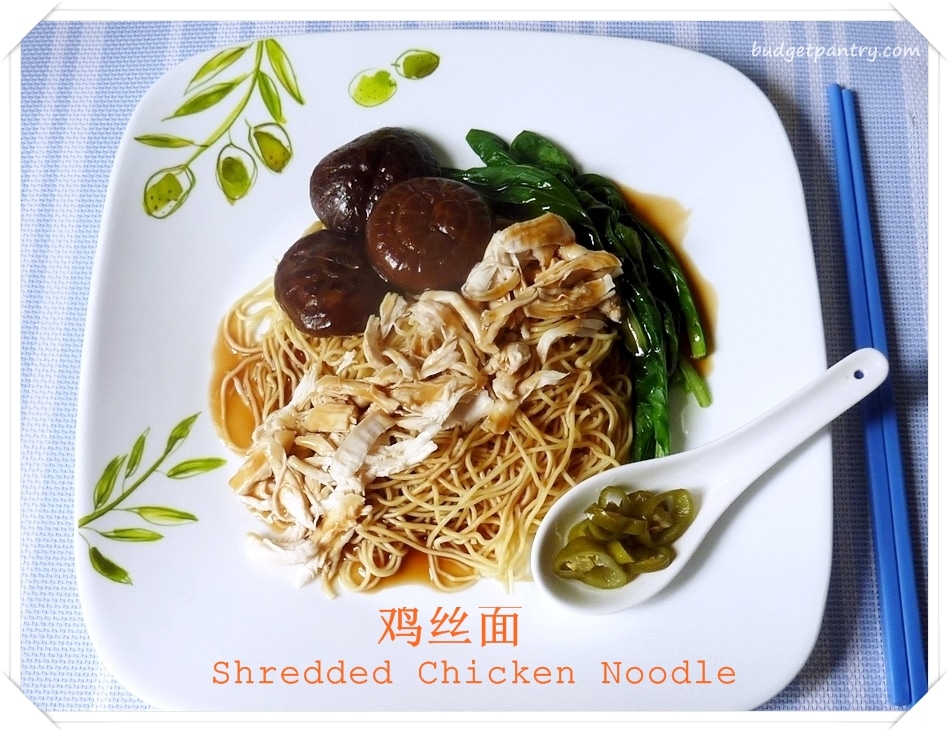 If you have noticed, I have a thing for cooking hawker meals at home. Char Kway Teow, Fried Fish Bee Hoon, Bak Chor Mee, Kway Teow Soup.. it was only a matter of time that 鸡丝面– Shredded Chicken Noodle– found its way to my dining table.
My plan was to cook braised noodles that day for lunch, but it was a blessing in disguise that the Giant opposite my place ran out of Ee-Fu noodles. It was the perfect reason for me not to be lazy and cook something new. And so, shredded chicken noodle it is!
Shredded Chicken Noodle with Mushrooms
Makes 4 servings. Total cost per serving: $1.65
What I used:
320g egg noodles (4 x 80g per serving. you can buy wanton noodles or dried packet egg noodles)
12 dried chinese mushrooms, soaked in room temperature water overnight (reserve liquid)
5 strips chicken fillet (you can use one chicken breast)
A handful of green leafy vegetables
500ml chicken stock (dissolve 3 tsp Woh Hup Concentrated Chicken stock in 500ml boiling water)
150ml reserved mushroom liquid
1 tbsp light soya sauce
1 tbsp oyster sauce
1 tsp chinese cooking wine
1 tsp sugar
3 tbsp cornflour solution (1.5 tbsp cornflour dissolved in 3 tbsp tap water)
Half tsp dark soy sauce (for colour)
Steps:
1. Cut an "X" with a knife on the surface of each mushroom, remove stems and set aside.
2. Bring the chicken stock to a boil, then add chicken and cook for 10 minutes. Remove chicken, cool and set aside.
3. In the same pot, add the mushrooms, reserved mushroom liquid, light soy sauce, oyster sauce, cooking wine, sugar, dark soy sauce and simmer for 5 minutes. Add the cornflour solution and continue to simmer. The chicken should be cool enough to handle by now. Shred and set aside. Let the mushrooms continue to cook in the sauce which should now be thickened.
4. Prepare the noodles. Place one portion in a sieve and dunk in boiling water for 20 seconds. Quickly remove and run under tap water. Return to pot and cook for another 30 seconds. Be sure to keep twirling the noodles with chopsticks to keep things going. At the same time, cook the vegetables in the same pot.
5. Drain the noodles on a plate and arrange the vegetables, shredded chicken and mushrooms neatly before ladling the sauce over. Serve immediately.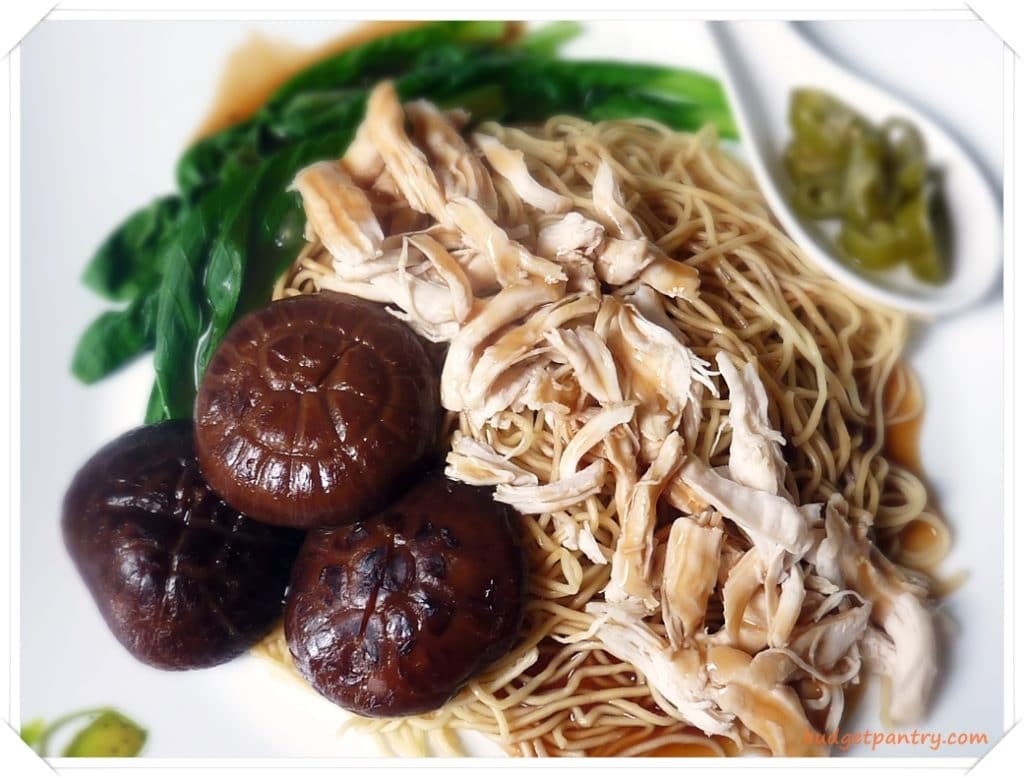 How much I spent:
$2.10 for noodles (I used 2 packets of dried egg noodles- 200g and $1.05 per packet)
$1.50 for chicken fillet
$3 for mushrooms
Everything else from my pantry
You can keep costs low by reducing the amount of mushrooms, or buy frozen chicken fillet in bulk. When making the sauce, add more cornstarch if you like it thicker, but remember never to add cornstarch directly to hot liquid. Dissolve it first in tap water using a 1:1 flour to water ratio, then gradually add it to the pot.
I hope you try this recipe out because we really enjoyed it! (They had fun eating.. I had fun cooking and plating!)
Oh, and a special mention to Woh Hup.. remember the Concentrated Chicken Stock I used for our Steamboat Day? I used it to make the chicken stock for this dish and the flavour was quite unbeatable. I don't think I will use chicken stock cubes again.. I'm quite a convert and will be using it as a marinade too. Thank you Woh Hup!