Salted Egg Barramundi – Kühlbarra: Eat Fresher Fish
Advertorial
This is a collaborative post with Kühlbarra but as always, all ideas, experiences and reviews are my own.
As a homecook who's into fuss-free meals, I always opt for easy-to-cook fillets when it comes to fish. I love cooking with salmon and cod because I can get them readily prepared and cleaned – all I need to do is give them a quick rinse and pat dry, season lightly, and I'm ready to cook. There are not that many choices for filleted fish in the market so you can see I have many salmon recipes. But now I have a new favourite: Kühlbarra's Premium Barramundi.

Perfect for a wide variety of cooking methods
Ocean-grown barramundi – also known as 'White Salmon of the Tropics' – is a white fish with a firm texture, suitable in frying, steaming, broiling, baking and even deep frying. For white fish, I started off cooking with sutchi fish because they're the cheapest. I don't eat them anymore because how can a $3.25 packet of 5-6 fillets be good for you? I then tried halibut– another white fish because I was getting sick of salmon and cod is too expensive – but I didn't like the texture. It disintegrated too easily and doesn't hold up well. Even when I use the airfryer (I almost only use the airfryer when cooking fish, yes even HK style cod fish), the halibut flesh became a soft, soggy mess. I don't buy halibut anymore.
Convenient online ordering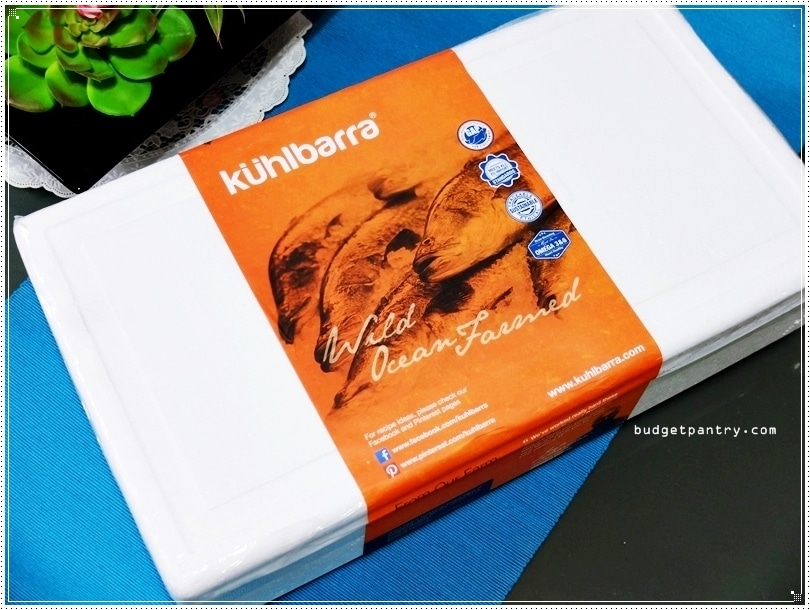 The fish is delivered to my door step – chilled – in a cooler box.
And now I am trying barramundi. I've never seen boneless barramundi fillets available in supermarkets before. Yes, revelation! I don't go to wet markets for my fish. I don't think it makes me any less of a cook if I don't feed my family wet-market fish. But not visiting the wet markets means I don't have to deal with slippery floors (I'm extremely clumsy, for the record), dripping plastic bags AND the headache of HOW to choose fish. I'll admit it, apart from looking at the colour (whether it looks vibrant or dull), I don't know how. With Kühlbarra, the best part is I can trust the experts to take care of this for me. All I need to do is place an order on their website http://www.kuhlbarra.com/ to receive the freshest high-quality fish conveniently at my door step.
Freshly harvested, ice-chilled, vacuum-packed and delivered within 42 hours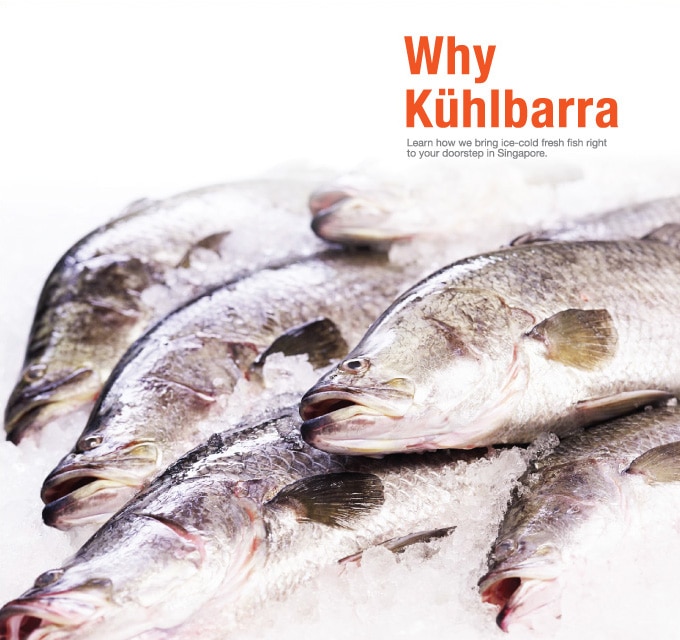 What keeps Kühlbarra barramundi impeccably fresh is that the fish is only harvested when you place an order, filleted, ice-chilled and vacuum-packed before it is delivered within 42 hours. Other fish typically travel for five to six days through a series of middlemen before they reach the supermarket. Kühlbarra is different. They own the fish farm, so they literally grow the fish, harvest, process and deliver their fish right here in Singapore directly to you.

From farm to fork.


Look at all those ice!
I received my order faultlessly packed – the fillets were individually vacuum-packed, laid out on ice, covered again in ice, and then sealed in a sturdy cooler box. Even my aunt (who steamed one fillet in ginger and soy sauce for lunch the same day), said she has never seen such careful and meticulous packaging before. I must say I am very impressed with this level of care that Kühlbarra takes to ensure that the ice chain never breaks.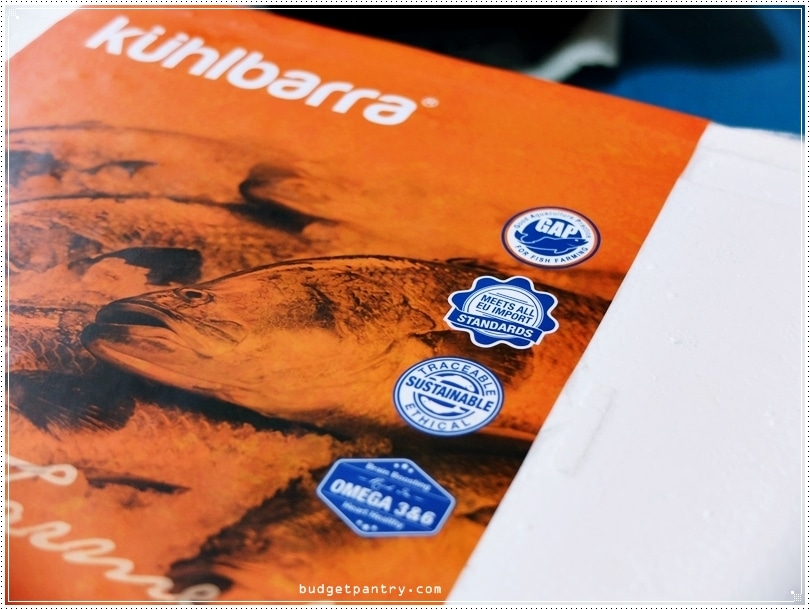 The same Kühlbarra-quality Barramundi as top restaurants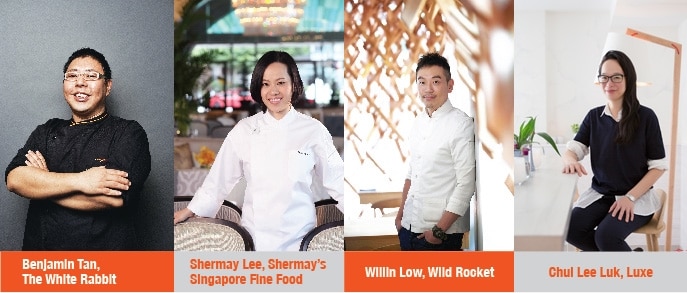 You might have eaten Kühlbarra's barramundi in hotels and restaurants and not even know it. Chefs from restaurants like Gordon Ramsay's Bread Street Kitchen, Wild Rocket, The Naked Finn, Pu Tien, Tung Lok, The Soup Spoon, for instance, use Kühlbarra's barramundi in their menus. Swim on over to get their recipes!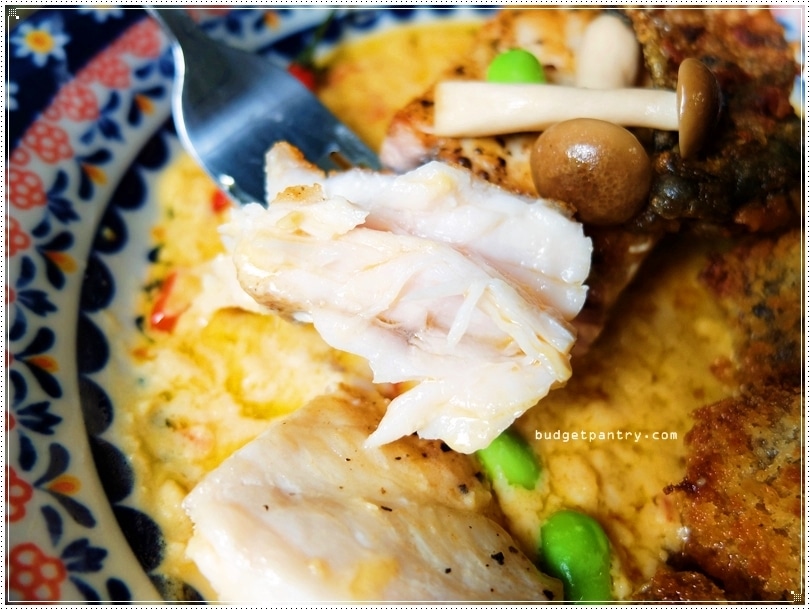 Kühlbarra's barramundi is locally and sustainably-farmed in pristine, oxygen-rich Singapore waters, and it shows in its freshness and delicate flavour. This is the first time I'm cooking barramundi at home, and it's really easy to get it right. My fish tasted sweet and extremely clean tasting – 鲜甜 with no fishy or muddy taste. It flaked beautifully with a slight nudge of the fork, while maintaining its form. The husband particularly loved the firm but tender texture and the aunts and I were bowled over by the freshness. Best fish my family has had in a long time.
Recipe – Salted Egg Barramundi with Breaded Mushrooms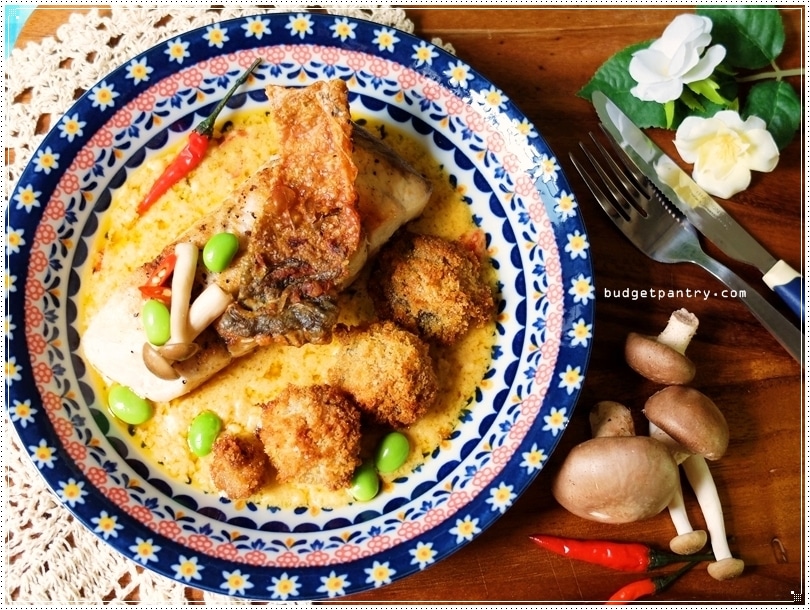 And now for my recipe! In line with National Day, I've decided to cook this with a local flavour: in salted egg sauce. Salted egg dishes have taken the nation by storm in recent years, and for good reason. The sweet and savoury sauce is a great accompaniment to many types of seafood and protein, including prawns, crayfish, squid, crab and chicken. I was sure it will go well with barramundi and it did!
I of course air fried the fish because it is so easy, and cooked the salted egg sauce separately in a wok. I wanted more sauce so I added chicken stock – simply adding evaporated milk will only turn this into a clumpy 奶油 (butter) sauce without salted egg taste. I paired this with breaded shiitake mushrooms to give some crunch and texture to the dish. If you don't have an airfryer, you can pan fry the barramundi. Steps are in the recipe.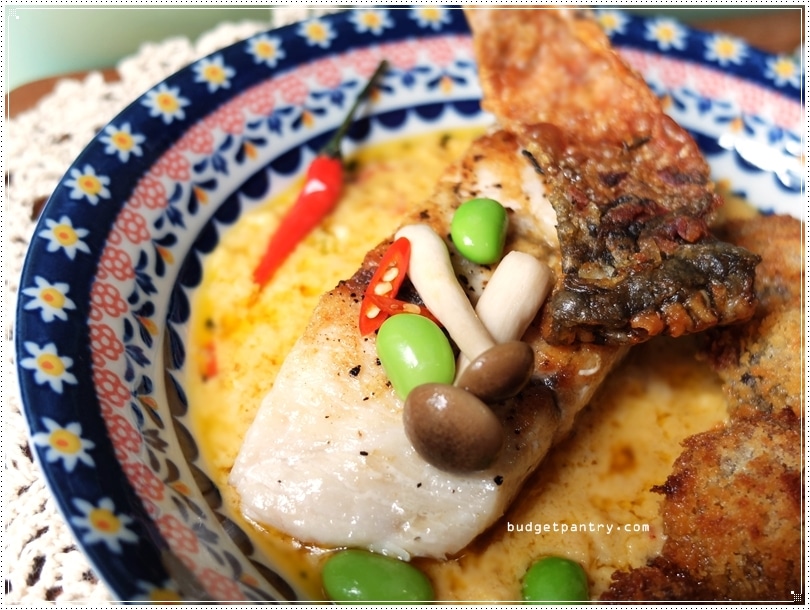 ——————
Special Promo Code when you order from Kühlbarra!
If you're interested to try out Kuhlbarra's barramundi, here's your chance! From 11 August to 10 September 2015, Kuhlbarra is extending a special promo for budgetpantry's readers. Just key in "Kuhlpantry" upon checkout and enjoy $10 discount off your purchase. Click on this link to start ordering. Eat Fresher Fish today and please share your recipes with me!
Visit Kühlbarra's website and Facebook to know more about sustainable fish farming. They have an excellent FAQ page which answers a lot of my questions. And when you're ready to start ordering the freshest barramundi straight to your home, just check out their online menu!
——————
And here are the detailed steps to my recipe. I hope you enjoy it!
Salted Egg Barramundi with Breaded Mushrooms

(budgetpantry.com)
Serves: 4
What you need:
For the fish
4 x 200 g Kühlbarra Barramundi Fillets
6 salted duck eggs, steamed and mashed
40 g butter
1 tablespoon olive oil
4-5 pieces chilli padi, sliced
3 stalks curry leaves
200 ml chicken stock, heated
50 ml evaporated milk
¾ teaspoon sugar
½ teaspoon salt
Salt and pepper
For the breaded mushrooms
200 g packet fresh shiitake mushrooms, stems removed
2 tablespoons plain flour
1 tablespoon corn starch
1 teaspoon garlic powder
1/2 teaspoon salt
80 ml water
Panko to coat
For garnish
Edamame beans (I get pre-boiled, frozen ones from the NTUC)
100 g Shimeji mushrooms sautéed in olive oil and light soy sauce
Steps:
To cook the fish:
Clean and pat dry barramundi fillets. Season with salt and pepper.
If using airfryer: Preheat airfryer to 180C. Using a sharp knife, remove skin from the fish (optional). Spray olive oil over the skin and fillet. Airfry for 8 minutes on the grill pan. Remove the fish first to avoid overcooking, then continue to airfry the skin until crispy. Repeat till all portions are cooked. Set aside.
If using frying pan: Heat olive oil on high heat. Reduce flame to medium-high and fry fillets skin side down for 2-3 minutes till skin is crispy. Flip the fish over and continue to cook for another 1-2 minutes. Remove from pan and set aside.
In a wok, add butter and olive oil. When the butter has melted, add curry leaves and chilli padi. Fry for 3 minutes till fragrant. Add the salted egg yolks till it bubbles. Add chicken stock bit by bit, "puree-ing" the salted eggs as you go along. Add the evaporated milk, stir well, then add in the sugar and salt. Mix well and switch off the flame.
To cook the mushrooms:
Combine plain flour, corn starch, garlic powder and salt in a bowl. Add in the water and mix till batter is smooth. Dip the mushrooms in the batter, allow excess to drip off, then coat in Panko until they're dry to the touch. Airfry at 180C for 15 minutes or deep fry till golden.
To serve:
Spoon the salted egg sauce in the middle of a dish. Top with barramundi and a serving of breaded mushrooms. Garnish with edamame beans and shimeji and serve immediately.