IKEA SG Bloggers Task #2: The Living Room – I did colours!
Non-Food Related Sponsorship
Disclaimer: 
This post is part 2 of the IKEA Bloggers Program in which I was given a gift card to revamp my place. All ideas and comments are my own.
The Living Room Challenge is is part 2 of the IKEA Bloggers Program. Read about my kitchen makeover in Part 1 of this series: IKEA SG Bloggers Task #1: Bringing the outdoors in! Kitchen Makeover
My living room is very typical of a Chinese family. Dark brown leather sofa, wooden cabinets, traditional embroidery-type cushion covers, Chinese vase by the side complete with fake CNY pussy willow (銀柳) and a terribly out-of-place Victorian style lamp with mismatched floral lampshade. Oh, and that Chinese painting on the wall passed down from my grandfather – it is apparently worth a lot of money.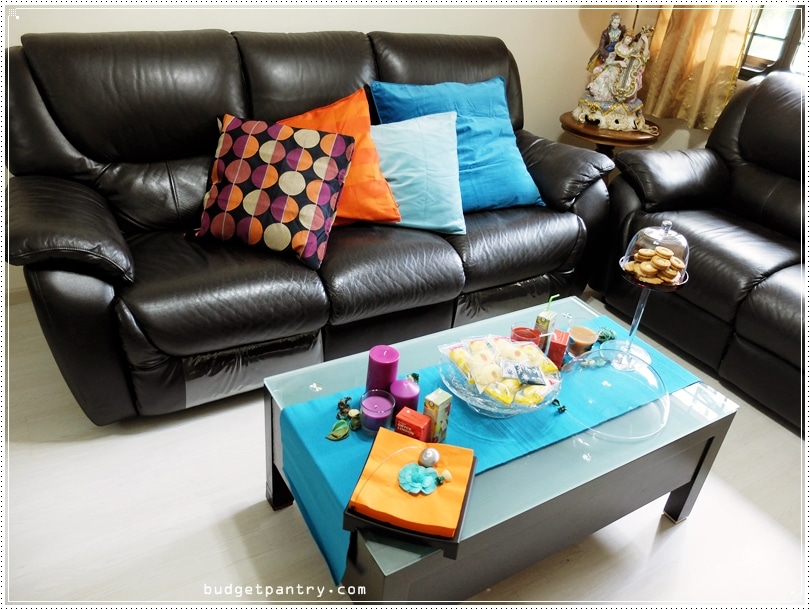 The aunts are quite proud of their traditional-looking living room, so imagine their apprehension when I suggested to change the look-and-feel by just a little bit. I'm not about to do anything large-scale, I told them. I'm going to leave the sofa, cabinets, gaudy curtain and painting untouched, but maybe I could add some vibrancy by mixing some materials and textiles, patterns, prints and colours?
We often have relatives over for coffee and cakes, so I've also been wanting to spruce up our living room for some time now to make it more guest-friendly. What better way to do this than with a couple of lidded cake stands, complete with a table-runner, matching candles and nifty paper napkins for an inviting pop of colour?
I'll confess, my plan was to bake a pandan chiffon for my aunt's bestie who's visiting today, but baking right after touchdown (I just came back from Japan less than 20 hours ago and slept for 6 hours) is no joke. So I've decided to entertain with Tokyo Banana instead. And to add on to the goodies, I got some ginger thins, pear cream biscuit sandwiches and packet lingonberry and apple & strawberry smoothie (!) from IKEA's Swedish Food Market. Talk about having everything under one roof!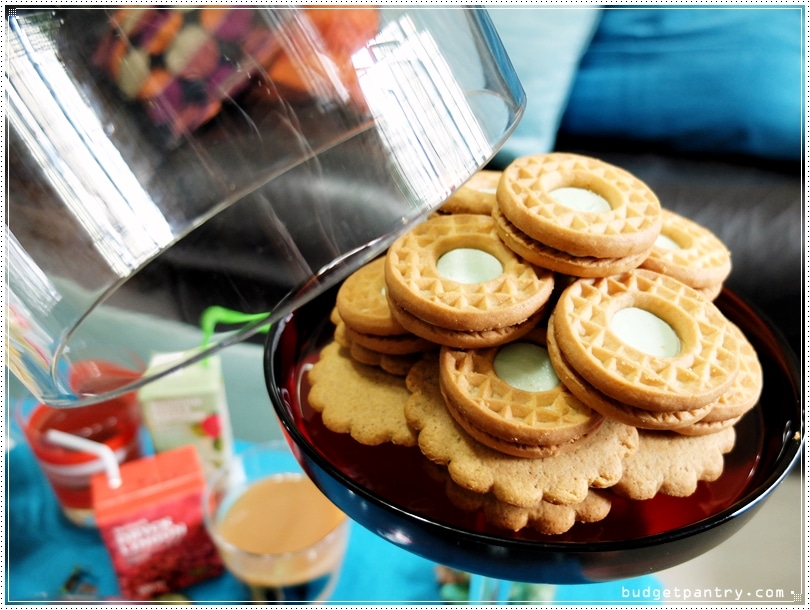 When entertaining, IKEA's range of cake domes and tiered stands are perfect, just what I need for storing freshly baked cakes and breads. The large dome is now a permanent fixture in my living room table for little snacks. I like it so much, I have another one in the kitchen! The aunt is obviously in love with it and has hurriedly transferred her loaf of Gardenia bread from the oven even before I could say anything else.
Since we're on the subject, the Apple & Strawberry packet smoothie is my latest favourite drink! It is made with 100% fruit purée and one packet is an acceptable 96 kcal. I think it'll be good as an afternoon pick-me-up (I already eat fresh fruits for breakfast).
I also decided to add some life to the living room couch with cushions of contrasting colours. My little niece Cara loves to throw ALL my soft toys around so these chic cushions will do nicely for her, I think. I secretly wish they will distract her from my poor soft toys which are trampled to death every time she comes for a visit. Ah mm also loves the bigger cushion because it can support her back better. I spied her using it while watching TV just now! Get the look: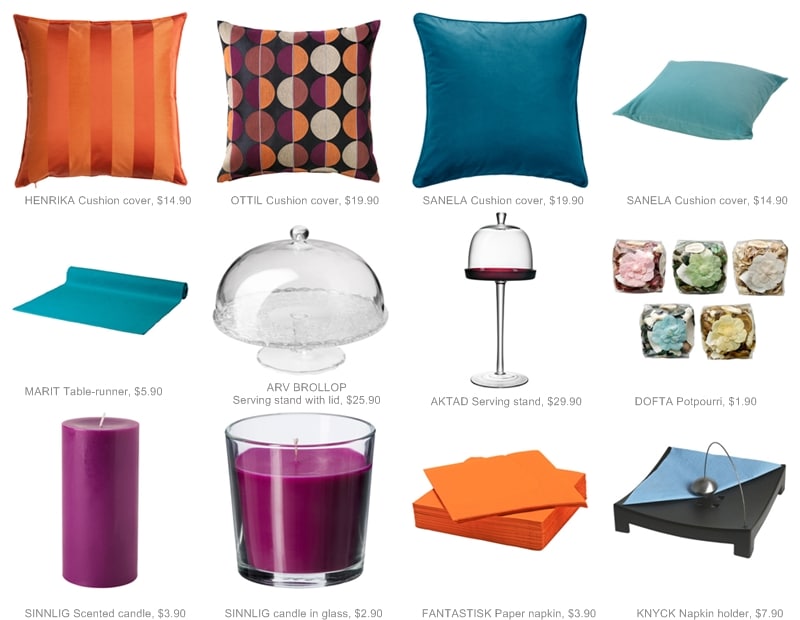 I thought these would be too edgy for my aunts, but they surprisingly liked it and said our living room looks tonnes more modern now. So you see, you can transform your living room even without a major overhaul. Til the next collaboration post!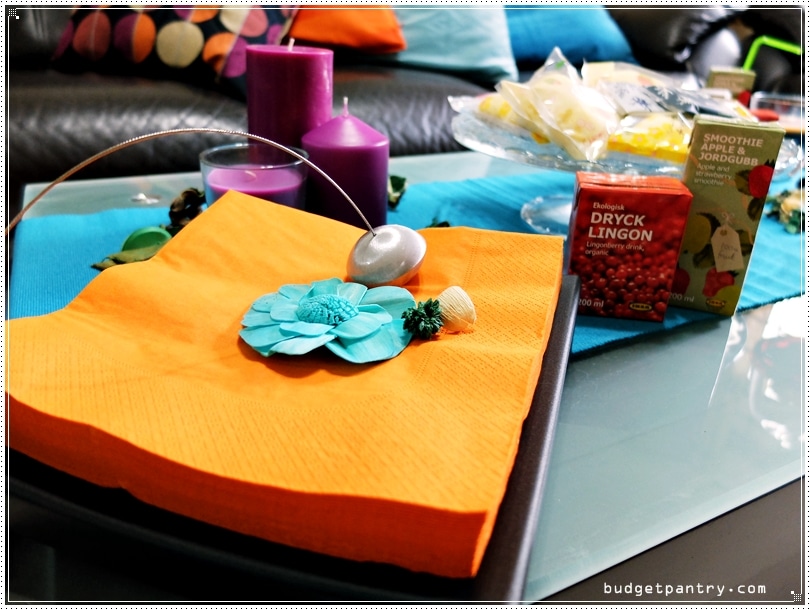 You might also be interested in my other IKEA posts:
IKEA SG Bloggers Task #1: Bringing the outdoors in! Kitchen Makeover (here)
IKEA SG Bloggers Task #3: Dining – The Great Gatsby Wedding! (here)
IKEA SG Bloggers Task #4: In and around the kitchen (here)