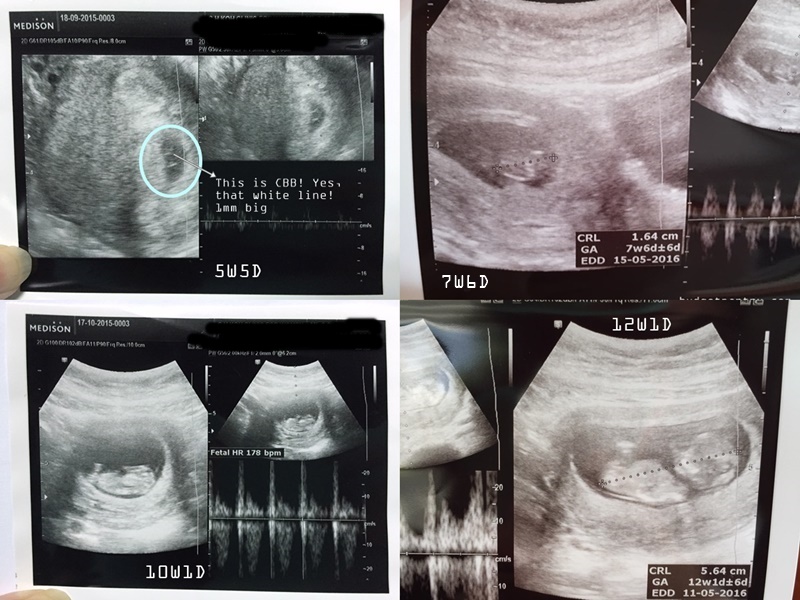 Pregnancy: The first trimester scans… I saw an empty womb on my first scan
The first scan (Week 4)
Because of the earlier surgery to remove 7 cysts and a fibroid from my ovaries, my gynae had told me to see him once I tested positive and not wait till week 6 (as you usually would). Some of you have asked back then to see the cysts, for what reason I dunno but here, your wish is granted:
***WARNING***
*****GRAPHIC IMAGE*****
**************READY?**************
*************************************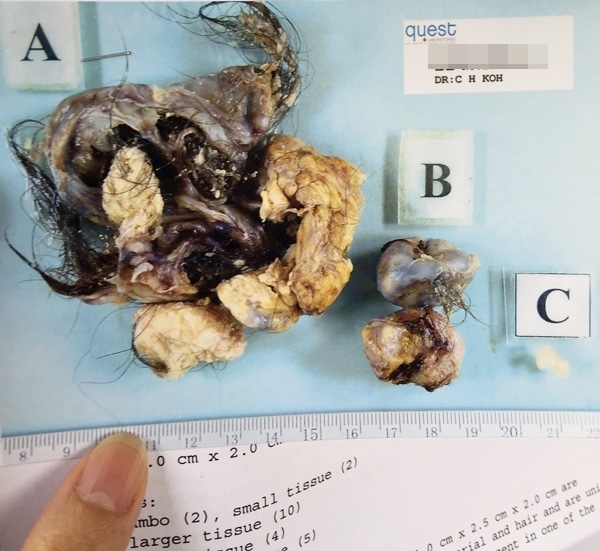 Yes, there's hair, bones and fat! If you google ovarian cysts, you will find some which even have teeth. The type of cysts that I had – dermoid cysts – are usually benign and originate from leftover cells at birth. My doctor did a keyhole surgery to remove them. He made three incisions: one on the right, one on the left and one in my belly button. The scars are nothing – all are less than 1cm long.
And so. I went for my first appointment alone. Jason asked if he should come but I told him that's ok because I thought that it was just to confirm my pregnancy. I was supposed to be 5 weeks that day and according to Google, we should have been able to see at least a gestational sac then. My gynae did a vaginal scan as I was so early, but my womb was empty.
He told me he was seeing thickening of the uterine walls which signals very early pregnancy, but also said there was clearly no gestational sac – yet.
The next step was to take a blood test to check HCG levels. "If the HCG levels are below a certain number," he said, "We won't see anything in the womb yet." My gynae promised to call two days later to tell me the results. In the two days, Google was my best friend (bad choice). I started looking up "ectopic pregnancy", because that's when the baby is growing somewhere else other than in your womb. I also looked up "low HCG levels" (don't do it) which later led to be googling "falling HCG levels", which turned out to be a REALLY BAD decision. My gynae called me two days later right after his consultation hours. My levels were at 763 – still very early. There's hope! He told me not to worry and see him again after a week. I opted to see him after 10 days instead to give Chua Bee Bee more time to grow. Doctor put me on progesterone every morning.
The second scan (Week 5)
By now I would have technically been in week 6-7. With fear and anticipation (and prayers on repeated mode), Jason and I went to the clinic for our follow-up scan. My gynae placed his scanner on my tummy, waved it around and two seconds later.. his face lit up. "Beautiful!" he said. A gestational sac had formed! I had REALLY ovulated late, and I was about week 5. "Let's try to hear the heartbeat," he said. A WHAT? You can't even see the embryo on the abdominal scan! We did a trans-vaginal scan and here's we saw:
A yolk sac and a floating embryo by the other side, followed by what the doctor described as the "national anthem". Can you imagine that our tiny 1mm embryo had a heartbeat? I was mind-blown. And we could hear the "pom, pom, pom" loud and clear. He said the heartbeat for embryos is relatively slower at this stage, but two weeks later, it will be doubly fast, around 170+. My progesterone dosage is now increased to twice a day, morning and night.
The third scan (Week 7)
I was constantly asking Jason, "Chua Bee Bee you grow ma?" He assured me every time, and how right he was – the little bub had grown from 1mm to 16.4mm in two weeks! The heartbeat had more than doubled to around 170. By now, we could see a defined shape even with an abdominal scan: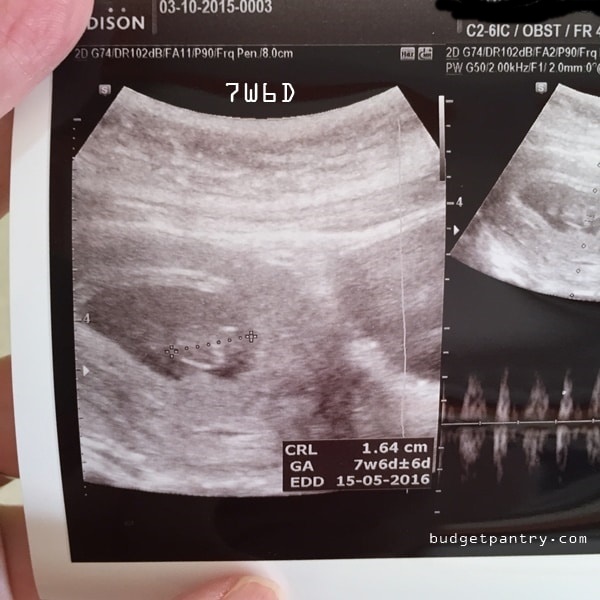 I was so relieved that my pregnancy wasn't ectopic, that a sac had formed, that we were lucky enough to see and hear the baby's heartbeat!
The fourth scan (Week 10)
Our little baby bub is continuing to grow by leaps and bounds! From 1.64cm to 3.4cm in two weeks. And to think a month ago, it was barely 0.1cm. Chua Bee Bee appeared to be covering his or her ears in this scan:
What a cutie pie! Chua Bee Bee measured about 10 weeks 1 day, which is right on track. I was scheduled to take a test to assess my risk for pre-eclampsia next week. We also decided to take the Harmony Test to assess our baby's risk of Down Syndrome plus know the gender. To know why I chose to take the Harmony Test instead of the more popular OSCAR, please read my next post.
And this was what (my face) looked like around that time. I was 2 months pregnant (October 2015) and can't really tell.
I love this series with little Cara. She looks like an angel in these pics but we actually call her Xiao Lian. She also recently starred in a home made video singing the self-created song 'wo bu shi siao char bor!' Tsk tsk 年纪小小 already in denial.
See this damn funny she with Jason lololol.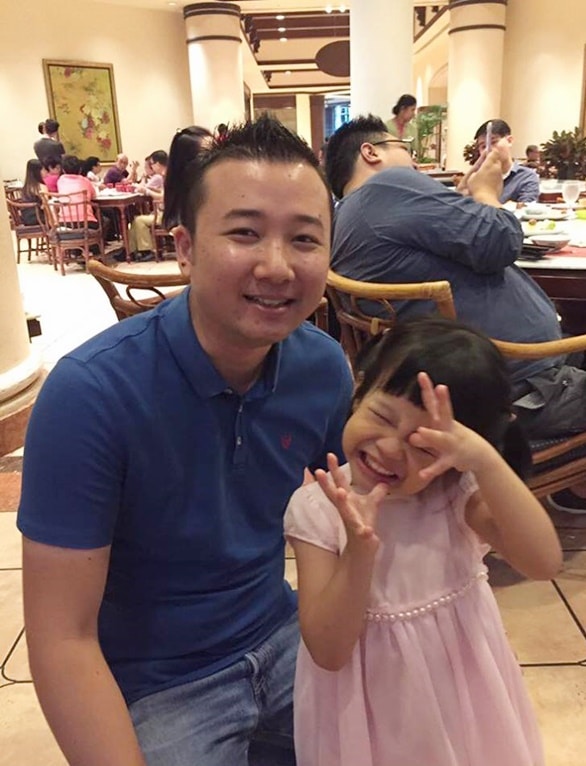 The fifth scan (Week 12 detailed scan)
For this scan, we reported to Thomson Medical Centre's Fetal Assessment Unit. I did two types of scans here: measurements of my baby and to assess my risk of pre-eclampsia. For the pre-eclampsia screening, the nurse first took my blood pressure – a number of timed-readings over 5-10 minutes, on both arms. After that, I waited to scan for blood flow to the baby along with its measurements (baby grew again from 3.4 cm to 5.84 cm), then followed by a blood test. For the baby scan, this was the first time I could see my baby up close and for such a long time! At the doctor's clinic, the scans were over in less than five minutes, but here, I had the luxury of looking at Chua Bee Bee zoomed in for 20 minutes. Wow! Looking more and more like a baby instead of some… shape on the ultrasound :)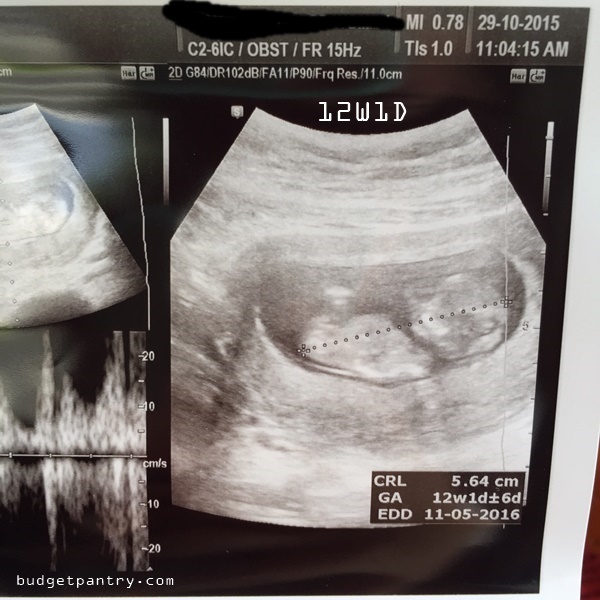 Two of the many measurements taken were that of the nasal bone length and nuchal translucency (a collection of fluid under the skin at the back of the baby's neck). A short nasal bone length and thick neck fluid COULD signal Down Syndrome. I didn't want to ask the sonographer a lot of questions because I knew they had some kind of constraints, but she said my baby was "very active", measurements appeared normal and that my doctor will let me know more.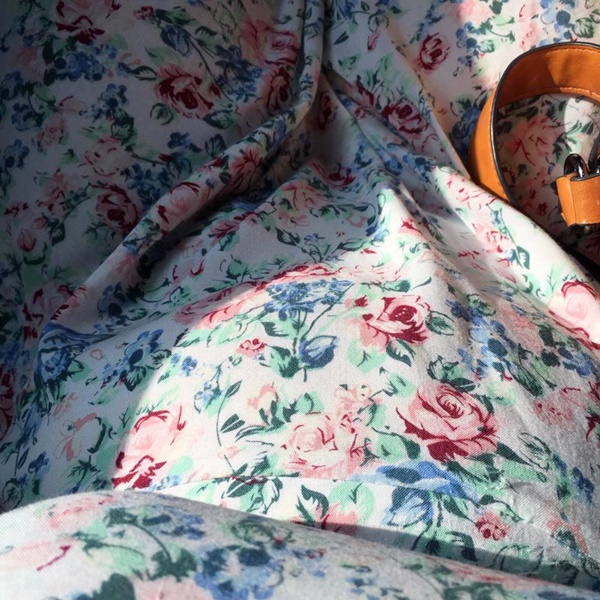 My bump at 3 months! Sorry I don't have those pretty side bump photos until after 24 weeks cos I was getting really self conscious with the amount of weight I was putting on!
And so the waiting continued… I REALLY pray for a safe and healthy pregnancy!
Next:
Pregnancy: The second trimester – harmony test and gender reveal!
Pregnancy: The second trimester – 20-week anomaly scan + gestational diabetes scare
Pregnancy: The third trimester 4D scan – I saw Chua Bee Bee's cute little face!
Pregnancy: Mount Alvernia Hospital – Maternity Tour & Estimate Bill Size 2016
Pregnancy: Bellybuds! Playing music for your baby in the womb
FY2016 Budget: Is the government giving us an extra $3K into the Child Development Account?
Pregnancy: Why I'm choosing GAIA Natural Baby Organic Skincare for #ChuaBeeBee
The third trimester: Tips for changing your gynae at Week 35
Pregnancy: When you wrist hurts like nobody's business (De Quervain's Tenosynovitis)
How to bake your own chunky chocolate lactation cookies
Pregnancy: Week 39 – Low amniotic fluid and an eviction notice!
Previous post:
Pregnancy: The big reveal!