I first learnt of this Mongolian Chicken many years ago from my aunt although I have no idea how it is "Mongolian". I don't believe it came from Mongolia just like how Singapore Noodles didn't originate from Singapore and German Cookies didn't come from Germany. The husband said when he was a university student more than ten years ago, an uncle in his school canteen used to sell this at $3.50 a plate with rice. You might also have eaten "Mongolian Pork Ribs" at zichar stalls before. I know of a few places selling variations of this with a similar sauce, many with dark soy sauce added for colour and a lot more black pepper.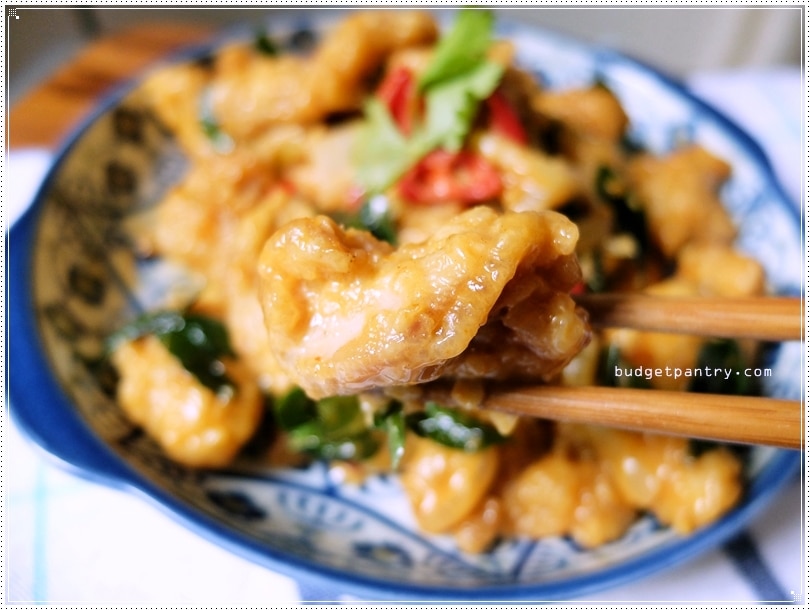 You'd be surprised at the ingredients because I was. Isn't this something like butter prawns without butter and prawns? Or salted egg chicken without salted egg? It's no surprise because all these dishes have similar base ingredients: garlic, chilli padi, curry leaves and evaporated milk, giving it that fragrance and creaminess distinct of many popular zichar dishes.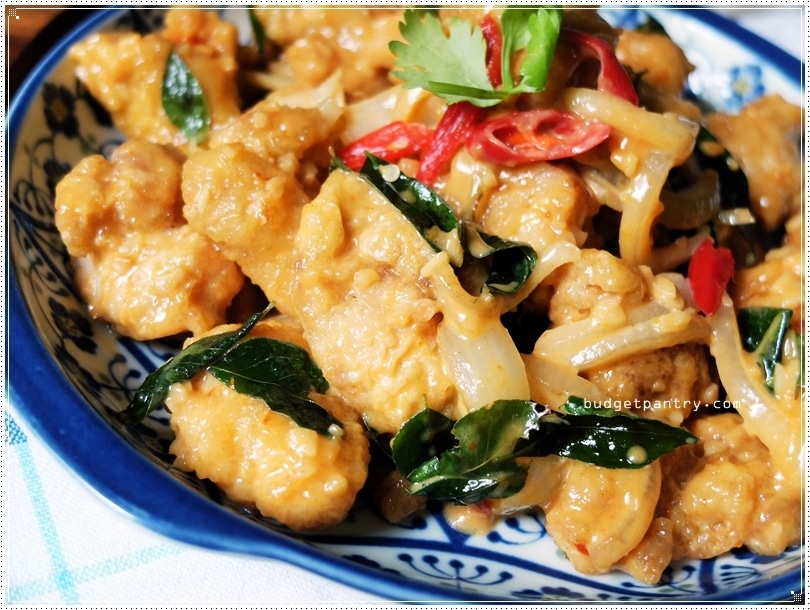 What "Mongolian" chicken has also is the addition of sliced yellow onions, grated ginger and a little bit of curry powder. You can substitute chilli padi for regular big red chilli like I have in this recipe.. because the aunt has a gastric problem and can't take heat. But I think the spicy kick in chilli padi really makes a difference in this dish. This sauce will also be good for pork ribs or even sliced lean pork, better if deep fried beforehand. Have fun with this recipe! I had two bowls of rice today :)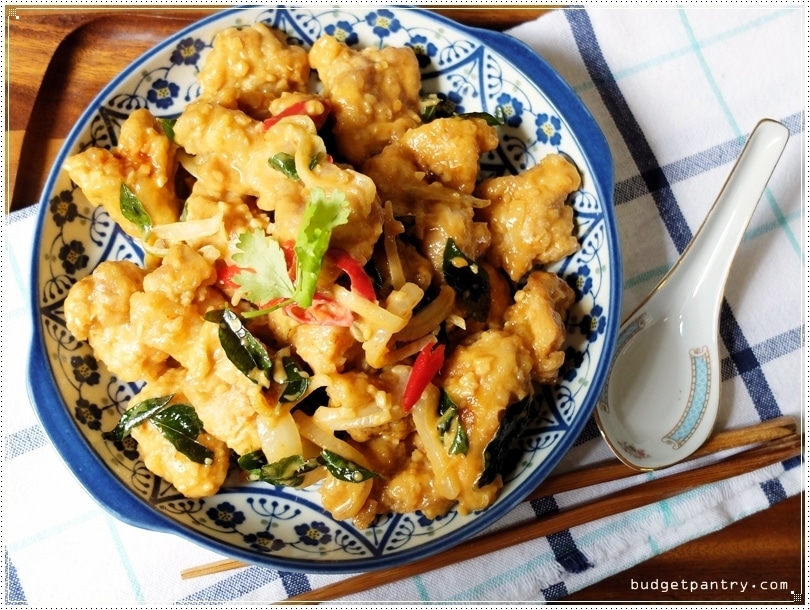 Mongolian Chicken

(budgetpantry.com)
Serves: 4
Total cost per serving: $1.85
What you need:
400g-500g boneless chicken chop (about two large pieces), chopped into pieces
1 medium yellow onion, thinly sliced
1 teaspoon grated ginger
5 sprigs curry leaves
3 teaspoons minced garlic
1 chilli padi, chopped
150ml evaporated milk
Olive oil for frying
To marinate chicken
1 egg
1 tablespoon light soy sauce
Half tablespoon corn starch
(Self-raising flour to coat before deep frying)
Seasonings (to combine)
1 teaspoon sugar
1 tablespoon chilli sauce
Half teaspoon salt
Half teaspoon curry powder
Dash of black pepper powder
Steps:
Marinate chicken pieces for at least an hour. Dredge in self raising flour and deep fry for 4-5 minutes. Remove and drain on kitchen paper. Alternatively, you can air fry (optional: spray oil after coating in flour) in a preheated 200C AF for 10 minutes.
In a wok, heat up the oil and fry onions, ginger and curry leaves for 2 minutes. Add the garlic and chilli padi.
Add the fried chicken pieces and seasonings. Stir well to combine. Finally, add the evaporated milk, allow to thicken, mix well and serve.
How much I spent:
$6.45 for chicken thigh
$0.30 for onion
$0.70 for evaporated milk
Everything else from my pantry