Japan Day 1 – TOKYO: Ichiran Ramen and a visit to Piss Alley
Ichiran Ramen 一蘭
Address: Peace Building B1F, 3-34-11 Shinjuku Shinjuku-ku Tokyo-to 160-0022
Nearest station: Shinjuku (3 minutes' walk from Higashi Exit)
Website: http://www.ichiran.co.jp/english
A first timer's trip to Japan isn't complete without a trip to Fu-unji Ichiran Ramen, since this post is about Ichiran Ramen. Fu-unji is hands down my favourite ramen place over my entire trip, but this post is about Ichiran Ramen. Fu-unji, later!

The husband has decided before the trip that his mission is to eat ramen every day. "I want to eat mee tng every day!!!!!" he said. He didn't quite achieve that but we did go for ramen on our very first day. By the time we finished battling the rush-hour transport and settled down in our apartment, it was already close to 7pm. Our plan was to explore the Shinjuku vicinity on our first night as we would most probably be tired and beaten by then.
Together with our best friend Google Maps, we set off for our first meal in Japan: Ichiran Ramen. Ichiran is one of the most popular ramen places in Japan and specialises only in classic tonkotsu ramen. The Shinjuku outlet was about a 10-minute walk from our apartment WHICH WAS RIGHT ACROSS FROM A HUGEASS FOREVER 21. Sorry, not relevant.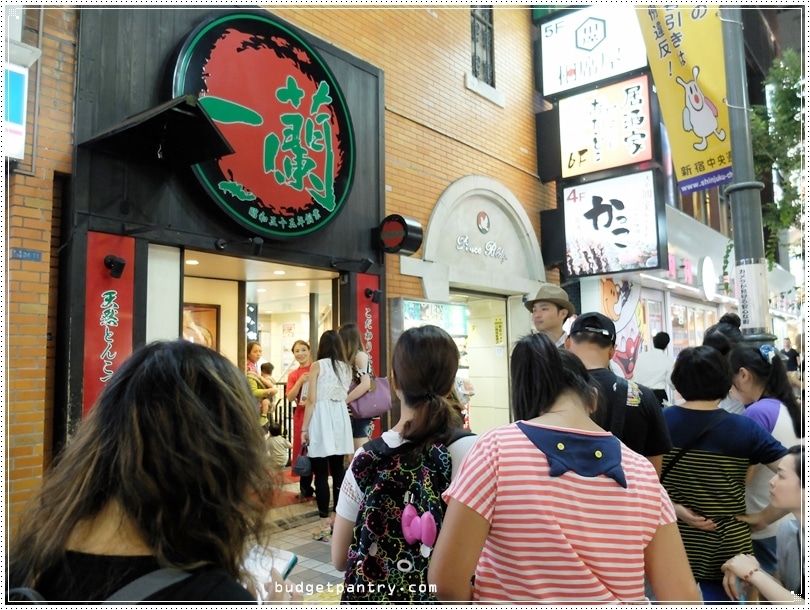 When we reached Ichiran, there was already a long line of people queuing. Quite unlucky that there was this entire group of Taiwanese tourists right ahead of us, but even so, the queue was OK, about 25 minutes all in all. A 25-minute queue is ok? Oh believe me, after you have queued for 170 minutes under the blazing sun to get on the Harry Potter ride in Universal Studios Osaka, a 25-minute queue under the moonlight is nothing.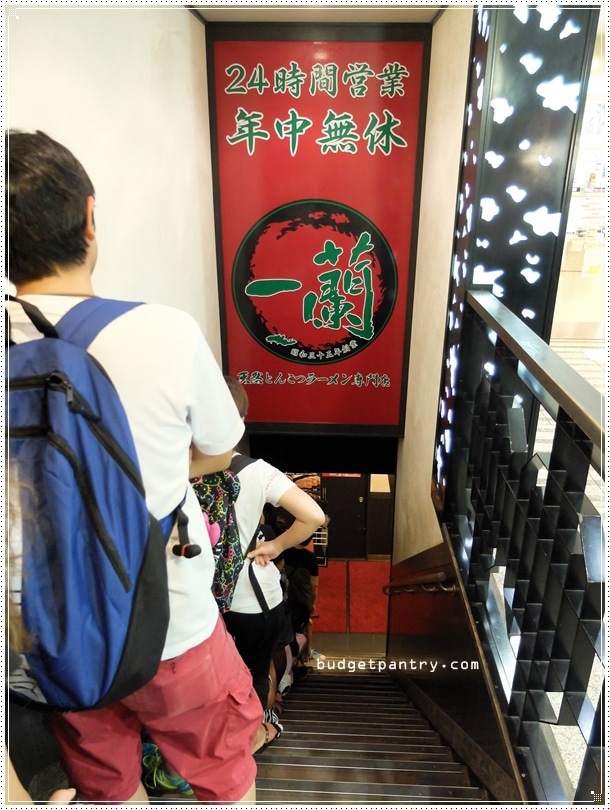 The first queue is right outside the main entrance. Once you pass the main door, the queue continues down the flight of stairs. You place your order and pay through a vending machine. Don't be afraid of vending machines – I have grown to love this ordering system. It's great because it saves time (it is straightforward and the staff doesn't have to do cashiering duties) and reduces language barrier (there are pictures on most of them so you don't have to worry about placing your order verbally to the staff).
There are even instructions in English: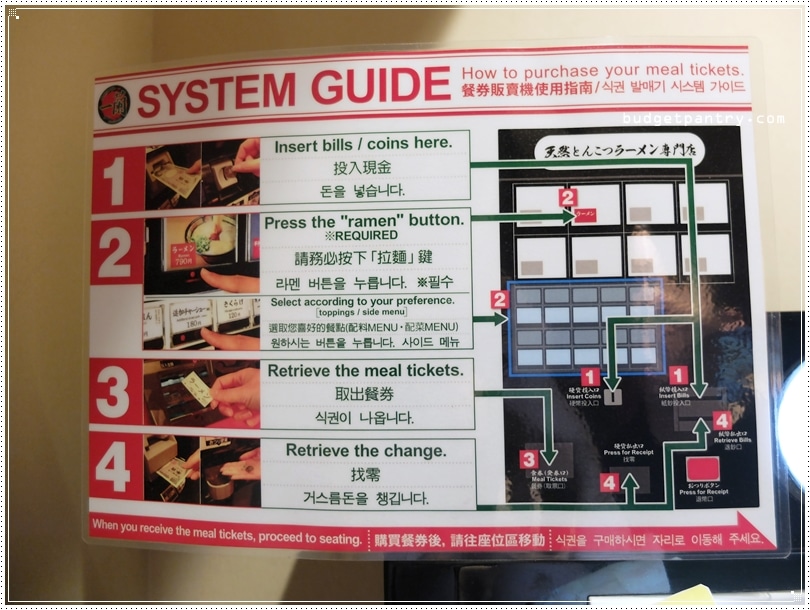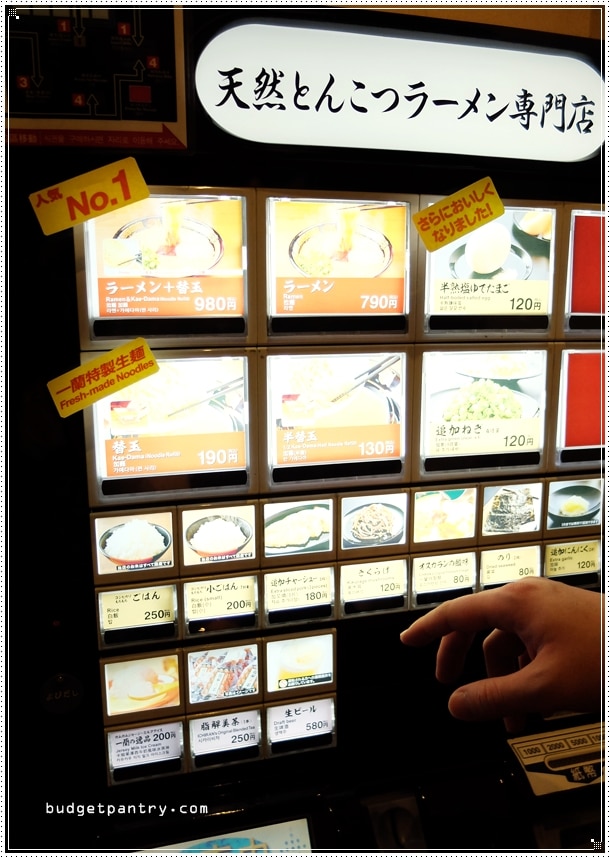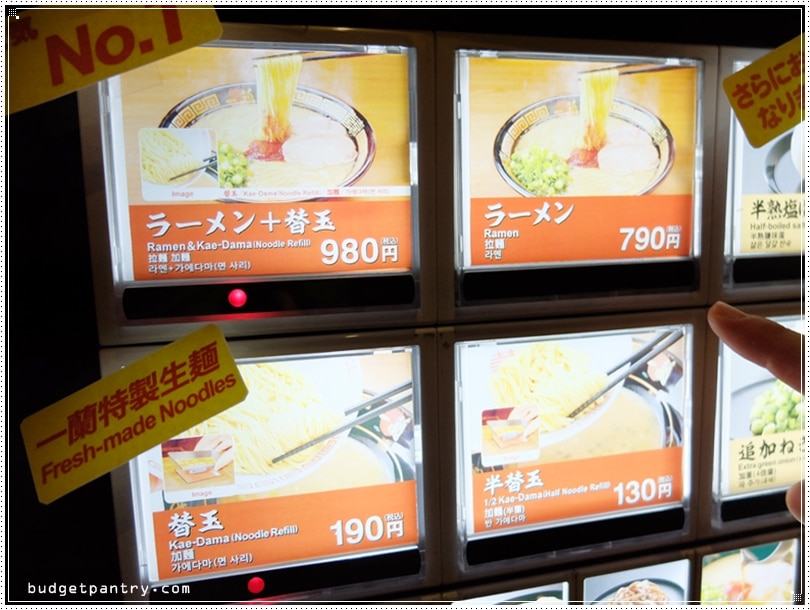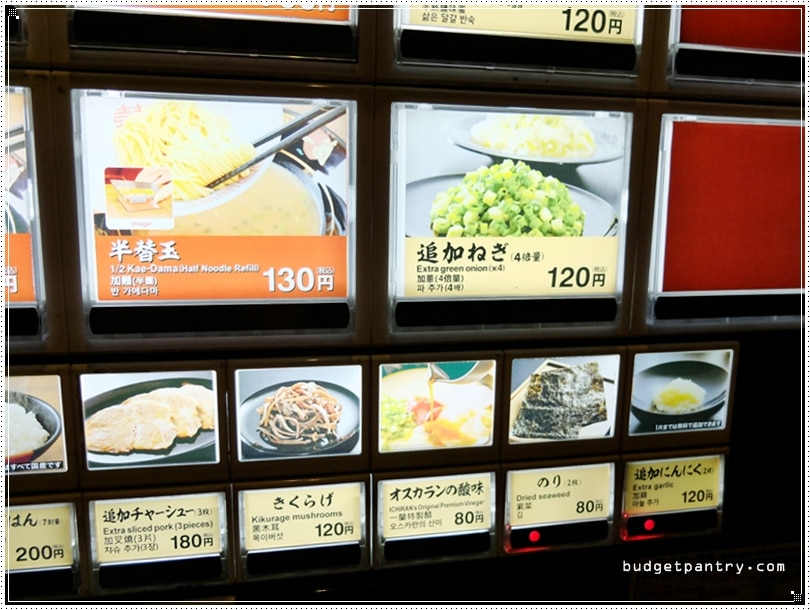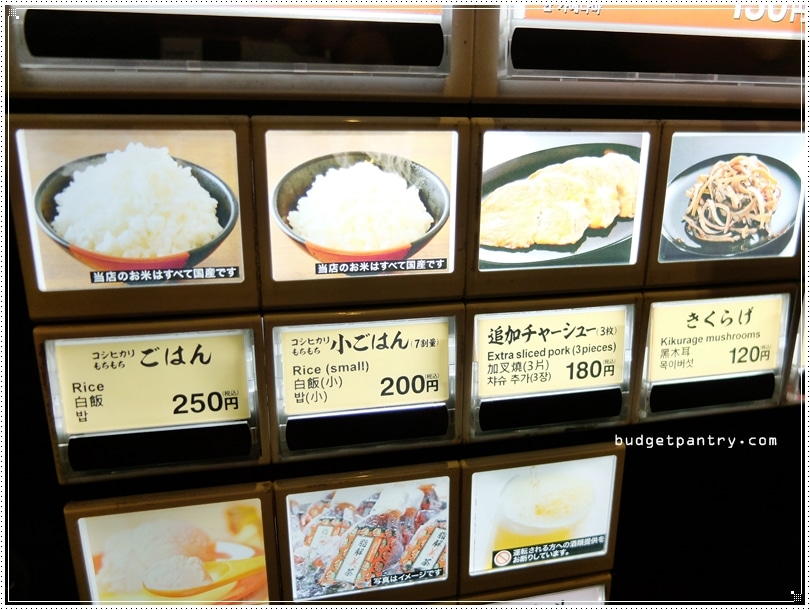 Basically, choose the ramen (normal size or extra noodles – half size or full?), then choose your toppings (extra green onion? mushrooms? ramen egg?). Yes, you can even order rice to go with your ramen. After making your payment, you will get your order tickets from the machine. A normal serving of noodles + an egg cost 910 yen ~ SG$10.10.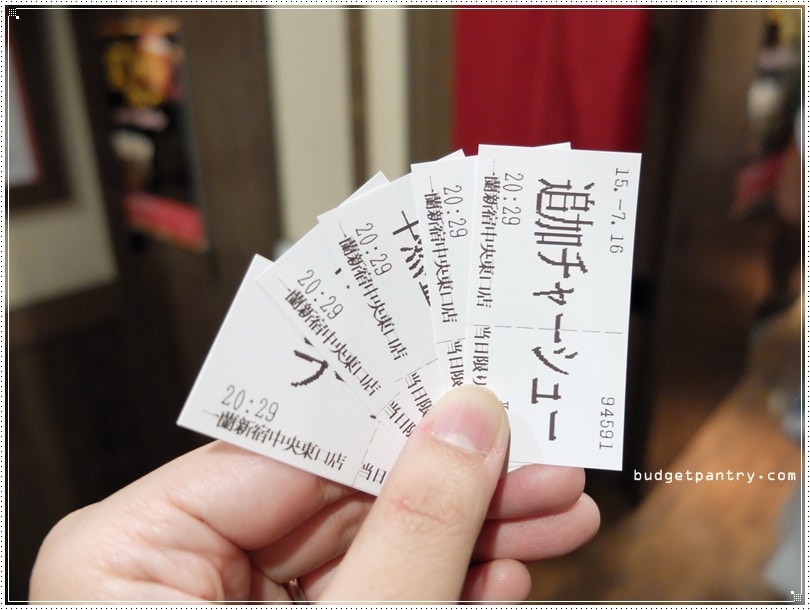 The staff will hand over a checklist where you can specify how you want your noodles. With garlic? Green onions? More garlic? Sliced pork? (of course!) Weak, medium or strong flavour strength? With soft, medium or firm noodles? What about hot sauce? This was the husband's order: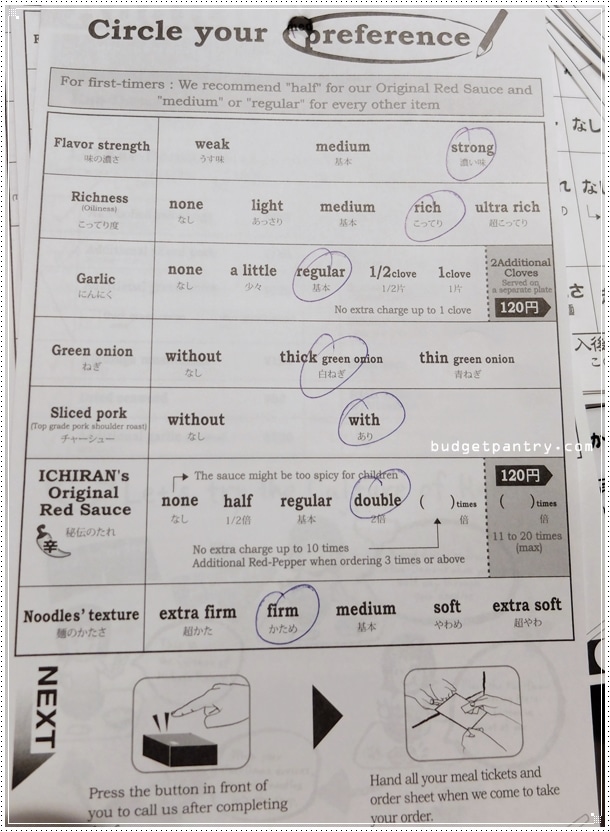 After stating your preferences, you wait. There is a display in the waiting area with buttons that will light up if there's an available seat. A staff should be there to help you. Jason and I got seats together without much fanfare, but if you're in a bigger group, it might be better to split up and eat instead of waiting for seats next to one another.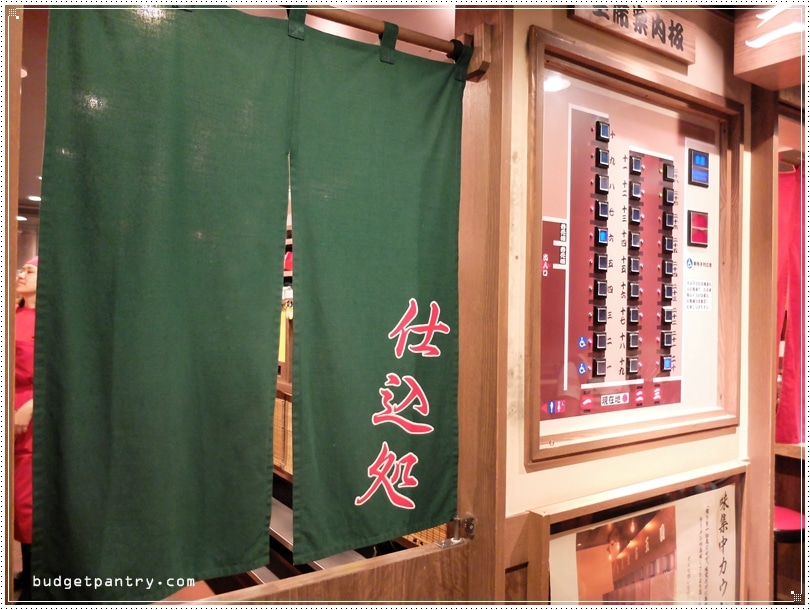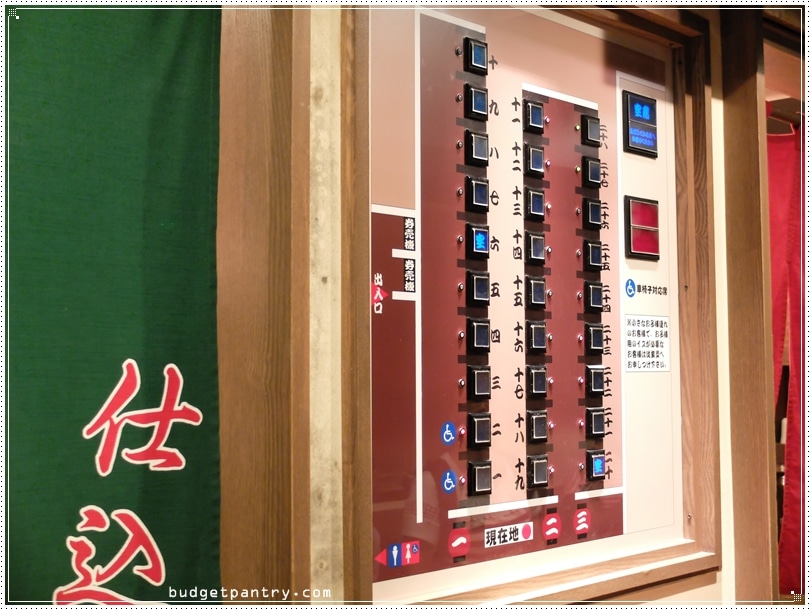 Upon making your way to your noodle booth, you hand your order ticket to the chef. Plain water is complimentary. And when your noodles arrive, you're on your own – just you and your noodles. The design of the individual booth is such that no one – not even your husband – can distract you from your noodles.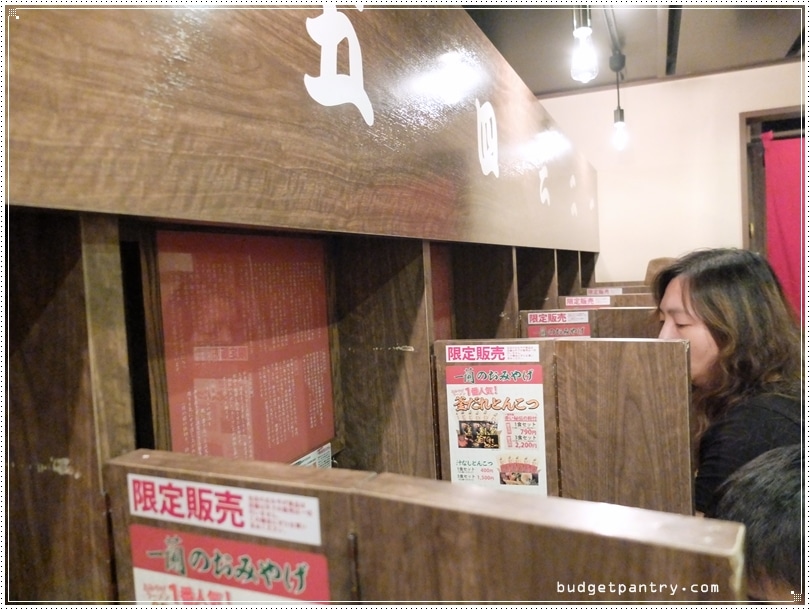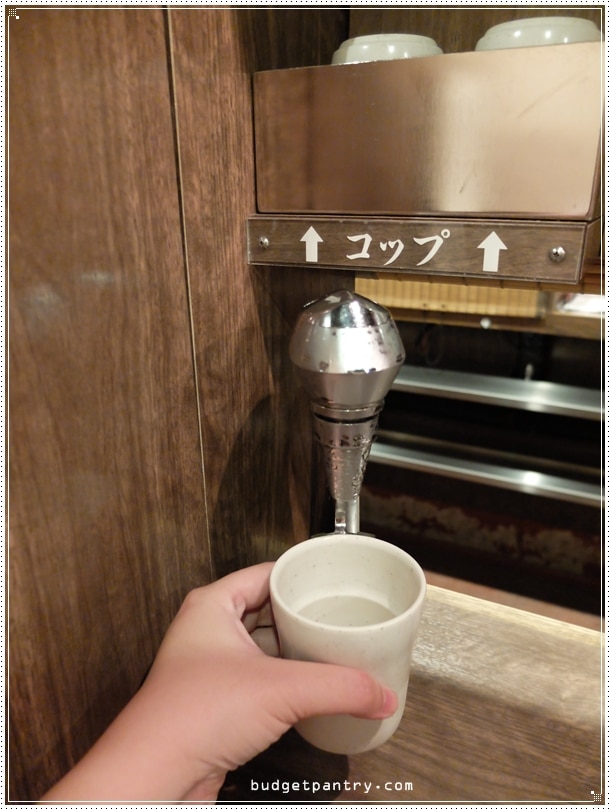 If you have purchased additional noodles, it won't be given to you all at once. You'll have to ring some bell to alert the chef and when you're done with the first round and he will refill the noodles.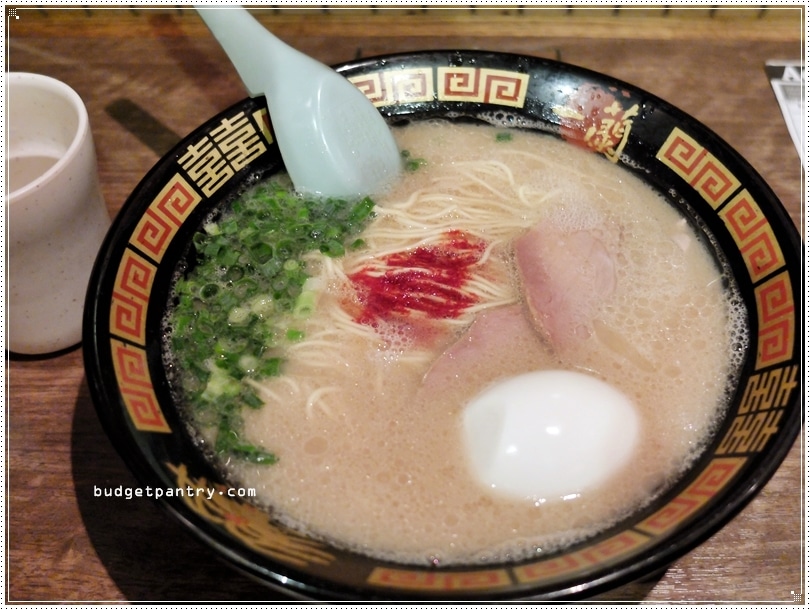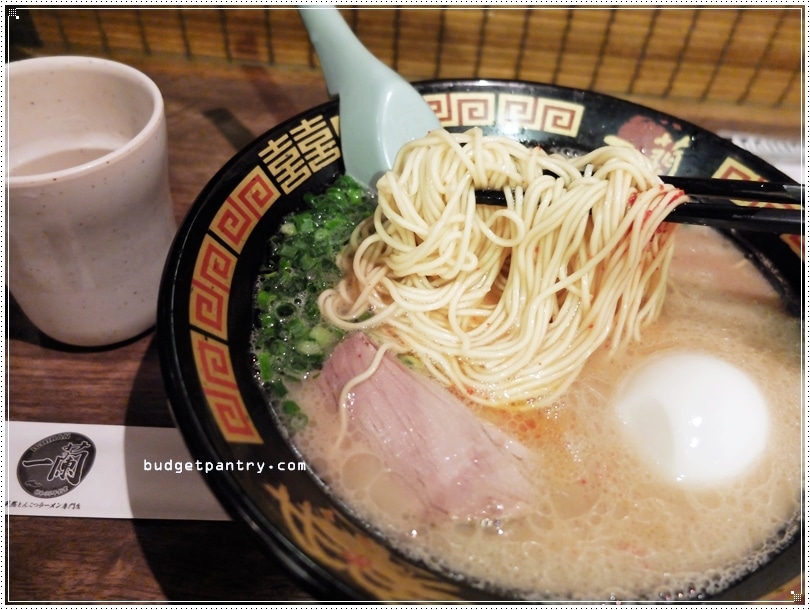 Taste wise, I suggest you opt for a richer broth with more garlic and spice. Mine was quite mild.. I prefer Jason's. Compare the colour of our broth! Mine is the picture above and his is the one with the extra noodles. But although Ichiran was quite yummy, it didn't wow me. It was just another bowl of tonkotsu ramen. I prefer the Ippudo at Westgate. LOL.
We then walked around Shinjuku before making our way to Piss Alley, which is another 10-15 minutes' walk away. Shinjuku is filled with colourful neon lights, shops and restaurants, and reminds me very much of Taipei's Xi Men Ding. Actually Shibuya – with its younger crowd – reminds me of Xi Men Ding even more. But more about Shibuya in my final leg of the trip.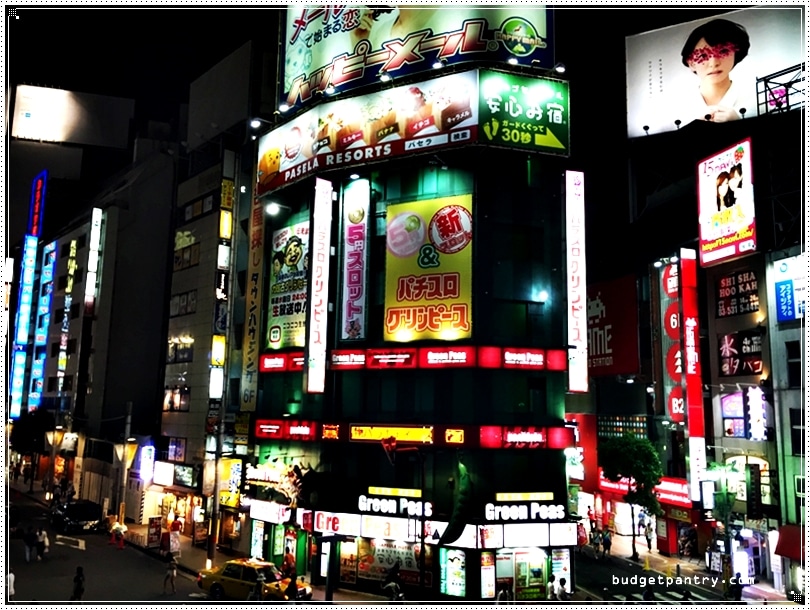 Omoide Yokocho (more affectionately known as "Piss Alley")
Address: Just search for "Omoide Yokocho"
Nearest station: Shinjuku (2 minutes' walk from East Exit)
Website: http://www.shinjuku-omoide.com/english/index.html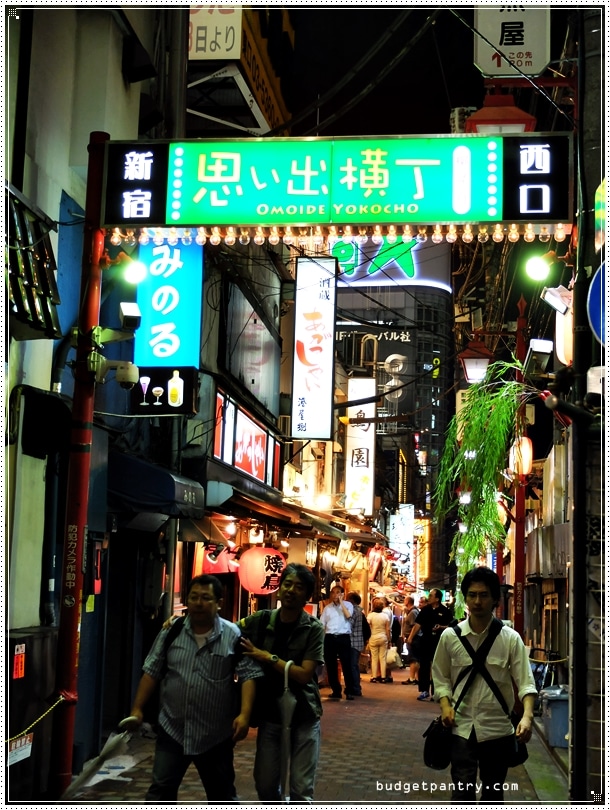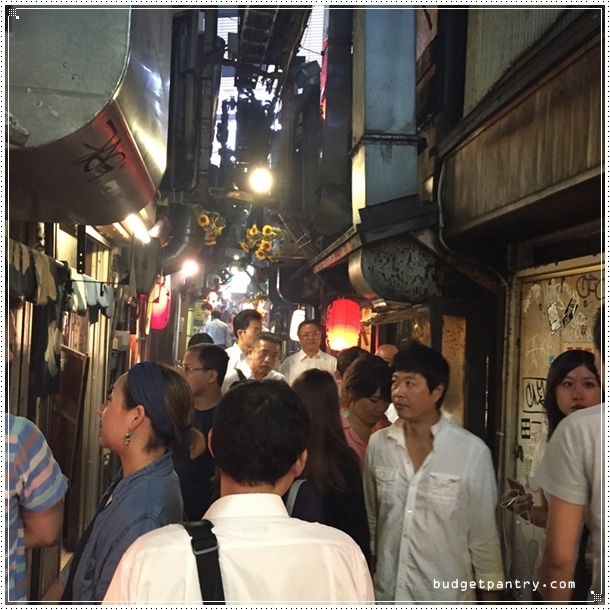 Piss Alley is made up of a network of small alleys filled with tiny joints serving yakitori, yakiniku, ramen, soba and lots of other local food. It is frequented by Japanese salarymen, who drop by to grab a few drinks at one of the Izakaya bars (casual Japanese style bars) before heading home. The eateries are cramped and tiny and many are filled with smoke – from the grill and cigarettes, but we didn't have a problem with either.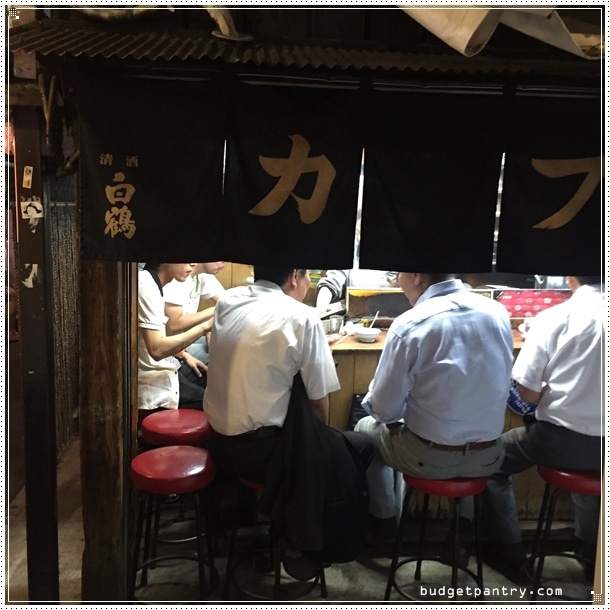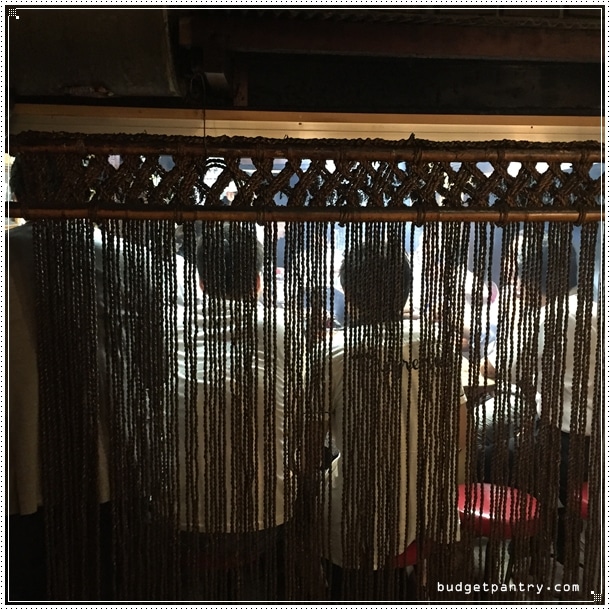 It is a very colourful and interesting place. There was this joint filled with bantering locals and Japanese menu all over the walls that we just couldn't bring ourselves to step into, but now I regret it. What could go wrong? Maybe just a couple of plates of weird food we never thought we would order. We ended up trying this soba by the corner – many locals stood in line to get a seat (there were probably eight round stools by the counter) and we figured it mustn't be bad.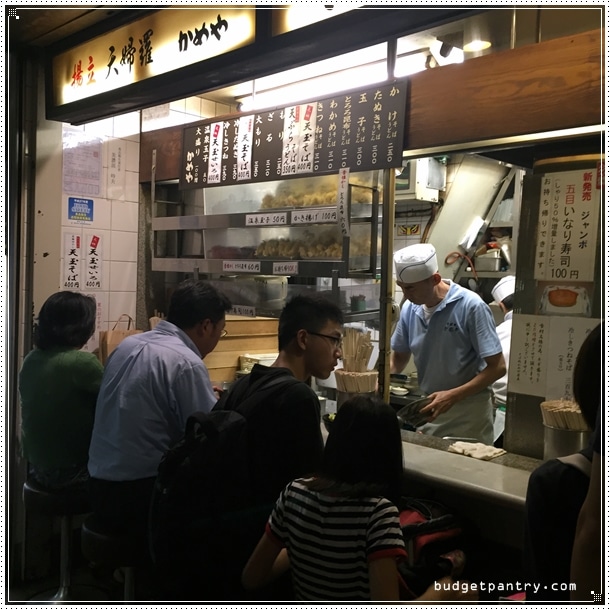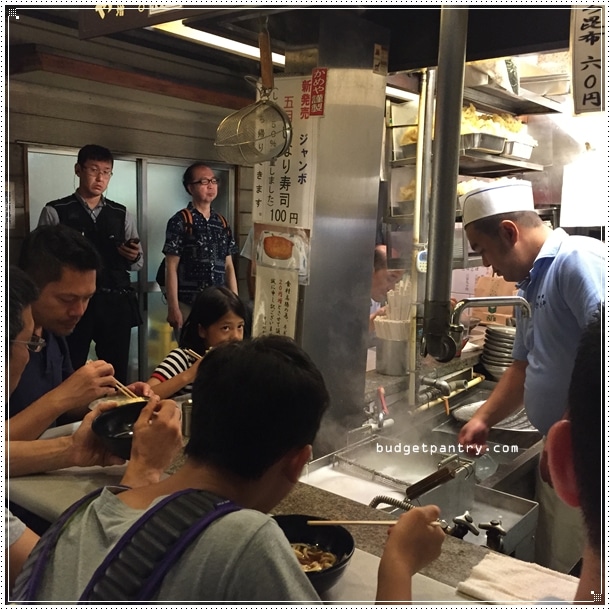 How wrong we were. This soba with tempura, the cheapest main meal we've had in Japan (350 yen ~ SG$3.90) , was also the worst. Don't eat there.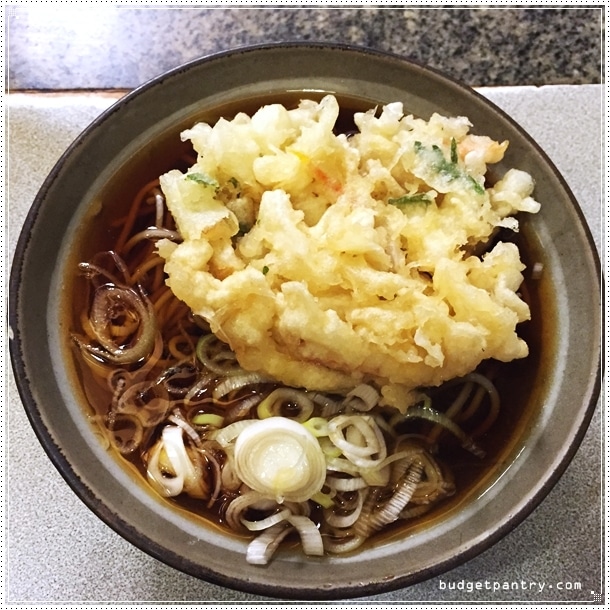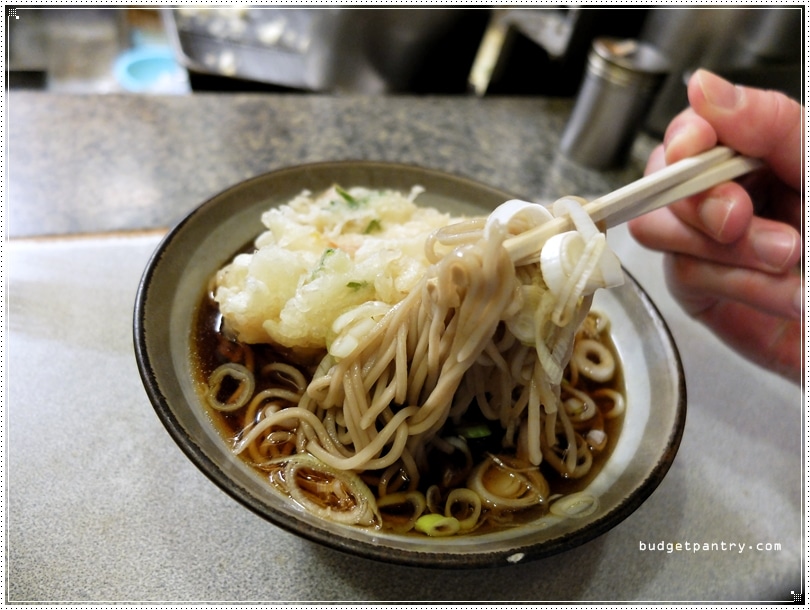 Go to Omoide Yokocho's website to learn more about the place and its history. It's pretty interesting! And with that, we headed back to our apartment. Tokyo Disneyland tomorrow!
——————————-
NEXT UP..
Japan Day 2 – TOKYO: Standing Sushi Bar, Tokyo Disneyland and Fu-unji Tsukemen! (here)
Japan Day 3 – TOKYO: Mt. Fuji (Lake Kawaguchiko), Harajuku and Tonkatsu at Maisen [here]
Japan Day 4 – TAKAYAMA: How to go to Takayama + BONUS Old Town pics [here]
You might also be interested in my previous Japan posts:
Japan Day 0: Trip Preparation – Useful websites, Staying connected, Japan Rail Pass, Getting around [here]
Japan Day 1 – TOKYO: How to get from Narita Airport to Shinjuku + our Airbnb accomodation [here]