IKEA SG Bloggers Task #3: Dining – The Great Gatsby Wedding!
Non-Food Related Sponsorship
Disclaimer: 
This post is part 3 of the IKEA Bloggers Program in which I was given a gift card to revamp my place. All ideas and comments are my own.
I've always been a bit obsessed with table settings and decorations. I had a rustic vintage theme for my Chijmes wedding in 2013, and chose pastel pink and blue, cream and white as the base colours. My bestie at work Aishah (I love you, beautiful mummy!) and I spent eight hours two days before the wedding to package the favours ourselves. We bought gold-capped glass bottles direct from the manufacturer, sourced for childhood biscuit gems and round baby biscuits, got the paper dollies, blue ribbons and "Handmade with Love" stamps and got down to work. We even had an old-school cakes and snacks dessert table complete with Hiro cake, Doraemon chocolates, Chok-Choki and cream horns and butter cream cakes from Balmoral Bakery. I know you want photos!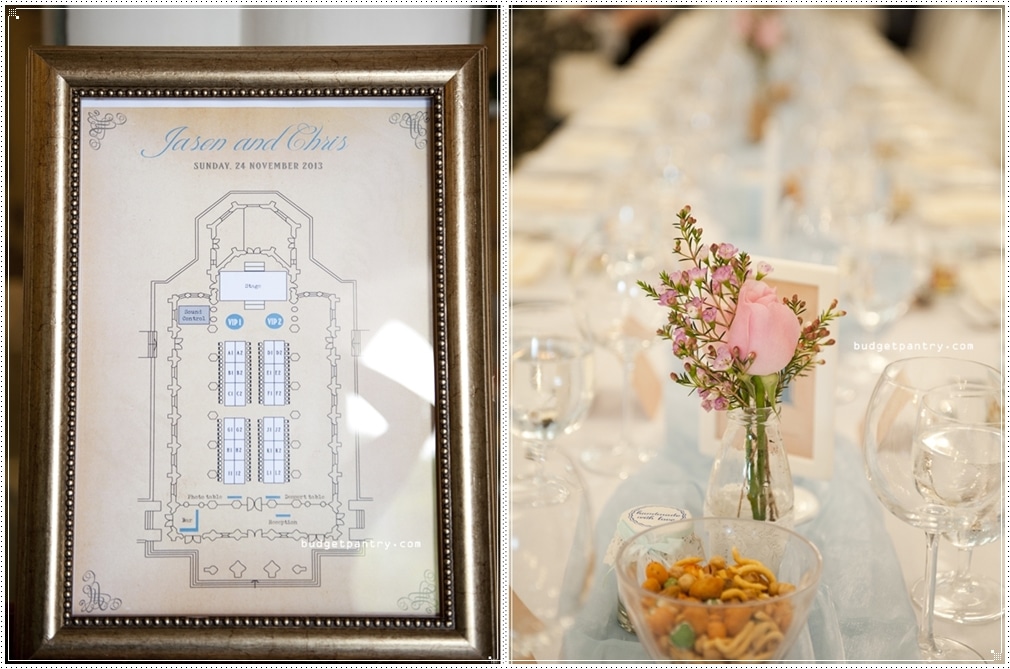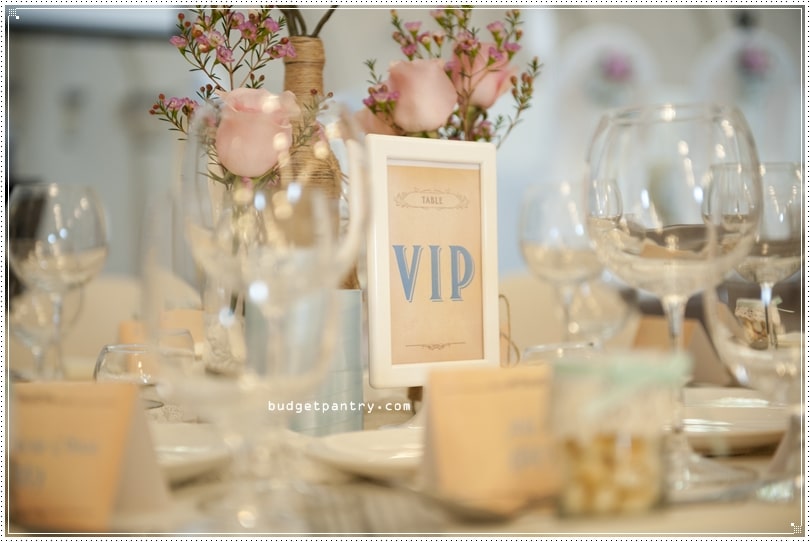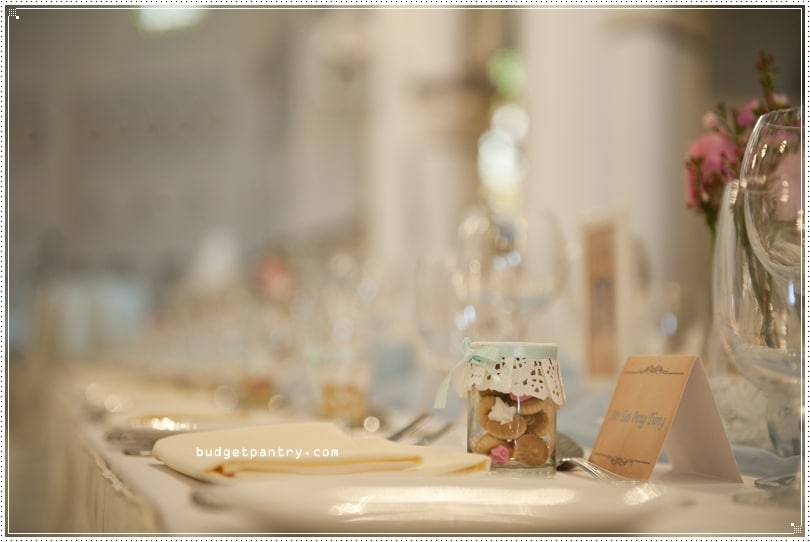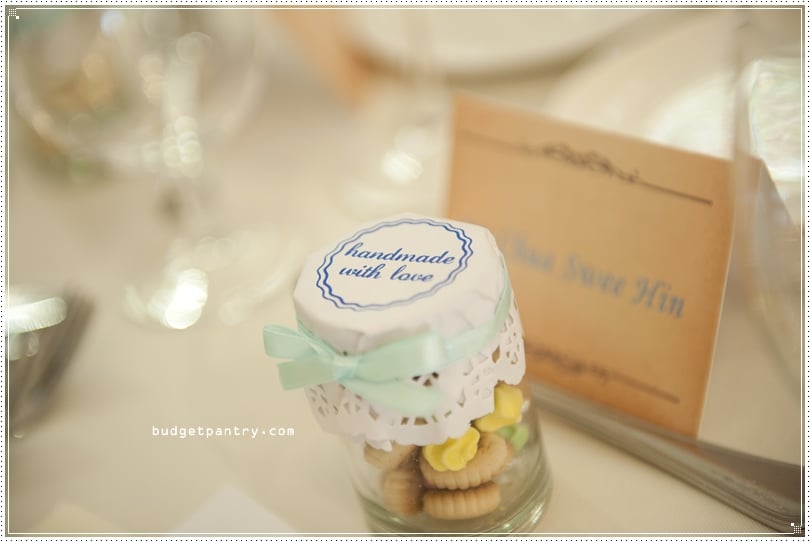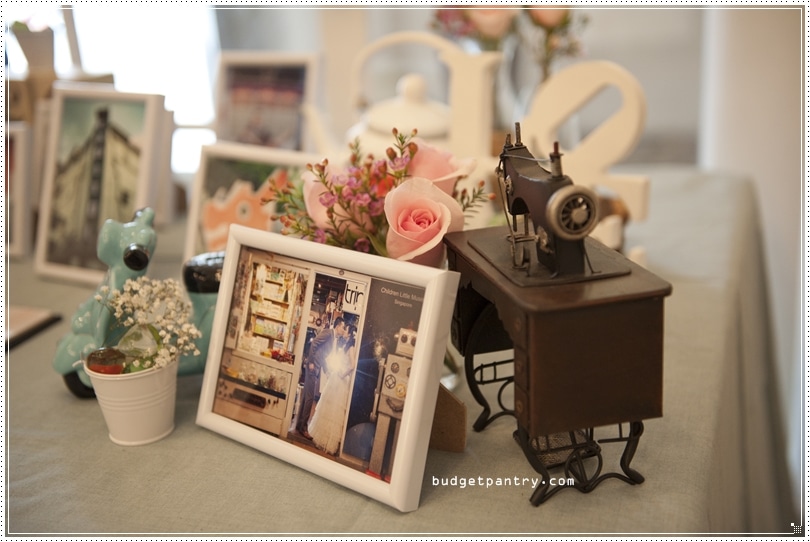 I really enjoyed planning my wedding! I wish I could do it all over again!
The moment I got to know IKEA's theme for the month – "Dining" – I knew exactly what I was going to do. Re-live our wedding day with a candlelight dinner. The theme? The Great Gatsby. I hope this post will help you if you 1) are planning for your wedding or 2) want some ideas for a romantic dinner at home!
Most dining tables – or at least the ones I've seen – are basic with bare necessities (and lots of unrelated clutter like keys, pens, and letters). My dining table is a simple round marble top with dark chocolate legs, complete with matching chairs. It is simple and comfortable, but sometimes, especially during anniversaries and special occasions, the set-up can be a little blah. This was how my dining area looked like before the makeover: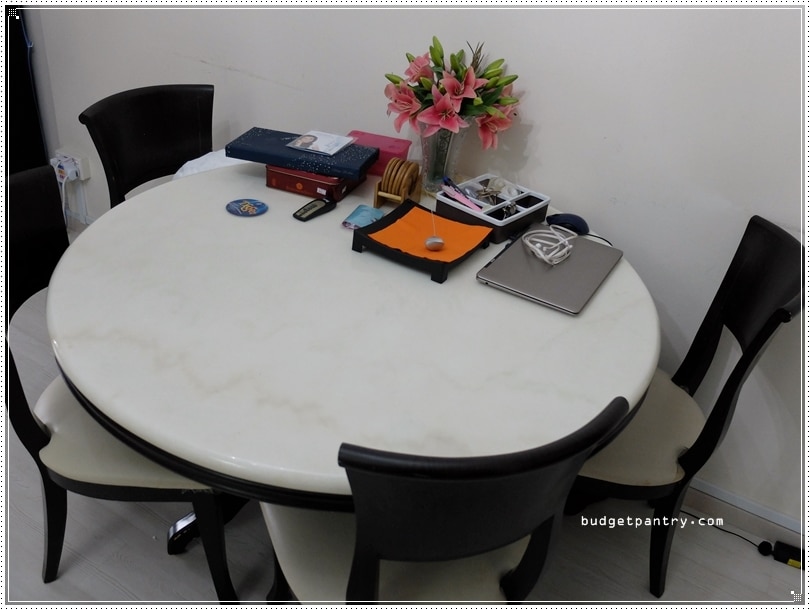 And after!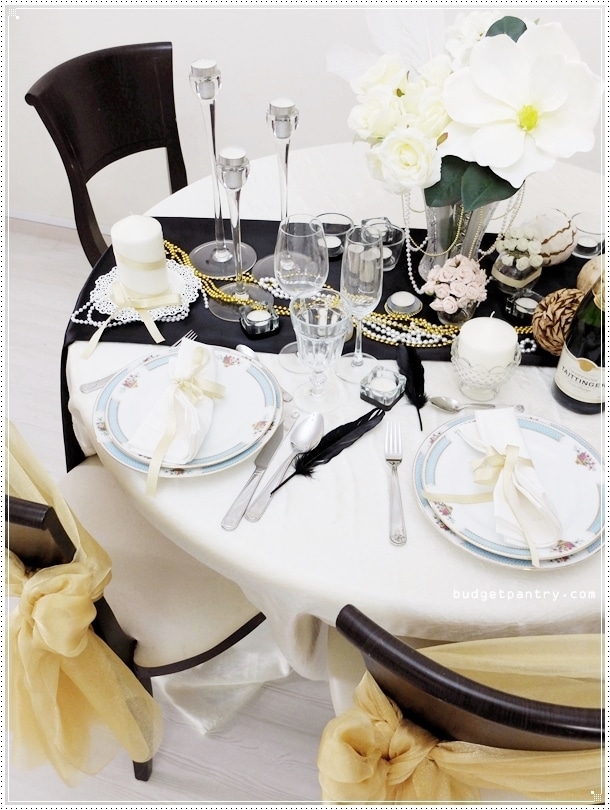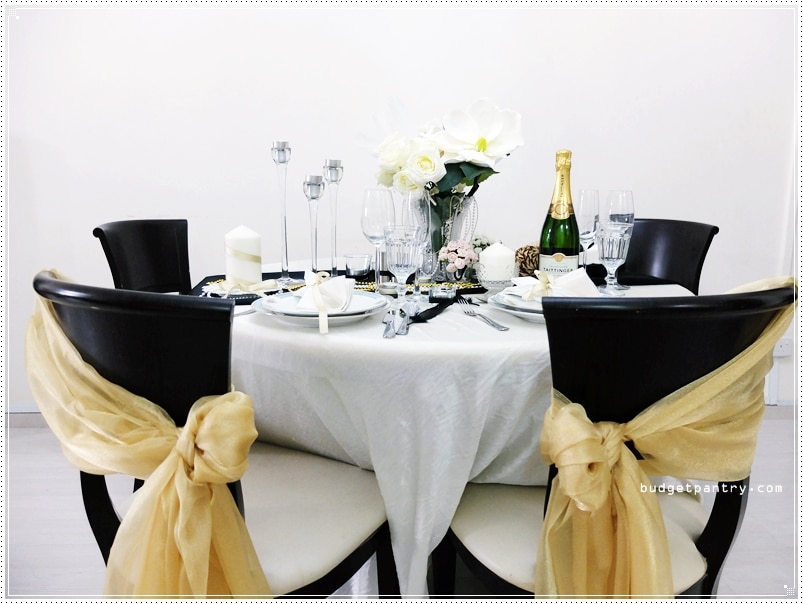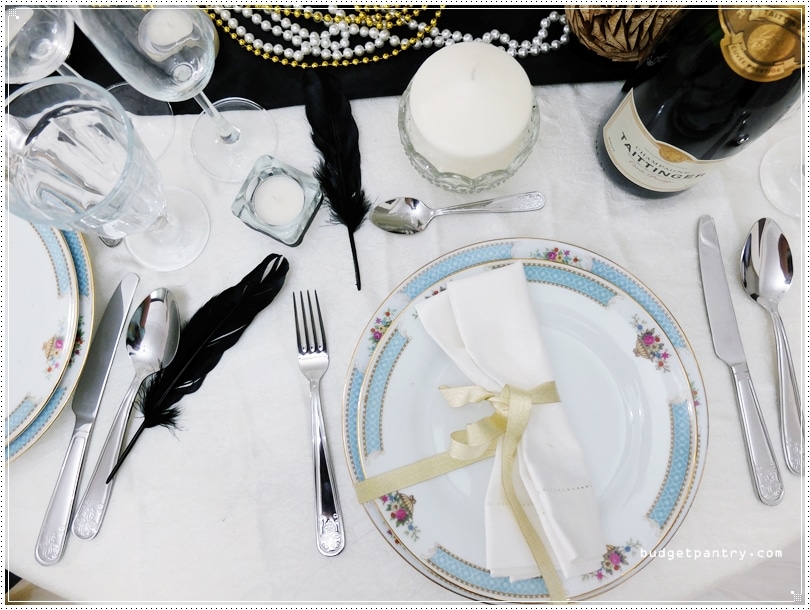 When doing a crafty DIY/makeover project, I always stop by two places. IKEA and Arab Street. You can get fabric and textiles in any colour, texture or sheen that you want for $2-$4.50 a metre from the textile shops in Arab Street, or generally in the North Bridge Road area. As I wanted a Great Gatsby theme, I chose a crushed ivory fabric for the base and black satin as the table-runner. I also decided to amp up my dining table chairs with a sheer gold sash. Most textile shops give a bulk discount if you're doing up many tables for your wedding, so ask the shop owners for a better price.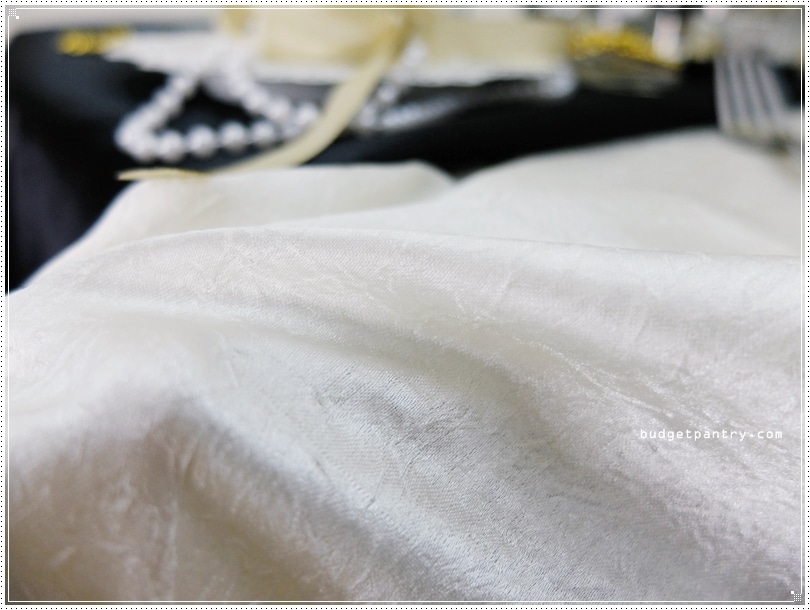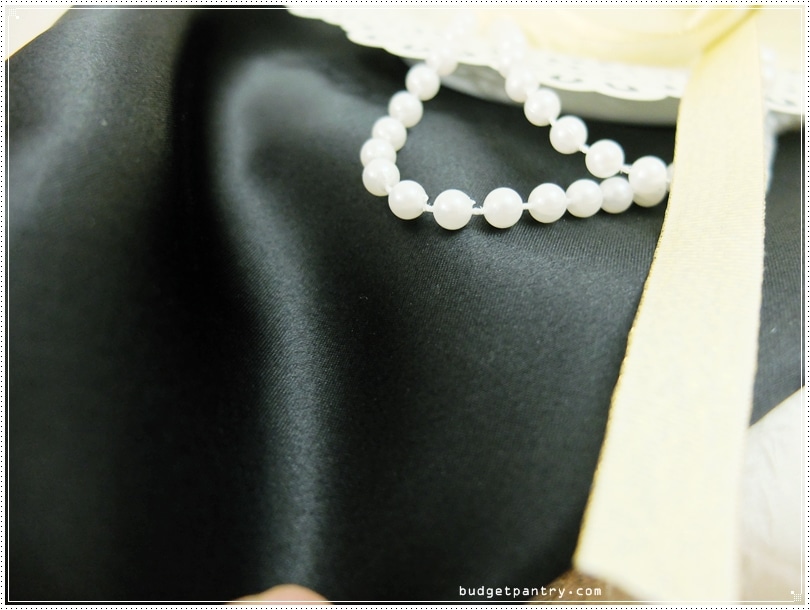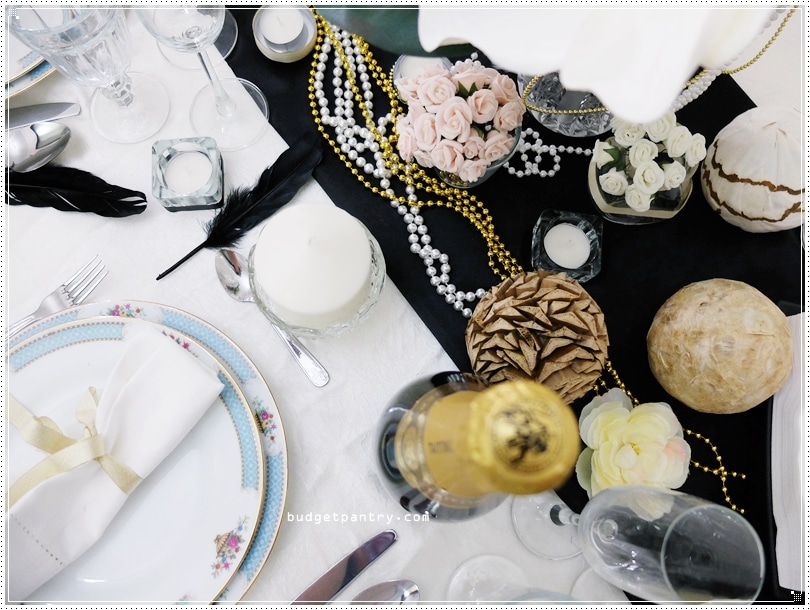 Another must-stop for crafty things like ribbons, string pearls and beads is Sin Hee Chuan Kee, also known as that "YKK shop". They stock a crazy variety of ribbons, beads, zippers, buttons, headpieces and even feathers in many colours – black, white, navy, purple, yellow, pink – for $2.50 to $5 per packet (there's easily 20 pieces per pack). Large Ostrich feathers are more expensive, about $25-$30 each (yes, per feather!). I got some gold ribbons and black tape (for dressing up plain candle holders as you can see in the pics), but my favourite buys were the strung pearls and beads. An entire spool for only $8 to $10 depending on size.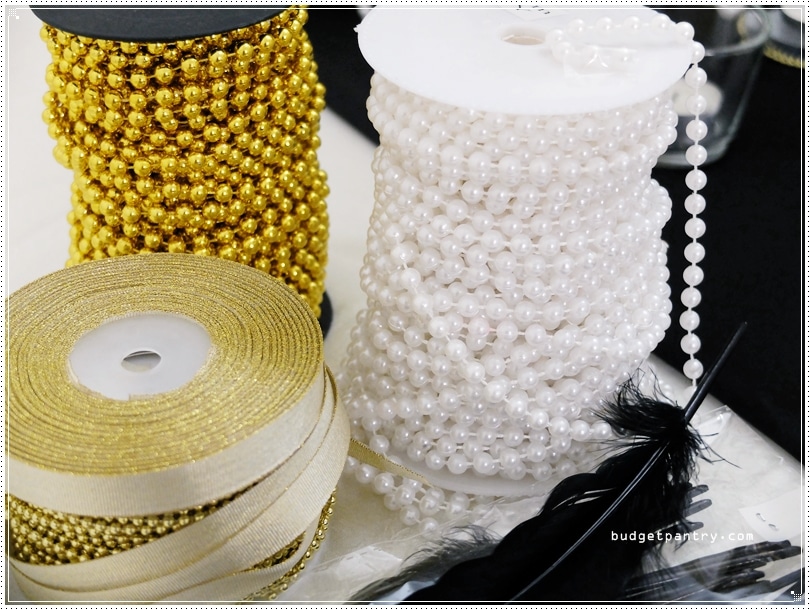 You can use fresh flowers for your centrepiece, but I chose artificial white roses, hydrangea and magnolia. IKEA has a nice selection of artificial flowers which you can mix-and-match for your centrepiece. To up the glam factor, I dressed up the crystal vase with pearls and gold beads using clear tape.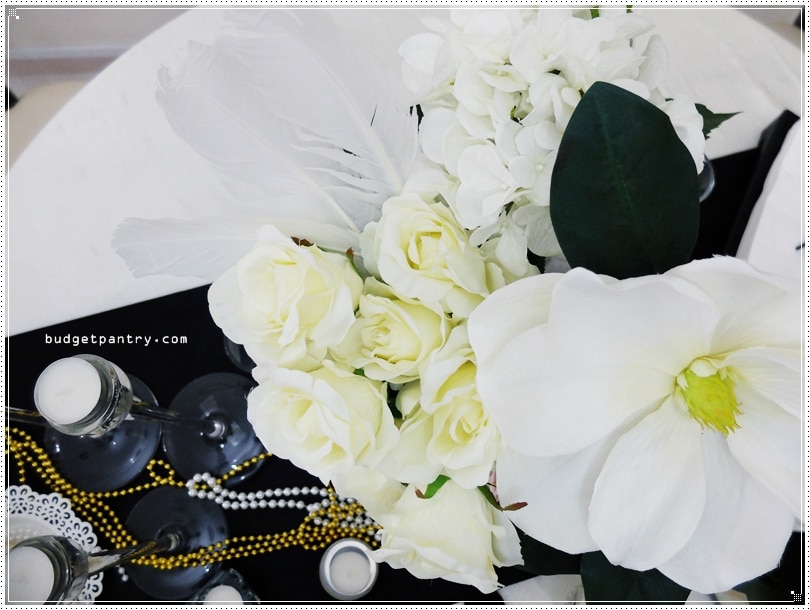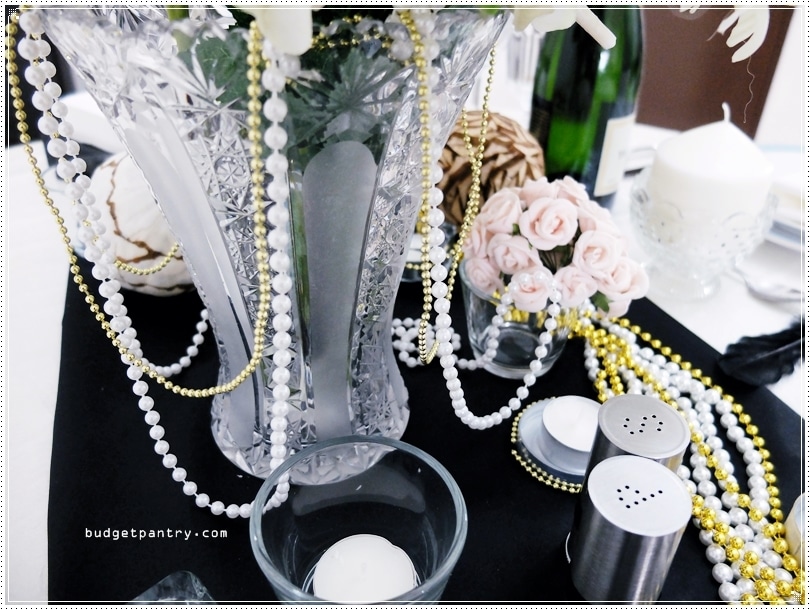 And of course we gotta have candles. Have you seen these beautiful candle holders? At $21.90 for three of varying heights, these were a classy addition to the theme. I chose to pair these with petite tealight candles instead of long candlesticks because I didn't want the candles to compete with the floral centrepiece for attention. Tip: Decide from the get-go what you wish to focus on. Candles or flowers? If you decide to use candles as the centrepiece, then choose taller candlesticks and shorter vases and little dainty flowers. If you're going for a glamorous floral arrangement, then choose shorter candles.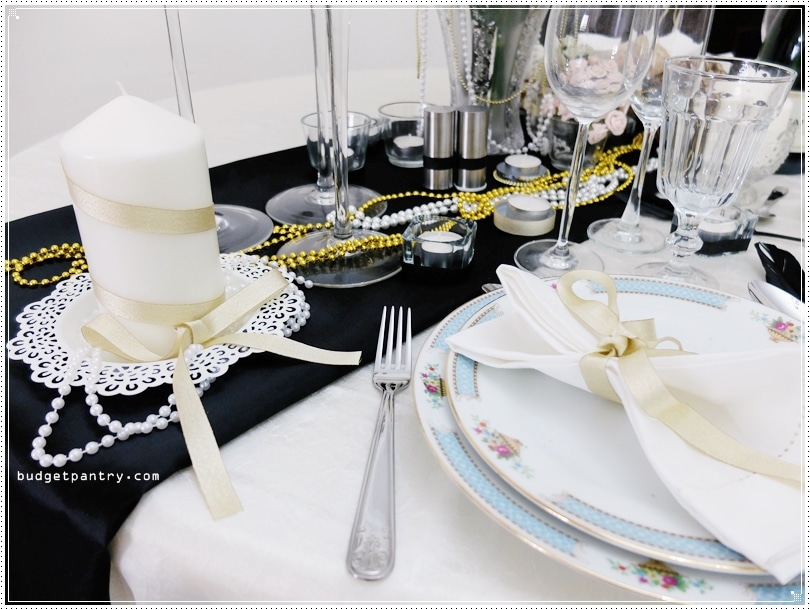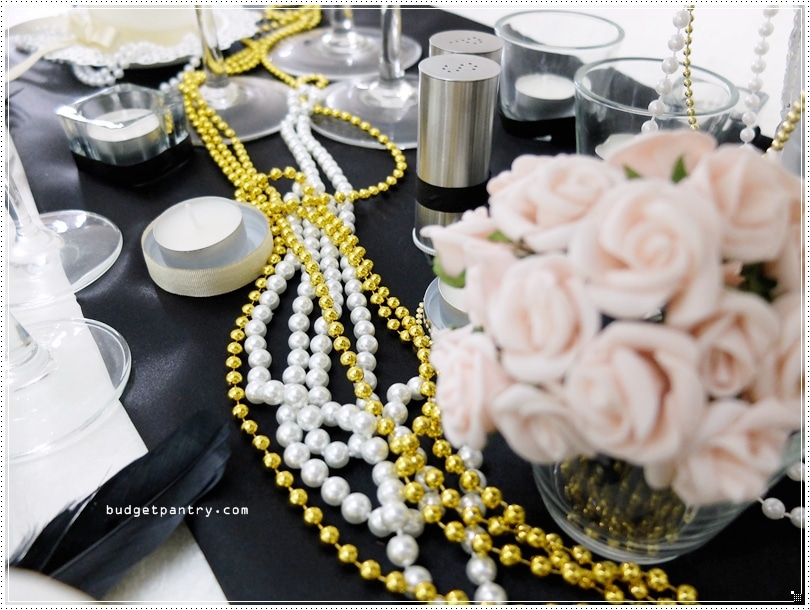 I also picked up some (ok, many) candle holders, some wine glasses, a 24-piece cutlery set and little glass containers for candles and flowers. The FÖRTJUST Tealight Holder is usually for er, tealights, but I used it to hold my block candle instead. I think it is very pretty! And at $3.90, it is an absolute steal.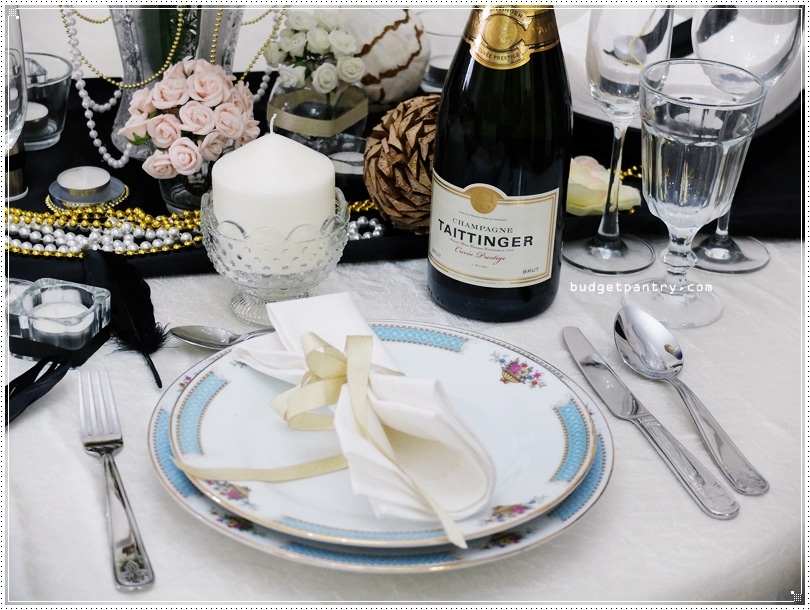 For candles, the FENOMEN set of five for $8.90 gets my vote. With different heights, they're a great way to add some interesting spark to your dining table.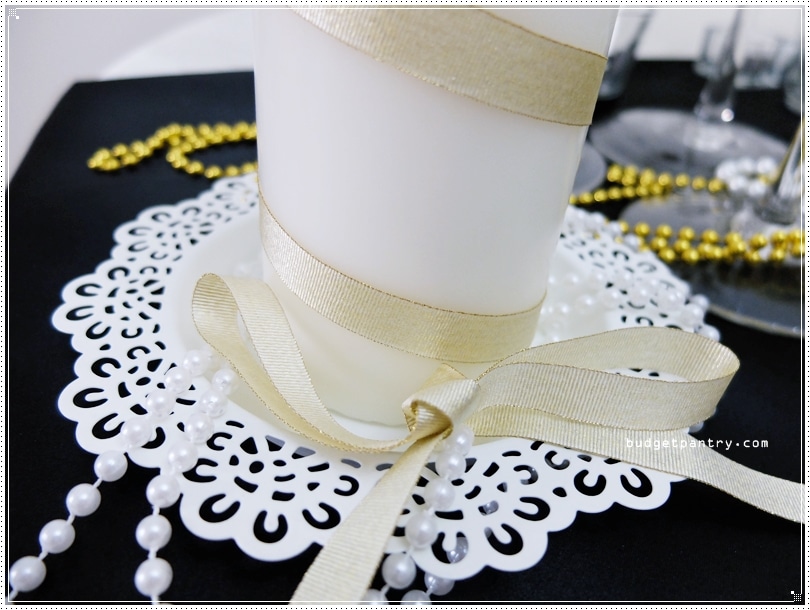 And with the ribbons and tape that I got from Arab street, I added detail to the PLATS Salt and Pepper Shakers, GLASIG Tealight Holders (only $2.90 for 5! The budget auntie in me is screaming in joy) and the RAJTAN Spice Jars, which I used as little vases to hold my $2 roses from Daiso.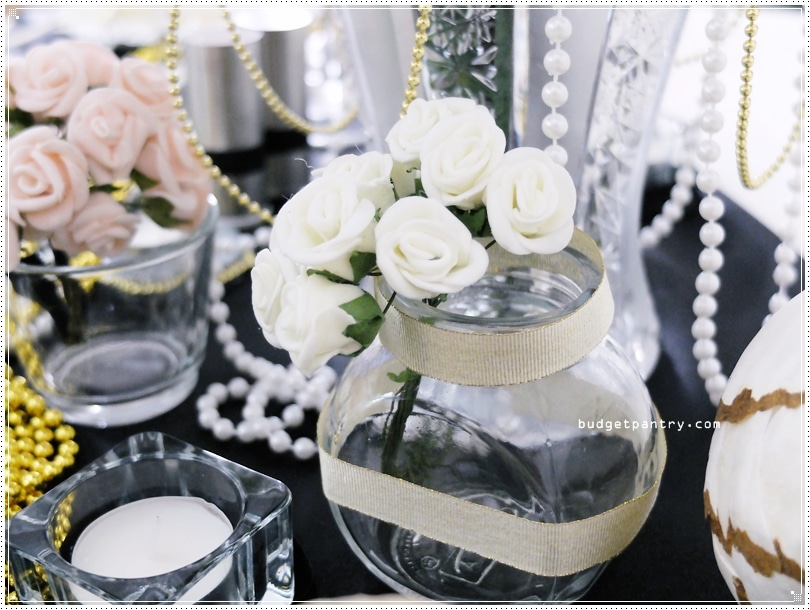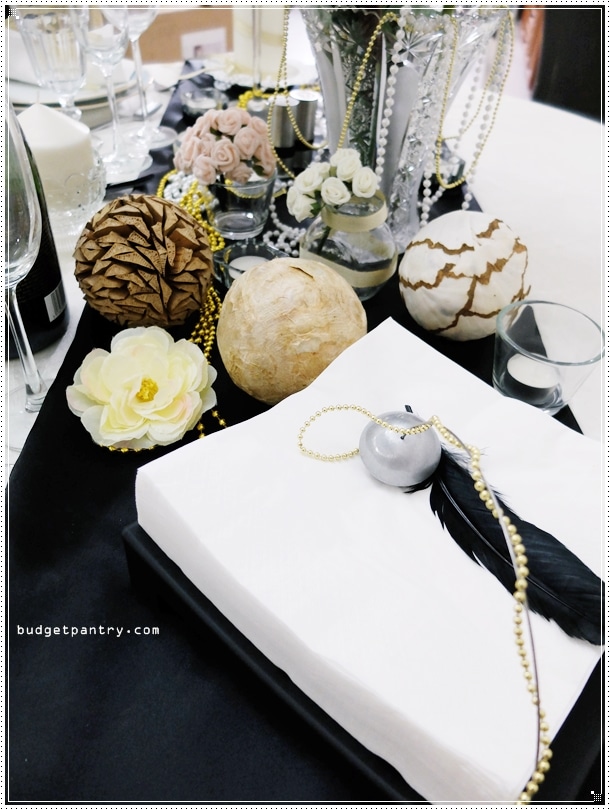 Here's the look with the candlelight. There are a lot of pictures but I couldn't resist snapping them!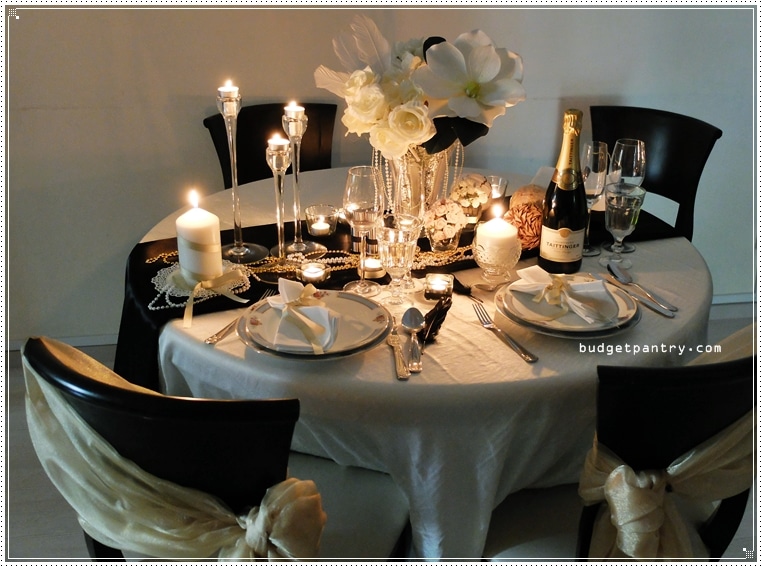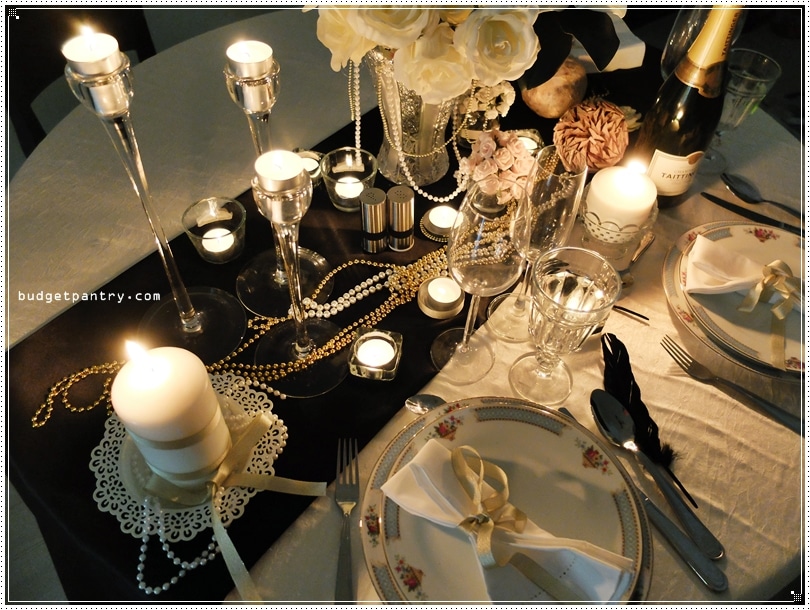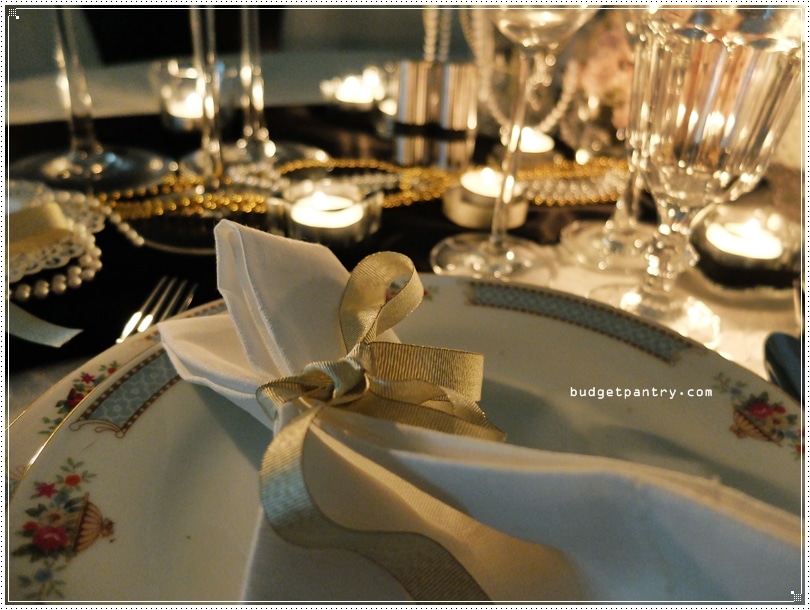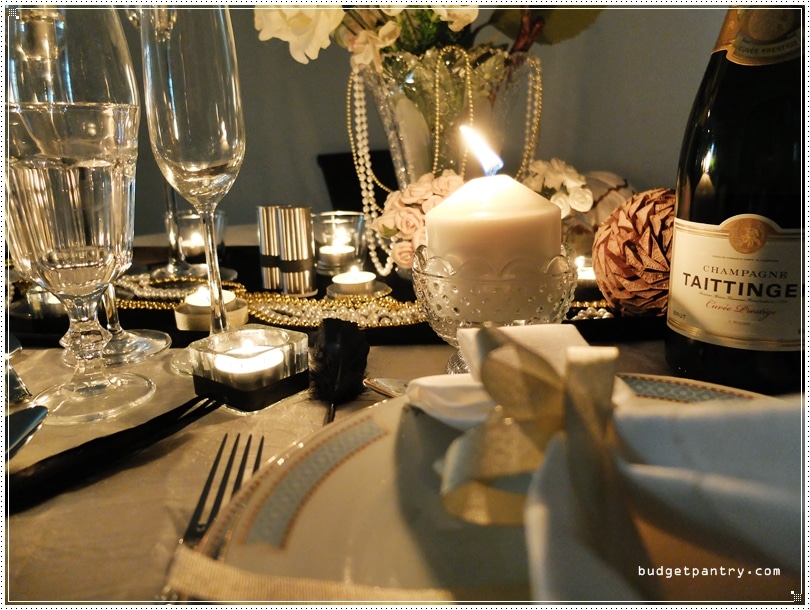 Get the look: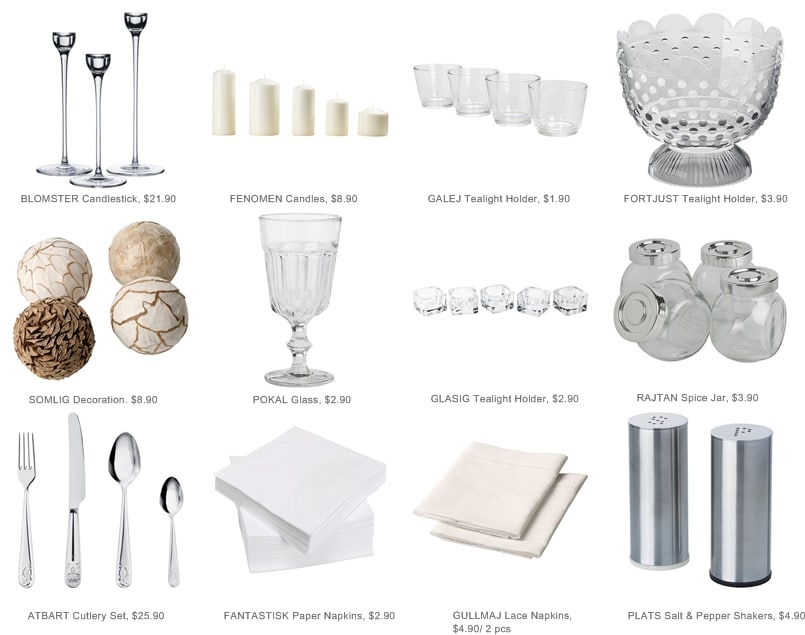 What a fun challenge this has been! I hope this post has given you some ideas on how to decorate your own wedding on a budget!
You might also be interested in my other IKEA posts:
IKEA SG Bloggers Task #1: Bringing the outdoors in! Kitchen Makeover (here)
IKEA SG Bloggers Task #2: The Living Room – I did colours! (here)
IKEA SG Bloggers Task #4: In and around the kitchen (here)