[With Dancing Chef]: Airfried Har Cheong Gai/ Prawn Paste Chicken/ 虾酱鸡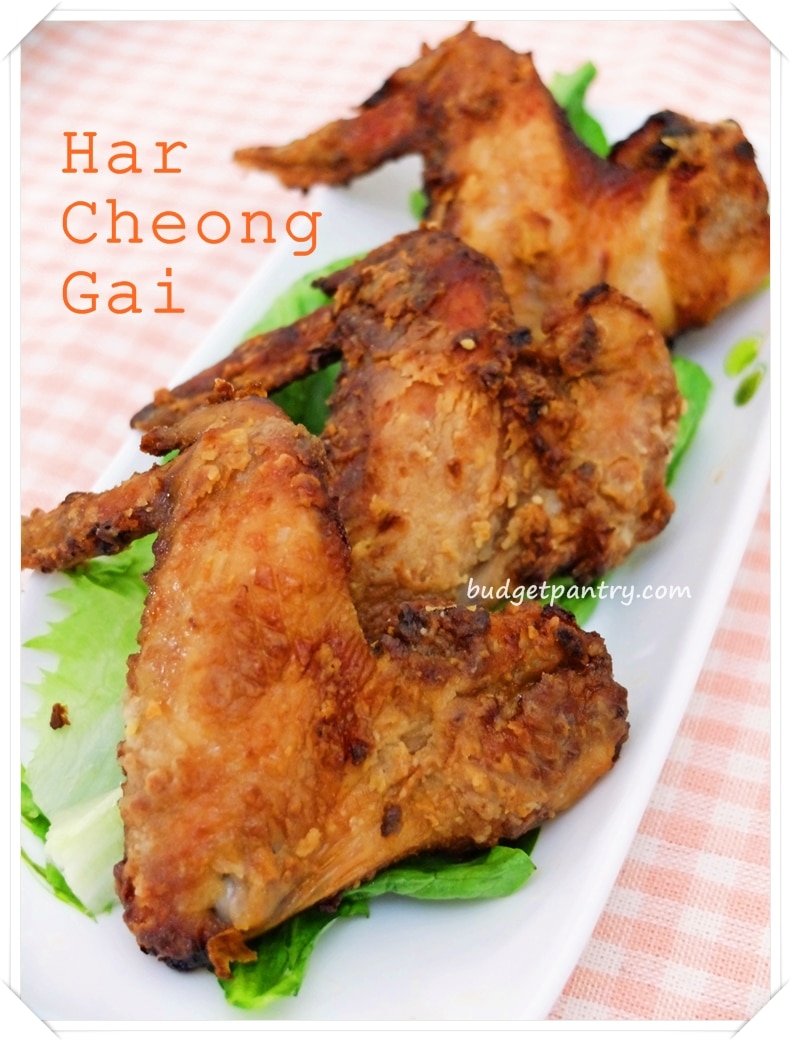 Most of you know about my affair with fried chicken. Friendships come and go, but my relationship with fried chicken has spanned 30 years and is still going strong, especially ever since Jason bought me my Philips Airfryer as an anniversary gift two years ago!
But let's not kid ourselves, as much as I am an advocate of the airfryer, nothing tastes better than crispy chicken freshly fried in hot oil. The crunchiness, crispiness, and juiciness of DEEP FRIED anything is incomparable, but life is all about choices. I choose 90% gratification over clogged arteries anytime.
I may not be able to eat deep fried chicken all the time but I can do airfry! And the other day, I decided to airfry some prawn paste chicken. Prawn paste chicken is a popular zi-char (quick fry) hawker dish in Singapore. For readers not too familiar with prawn paste, it is made from fermented ground prawns mixed with salt, and gives off a pungent aroma hard to associate with delicious cooking. :)
I've been wanting to try my hands at it, but the thought of preparing the dish from scratch is demotivating. Luckily for me, Dancing Chef was kind enough to sponsor me some of their sauces, and "Stir Fried Shrimp Paste" was among them! I've always loved their famous Suki Dipping Sauce for steamboat and was looking forward to trying more of their sauces and pastes, so Thank You Dancing Chef!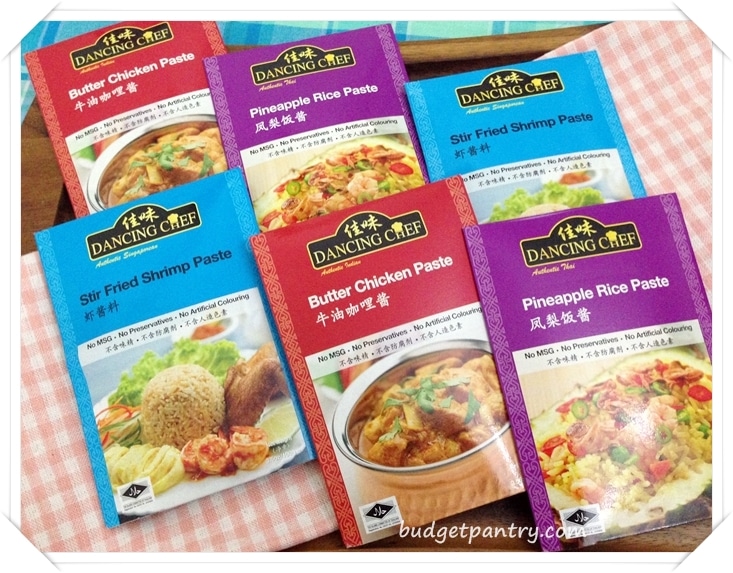 I airfried the first batch and found that it wasn't salty enough, so I added some salt to the rest of the marinade. I'd recommend adding some ginger juice to the mixture as well. I didn't add it and the taste was still good, but could have been better. Give this a try, I'd say this is 85% close to the real thing as it is, without any extra seasonings!
Airfried Har Cheong Gai/ Prawn Paste Chicken/ 虾酱鸡
Serves: 5 (3 wings per person)
Total cost: $9.80
Total cost per serving: $1.96
What I used:
15 chicken wings
2 packets Dancing Chef Shrimp Paste Chicken
1 teaspoon salt
1 teaspoon ginger juice (grate ginger to get the juice, optional)
Corn flour for coating
Steps:
1. Marinate chicken wings for at least 3 hours in the 2 packets of shrimp paste, salt and ginger juice.
2. Dip each chicken wing in corn flour (use a shallow plate), coat both sides evenly and shake off any excess. Refill corn flour as necessary. Each airfryer basket can fit 4 wings.
3. Airfry at 180 degrees for 12-15 minutes until crispy and golden brown. Repeat until all wings are fried.
How much I spent:
$5.30 for chicken wings (it is up to you if you choose frozen or fresh wings)
$4.50 for Dancing Chef Stir Fried Shrimp Paste (mine was sponsored but it costs about $2.25 a packet from NTUC)
Everything else from my pantry
How good were these? We made 15 wings for 4 of us.. Jason and I ate 4-5 a person and it was really finger-licking good. The best part was, I didn't use any oil for this. There was minimal clean up apart from soaking the airfryer basket in soapy water. I didn't have to mop the floor, and I didn't waste any oil (or calories!) for deep frying. Looks like I gotta do this more often. Looking forward to try the Butter Chicken paste soon. Look out for the recipe soon!