JULY Online Baby Fair & Hanil UV Sterilizer + UMEE Baby Bottles Review!
Some of you may know that I have been using Hanil's UV Sterilizer Dryer ever since Cbb was born. 3 years down the road, I'm happy to report that we're still using it on a daily basis! Now that she is 3, we don't exactly depend on the sterilise function that much, but we still use the 'Drying' mode every day. This is how value for money the steriliser is. If you're wondering if you should get one, don't wait!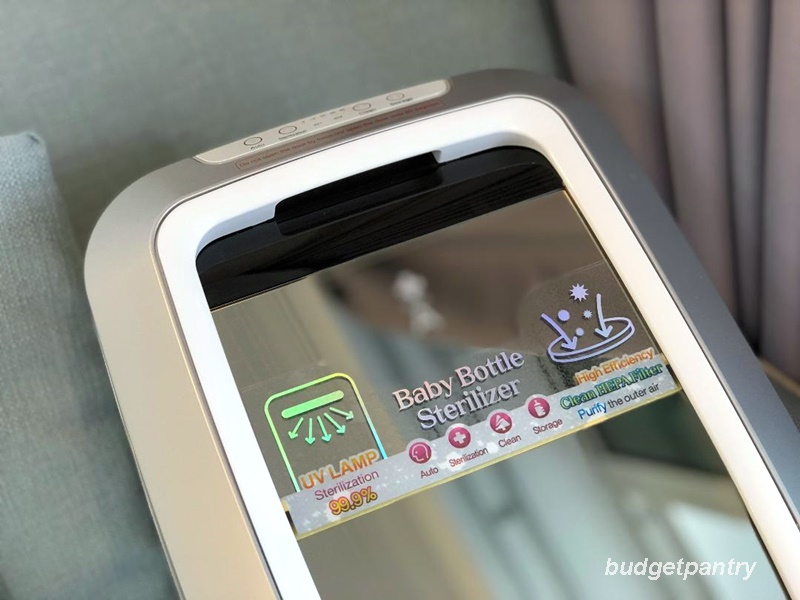 Why we love our Hanil UV Sterilizer Dryer
It saves so much space
Its compact size really saves me kitchen counter-top space. After washing her bottles (and pump parts when I was still breastfeeding her), all I needed to do was chuck them into the sterilizer, press a button and walk away. No more manually boiling each different component and finding space on the tiny counter top to dry her bottles, brushes and the large number of pump valves, tubings, connector, caps, teats … the list goes on.
Premium medical-grade steriliser that kills 99.97% of bacteria
Nothing matters more to me our baby's safety. Hanil UV Sterilizer Dryer is 100% made in Korea and has gone through stringent testing by Singapore TUV SUD (PSB), US FDA, Japan JFRL and Korea KCL. It is made by Hanil Electric Co, a leading company in Korea with 54 years of history.
Blocks micro air-borne dust and particles
It's convenient, easy to clean and has an excellent drying function via infrared technology which prevents mould accumulation. Also, it has a 3M HEPA filter that blocks air-borne dust and particles. You can safely store all your baby bottles and accessories inside without worrying about dust and odour.
You can sterilise so much more than just bottles!
As long as it can fit inside the steriliser, it can be sterilised! You can sterilise and dry pacifiers, toys, teethers, toothbrushes, nasal aspirators and even household items like cups, bowls and cutlery.
It is the choice of top infant centres and nursery wards in Singapore
Hanil UV Sterilizer Dryer is used by:
Thomson Medical Centre Parentcraft, nursery wards and premium suites
Gleneagles Medical Centre Parentcraft Centre
Kinderland (Singapore) Infant Centres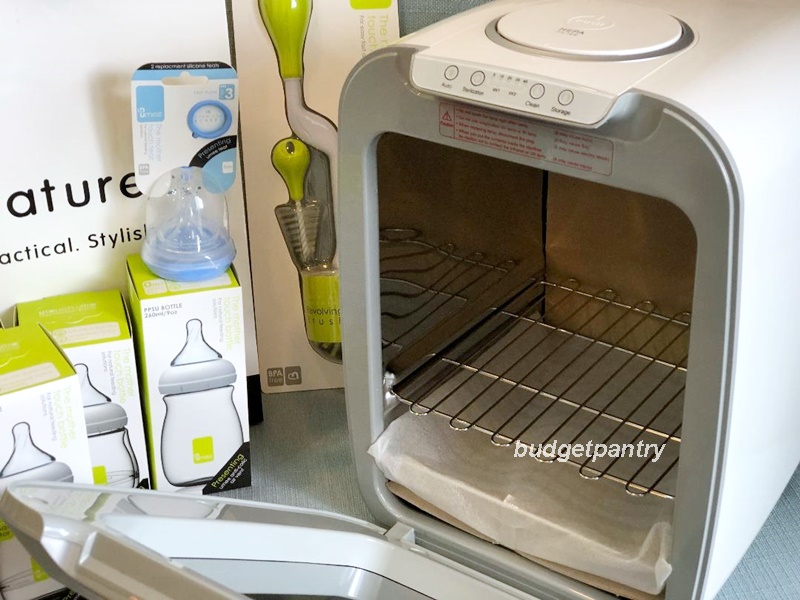 For step-by-step visuals on how to use the Hanil UV Steriliser Dryer, read my original blog post here: https://budgetpantry.com/hanil/
Click here to know more about Hanil: https://babynatureco.com/collections/hanil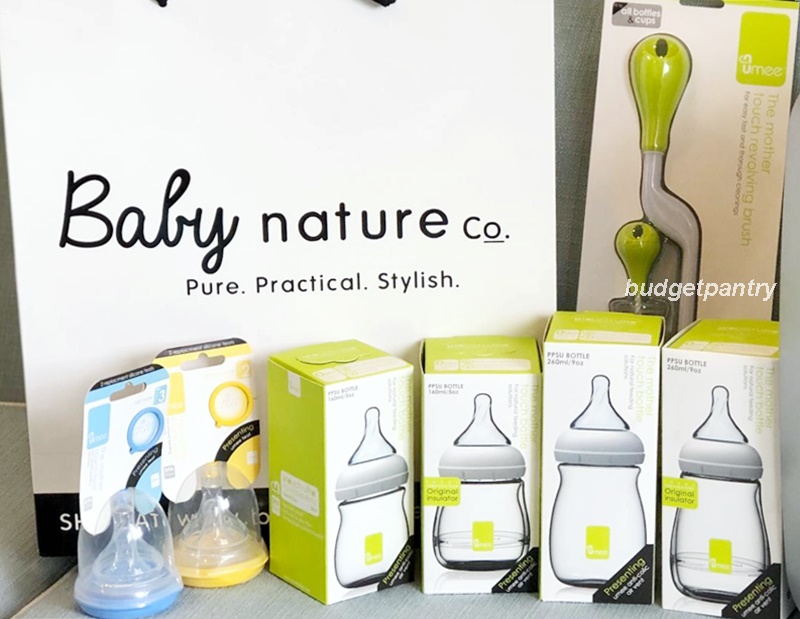 Introducing UMEE Baby Bottles: The Natural Feeding Solution
When I was transitioning Cbb from breast to bottle, I was constantly worrying if she would reject baby bottles, or refuse to be latched once she was exposed to the bottle. If this is one of your worries, you need to know about the new UMEE baby bottles. UMEE offers the most natural transition between breastfeeding and bottle. The BPA-free bottles provide a steady flow of liquid to the baby only when they suckle. This allows babies to use the most natural feeding behavior they learn at the breast to seamlessly transition to bottle feeding.
The unique air vent system from the Netherlands eliminates excessive air flow so baby ingests more milk and less air. The anti-colic vent design enables complete control over the liquid flow and prevents teat collapse. It is a one-piece vent with no extra parts, ensuring optimal use every time you feed. Plus, the easy latch-on soft teat mimics the natural flex and softness of a mum's breast.
UMEE baby bottles are coupled with the UMEE Insulator that maintains the ideal liquid temperature like breast milk, clinically proven! Your baby can enjoy a healthy and more natural feeding experience. Umee is the best bottle choice of mothers when they want to switch back-and-forth from breast to bottle or transition off the breast completely. Read more about UMEE here: https://babynatureco.com/collections/umee
Don't miss the Online Baby Fair from 1-7 July 2019!
The Hanil UV Steriliser Dryer and UMEE baby bottles and many more baby essentials are going for special prices during the online baby fair on http://babynatureco.com next week. Click on this link to browse their offers: https://babynatureco.com/collections/feeding-sterilizers You don't want to miss such great prices!
***********************
First time EVER online baby fair by http://babynatureco.com
Enjoy storewide discount up to 50% off curated branded items
Prices are matching their usual BABY FAIR prices. Perfect for mummies who can't wait till end August for the SuperMom baby fair!
No promo code required!
************************
Go on over and shop now!