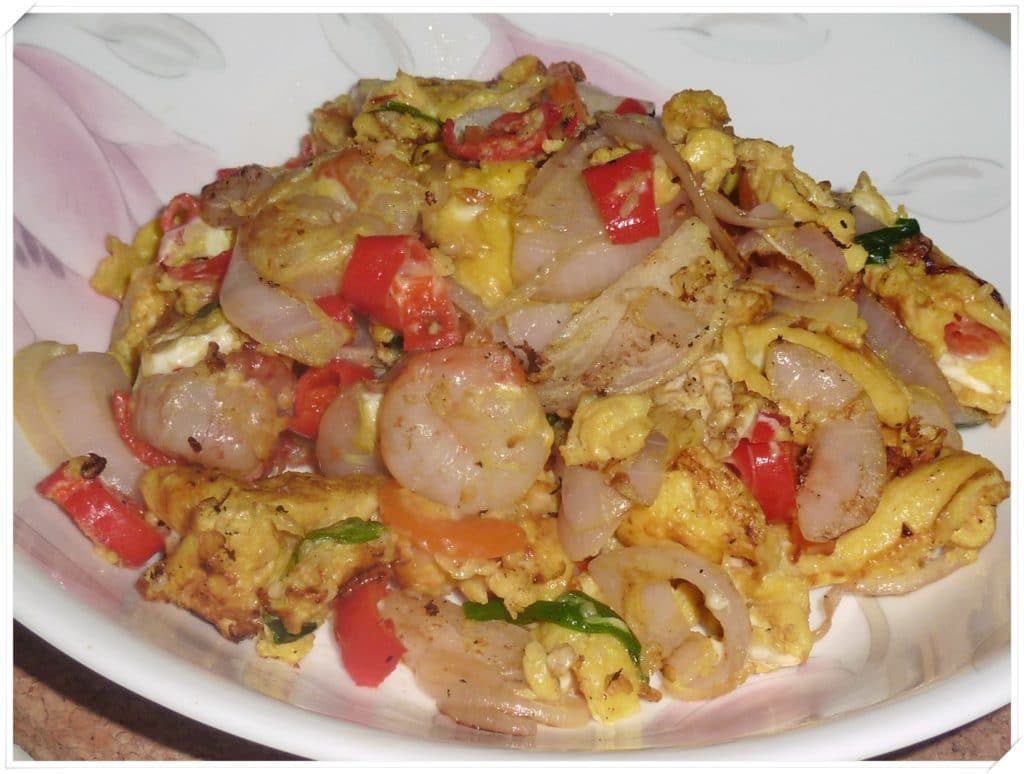 Ok, Jason is looking at me like I am mad because here I am blogging a Furong Egg recipe at 11pm on the eve of our pre-wedding shoot and I have not finished preparing the things to bring tomorrow (Toto and Tato are going on an outing). I have not moisturised my face, I have not put on my face mask, and oh we fly to Bali on Wednesday and I have not packed anything too.
But as always, I prioritise. Blogging about Furong Egg is important, okayyy?
I remember preparing allll the ingredients for this dish in a hurry one evening after 88's eye appointment. After everything was chopped nicely in record time, I opened the fridge wanting to reach for my three eggs. But you guessed it, we were out of eggs. How to cook Furong Egg with no egg? How come there are no eggs? Luckily my knight in shining armour volunteered to buy eggs for me so that he can finally have his dinner.. so this recipe would not have happened if not for Jason. So thank you Jason. For you only, I will add more red chilli when I cook Furong Egg next time.
Makes 3 servings
What I used:
3 eggs, not those super tiny 10 for $1.30 types. Normal size
12 prawns, shelled, or use frozen cooked shrimp
1 stalk spring onion, sliced into rings
2 tsp chopped garlic
1 red (purple) onion
1 or 2 red chilli, not chilli padi, sliced or cut with scissors
Half a carrot, sliced thinly, for colour
Half tsp salt
White pepper
1 tbsp olive oil
Half tsp fish sauce (optional)
1. Beat the eggs with the salt and pepper.
2. Heat olive oil til hot, then add in onion. Fry for a minute then add in garlic. Stir-fry quickly.
3. Add prawns, spring onion, chili, carrot and mix well. Your pan should be a myriad of colours now. Add fish sauce if using.
4. Make sure the flame is on high, then pour in egg in step 1. Let it cook til nicely set then turn it over and cook the other side. You can break the omelette slightly when flipping over.
5. Cook for another 1-2 minutes and your Furong Egg is ready.
How much I spent:
$0.75 for eggs
$1.50 for prawns (I used bouncy frozen cooked shrimp)
Everything else from my pantry
Total cost per serving: $0.75
——————————————————————-
This is one of my favourite zi-char dishes. Don't leave out any ingredients especially the red chillies! If you decide to try this easy recipe out, ensure that the flame is BIG, and also please see to it that there are eggs in your fridge, unless you too, have a very hungry knight in a shining armour at home. Oh and if you have left over char siew, or char siew, add them in, but only if they are those red char siew with a tinge of sweetness and not those Hong Kong style dark-sauce-type char siew. I will blog again when I return from Bali, and wish me (us) luck for our photoshoot tomorrow! I hope my photographer is good at photoshop.