Easy Homemade Granola Recipe
I LOVE HOMEMADE GRANOLA.
It's super yummy and cheap to make, and it helps me use of all the rolled oats I got in baby & mummy goodie bags! Cbb loves granola for breakfast with oat milk!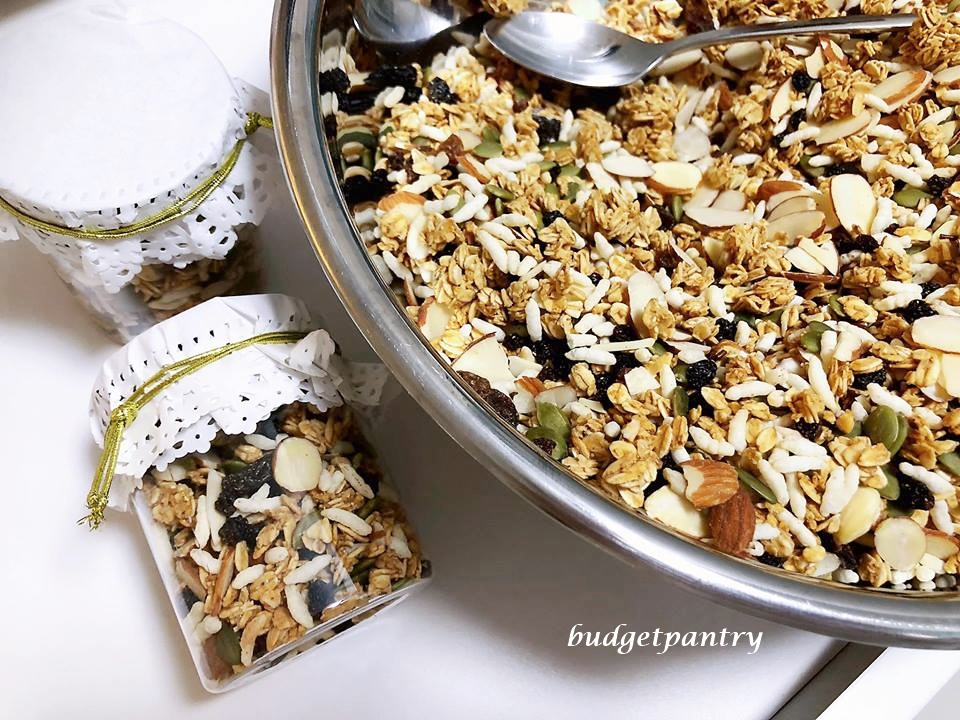 This recipe is for the loose kind of granola. Yes the honey makes it sweet and makes parts of it clump together, but if you're looking for the kind that you can break apart like granola bars, this isn't it. I'll share more when I make a batch of those!
The wonderful thing about homemade granola is that anything goes. No, really. All you need is an oven to make everything come together. Use rolled oats. Then add whatever nuts, dried fruit and crunchy bits you like (we love puffed rice krispies)! Phoon Huat is a wonderful place to get all of these.
In this recipe, I used sliced almonds, pumpkin seeds, dried currents, rice crispies and rolled oats, but I also love adding chocolate chips sometimes with hazelnut and some almond essence. The measurements in the recipe are an estimation. Basically what you do is mix everything in a large mixing bowl according to what you like. If you prefer more almonds, all them. If you don't like dried currents, use blueberries.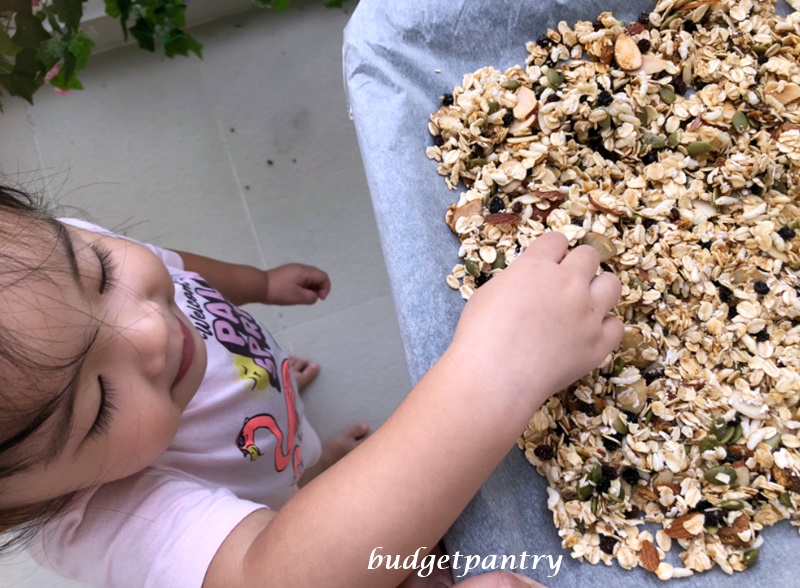 Once you learn how to make these, you won't go for store bought ones again! Enjoy!
Easy Homemade Granola Recipe
(budgetpantry.com)
What you need:
250g Rolled oats
50g Puffed rice krispies
100g Sliced almonds with skin
100g Pumpkin seeds
100g Dried currents
100g Chocolate chips
2 tablespoons honey
1 tablespoon olive oil
Pinch of salt

Steps:
Preheat oven to 150C. Line baking tray with non-stick baking paper.
Mix everything except honey and oil in a large mixing bowl.
Add the honey and olive oil and stir through with a large spoon. Try to coat as much of the ingredients as possible.
Bake for 30 minutes until golden. Leave to cool for 1 hour before storing in an airtight container.
Tip: If granola loses its crunch, simply pop them in an oven for 10 mins before serving. p/s- Explore all my baby food recipes here!