Christmas Dinner Idea + GIVEAWAY: Miso Lamb Cutlets with Sweet Potato Medley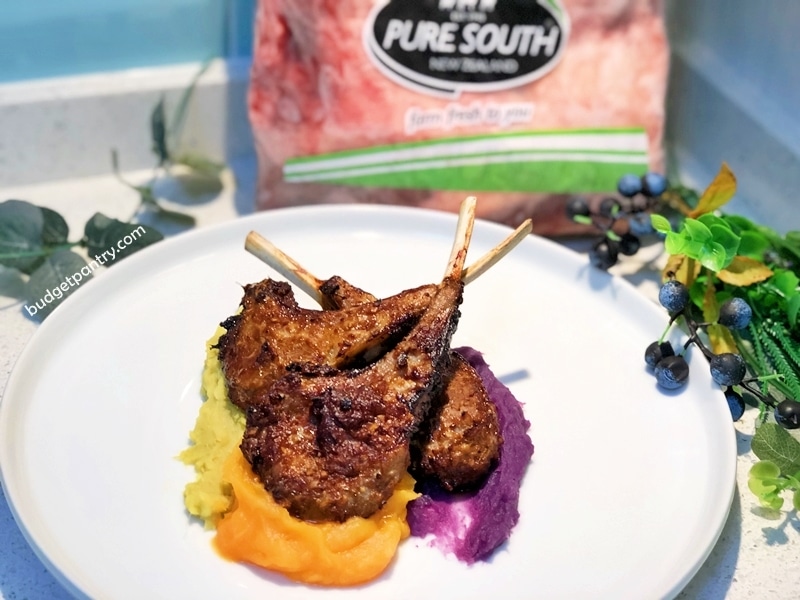 Let me first start off by saying like many, I wasn't too confident in cooking lamb in my kitchen. When I think of cooking lamb, I picture my mom's roast leg of lamb – it's crazily delicious yes, but it can also be a little hard to handle for a lamb-novice like me.
I'll confess: I have never cooked lamb before on my own. I have helped mom prepare lamb shoulder and leg of lamb, but never by myself in my own kitchen.
The hubs is also not really a "lamb person" after a bad experience with gamey meat years ago, so I've not really had the motivation to cook lamb at home.
BUT FROM NOW, THIS IS GOING TO CHANGE.
When Pure South asked me if I would like to try cooking with their popular Lamb French Racks, I was a bit hesitant but open-minded. Sure, why not! The lamb cutlets look easy enough to handle, and I have actually heard of the brand from meat-lover friends in New Zealand – the meat is top quality. I'm in!
And here's my creation: Miso Lamb Cutlets with Sweet Potato Medley (recipe below!)
Pure South from New Zealand
Pure South is a New Zealand meat company that supplies lamb and beef from farm fresh to you. Their superior products are now conveniently available in Singapore through their online store. Grass-fed and grown locally using free range farming methods, Pure South Lamb is tender, succulent and flavourful. Low in fat and enriched with iron, zinc and vitamins, it's both highly nutritious and incredibly delicious!
Lamb French Racks
The cut I'm using is the Pure South Frozen Lamb French Rack. At a special price of SG$50.33 for budgetpantry readers (use code 'BUDGETPANTRY' at check out. U.P. $69.90) for TWO full lamb racks (the 1kg pack, about 16 cutlets!), top quality meat doesn't have to come with a huge price tag. Each cutlet costs less than $3.20! Imagine cooking this as a Christmas meal for your entire family.
The lamb rack is the most tender, lean meat when trimmed of exterior fat needing only a brief oven roast, best served medium rare. Frenched rack has rib bones trimmed and cleaned of meat down close to the meaty eye of the loin.
When preparing the cutlets, I was pleasantly surprised to note that the fat has been really well-trimmed, with a just-right amount left on the meat. It was also not at all bloody – really clean and easy to handle.
How to cook
I cooked these in the Airfryer and they turned out beautifully. The key is initial high heat to brown the meat. You can also choose to pan fry, oven roast, or even barbeque them. Continue reading for my full recipe.
The verdict
You should have video-ed my face when I tasted the very first piece of the lamb! I have never imagined that my first attempt at cooking lamb would turn out SO WELL. The meat is tender and fresh with no gamey taste – even the skeptical husband cleaned out his plate! My 82-year old aunt, who's also wary of lamb (I don't know why it runs in this family) but quite adventurous in food, asked me if there were any leftover cutlets at 9pm after getting her first taste at dinner. LOL. Of course, here you go!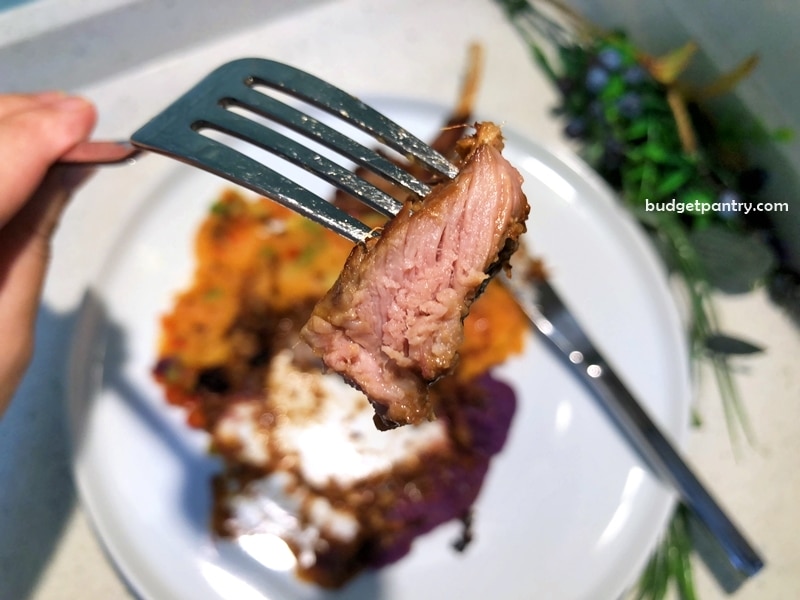 I highly recommend these Lamb French Racks. Not only are they value for money but they're really top quality.
I do think my miso + ginger marinade and the subtle, natural sweetness of Japanese, local and purple sweet potatoes made this dish quite interesting. Please give it a go, you won't regret it!
Pure South New Zealand
Ecommerce website: https://puresouth.asia/
Facebook: www.facebook.com/PureSouthAsia (lots of recipe inspirations!)
Instagram: www.instagram/PureSouthAsia
Additional 10% OFF promo code + Giveaway
From now till end of 31st Dec, key in BUDGETPANTRY to get an additional 10% off on top of current promotion! That makes it SG$50.33 for TWO full lamb racks (the 1kg pack), which can feed 4-5 people! That's not all, Pure South is giving away ONE package of full lamb racks on my Facebook page. Go on over to take part. Good luck! Click here.
SG addresses only, ends 18 December, Monday 2359h.
Recipe
Miso Lamb Cutlets with Sweet Potato Medley
(budgetpantry.com)
Serves 4-5
What you need:

1 package Pure South Lamb French Racks (1 kg), thawed
5 tablespoons miso paste
4 tablespoons ginger paste (grated ginger along with juice)
2 tablespoons hot water
2-3 medium Japanese sweet potato
2-3 medium local sweet potato
2-3 purple sweet potato
3 tablespoons oil (if panfrying)
Steps:
Using a sharp knife, slice the lamb rack into individual cutlets. Rinse with water and pat dry.In a large bowl, combine the miso paste, ginger paste and hot water. Coat each lamb rack carefully with the mixture and marinate in the fridge for at least an hour.
Peel the potatoes and cook in boiling water till you can pierce through them with a fork. Tip: Use a large pot and cook the Japanese + local sweet potatoes first. Remove before cooking the purple ones as the colour will run. Mash the potatoes individually (I use a handheld blender) and set aside.
To cook the cutlets
Airfryer:
Preheat AF to 180C for 5 minutes. Once preheated, airfry for 8 minutes and it's done.
Pan:
Add the oil to a frying pan over high heat. When oil is hot enough, reduce heat to medium and cook cutlets for 3-4 minutes each side.
Grill:
Preheat a barbecue or grill pan to moderately hot. Cook cutlets for 2-3 minutes each side, or until just pink in the centre.
For all methods, allow cutlets to rest in a warm place for 5-10 minutes before serving.
Spoon the sweet potato medley onto a plate and top with 3-4 cutlets each to serve.