Chilli Crab Prawns with Enoki Mushrooms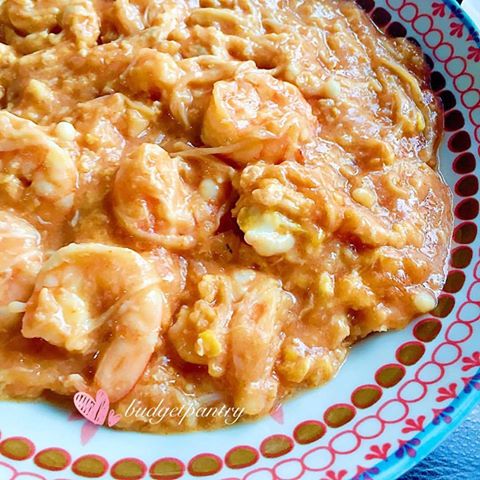 This is a dish perfect for busy weeknights! This is one of the dishes that I term 'The Conjuring'.. because I hadn't thought of cooking it this way and just put together whatever ingredients I could find. And like magic, it's ready just like that, in a matter of minutes.

And as you can see, this week my fridge is lacking greens. Some spring onion garnish would make this dish look more appetising for sure!
My aunt doesn't taking spice, so I didn't add chopped chilli padi this time round. A little bit of chilli would give this dish the spicy kick that goes sooo well with the gravy and loads of rice or fried man tou. You could use this sauce with crayfish or other seafood as well. Enjoy!
If you like my posts and updates, or would like to be informed of baby/cooking-related giveaways and promos from time to time…..
Like my Facebook page or follow @budgetpantry or @chuabeebee on Instagram! Yes, I just started an Insta account for CBB too!
Chilli Crab Prawns with Enoki Mushrooms
(budgetpantry.com)
Serves 2-3
What you need:
15-20 medium prawns, shelled and de-veined
1 packet enoki mushrooms, stems removed, rinsed and separated
1 teaspoon minced garlic
1 teaspoon minced shallots
1 teaspoon minced ginger
1 large egg, beaten
1 chopped chilli padi, optional
2 tablespoons finely chopped spring onions, optional
2 tablespoons cornstarch solution (1 tablespoon cornstarch mixed with 2 tablespoons water)
2 tablespoons olive oil for frying
Seasonings
1 teaspoon Worcestershire sauce
2 tablespoons tomato ketchup
Half tablespoon oyster sauce
Half tablespoon sugar
100ml water
Steps:
Heat up the oil and fry garlic, shallots and ginger till fragrant. Add in prawns and fry til just turning pink.
Add enoki mushrooms and seasonings. Add chilli padi if using. Cook for a minute.
Drizzle egg into the pot, evenly through a fork. Add the cornstarch solution. Stir well, scatter spring onions and dish up. Enjoy with lots of rice!