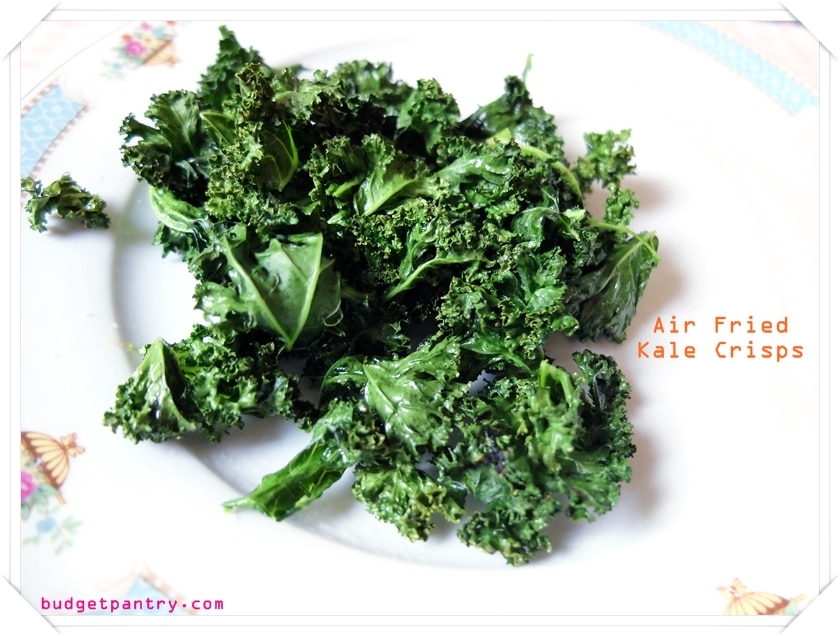 I've always heard of kale chips and have always wanted to try making them, but kale is so hard to find in Singapore. They are not available at NTUC, Sheng Siong or Giant, at least I've never seen kale at these supermarkets before. They're sometimes available at Cold Storage though but at around $7?

This reminds me of a story of Japanese cucumber. I always buy Japanese cucumber at the wet market opposite my home for probably $0.20 each. I use them to make my Japanese Potato Salad. One night, my eldest brother and I were at the 24-hour Cold Storage buying ingredients for our picnic the next day. "Damn! I forgot to buy Japanese cucumber at the wet market today!" I said.
"Just buy here la! Nah, here have ma!" the brother said as he reached for a packet of 3 and threw it into the trolley.
"No wait wait wait wait..," I checked out the price. "$4.50!!! $4.50 for 3 Japanese cucumbers! I can buy 22!! Tomorrow I wake up early go market buy."
The brother was bewildered. "What?! WTF is wrong with you?"
Thing is, the $4.50 Japanese cucumber wouldn't even have cost me a cent since he was picking up the tab. And I chose to wake up early to go the market and pay with my own money. Like customers of Singapore's biggest bank will tell you, "It's not about the money. It's the principle." (<-- this is dedicated to all my ex-colleagues). So my point.. I don't buy expensive vegetables cos I'm a cheapo.

Before airfrying.
I've been thinking about kale though, and when I saw them in stock at the supermarket, I knew I had to quickly get them off the shelf! The past few times I was browsing, they were always out of stock. Now imagine allll the kale crisps I could make.
When the kale arrived, I was ecstatic. So green and fresh! I quickly got down to business. Without knowing the temperature, I was going to experiment.. 180C seems good. I was afraid 200C will make them brown too fast as such light and airy leaves in the AF will burn quickly. I preheat the AF for 5 minutes. I always preheat for food that need to be "shocked" on the outside, like salmon and crispy snacks like crab sticks, but I don't preheat for stuff like chicken chop.. you get what I mean?
I set the timer to 4 minutes and watched the AF like a hawk. I was practically opening the basket every minute to ensure that the kale don't burn. It was ready by the third minute. Soooo papery light, airy and crisp! Like fairy!
They don't need a lot of seasoning as they are delicious on their own, really. Ah mm and 88 loved them and kept saying it's very special (they've never eaten kale before too!) but the husband couldn't accept this "weird food". I think they will make very good CNY snacks too. You must try these kale chips!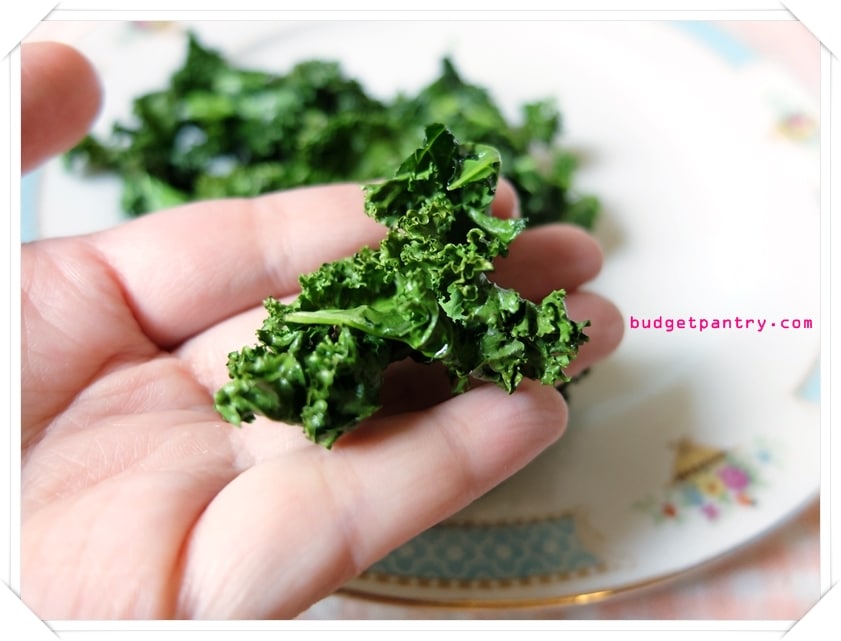 Air Fried Kale Crisps(budgetpantry.com)
Makes: A plateful as a snack for 2-3 people
Total cost per batch: $2.25
What you need:
1 bunch fresh kale (about 150g)
Olive oil spray
A pinch of salt
Steps:
Preheat your airfryer for 5 minutes at 180C.
Tear kale leaves into 1 to 1.5 inch size. Discard the rib. Wash and dry as much as you can. I used paper towels to squeeze and pat dry.
Lay kale leaves into the airfryer basket and spray olive oil all over. Try as much as possible to put in a single layer. I placed a steamer rack over them as they tend to fly when ready. I also spray a little oil on my steamer rack.
AF for 2-3 minutes til light, airy and crispy. Remember to open every minute to check as these turn brown very easily. Sprinkle just a bit of salt over when done.