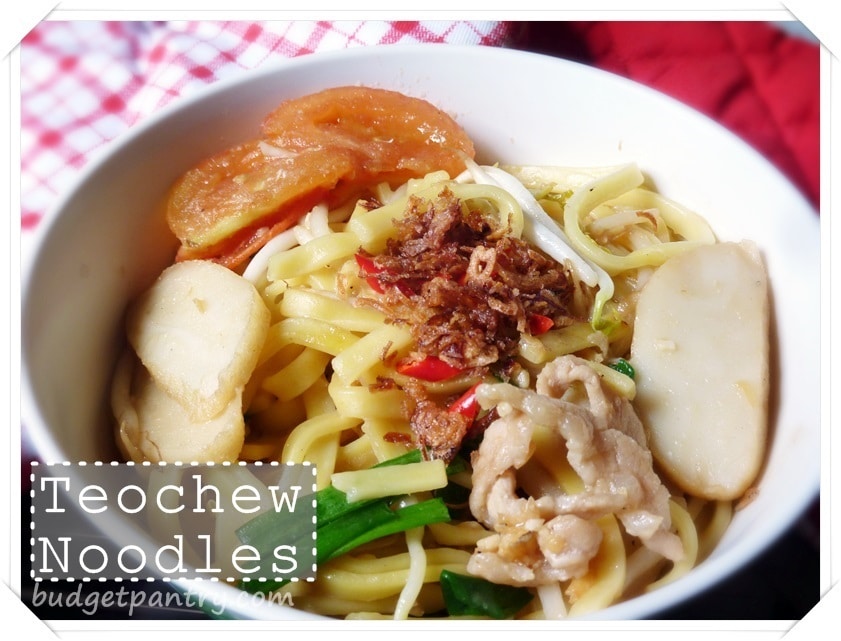 I originally bought these flat yellow noodles because I wanted to cook KL-Style Hokkien Mee. I decided instead to cook a much simpler dish of Teochew dry noodles. These noodles were easy to prepare but so very full of flavour, with fragrant dried shrimps, crunchy bean sprouts, spring onions and must-have fish sauce bringing simplicity to the next level.
*Tip: You can also add fishballs ala fishball noodles! And if you wish, add just a bit of sambal and mix well for a more spicy kick. I don't know about you, but I always feel a higher sense of accomplishment when I can replicate a hawker dish, and adding fishballs makes it somewhat like the dry fishball noodles we eat outside. :) At least, that's what I'd like to think!
Makes 3 servings
What I used:
300g flat yellow noodles
100g bean sprouts, rinsed and drained
A handful of chinese chives or spring onions
1 tablespoon dried shrimp, soaked and drained
1 tablespoon garlic, chopped
1 teaspoon dark soy sauce
1 teaspoon fish sauce
1 teaspoon olive oil
1 pc fishcake, sliced
50g pork strips or prawns (or both!)
1 tomato, sliced, optional
Chilli padi and fried shallots, for garnish
1. Scald noodles in boiling water til 80% cooked.
2. Heat up oil and stir fry chopped garlic, dried shrimps, fish cake and shrimps/ pork til fragrant. Add in noodles and bean sprouts, dark soy sauce and fish sauce. Stir evenly and cook on high heat for 10 minutes.
3. Add in tomatoes if using, chinese chives/ spring onions and mix well. Portion into individual bowls and garnish with chilli padi and fried shallots.
How much I spent:
$0.60 for noodles
$0.20 for tomato
$0.40 for fish cake
$0.20 for bean sprouts
$1 for pork/ prawns
Everything else from my pantry!
Total cost per serving: $0.80
——————————————————————-
I saw this recipe in a teochew cookbook a long time ago and didnt think much of it. And even when I was cooking, I was thinking: "Just how delicious can this be? The seasoning is so simple with just dark soy sauce and fish sauce!" What I can say is, don't under-estimate simple flavours. Very comforting, and being noodles, they're relatively carb-heavy.
This is my go-to noodles on my treat and cheat days, which are right now, everyday!