Slow-Cooked Oyster Sauce Chicken and Potatoes (with lots of gravy!)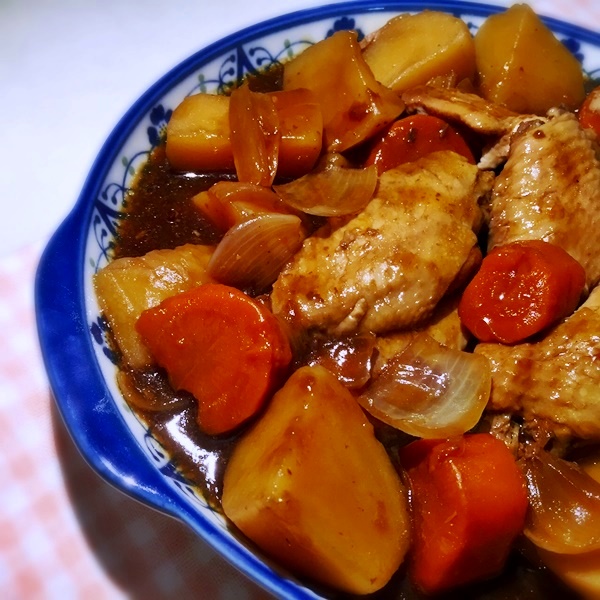 Here's another version of my oyster sauce chicken! This time it's with lots of dark sauce gravy (my niece loves this) so you can slurp it up with rice. Sorry for the less-than-fabulous pictures under poor lighting conditions!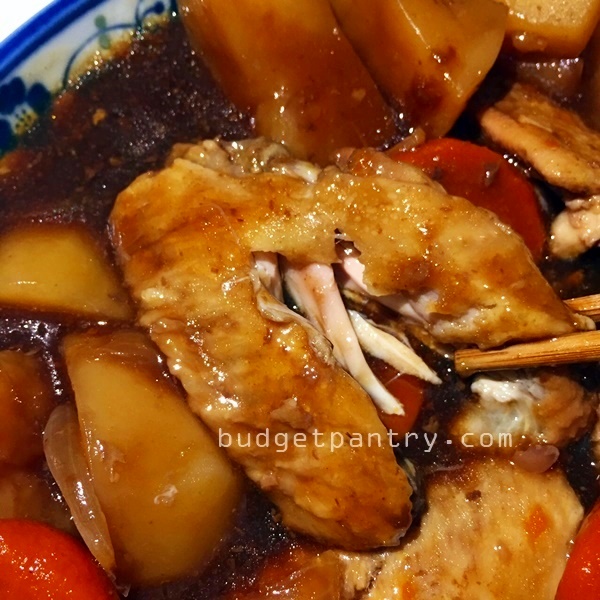 My big tummy nowadays means I prefer to settle dinner using my slow cooker. Just prep everything the night before, add water and turn on the slow cooker on before leaving for work. Remember to cook this on low so the chicken doesn't end up tough. Contrary to belief, meat doesn't necessarily get more tender the longer you cook it! Overcook it on high, and the the 'boiling' water will overcook the meat. Same goes for cooking soup over the stove top. Simmer instead of boil for long hours to get the meat soft and tender.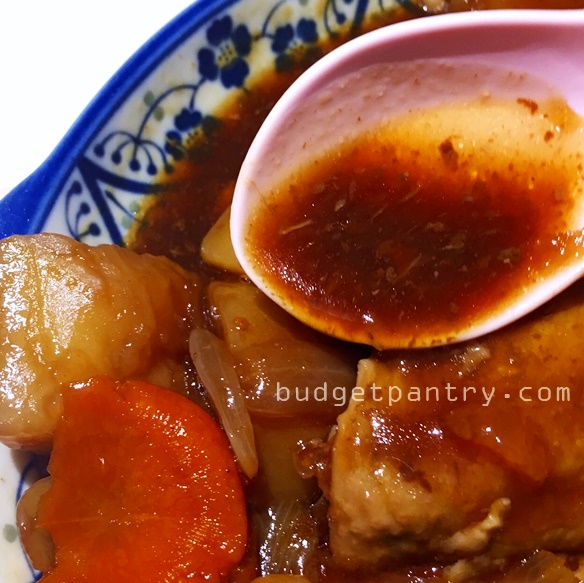 Slow-Cooked Oyster Sauce Chicken and Potatoes (with lots of gravy!)
(budgetpantry.com)
Serves 5
Total cost per serving: $1.60
What you need:
20 pieces mid joint wings
4 medium potatoes
1 large carrot
2 medium red onions
1 knob ginger
2 teaspoons sugar
3 tablespoons oyster sauce
1 tablespoon dark soy sauce
1 tablespoon light soy sauce
White pepper to serve
2 tablespoons cornflour dissolved in 4 tablespoons water (optional but recommended)
Steps:
Peel and chop potatoes, carrots and onions. Layer at the bottom of your slow cooker.
Place in the mid joint wings, then snuggle the knob of ginger in the middle. Top with oyster sauce, dark soy sauce, light soy sauce and sugar.
Fill with boiling water till water level just barely covers the chicken. Cook on low for 7 hours.
(Optional but recommended) To thicken the gravy, ladle chicken in a pot and bring to boil (you can do this in batches if your pot is not big enough). Lower flame, then add in the cornstarch slurry. Cook till gravy thickens. Add a dash of white pepper before serving.
How much I spent:
$6 for mid joint wings
$1.20 for potatoes
$0.30 for carrot
$0.50 for onions
Everything else from my pantry