Savoury Breakfast Muffins
Every day after work, I go home and prepare these meals: dinner for the day, Jason's breakfast box, and my own breakfast, lunch, and snack box for the next day. I'm usually done by 7.30pm. I am not super woman – I just plan ahead and eat simply.
Settling my own meals is easy. Breakfast is usually a slice of whole grain bread with cheese and 1-2 tablespoons of granola – packed in a sandwich bag. Lunch is normally a low carb dish like crazy amounts of stir-fried vegetables plus a serving of meat or fish. Sometimes I cook more vegetables for dinner and pack the rest for lunch. Snack is a box of fruits – 2 servings so I can snack throughout the day – like dragon fruit, oranges, kiwi, grapes, pears or strawberries.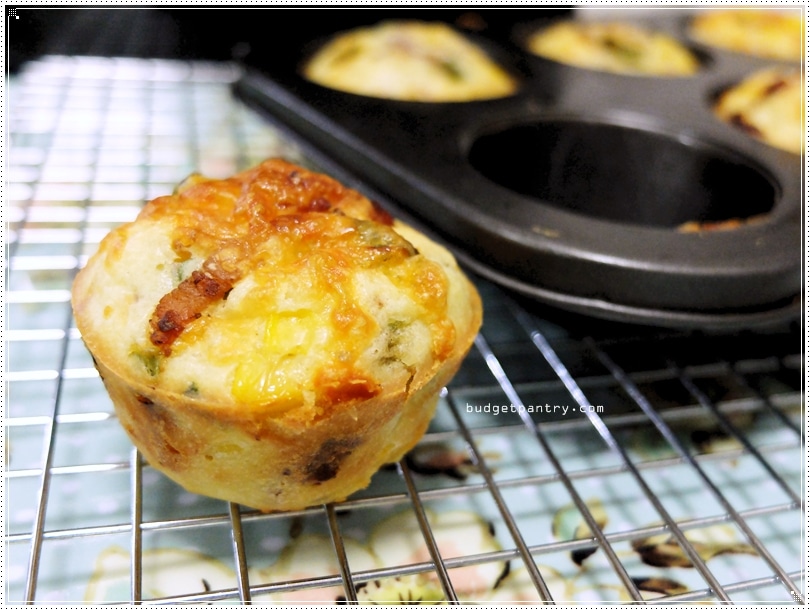 I try to be more creative when it comes to Jason's breakfast. Quite sad to see bread and butter when he opens up his breakfast box in all anticipation, me thinks. I've prepared salad boxes with cheese, egg, nuts and tuna (and sometimes fried chicken – ha!), and also mushroom and cheese omelettes with a side of cherry tomatoes and edamame, or egg mayo and tuna sandwiches. I was running out of breakfast ideas felt bad about making him bring the same egg and tuna sandwiches to work for three days straight (have to finish up the tuna what, no choice). On the way to work yesterday, I ran ideas through my head while doing a stock-take of ingredients I have at home. What else can I do with eggs, bell peppers (I ALWAYS have bell peppers) and bacon? Savoury breakfast muffins sounded perfect. And they're easy to make too!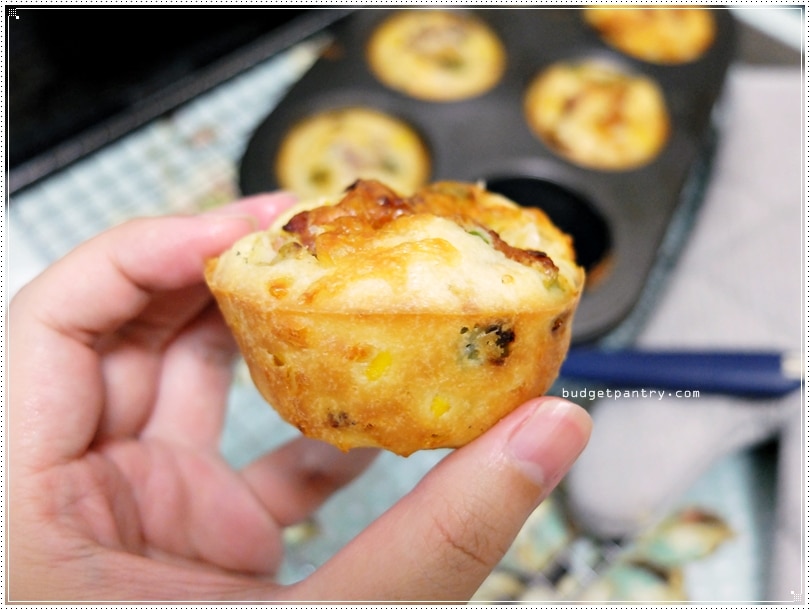 I opted to add flour to these instead of having them quiche-like, with just egg and milk. This way, they hold better and are more filling for breakfast. I've also used unsweetened soy milk in place of fresh milk before, but I prefer the lighter texture when using fresh milk. You can use any other types of shredded cheese – there's a red cheddar and mozzarella mix available at Cold Storage, so you might like that better if cheddar is too sharp for you.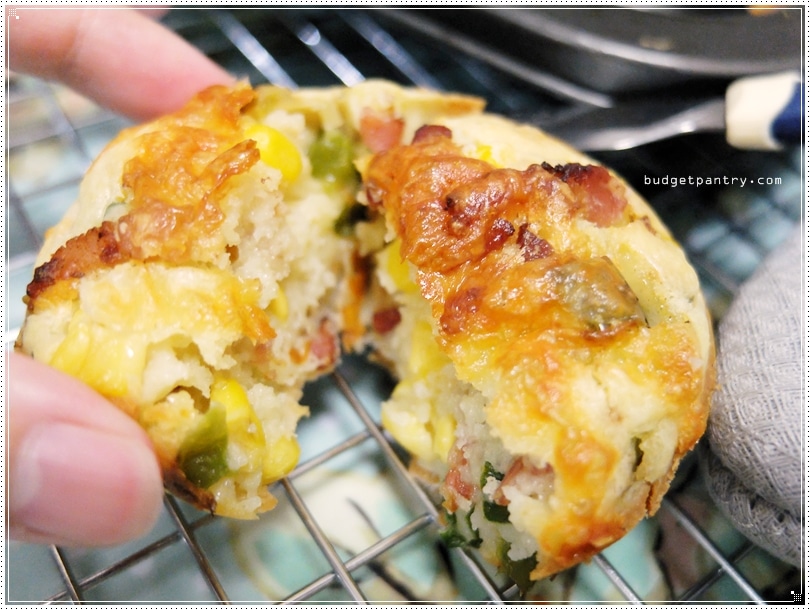 These muffins are best eaten shortly out of the oven, for the simple reason that is crispy, melty cheese. But if you're keeping it for the next day, air fry at 180C for 3-4 minutes preheated (preferred) or microwave for 40 seconds before serving.
Savoury Breakfast Muffins

(budgetpantry.com)
Makes: 12 muffins
Total cost per muffin: $0.55
What you need:
250g self-raising flour, sifted
5 tablespoons corn kernals (I used canned but you can use frozen thawed)
1 small red or green bell pepper, diced
3-4 slices bacon, chopped into small pieces
A stalk of spring onions, sliced thinly
100g shredded cheddar cheese (keep some for sprinkling)
250ml fresh milk
80ml cooled melted unsalted butter
1 large egg
Half teaspoon salt
Steps:
Preheat oven to 180C.
Sauté the bacon and bell peppers in a little oil till fragrant. Remove from heat.
In a measuring jug, combine the milk and egg and whisk well. Stir in the melted butter.
In a mixing bowl, combine the flour and salt and mix well. Make a well in center and pour in the wet ingredients. Run your spatula around the edge of the bowl, pulling the flour over and into the wet ingredients. Mix well until just combined and avoid over mixing.
Add the bacon, bell peppers, corn, spring onions, cheese and salt and mix well. Leave some cheese for sprinkling on top later.
Oil your muffin pan or use muffin liners. Spoon equal amounts of the muffin mixture into your muffin pan – fill it to 4/5 full. Bang the muffin pan on the tabletop a 2-3 times to remove trapped air. Top with more shredded cheddar.
Bake for 20-25 minutes or until an inserted toothpick comes out clean. Cool for 3-5 minutes and eat immediately.
How much I spent:
$0.65 for flour
$1.50 for shredded cheddar (I get mine from cold storage)
$0.70 for corn
$1 for bell pepper
$2 for bacon
$0.50 for fresh milk (I got 2L on promo for $3.75)
$0.30 for egg
Everything else from my pantry