Salted Vegetables Tofu Soup with Chicken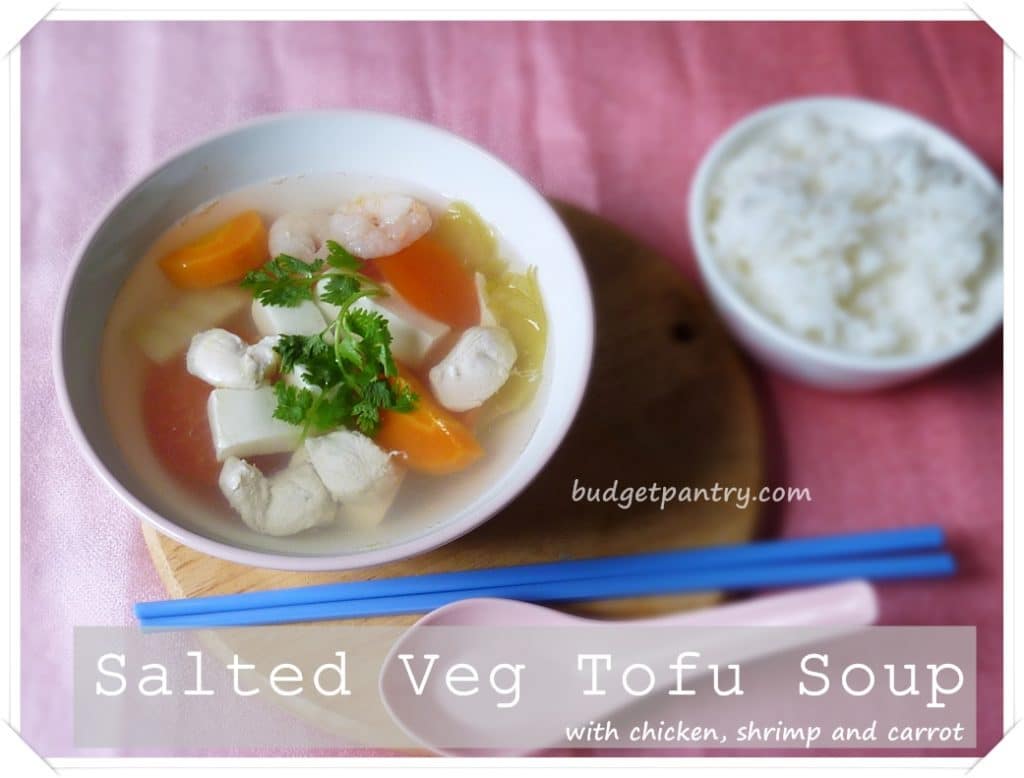 I love cooking a simple soup for lunch where we don't usually have a full meal. Funny how for most families, dinner is always the highlight meal of the day, when we supposedly should eat "like a pauper". Nobody eats like a pauper during dinner and like a king at breakfast ok? That is just another fairytale.
So last week I was thinking of an easy soup to cook which will not take up too much time. I was wandering around Giant looking for inspiration (I know right?!) and saw some salted vegetables along with other preserved stuff near the fruits and vegetables section. I've not cooked salted vegetable soup for awhile (erm a few years is more like it!) and thought it'll be something new for my family. When buying salted vegetables, choose stems instead of leaves if you can as they lend a nice crunch and are more suitable for soups.
Makes 4 servings
What I used:
1 box tofu, cut into cubes (I like to choose the one that says "Good for Steamboat")
1 piece salted vegetable stem, about the size of your hand (not palm)
8 shrimps
2 strips chicken fillet, sliced
2 tomatoes, wedged
1 carrot, peeled and chopped into half circles
1 piece ginger, about half an inch thick
2 litres water
1 tablespoon Chinese cooking wine
A dash of white pepper
Coriander
1. Soak the whole piece of salted vegetable in water for 30 minutes then discard water. Chop into approx. 1-inch pieces.
2. Add the salted vegetables, tomatoes, carrot, ginger to a pot and add water. Bring to boil then simmer 10 minutes.
3. Add in the tofu, chicken, shrimp and Chinese cooking wine. Simmer for 5 minutes til chicken and shrimp are cooked.
4. Add a dash of pepper and garnish with coriander before serving.
How much I spent:
$0.75 for tofu
$0.30 for salted vegetables
$2 for shrimp and chicken
$0.50 for tomatoes
$0.30 for carrot
Everything else from my pantry!
Total cost per serving: $0.97
——————————————————————
This clear soup is very "cheng" and is almost guilt free. Although I have rinsed the salted vegetables, I still make it a point not to finish up the soup as it can still be salty. And instead of chicken, you can choose to add pork balls or sliced fish- they cook just as fast. If you're in the mood for some pork ribs, I suggest you keep them for some lotus root pork rib soup which you can cook in your slow cooker instead of boiling on the stove top. I'll be making this soup tomorrow as I have some lotus root to use up. Stay around!