Panasonic Cubie Oven: Pandan Madeleine with Coconut Cream
I have a new love affair – with the Panasonic Cubie Oven! I made Pandan Madeleines in it – look out for my easy recipe below, which is perfect as quick bites for the holiday season and Chinese New Year too. I often bake a big batch for festive snacking/house visiting during the CNY period and everybody loves these over kuih bahulu – little sponge cakes also known as 'Asian Madeleines'.
The Panasonic Cubie Oven (NU-SC100W) is an all-rounder Convection Steam Oven that lets you steam, roast, bake, healthy fry and even disinfect baby bottles and tableware in it.
Some amazing features of the Cubie Oven:
1. Prepare quick and healthy meals in no time at all
2. Multi-cooking functionality
3. Super easy to use!
Cooking styles
Steam
In the 'Steam' mode, hot steam is generated in just 20 seconds and the entire oven is filled with 100 °C steam in under three minutes. This translates to much faster cooking time as compared to traditional steaming methods. What I love most about this feature is there are no multiple items to wash – wok, steamer rack and what-have-yous. Just fill the water compartment at the top, place your dish inside the oven, turn the knob, press 'Start' and that's it! A healthy and delicious meal is ready in minutes.
Hot air convection
The hot air convection function (healthy fry!) give you amazing results every time. With hot air convection, you can cook fried food with minimal oil and do away with the guilt of deep frying.
Steam + hot air convection
This is my favourite mode! Today's recipe of Pandan Madeleine with Coconut Cream is made using this mode. With steam + hot air convection, the madeleines are first steamed to maintain moisture, and then baked to perfection. I love the crisp outer layer that you can achieve with this mode. You can use this function to roast vegetables too for kids and adults alike by first steaming the vegetables till cooked, then roasting or caramalising them. Yum!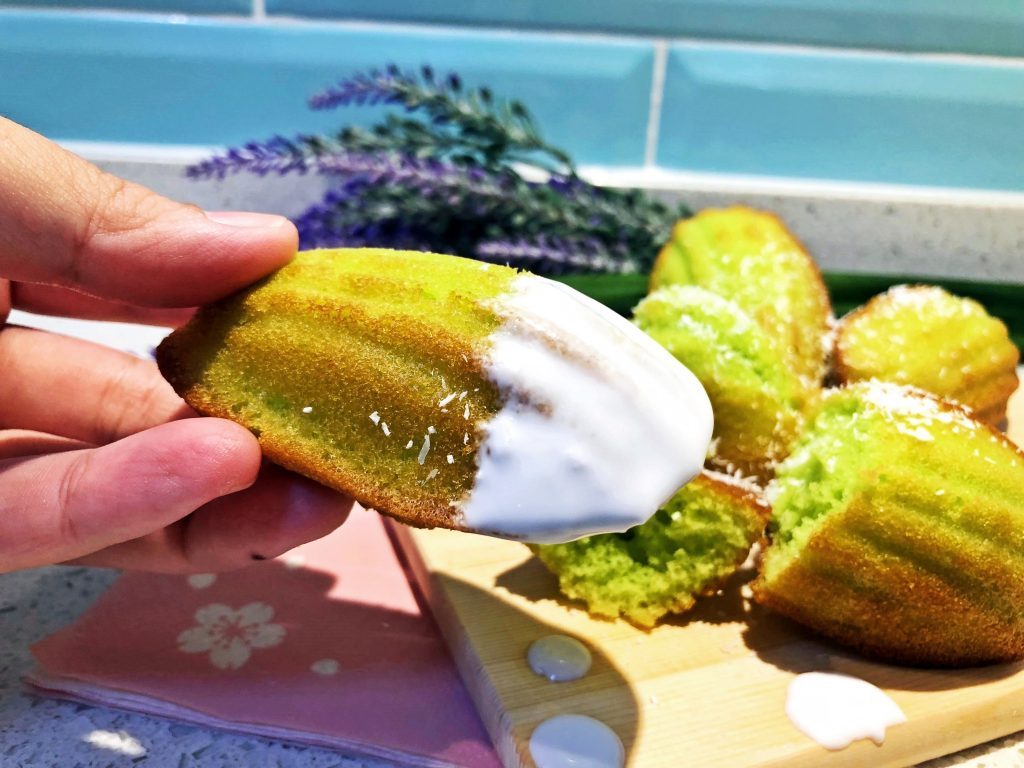 So with the Panasonic Cubie Oven, you get these three super modes to ensure that your food turns out perfectly every time: Steam, Steam + Convection, and Convection only. You can even ferment bread dough in it! The 16 auto menus let you prepare delicious dishes in a jiffy. Some examples are steamed fish, steamed egg, steam frozen food (like mantou or buns!), steamed chicken, homemade yogurt, pizza, cheese cake, fried fish, chicken chop, breaded prawns, korean chicken wings and more.
Compact size
The Panasonic Cubie Oven is so compact, it's unreal. Measuring only 355mm wide, it takes up just a small corner in my space-constraint kitchen. Yes, I do have three pull-out work tops for my small kitchen for prepping food (seriously the best decision made during renovation!), but the kitchen countertop is still so small. With the Cubie Oven, I can do away with multiple kitchen appliances as it fulfils so many functions in one. The multiple tray levels let you cook more than one dish at the same time. Like you can steam vegetables and make chawanmushi all at once. And don't be fooled by the compact size. A whole fish of 28cm fits inside with no problems.
Verdict
The Panasonic Cubie Oven is compact, but powerful and versatile. A worthy addition to any kitchen! And yes, you can even disinfect baby bottles in it. Is this amazing or what?
Recipe
And now for my recipe of Pandan Madeleine with Coconut Cream made using the Steam + Convection mode. Everything is ready in less than 30 minutes including prep time. I hope you enjoy the recipe!
Pandan Madeleine with Coconut Cream
 (budgetpantry.com)
Makes two dozens
What you need:
160g plain flour, sifted
Half teaspoon baking powder
115g unsalted butter, melted
3 large eggs
100g granulated sugar
Half teaspoon salt
2 tablespoons pandan juice
Coconut cream to serve
Desiccated coconut, optional
For the pandan juice:
10 pandan leaves, rinsed
150ml water

Steps:
1. Make the pandan juice: Blend pandan leaves with water in a blender or food processor for 2 minutes. Put through a sieve, discard the pulp and reserve liquid. You need two tablespoons for this recipe.
2. In a large mixing bowl, combine eggs, sugar and salt and whisk till creamy. You can use a stand mixer, hand mixer or even with a manual whisk. Add the pandan juice and mix well to combine.
3. Fold in the flour and baking power with a wooden spoon, followed by the melted butter.
4. Place batter in the refrigerator for 45 minutes and up to an hour.
5. Preheat the Cubie Oven to 175C. Prepare the pan by lightly greasing the madeleine molds with butter using kitchen paper or pastry brush.
6. Remove batter from refrigerator and fill each madeleine mold with approximately one tablespoon of batter (three-quarters full).
7. Using the Steam Convection mode, bake for 10-12 minutes or until puffed up (with the hump!) and golden.
8. Sprinkle with desiccated coconut and dip in coconut cream before serving.