Oyster sauce chicken has always been one of my favourite dishes. There's a stall in Clementi market and hawker centre that sells a really yummy version, but when you can cook it yourself at home, why not?
This dish is comfort food, a familiar favourite. I usually only cook this on days that I can eat rice.. I eat very little carbs and no rice/noodles/bread Mondays to Fridays. All I can say is: 如果你没有肥过,你是不会了解的。Haha. I like this dish with lots of gravy so I can spoon it generously over my precious bowl of rice on weekends. Sooo good!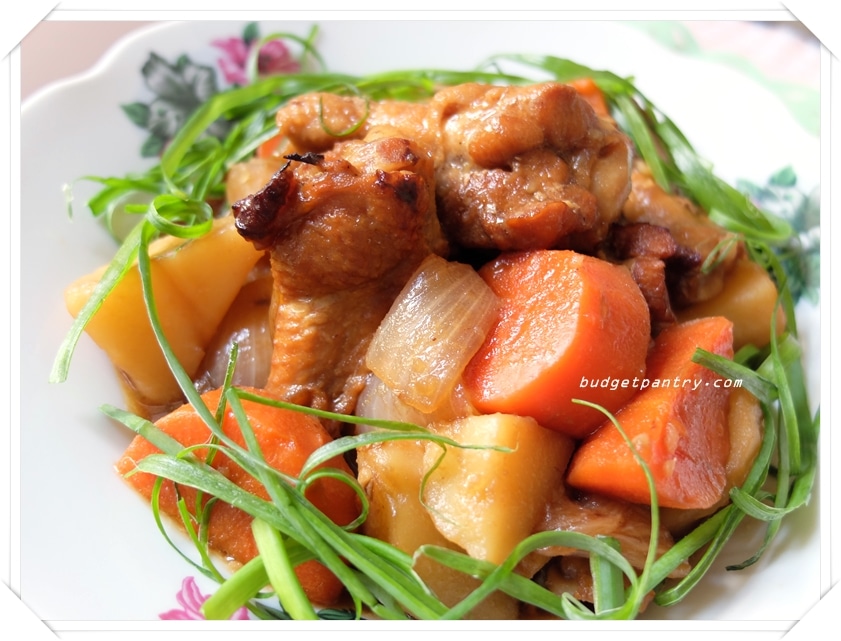 I had some leftover chicken drumlettes in my freezer and thought to use them up in this dish. You could also use mid-joint wings or chopped chicken pieces. I recommend chicken thigh as the tender meat goes very well with the soft potatoes, carrots and glorious gravy. This dish is super easy to cook. In a nutshell: fry onions, add chicken, wine, carrots and potatoes, seasonings, cover and simmer. Don't add the cooking wine together with the seasonings but directly to the chicken, before the rest of the seasonings. You'll see how a splash of wine creates magic in the hot wok, instantly lifting the overall aroma and flavour of the dish.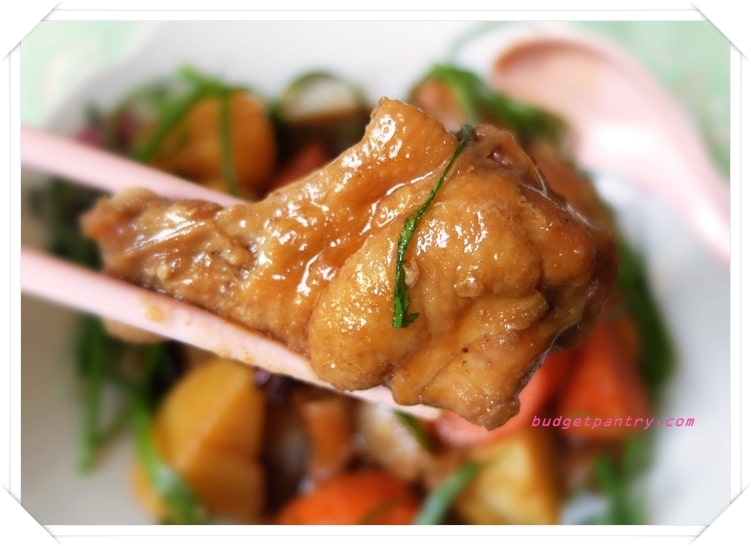 I used Taiwan carrots and spring onions for this recipe. Chicken drumlettes (frozen) and potatoes from Giant and yellow onions – 4 for $4.65 杀人放火 from Cold Storage. I bo bian have to buy cos I needed it for a last-minute dish and the only accessible store was Cold Storage.
This portion is enough for the four people in my family. My pictures just show half a portion. This recipe yields two plates with lots of gravy! We eat quite simply. Most of the time, I cook one all-in-one dish or soup and the husband laps it up with rice. As an average family of four, 三菜一汤 is too much for us as an everyday meal.. (I'm not talking about Chinese New Year.. we go allll out *guffaws*).. how do people finish the food?
Oyster Sauce Chicken 蚝油鸡
(budgetpantry.com)
Serves: 4
Total cost per serving: $0.90
What you need:
12 chicken drumlettes or mid-joint wings (cleaned and pat dry)
2 medium potatoes
1 large carrot
1 large yellow onion
2 slices ginger
4-5 one inch sections of spring onions (white part)
500 ml water
2 tablespoons Chinese cooking wine (Hua-diao wine)
2 tablespoons oyster sauce
1 tablespoon dark soy sauce
1 teaspoon light soy sauce
1 teaspoon sugar
1 tablespoon olive oil for frying
2 tablespoons cornstarch solution (1 tablespoon corn starch mixed with 2 tablespoons water)
Shredded spring onions for garnish (optional)
Steps:
Peel and chop potatoes, carrots and onion into pieces.
Heat up the oil in your wok and fry onion, ginger and spring onion sections for 3 minutes on high heat.
Add in the chicken and continue to cook for 3-4 minutes until the skin starts to turn brown. Splash in the Chinese cooking wine and toss to combine. Add the potatoes and carrots, followed by the water, oyster sauce, dark soy sauce, light soy sauce and sugar.
Bring to boil. Lower flame, cover and simmer for 20 minutes til chicken, potatoes and carrots are soft. Add the cornstarch solution. Wait for the dish to thicken before turning off the flame. Garnish with shredded spring onion before serving.
How much I spent:
$2 for drumlettes
$1 for potatoes
$0.30 for carrot
$0.30 for onion (this is the normal price for onions in markets)
Everything else from my pantry