Chinese Soup: Napa Cabbage with Fuzhou Fishballs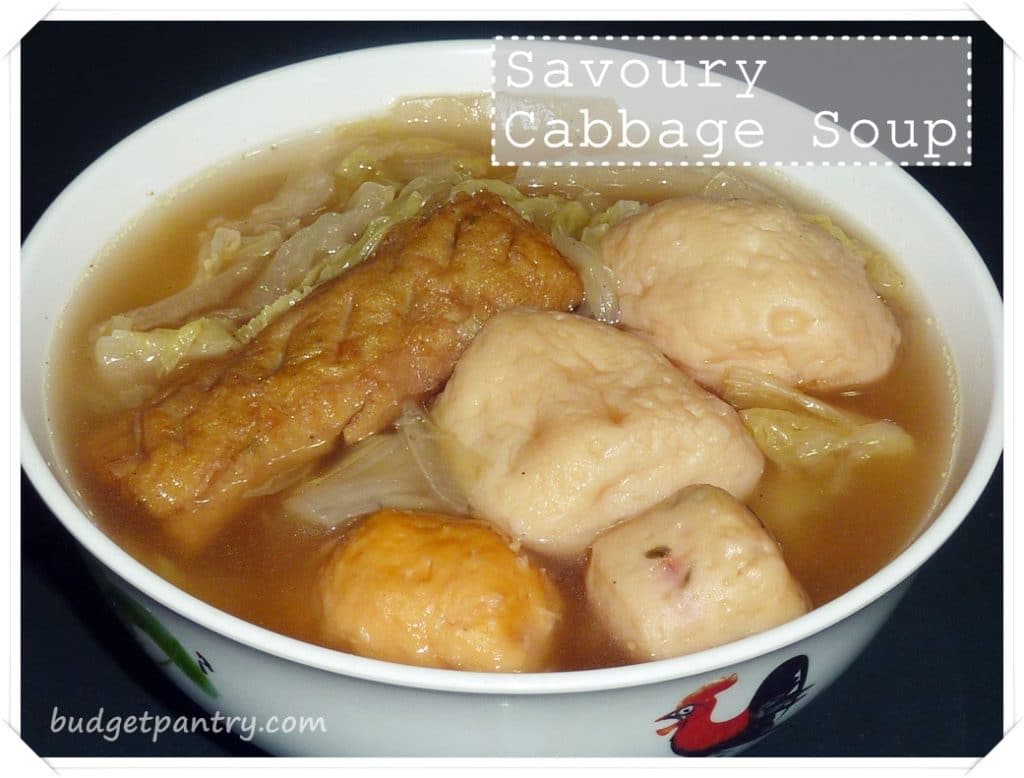 This soup might not be beautiful to look at, with practically cooked-to-death napa cabbage and if I may call them that, wrinkly stewed balls. Whenever I add prawn balls, fishballs, meatballs, etc to my basic vegetable soup, Jason celebrates that he gets to eat "ball soup special" because he is just simple like that. And whenever I cook this savoury cabbage soup, it is like Christmas day for him. This is the ultimate "ball soup special"– with ngoh hiang, prawn balls, fishballs, fuzhou fishballs (fishballs with a meat center)– cooked for hours, sweetened with napa cabbage, honey dates, and dried cuttlefish.
I usually cook soups with onions, garlic, ginger, carrots in a chicken stock base. Plus whatever vegetables I want. Not this time. The napa cabbage, honey dates and dried cuttlefish (optional, actually) were enough to create a subtly sweet and savoury flavour. I didn't even add chicken stock cubes, but did add some oyster sauce. I simmered it for 1.5 hours on low flame. The end result? A comforting, rich and extremely flavourful soup guaranteed to warm your heart and tummy.
Makes 6 servings
What I used:
1 napa cabbage (I don't know the weight, but the size I used cost $2.30 from the supermarket. Please use the pricing as a gauge)
16 fuzhou fishballs
10 fishballs
10 prawn balls
10 fresh minced meat balls (mix minced chicken or pork with some flour and shape into balls)
6 ngoh hiangs
3 honey dates
1 piece dried cuttlefish
2 tablespoons oyster sauce
White pepper
Water
1. Use a large pot enough for your napa cabbage. Wash and chop cabbage into approx 1.5 inches in width.
2. Fill the pot with the cabbage, honey dates, dried cuttlefish and water til it comes up to 3/4 of the pot. Bring to boil and lower flame.
3. Add in all the balls + oyster sauce. Simmer for 1.5 hours in low heat or til the cabbage is soft and soup slightly thickened.
4. Do a taste test and add some light soy sauce if you find it not salty enough. Add white pepper when ready. Enjoy hot with warm rice!

How much I spent: 
$2.30 for cabbage
$2.90 for fuzhou fishballs
$1.20 for ngoh hiang
$2.50 for prawn balls
$1.50 for fishballs
Everything else from my pantry!
Total cost per serving: $1.78
——————————————————————-
This large pot can actually serve 7-8 people as an accompaniment to other dishes, but I'm quite sure everyone will ask for refills so go ahead and cook a big pot! Leftovers, if any, are great kept in the fridge and reheated for lunch the next day. Don't cheat by adding too many deep fried items if not the soup will be quite salty and oily. I don't recommend those flat ngoh hiangs. These rolled types are good to soak up all the goodness of the soup. And as always, eat your soup, not drink it! :)