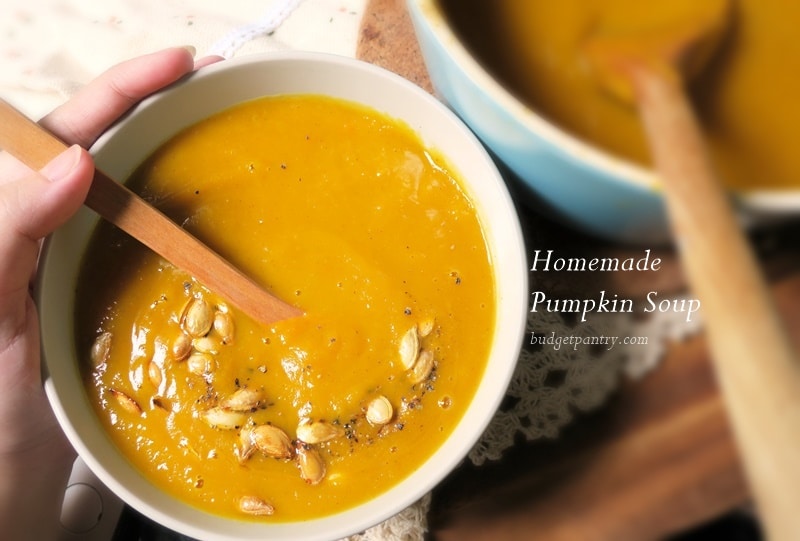 I've been wanting to own a handheld blender since forever, so I can make soups like this effortlessly! The last time I made a smooth, creamy soup was in 2014, when I cooked my Tomato and Bacon Cream Soup. I didn't have a handheld blender then, so it was a tedious process of cooking the soup over the stove top, then transferring it in 2-3 batches to my blender/food processor, then returning it to the stove to heat.

I'm SO GLAD this is a thing of the past. Ever since my brother bought me a $39.90 handheld blender (he bought it so I could make him his low carb Cauliflower Shepherd's Pie), I've been thinking of ways to put it to good use. What better dish to cook than an 'ang moh' soup?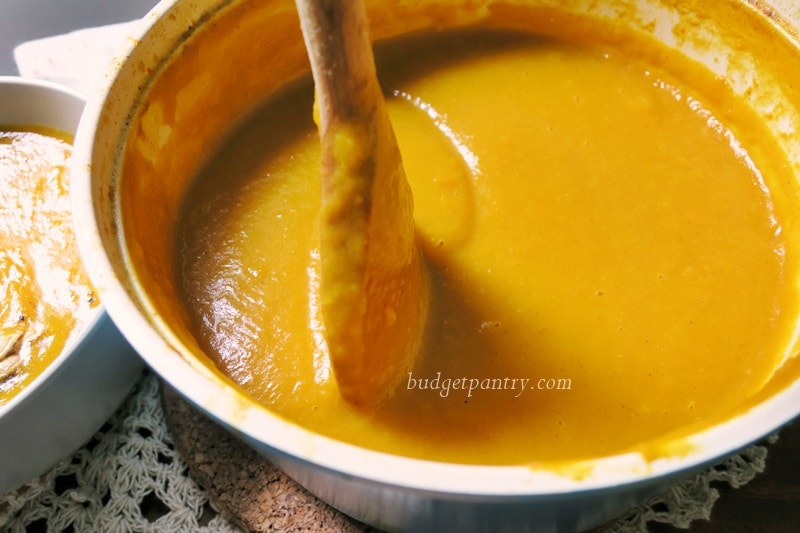 It's really easy to make this. Some recipes call for the pumpkin to be roasted till soft (about 50 minutes), then added to a pre-cooked base of onions and stock, before being pureed till smooth. This recipe skips the roasting step but still manages to extract so much flavour from the sweet pumpkins. All I did was sauteed some yellow onions, garlic, celery and carrots in olive oil, then add the chopped pumpkin straight to the pot, followed by a bit of cumin and a litre of chicken stock, before pureeing till smooth. To balance the sweetness of the soup, a pinch of salt is added at the end. Note: I've never liked carton chicken stock like Swanson's because I find it wayyy too salty, so I always either use Woh Hup's concentrated chicken stock or a bullion cube dissolved in hot water.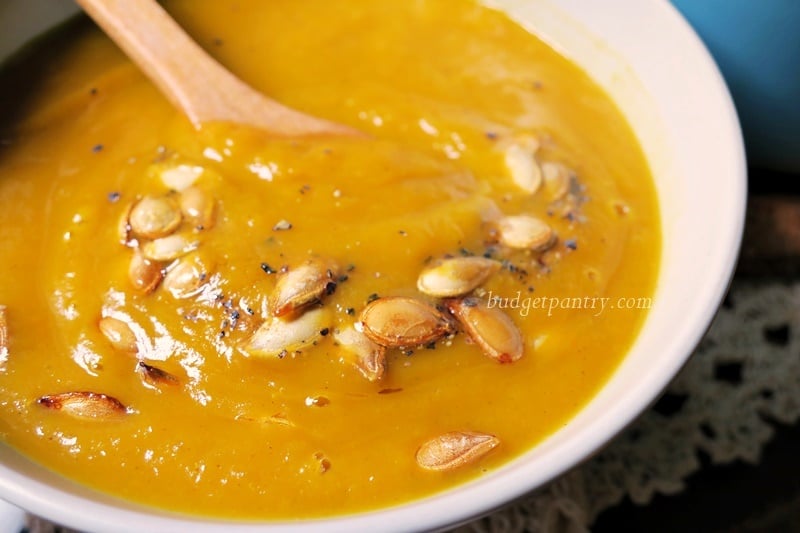 To improve the aesthetics of the soup, you could add a drizzle of cooking cream or crème fraîche on top, but it really isn't necessary. I topped it with roasted pumpkin seeds (waste nothing!) and a dash of coarse black pepper. The entire dish took me about 40 minutes start to finish, including prep time and cleaning up. And with less than 80 calories per serving, you won't regret making this! Bon Appétit!
Homemade Pumpkin Soup
(budgetpantry.com)
Serves: 4
Cost per serving: $2.05
What you need:
1 kg pumpkin, peeled, deseeded (reserve seeds) and chopped into cubes
1 medium carrot, chopped into cubes
1 stalk celery, chopped into cubes
1 large yellow onion, coarsely chopped
4 cloves garlic, peeled and smashed
1 tablespoon olive oil
1 flat teaspoon cumin powder
2 teaspoon concentrated chicken stock dissolved in 1.2 litres water (or you could use one chicken/vegetable bullion cube)
Pinch of salt
Pumpkin seeds, as topping
Dash of coarse black pepper
Steps:
In a large saucepan, heat up the olive oil and sauteed onion and garlic for 2 minutes. Add the chopped celery and carrots. Fry for a few minutes then add the cumin.
Follow with chopped pumpkin and stock. Simmer for 20 minutes till vegetables are soft. In the meantime, roast the pumpkin seeds on a flat baking dish in a 170C oven for 10 minutes. Set aside when done.
When the vegetables are tender, add salt to taste (a pinch will do) and allow to cool slightly, then blend till smooth with a hand blender. You can also use a blender or food processor. Add some hot water if it's too thick. Top with roasted pumpkin seeds and a dash of black pepper before serving.
How much I spent:
$7.60 for pumpkin
$0.30 for carrot
$0.30 for onion
Everything else from my pantry