Guilt-free cauliflower grilled cheese
Who else tries to eat as low carb as possible but can't do without bread?! Hi, we can be friends!
One day, I was craving grilled cheese sandwich ('grilled cheese' in short) so much that I literally had to have it immediately.
There was no bread at home as usual but I had a whole head of cauliflower in the fridge. It was a sign that I had to create a low carb version.
The key thing is to squeeze as much water as you can out of the cauliflower. Too much moisture and it'll fall apart. For the cheeses, I used a mix of shredded sharp cheddar and mozzarella and they turned out perfect. So there you are! An indulgent grilled cheese with minimal guilt.
You're welcome.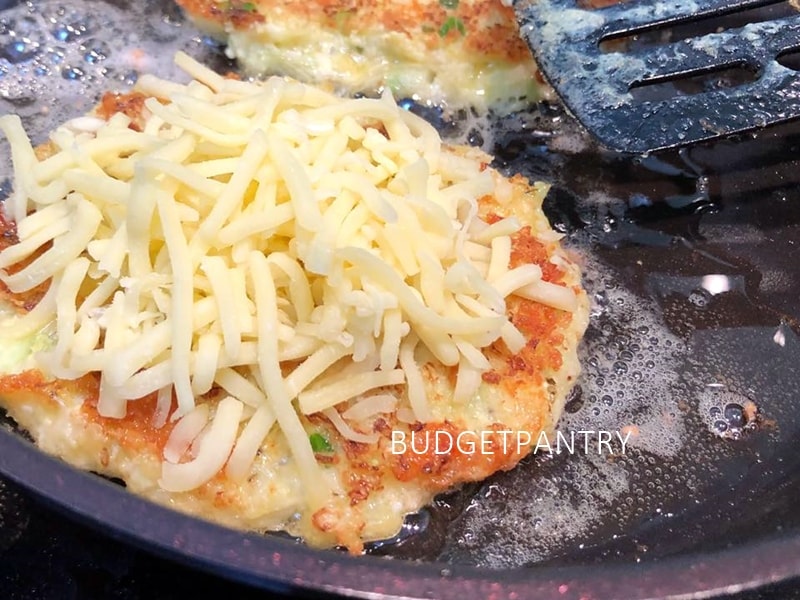 Guilt-free cauliflower grilled cheese
(budgetpantry.com)
Makes 2 grilled cheese sandwiches
What you need:
500-600g cauliflower
1 teaspoon salt
1 large egg
Chopped spring onions
Dash of pepper
Mixed herb flakes
Garlic powder
Shredded cheese of your choice
1 small knob butter
1 tablespoon olive oil

Steps:
Blitz the washed and dried cauliflower in a food processor. Place in a bowl and mix in a teaspoon of salt. Let it sit for 15 minutes to draw out the moisture.
Using cheese cloth or kitchen paper, pat/squeeze the cauliflower to remove as much water as possible.
Return cauliflower to a large bowl. Add egg, spring onions, 1-2 tablespoons of cheese, garlic powder, mixed herbs and pepper. Mix well.
In a frying pan, heat up the half the butter and oil (reserve the other half for the second sandwich) and 2 drop large tablespoons of the mixture in the pan. Spread it out with your spatula and shape into rectangular toast shape. Fry for 2 minutes till brown.
Flip over to cook the other side. Place more shredded cheese on one "toast" and cover with the second piece of "toast". Press down lightly with your spatula and it's ready to serve.