Braised Chicken Wings with Tomatoes, Olives and Peppers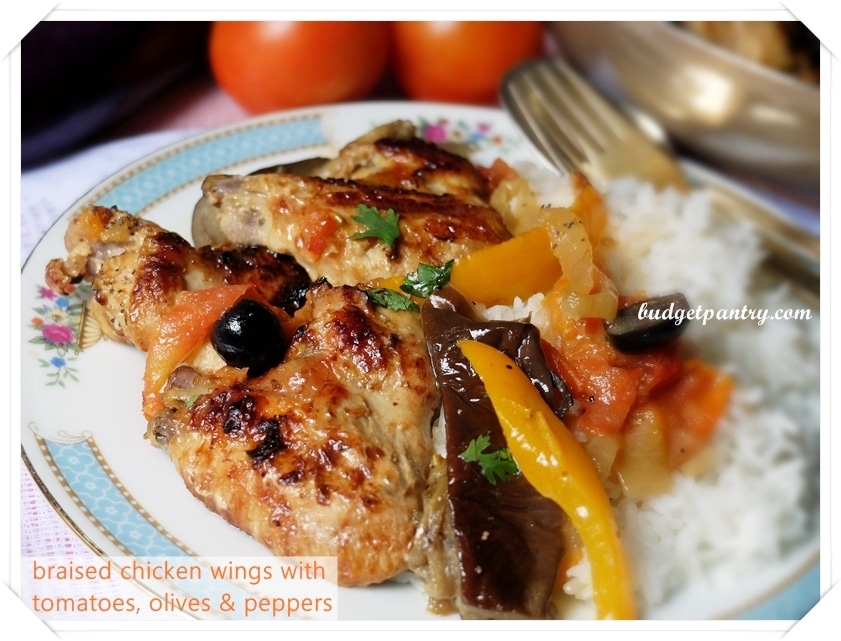 I feel quite bad towards the husband as I have been endlessly catching up on work, blogging and assignments recently that he had instant noodles for dinner two times within the last week. I haven't cooked him a 'new' meal in days, like dishes he hasn't tried before and there were times that I was so caught up in front of the computer that he had to go buy us dinner from the kopitiam opposite our block both days over the weekend. Dinner for us has been quick fixes – yong tau foo soup, sliced fish soup, shakshuka or grilled salmon.
At home, he would refill my cup when it is empty, collect snack plates from the computer table, hang up my towels, make sure I had enough to eat (he scared a fat girl like me would go hungry or what?), leave me alone when I ask to and tuck me into bed at night. I am so thankful for an amazing husband! And so thankful that I decided I cannot be lazy anymore.. those chicken wings in the fridge are dying to be eaten! (#lamebutwell..)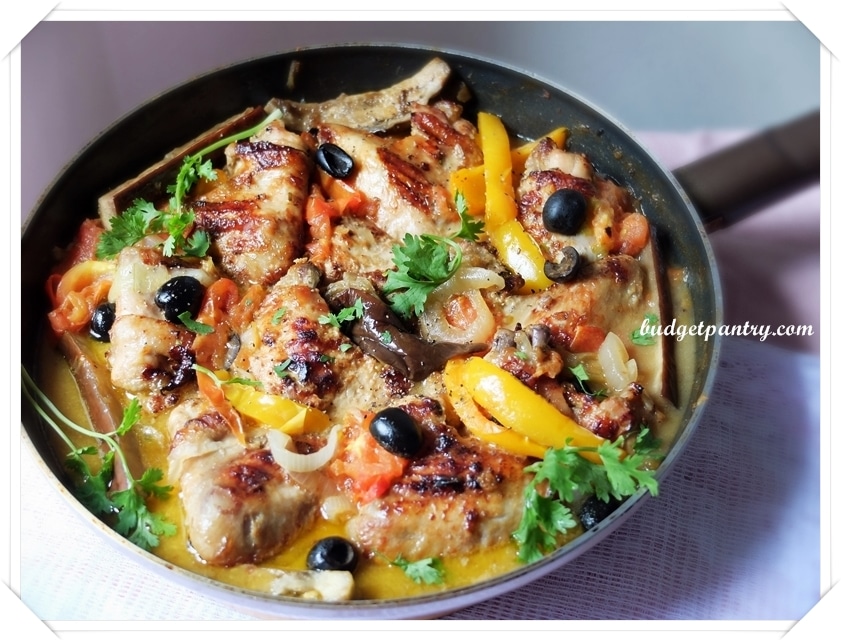 I was debating between a Chinese style dish like oyster wings with carrots and potatoes, or something which I've not cooked before. And as always, when out of ideas, I make a trip to the wet market to look for inspiration. I actually went to the wet market thinking I wanna make some heavily spiced airfried wings, like masala wings sprinkled with chilli flakes and chopped parsley.. but of course, everything changed when I saw those red, ripe, juicy, dainty tomatoes staring back at me.
How not to cook with them? The best way to cook chicken and tomatoes is to braise them. My idea was a braised chicken dish finished with cooking cream (think tomato cream stew) towards the end, but since I am budgetpantry, I was determined not to spend more than necessary (a box of cooking cream costs $3.25 and I can buy meat and vegetables with that money), so I decided to leave out the cream and make a lighter version.. perhaps Mediterranean style with olives (I have a can in the cabinet!) and peppers!
So I got the tomatoes (8 of them total- I couldn't resist), a yellow onion, a yellow pepper and a few sprigs of parsley from the vegetable store for a total of $2. I love wet markets. This dish was conjured up in one.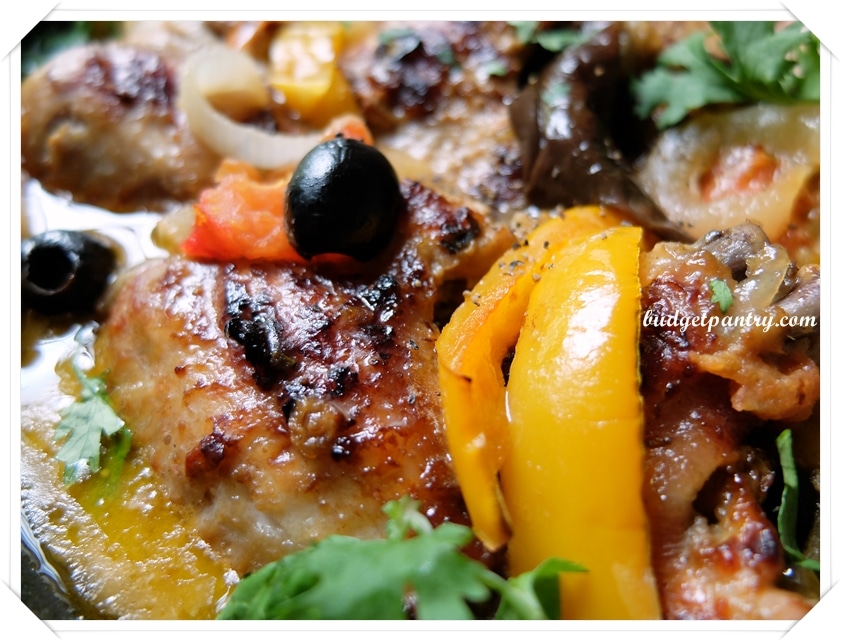 And here you go! Everything goes into one pan for easy clean up. And the best part? Less than $2 per serving with meat, tomatoes, onions, peppers, olives, eggplant AND GRAVY. This is perfect for an easy weekday dinner if you marinate the wings the night before. I hope you try it!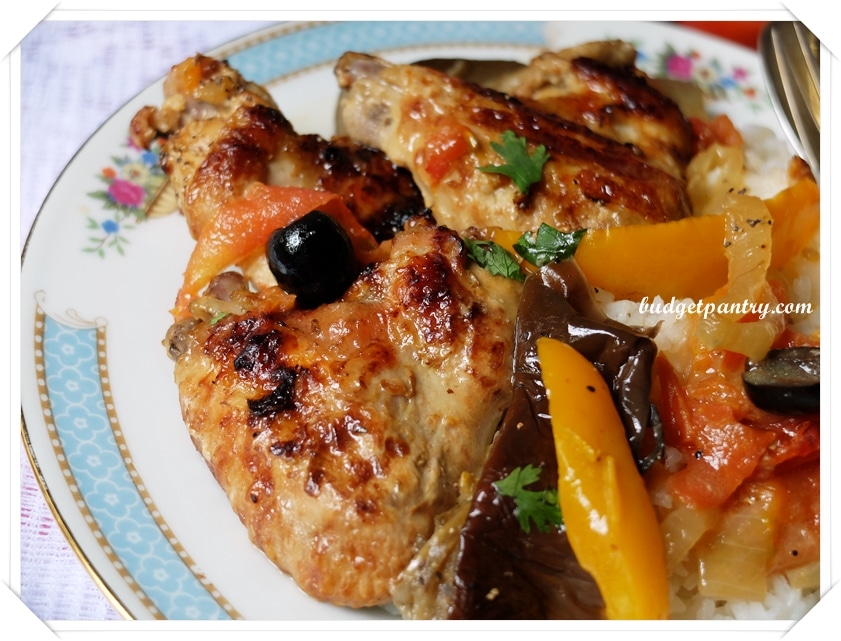 Braised Chicken Wings with Tomatoes, Olives and Peppers
Serves: 5
Total cost per serving: $1.70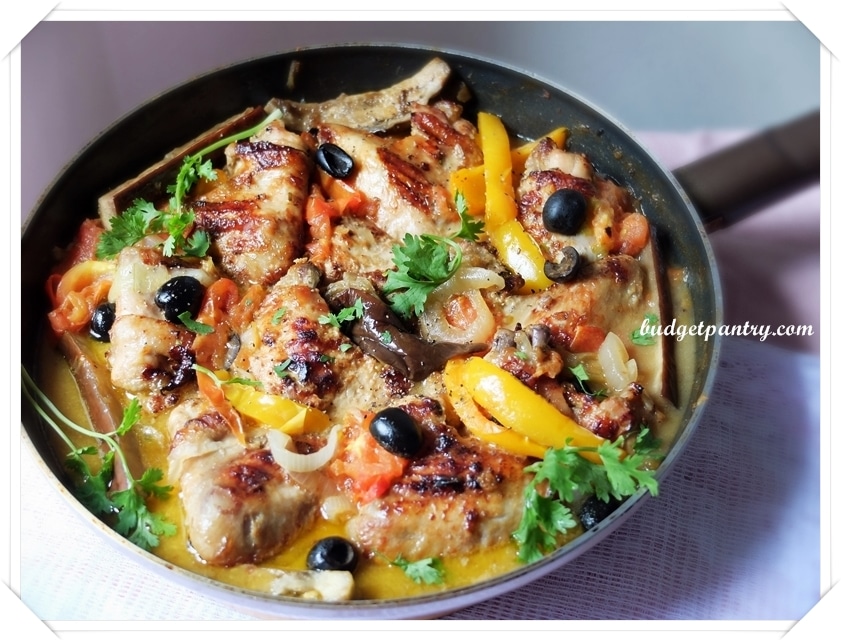 What I used:
10 chicken wings, tips removed
200ml white wine
400ml chicken stock
6 tablespoons milk or cooking cream
1 small eggplant, sliced lengthwise to about 5 inches (soak in water + 1 teaspoon salt, then drained)
3 small tomatoes or 2 medium, sliced into rounds
1 large yellow onion, sliced into rounds
1 yellow pepper, sliced lengthwise
20 pitted black olives, cut into half
Some parsley
1 bayleaf
A dash of black pepper
2 tablespoons olive oil
To marinate chicken wings:
2 tablespoons light soy sauce
2 tablespoons mirin
1-inch piece of ginger, grated (include the juice)
1 teaspoon paprika
Steps:
1. Marinate the chicken: Overnight or for at least 3 hours.
2. Sear the chicken: In a large pan that can fit all your ingredients, heat 2 tablespoons olive oil and sear the wings for 3 minutes each side til brown. OR you can do like I did and AIRFRY at 180C for 5 minutes each side, til skin is browned and sizzling (I sprayed on some canola oil for easy browning). Set aside.
3. If you had seared the chicken in the pan, using the same pan, fry the onions and peppers til tender. If you had airfried, heat up 2 tablespoons olive oil and fry the onions and peppers til tender.
4. Add the white wine and cook til reduced to about half. Add in the tomatoes, eggplants and olives and cook for 2 minutes. Add the chicken stock and bring to boil.
5. Place the chicken wings in a single layer in the pan and simmer on low heat for 50 minutes. Add in the milk (or cooking cream, if using). Cook for another 2 minutes, sprinkle on black pepper and parsley and serve immediately with rice.
How much I spent:
$5 for chicken wings
$0.50 for eggplant
$2 for peppers, parsley, tomatoes and onions (from the wet market)
$1 for olives (an estimation. I got a whole can from Phoon Huat for about $2+)
Everything else from my pantry