Blueberry Crumble Muffins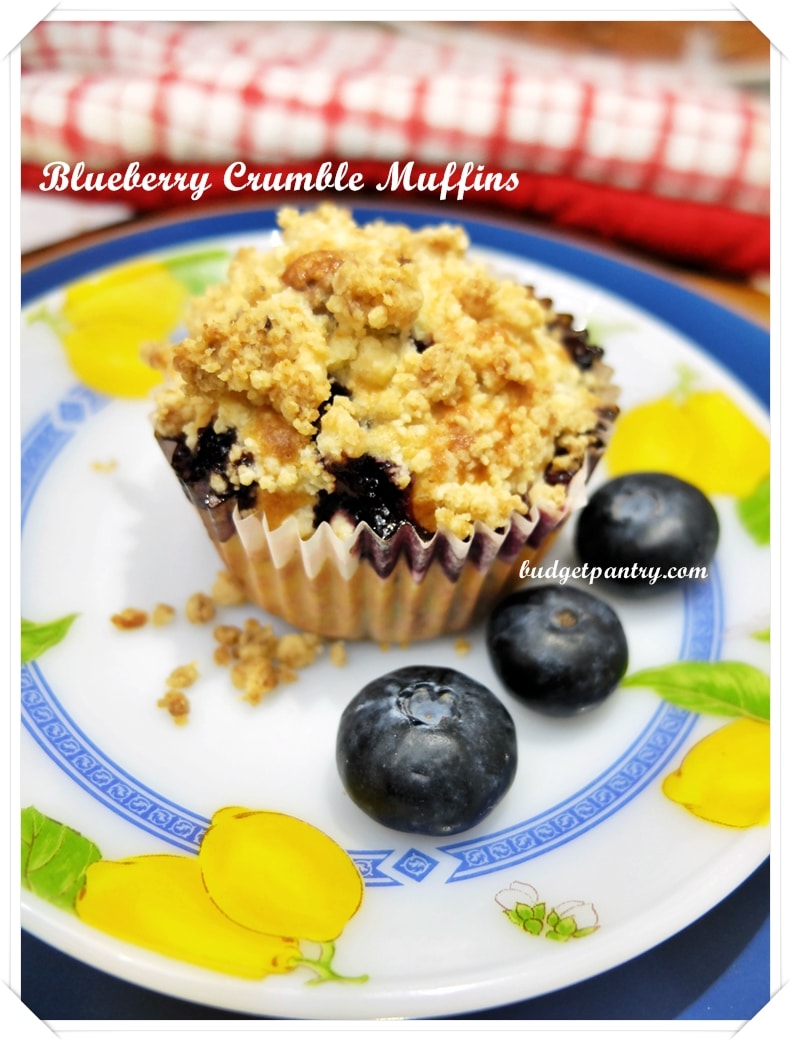 Blueberry season is here! These days as you wander around the fresh fruits section of Cold Storage and NTUC, you'll see low, low prices for blueberries! The little packages have been going for as low as $9.99 for four 125g boxes. I don't remember the price of blueberries ever going so low before, but of course I'm not complaining.. now I can bake many, many cakes and muffins with them! (Me being budgetpantry, I have never forked out close to $6 for a tiny box but now I can afford them!)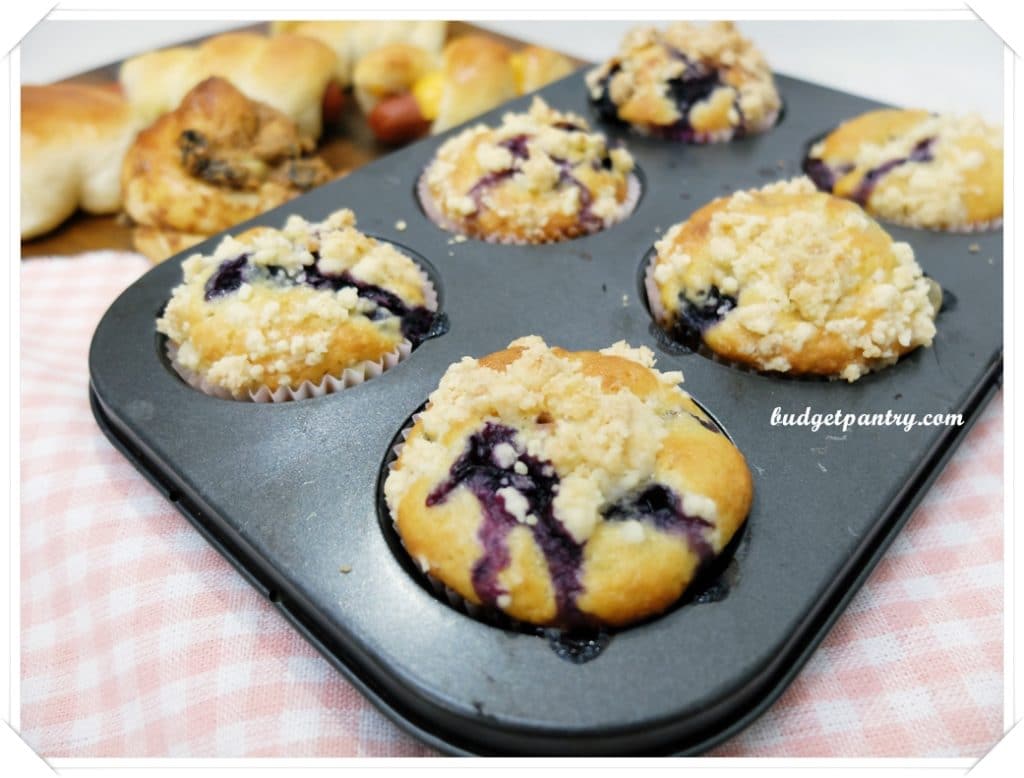 I made a not-so-nice blueberry yogurt cake a while ago, but I promise this time, these blueberry muffins will knock your socks off! If you think the best part is biting into those luscious, bursting blueberries, you are wrong. The best part, ladies and gentlemen, is that NO MIXER is needed for this recipe. Yes, you heard me right. Less tedious wash up! Everything goes into one big mixing bowl and you're good to go.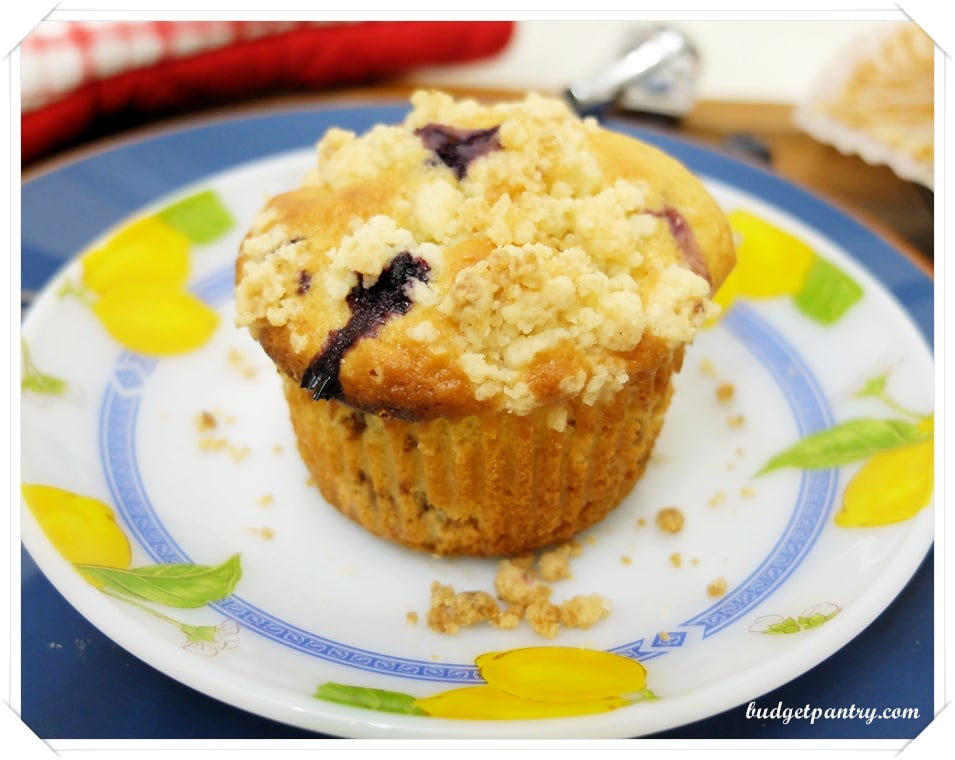 These can be a little messy to eat, so if you're thinking of distributing them to your colleagues, bring little paper plates? Or give them a serviette so they can 'undress" the muffin before eating.
I made 2 versions: oven-baked and airfried. As much as I love the airfryer, I preferred the oven-baked :) The oven-baked is fluffier and more bouncy, and the airfried more dense. Taste wise, no difference.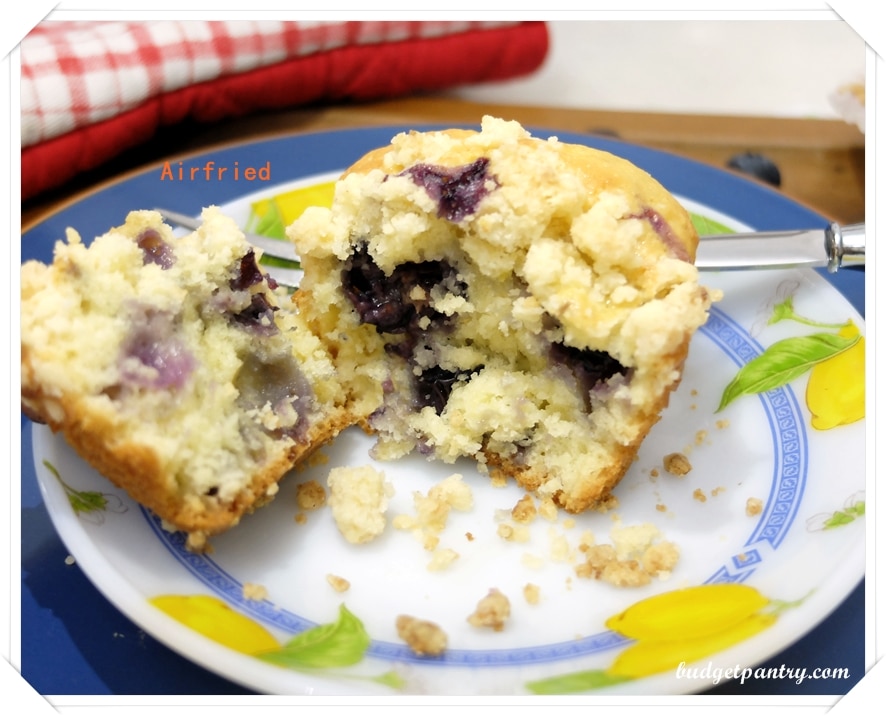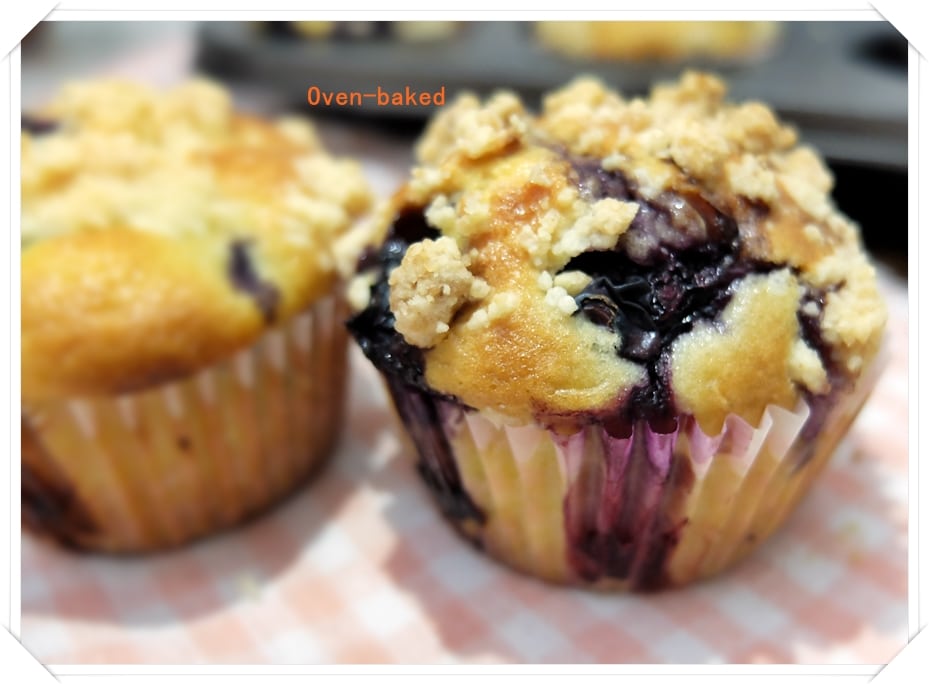 What I love about these muffins is that they are moist and the fresh blueberries add a subtle sweetness and an incredible texture. Imagine the fat blueberries heating up in the oven, then subsequently bursting due to the temperature, the juices exploding into the cake and trickling down the top, accompanied with glorious, buttery crumble? It takes all of 19 minutes baking time and I spent less than 30 mins from preparation to eating!
Now let's make these muffins!
Blueberry Crumble Muffin
Makes: 16 muffins
Total cost per muffin: $0.43
What I used:
Dry Ingredients:
3 cups + 2 tablespoons cake flour, sifted (400g)
1 cup caster sugar (200g)
2 teaspoons baking powder
1/2 teaspoons salt
1/2 teaspoons cinnamon
Wet Ingredients:
240ml full cream milk (I used UHT)
2 eggs
1 teaspoon vanilla extract
Others:
About a little more than 1/2 cup cold unsalted butter, cubed (125g. use salted and the topping tastes salty)
1 and a half packages fresh blueberries, washed, wiped dry and stems removed (about 188g)
Extra 2 tablespoons melted unsalted butter (25g)
Steps:
1. Preheat oven to 180C or if using Airfryer, 160C.
2. Combine the dry ingredients and mix well with a whisk. Add the cold, cubed butter and rub into the flour with your fingertips until they resemble breadcrumbs. Make sure the butter hasn't melted! Watch this video.
3. Scoop 1 cup (250g) of this butter and flour mixture and set aside, to be used for crumble topping.
4. Add the blueberries to the butter and flour mixture in 2.
5. In another bowl, whisk together the wet ingredients and add this to your dry ingredients in 4.
6. Using a plastic spatula, give it a few turns to combine, taking care NOT to stir, press in/ smoothen out the flour. The idea here is to moisten the flour mixture evenly so that you can't see the white anymore, not to combine it into a smooth, runny batter. The batter should still be lumpy.
7. Spoon the mixture into your lined muffin pan (just use regular cupcake liners) and fill them to about 4/5 full. I'm dying to get my hands on one of those batter dispensers because I ALWAYS make a mess.
8. Now let's make the topping! To the butter and flour mixture we set aside in 3, add the melted butter. Using a fork, just lightly combine. Spoon the topping (about a tablespoon) onto each muffin.
9. Bake for 19 minutes/ Airfry for 16-18 minutes or until a toothpick inserted in the centre comes out clean.
How much I spent:
$3.80 for blueberries
$1.98 for butter (I used President- on promotion at NTUC 2 for $7.95)
$0.60 for UHT milk
$0.50 for eggs
Everything else from my pantry