Easy Mushroom and Asparagus Risotto in Seafood Stock
I'm sorry I don't have a picture with better table styling, because this was cooked over the stove without any planning and that evening, I was quite frustrated! Having cooked the awesome-nest risotto I've ever cooked (I've only cooked it once) last year, I was dying to go at it again but wasn't quite prepared to ladle boiling stock over rice every few minutes until they were cooked.
And so I set out to do what I thought was a clever thing. MAKE RICECOOKER RISOTTO. I had everything planned. The amount of rice, the stock, the asparagus, the mushrooms, the timing. Everything. Except the ricecooker.
I have an old-school ricecooker that has none of the other functions of a 2014 ricecooker. My old school ricecooker dictates that rice should cook in 13 minutes. When 13 minutes are up, you can't cook them anymore no matter how hard you depress the button. It just won't stay down. There was just no way.
I started my "adventure" merrily. I even have pictures to prove:
I switched on the ancient thing to preheat it, and started frying the onions, garlic and butter after a few minutes. And then when it was time to coat the rice in the butter, disaster struck! The "Cook" button automatically changed to "Keep Warm" and there was no way I could continue my time-saving (the irony!) rice cooker risotto. Why didn't I stop to think that not all rice cookers were created equal?
So how, like that? The hubby needed to eat! Being a very adaptive woman (ehem), I did the next thing I knew. Transfer the rice to the frying pan and google for "budgetpantry risotto". Yes, I google my own recipe. What? I can't remember everything ok? What I did differently this time was blanch some asparagus, leave out the shrimp and use seafood stock instead of pork bone stock.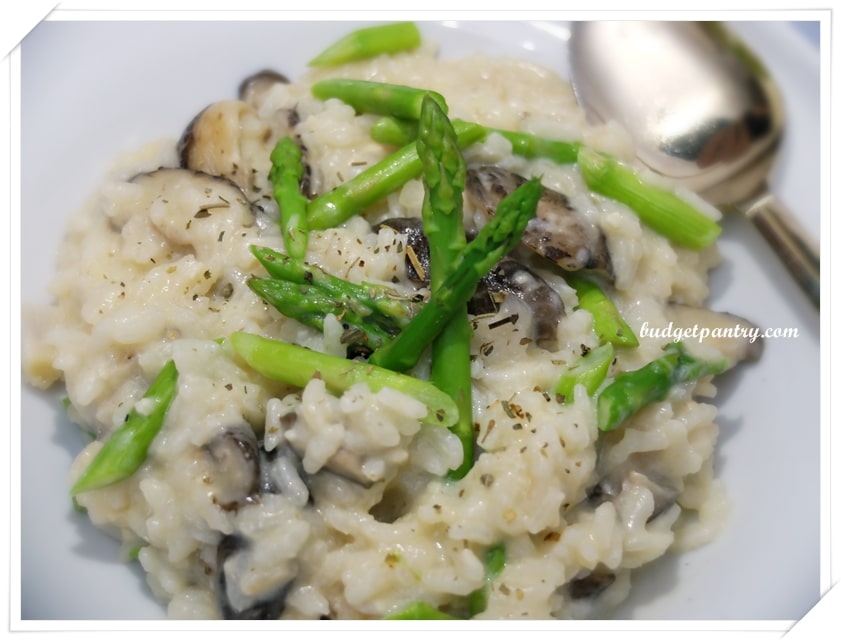 Thankfully. Still good. Oh, and one tip: you would never have guessed, but my secret weapon in making really flavourful seafood risotto is this: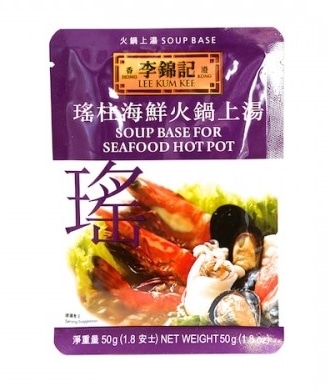 Try making it, you might surprise yourself!
Asparagus and Mushroom Risotto
Serves: 3
Total cost per serving: $3.81
What I used:
4 tablespoons butter
2 cups sliced shitake mushrooms
6 stalks asparagus, ends snapped
1 cup white wine (I used Sauvignon Blanc)
200ml President light cooking cream
1 packet Lee Kum Kee seafood hotpot soup base
2 medium red onions, chopped (about 3/4 cup)
1 tablespoon olive oil
2 rice-cup Carnaroli rice, uncooked (about 330g. I got mine from Fairprice Finest)
Some grated Parmesan cheese
A sprinkle of dried Italian herbs (optional)
Steps:
1. You'll need: 1 small/ medium pan, 1 instant-noodle pot, 1 large pan
2. Snap off the end of the asparagus and blanch in boiling water for about 4 minutes, til still bright green. Set aside.
3. In a medium pan, heat 2 tbsp butter, add sliced mushrooms and fry for 5 mins at medium-high flame.
4. Add white wine, bring to a boil, then cook for 3 mins.
5. Add cooking cream, reduce flame to medium then simmer for 5 mins. Set mushroom mixture aside.
6. In a pot, simmer 6 cups water (1.25 litres) and add the Lee Kum Kee hotpot soup base. Let it continue to simmer as you cook the rice in the coming steps.
7. In a separate large pan, melt 2 tbsp butter and 1 tbsp olive oil. Sauté chopped onions til soft, about 3 mins. Add 1 rice-cup of uncooked Carnaroli rice, swirl to coat with the butter and oil.
8. Add simmering stock, 1/2 cup at a time, stirring enough to keep the rice from sticking to the edges of the pan. Wait until the stock is almost completely absorbed before adding the next 1/2 cup. Rice should be ready in about 1/2 hour. The rice should be soft and just a little chewy. Don't mush it or break the grains on purpose. Keep tasting! 
9. Stir in the mushroom mixture and some grated Parmesan cheese. Arrange the asparagus on top, sprinkle some Italian herbs, then enjoy!
How much I spent:
$2.68 for the portion of Gallo Carnaroli Rice from Fairprice (1 kg pack costs about $8.05 and yields about 6 rice-cups)
$1.50 for asparagus (a bunch of 12 cost me $3 from the wet market)
$3.65 for President light cooking cream
$1.90 for shitake mushrooms
$1.70 for Lee Kum Kee stock
Everything else from my pantry