Almost low carb lunch idea: Chili Stew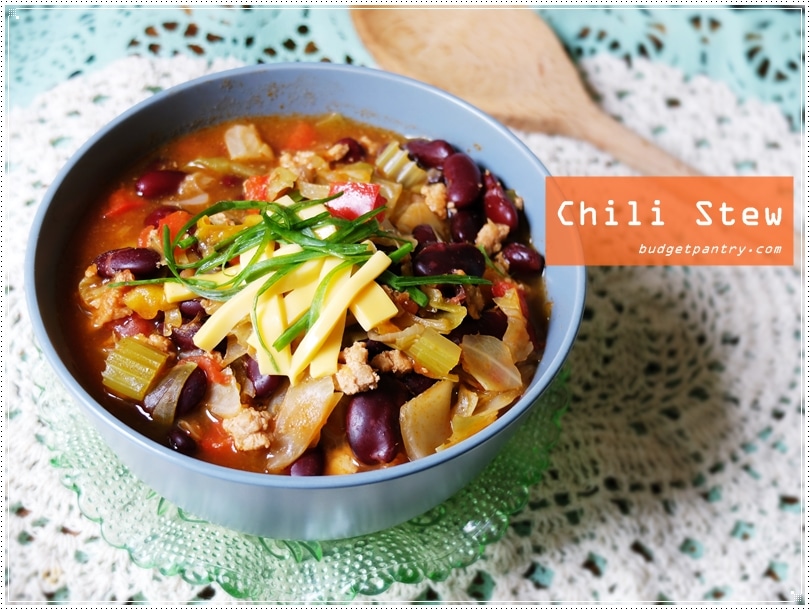 I pack lunches to work on weekdays and plan my weekly menu the previous week, the same time as I order fruits, vegetables, fish and meat online. As I add items to my cart, I think of what to cook for lunch and dinner, and when to cook what, i.e., I use up the more perishable stuff, like salads, for breakfasts or lunches on Monday, Tuesday and Wednesday, and cook the iron-rich leafy greens (spinach, puay leng, cai xin) in soups for early-week dinners. I then leave cabbages, kale, broccoli and cauliflower for the later part of the week, to be used in colourful stir fries. I normally plan daily meals, but sometimes, all I want to do is cook a big pot of chili stew.


I love cooking stews because you just cook everything in a pot, leave it to simmer, and your lunch or dinner (for the next few days) are ready. I cook a few versions, including creamy chicken stews with potatoes and carrots, and tomato-based vegetable stews. And this one, ground meat stew with vegetables and kidney beans, topped with cheddar. This CAN BE low carb – just leave out the kidney beans. I used pork, but please use ground beef for the best flavour.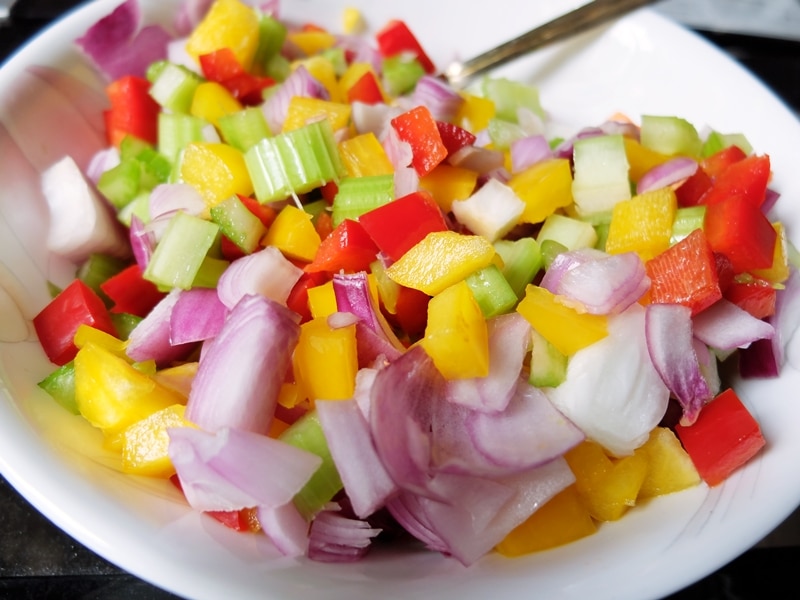 I often cook this on Sundays so we can have it for Sunday dinner and I have lunches ready for Monday, Tuesday and Wednesday. I think three days is the max you can keep this in the fridge. And in case you haven't realised, I can eat the same stuff for days on end, as long as I'm in my health nut mode and the food is good for me. For this recipe, I used red onions, celery and tomatoes as my base. I love stewed celery.. isn't it funny how celery tastes awful raw (to me at least!), but when slow cooked in a stew, it breaks down to be one of the most delicious things ever, like a cross between radish and onion? I also added cabbage, bell peppers and canned tomatoes, along with ground meat and stock (use beef stock if you can), plus kidney beans towards the end.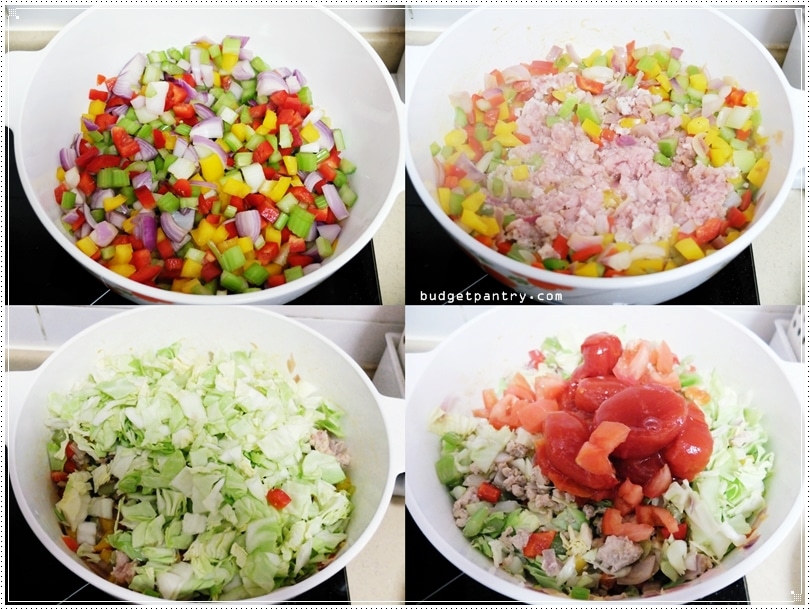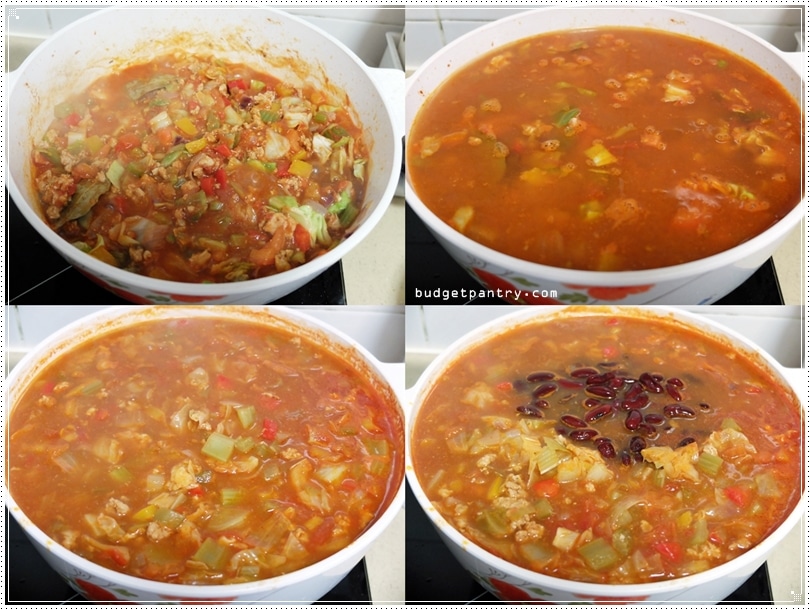 Chili doesn't normally use this much vegetables, focusing instead on the meat and onions. But too much meat isn't my thing and cabbage fills you up plus lends a sweetness to the stew.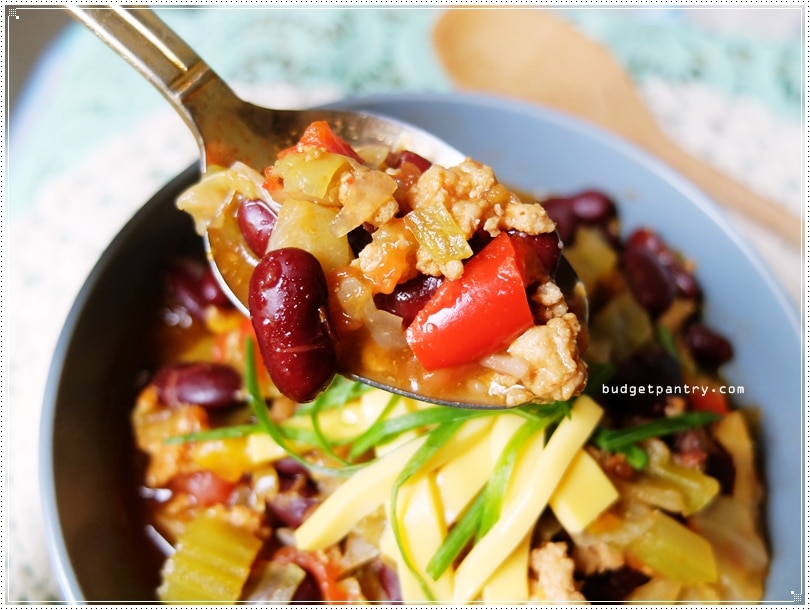 The best way to eat this is with some shredded cheddar (I used cheddar singles as I didn't have the grated ones, and that's ok – and cheaper) and sour cream. I didn't have sour cream (full fat FTW) so I left it out. For some colour, I topped the stew with hand-shredded spring onions. Not essential, but quite good.
With assignments at work leaving me with no time to think (this is a busy time for me and all I want to do after work is clear my brain but I end up catching up on news – especially electoral news nowadays – online), I think chili stew will be my answer to packed lunches for the coming week! Like gumbo, I know every family has their favourite version of chili. Please share yours with me!
Almost low carb Chili Stew

(budgetpantry.com)
Serves: 6-8
Total cost per serving: $2.03
What you need:
2 medium purple onions, diced
2 bell peppers (any colour), diced
5-6 stalks celery, diced
¾ to 1 small Beijing cabbage, chopped (depending on the size of your pot)
300 g ground meat (pork or beef, preferably beef)
2 fresh tomatoes, diced
1 can ripe tomatoes
1 can kidney beans
2 bayleaves
200 g bacon, diced (optional)
Enough beef/chicken stock to cover all the ingredients
2 tablespoons Olive oil
Grated cheddar and sour cream to serve
Steps:
In a large pot, heat up the olive oil and fry the bacon (if using), onions, bell peppers and celery til starting to turn soft.
Make a hole in the centre and add the ground meat. Break it up as much as you can with your spatula or wooden spoon. When the meat changes colour, top with cabbage, followed by canned and fresh tomatoes. Cook til it comes together. Stir occasionally.
Fill pot with beef or chicken stock. Bring to boil then turn down the flame. Add the kidney beans and let the stew simmer for 25-30 minutes til thick.
Serve with cheddar cheese and sour cream.
How much I spent:
$0.60 for onions
$2 for bell peppers
$1 for celery
$1.20 for cabbage
$2.95 for ground meat
$0.60 for tomatoes
$1.55 for canned tomatoes
$2.45 for kidney beans
$3.95 for bacon
Everything else from my pantry