5 cooking tips for busy moms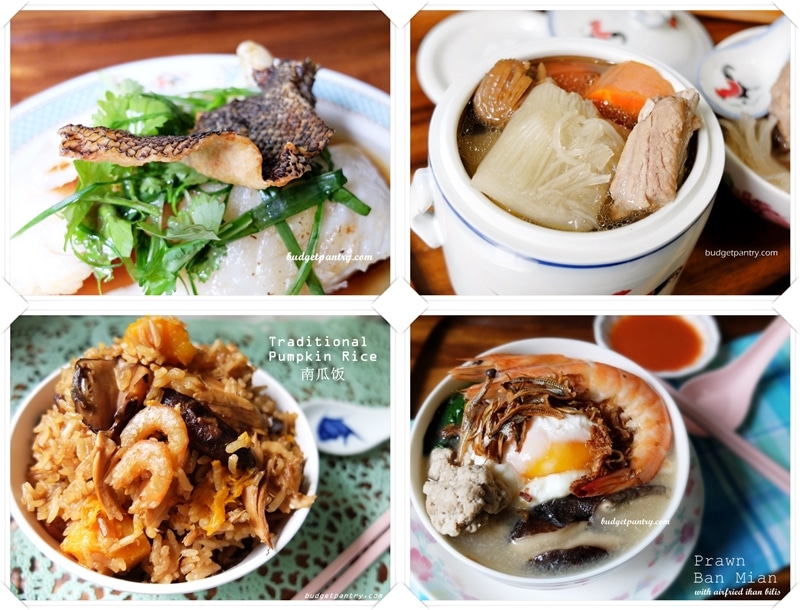 Many of my friends ask me: How do you manage a full day at work and still manage to cook every day? And with the baby? You must have help!
The fact is, my only help are my two aunts (they're 77 and 81 years old) who watch cbb for that hour while I get everything ready. It's actually not difficult to put dinner on the table every day. Not only do I cook every day, I also take my own lunch to work. On top of that, I make sure cbb gets a dinner of carbs/protein/fibre daily when she comes home from school.
The key to all of this is: Eat simple.

Here are my top 5 tips for quick and easy home-cooked meals, every day:
1. Be prepared
My freezer is always stocked with ingredients like chicken, salmon, minced pork and saba fish. After I'm done putting cbb to bed, I plan the next day's dinner and move the chicken/fish/whatever to the chiller section, so that it will be defrosted and ready to cook the following day. For ingredients that need to be marinated, like chicken wings, I move them to the chiller two days in advance, so that it will be ready to be marinated by the next day (and ready to be cooked the next, next day).
2. Get an airfryer
I'm not kidding when I say the airfryer has been my best friend in this journey. One of the most frequent things I cook is fish. Salmon, barramundi, saba fish – just that and rice make up our dinner. There are so many ways you can cook fish in the airfryer. Simply fry them skin side up on the grill pan (you can use baking paper or foil if you don't have it), or top them with capsicums, garlic, tomatos or a paste, wrap them in baking/parchment paper. Less than 10 minutes and food is on the table. After I'm done feeding cbb, I pop the fish into the airfryer and take my shower. No greasy floor to mop, no dirty stove to wipe. I just need to wash the grill pan, or throw away the baking paper. I also love to cook chicken and pork (teriyaki and rosemary pork chops… mmmm) in the airfryer. Perfect results every time! Check out my airfryer recipes.
3. Use the slow cooker
Something else I love to use: the slow cooker! I can prepare ingredients for either a soup or stew the night before, stick it in the fridge, and the next morning before work, add hot water or stock and turn the 'auto-shift' button. A hot meal will be ready by the time I come back from work. You can cook oyster sauce chicken with potatoes, chicken stew, tender pork loin, or a variety of Chinese soups – pork rib lotus root, old cucumber soup, ABC soup.. you're only limited by your imagination. For soups, I scoop out what cbb eats before adding seasoning. I imagine a thermal pot does the same thing although I've never used one before.
4. Do lots of stir fries
I do vegetable stir fries VERY frequently, because I pack the same into my lunch box to take to work the next day! My fridge is always stocked to the brim with vegetables for the week. Cauliflower, broccoli, carrots, snap peas, lotus root, what-have-yous. I also add some kind of protein like sliced chicken inner fillets or breasts (which I defrost the previous night – see tip #1) to the vegetables. So all I need to do is toss everything in a wok and dinner is ready in minutes. And lunch is settled too! I like the Mala Xiang Guo paste (there are many brands available – try Giant and Sheng Siong for more variety), and sometimes add it to my veggie stir fry to make a spicy meal.
5. Cook a soup
When I don't want to bother too much with chopping lots of vegetables, and I have forgotten to defrost meats, I cook a soup. Apart from meats, I also stock CP wantons in my fridge. They're the absolute best because they cook from frozen. What I do in times like these: make a soup base with lots of napa cabbage (they're the sweetest!), carrots, onions, honey dates, bring to boil and simmer while I do other things. Once the cabbage is soft and soup is sweet, I add some mushroom seasoning and pepper, and toss in the CP wantons. It's like steamboat! If you have fishballs, meatballs, steamboat stuff in your fridge, you can add them too (I love adding fuzhou fish balls if I have them!).
————–
So there! Even if you're a full-time-working-mom, you can still prepare home-cooked food for your family! Frying bee hoon, rice, noodles etc can be fast too, but there's not much nutrients in these so I don't cook them often. What are your tips? Share them with me!
If you like my posts and updates, or would like to be informed of baby/cooking-related giveaways and promos from time to time…..
Like my Facebook page or follow @budgetpantry or @chuabeebee on Instagram! Yes, I just started an Insta account for CBB too!