Cbb turns 18 months this month. She is my life, but you all know that already.
I've been wanting to update my 'About me' section since forever, and was contemplating to replace the other two versions written in 2013 and 2016 with a brand new one (this), but thought, 'Why?'
Being a mom doesn't erase me. Being a mom is a subset of who I am, but it shouldn't take me over completely. As of now, it's a crazy huge subset, but there are also times that I want to be by myself, listen to emo songs (it's been so long) and write like this. I promised myself I would revisit those times later, and I will.
"I learnt more in a year than in forever."
Before having cbb, I knew nothing about motherhood. I haven't been living with my mom since I was a child. My closest family is my two unmarried aunts and siblings who don't live in the same place now. I have four brothers. So when cbb came along, we struggled a lot. You have no idea how many times we put the diaper backwards. Or wondered how what 'they' all mean by 4-5 wet diapers a day. If she pees, it counts as one wet diaper. But does pooping count as wet diaper too? Ok then how much poop is really counted as 'poop'? I had an exhausting journey with breastfeeding, but I know how much I tried. Read about how I came to terms with it and decided to supplement my infant with formula eventually. I am very lucky to have a supportive, hands-on husband who's constantly learning together with me.
Many readers who've followed me since I started this blog in 2013 have this comment, 'You seldom blog recipes anymore.' But they're understanding because in place of one recipe a week, I now post about CBB every day on Facebook, and blog about life with her often. I still cook everyday but not of new dishes. I will step up my recipe game this year!
I realise I haven't really shared my week-by-week pregnancy bump pics, so if you're interested to see how I ballooned, click here! Side note: I have lost all the weight and more with Absolute Slimming. I'm another 5kg down from the blog post, and I would recommend them to anyone if you could keep to a meal plan. I am also not paid to say this.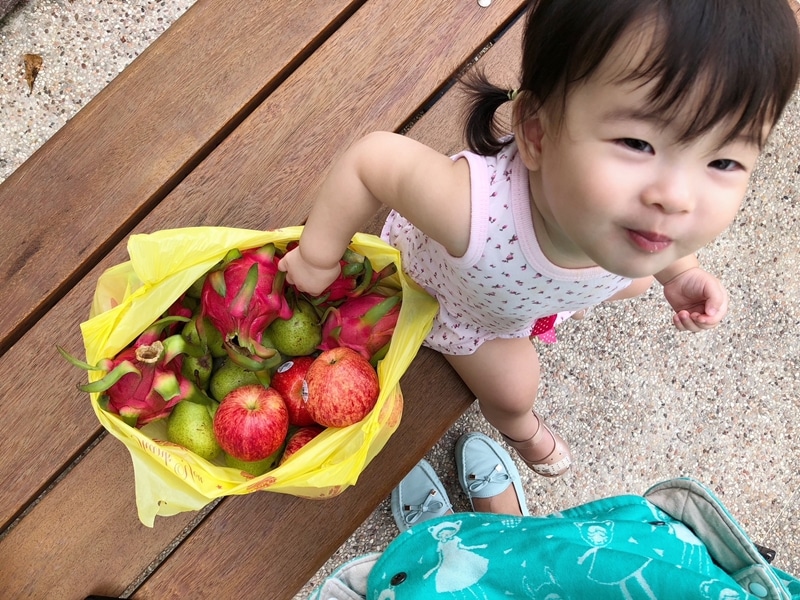 "How did 'CBB' come about?"
'CBB' stands for 'chuabeebee'. For an explanation on why she's nicknamed chuabeebee, and for the 'correct' pronunciation, read this post and watch the video. It takes a bit of effort to explain, and when you explain it over and over, it's not funny anymore. The activity in my brain shuts down and I get bored. The irony is cbb's dialect name (if she did have one) sounds so bad, we ended up just preserving the 'Chua' in dialect. I feel like such a loser. So to set the record straight, we did not name our baby 蔡美美, nor does cbb stand for 'chua baby' or 'chuabb'. Now you know!
We've been very loved by trusted brands who have generously sent products our way to be reviewed or tested. I cannot thank all our sponsors enough!
CBB is also one of two Tula ambassadors in Singapore as of this time (the other being cutie-pie baby Scarlett. You should check out her Instagram account!), and boy do we love our Tula baby carriers. After trying many different brands of carriers and wraps, Tula still gets our top vote of being the best baby carrier in this household. Read this post to find out why: Why I love wearing CBB in our Tula baby carriers. And read about how it has helped us conquer our first family trip together to Taiwan.
From a tiny newborn, cbb is now a talkative toddler who loves to sing and dance, and make fun of you whenever she gets a chance. My brother described her as 'sparkly' the other day. I couldn't agree more with him.
I'm doing my best to be a good mom. Of course, CBB will know of no comparison. But I promise to care for her with all I have, to pick her up when she cries and to protect her with my life.
To everyone who's reading this – whether you've been actively commenting or liking my Facebook posts, or prefer to be a silent reader – thank you for being with me in this very long parenting journey. It really means a lot to me!
If you haven't, follow us on Facebook and like @chuabeebee & @budgetpantry on Instagram, and watch CBB as she grows up :)