Baby: Shrinkx Belly & Shrinkx Hips Wrap/Binder review
I've been researching on belly wraps ever since Chua Bee Bee was baking, and have even ordered those cheap ones from Taobao for RMB20-25 (SGD5 thereabouts). Hehe. But when they arrived, I realised there's no way I could fit into their L or even XL size (they're reallyyyy tiny, maybe XS/S). The material also has very minimal stretch and is tough and rough to the touch.
So when I got an opportunity to review Shrinkx Belly and Shrinkx Hips Ultra from My Miracle Baby, I jumped at the chance! I packed these along with me in my hospital bag, not knowing if I will be undergoing natural delivery or a c-section. But it didn't matter because Shrinkx Belly and Shrinkx Hips Ultra can be used even with c-section. I asked the nurse if I can use Shrinkx Belly in place of the hospital abdominal binder and after looking at my binder, she said ok!
About Shrinkx Belly
Shrinkx Belly is a post-partum belly wrap with customised triple compression. Most other binders only have one layer of velcro, just wrap around and that's it. Shrinkx Belly has the usual wraparound and a second and third loop so you can even further tighten (and customise) how tight you want to wrap, with no discomfort.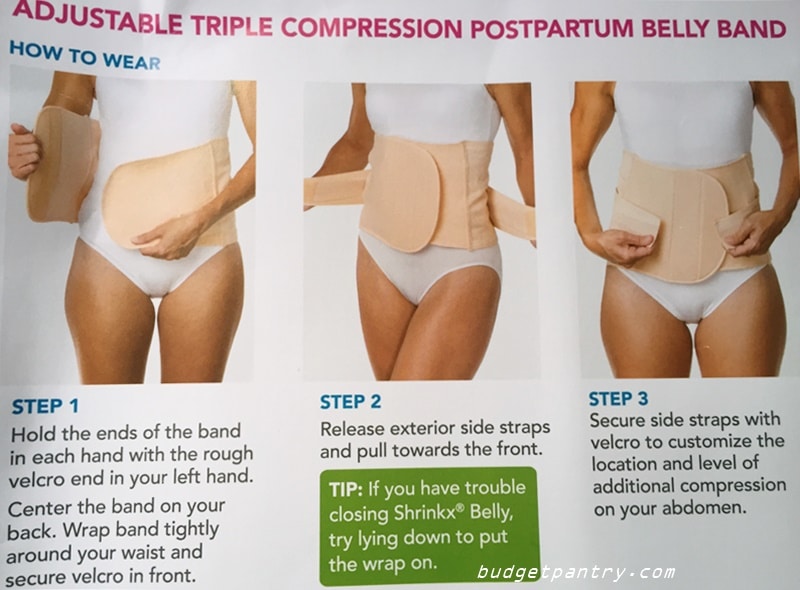 With a c-section, I first used it on my lower abs, around my wound. When I got home and the wound started getting better, I used it on my upper tummy to keep the fats in while using Shrinkx Hips Ultra on the bottom. Post-op, I couldn't tighten the wrap as much as I wanted, as the tighter it is, the more it 'ate' into my wound. But I could adjust the fitting to my circumstances. It works great with a c-section (approved by gynae!), but I think it will be really perfect if you hadn't undergone a surgery cos you don't have to factor in additional pain. With a pre-pregnancy waist of 30″, I got size S/M and it fit me comfortably. To get the best results, start wearing the Shrinkx Belly belly band immediately after delivery and wear the band as much as possible during the day and night. For sizing guide and how-to-wear instructions, visit this page.
About Shrinkx Hips Ultra
The Shrinkx Hips Ultra postnatal compression belt helps moms get back their pre-pregnancy hips after delivery. It is the first and only wrap clinically proven to narrow hips after delivery. This binder has no stretch, so wearing it around your hips could take some getting used to.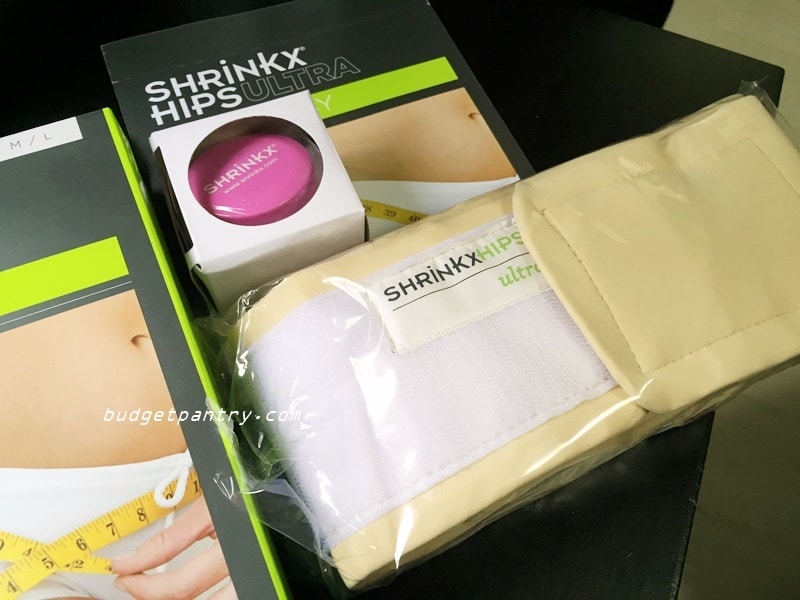 How does it work? The hormone 'Relaxin' stays in our system up to 8 weeks after delivery – this hormone loosens pelvic joints and ligaments for childbirth. Wearing Shrinkx Hips during this time gently guides hips back to their pre-pregnancy position, or smaller. With a pre-pregnancy hip size of 40.5″, I got size M/L. 95% of moms returned to their pre-pregnancy hip size.. I hope I don't fall in the 5%! For sizing guide and how-to-wear instructions, visit this page.
Is it working?
At the time of writing, I'm 3 weeks + into wearing both Shrinkx Belly and Shrinkx Hips Ultra and have seen a 2-inch decrease in waist size and a 1 inch decrease in hip size. I have to confess that I haven't been very diligent but I'm happy with the results so far. (edit 10 June: I started my post-natal massage one week after I prepared this post, and my waist dropped another 3.5″ in five days! I wear the cloth binder for six hours daily and then take it off during shower. After that, it's Shrinkx Belly and Shrinkx Hips Ultra all the way until the next massage session the next day afternoon.)
FAQs
1. When can I start wearing Shrinkx Belly?
Start wearing the Shrinkx Belly postpartum belly band immediately after delivery and wear the band as much as possible during the day and night. Make sure the wrap fits tightly around your waist use the side straps to customise compression on the front of the abdomen.
2. Can Shrinkx Belly be worn after c-section?
Yes but wait to start wearing until you can do so comfortably.
3. What is the fabric content of Shrinkx Belly?
Shrinkx Belly uses a lightweight, latex free mesh fabric that is made of 80% Nylon and 20% Spandex
4. Can I wash the Shrinkx Belly band?
Yes but be sure to hand wash in cold water and lay flat to dry.
5. What is the difference between Shrinkx Belly and Shrinkx Hips?
Shrinkx Belly is a postpartum BELLY wrap to help you lose inches off your belly and waist. Shrinkx Hips is a postpartum HIP wrap designed exclusively to narrow hips after childbirth.
6. Can you wear Shrinkx Belly and Shrinkx Hips together?
Since both products work on different parts of the body you can absolutely wear them at the same time. Remember due to the hormone Relaxin, you only have 8 weeks after delivery to take advantage of narrowing your hips.
==================================
Disclaimer: I received a set of Shrinkx Belly and Shrinkx Hips for review purposes and received no monetary payment for this review. All opinions and comments on my blog are my own unless you bribe me with a lot of money, cash only. But until now I haven't accepted any bribes yet which is worth trading my 良心 for to say something is good when it sucks. Unless you really got a lot of cash to spare, like A LOT, 收买我吧.