Sasha's Fine Foods: No Hormones, No Antibiotics, Sustainable Online Grocer
I'm always on the lookout for hormone free meats when cooking for the family, and I'm really happy to have finally tried Sasha's Fine Foods! I have a discount code for you at the end of this post, so you can try them out too!
I have long heard about Sasha's Fine Foods but have been under the perception that it is only for higher-end households. Imagine my joy when I dug deeper and realised that they have local poultry and other meats and fish – antibiotics and hormone free – at really reasonable prices.
A pack of fresh, never frozen chicken wings (4 in a pack) are $7.90, English minced pork from $7.90, two portions of local barramundi fillet at $18.90 and 2 portions of super high quality Mt. Cook Alpine New Zealand Salmon from $23.90. You can also get pesticide-free Australian Broccoli at $3.90. I would pay this price for hormone/pesticide/antibiotics-free produce! What's even better is you get next day FREE delivery with just a minimum of $100 order.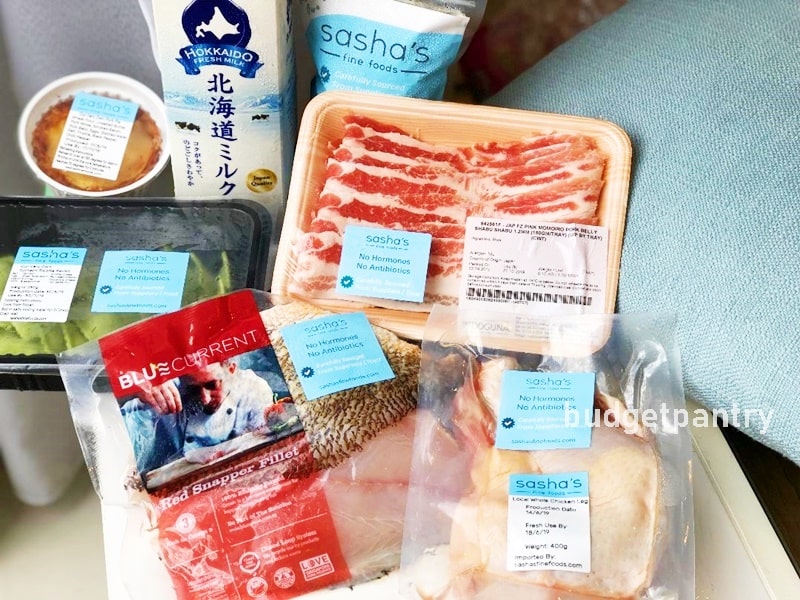 About Sasha's Fine Foods
Sasha's Fine Foods is an award-winning online grocer selling high-quality sustainable food products to households and restaurants across Singapore.
They sell a wide range of high-quality, healthy food including meat, fish, plant-based foods, vegetables, healthy snacks, ready-made meals, milk and other key grocery products.
All of the products sold by Sasha's Fine Foods have been carefully sourced and are free of any antibiotics and growth hormones. It is also a policy of SFF to aim to sell products that are free from nasty additives where possible.
So when they approached me to simply try them out, of course I said YES! *This is NOT a paid review*
For my first order, I tried out some of their best sellers like their Mount Cook Alpine Salmon, fresh local chicken, English Wicks Manor sausages and their range of 'Our Very Own' homemade meals. Oh they also carry the Beyond Burger, the world's first plant-based burger that looks, cooks and satisfies like beef but is completely vegan. Their vegan products have only just launched but the whole range has taken off very quickly. Let's take a look at some of my purchases.
These are the fresh produce that I ordered to try: Local fresh chicken legs, the incredible salmon, red snapper, Angus steak, Japanese shabu shabu…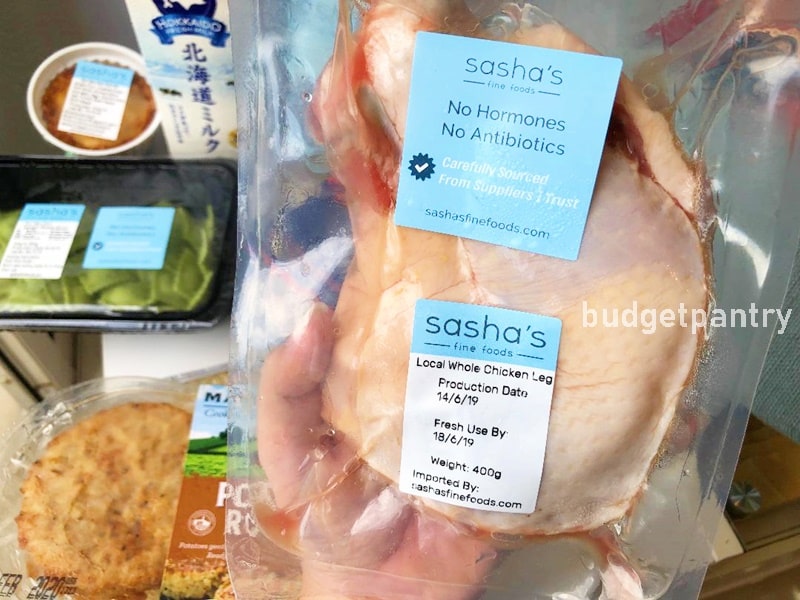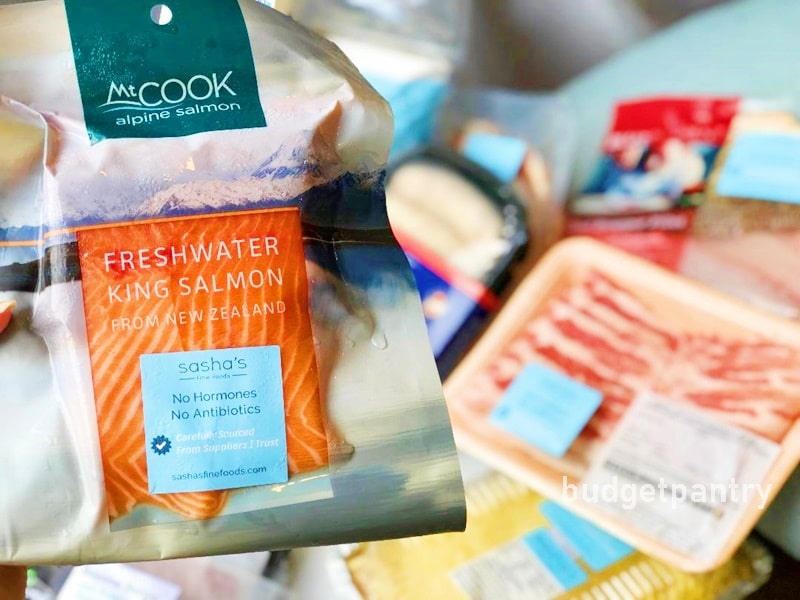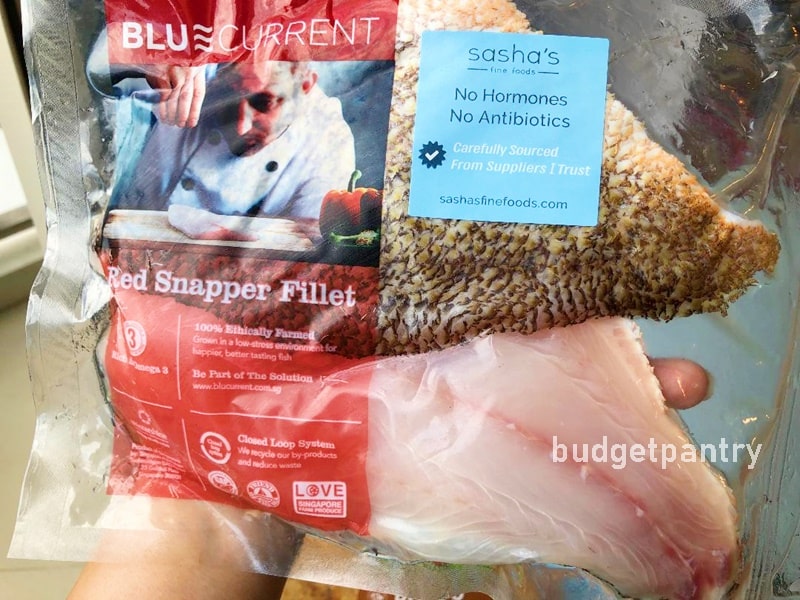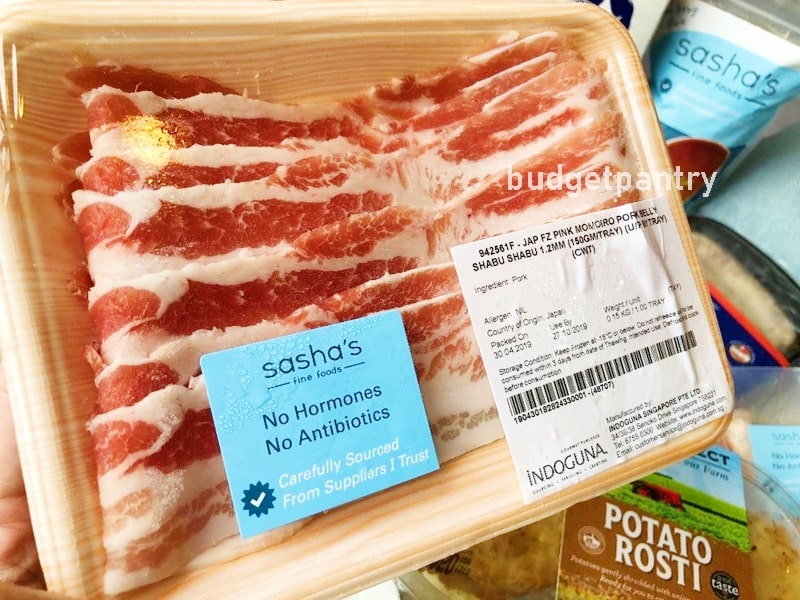 And I also couldn't resist trying out their ready meals range. We have the spinach & ricotta ravioli, seafood lasagne, English pork sausages, pork pie and potato rosti.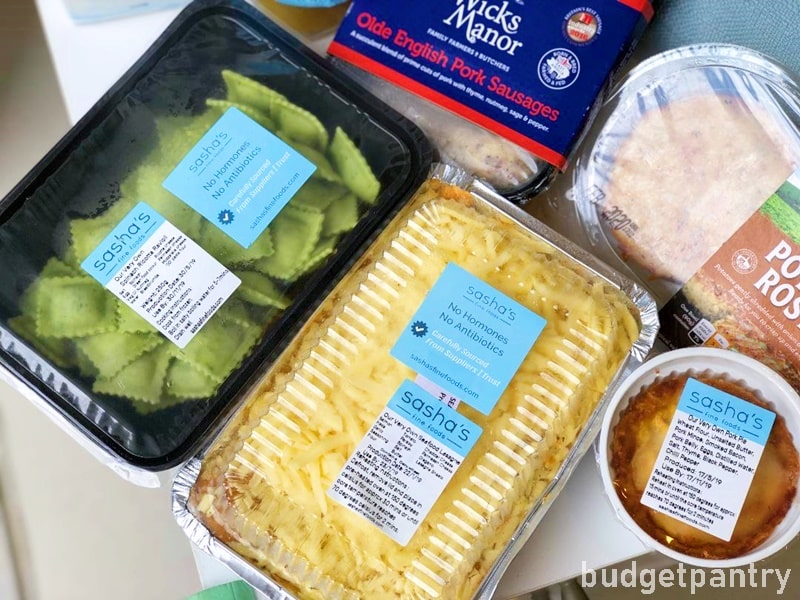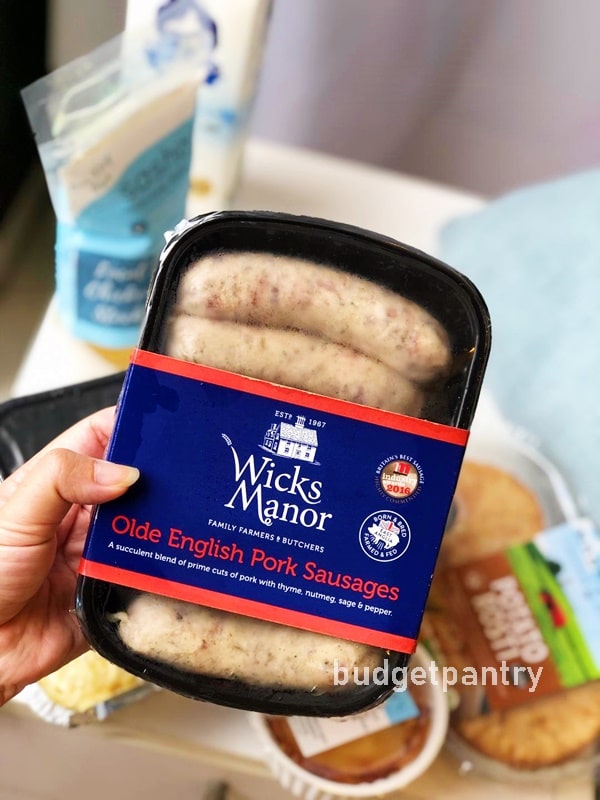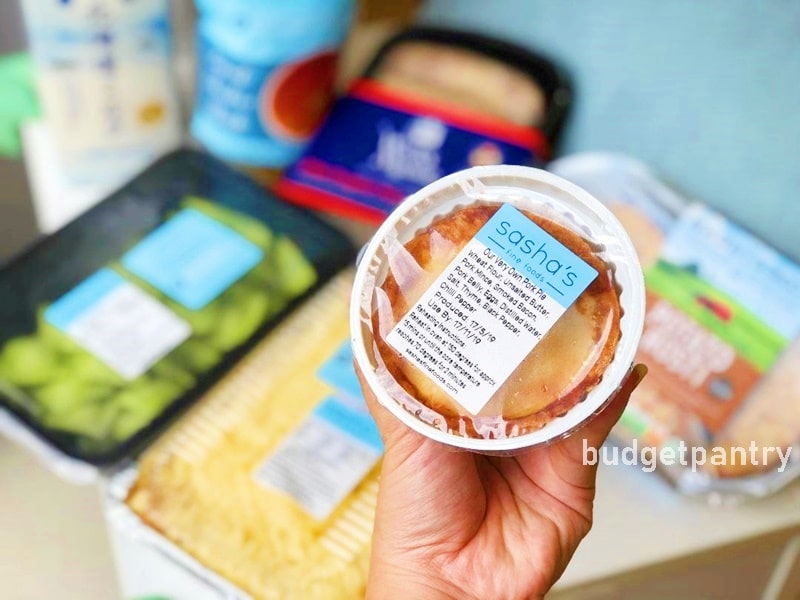 Local chicken stock and plant-based Beyond Burger: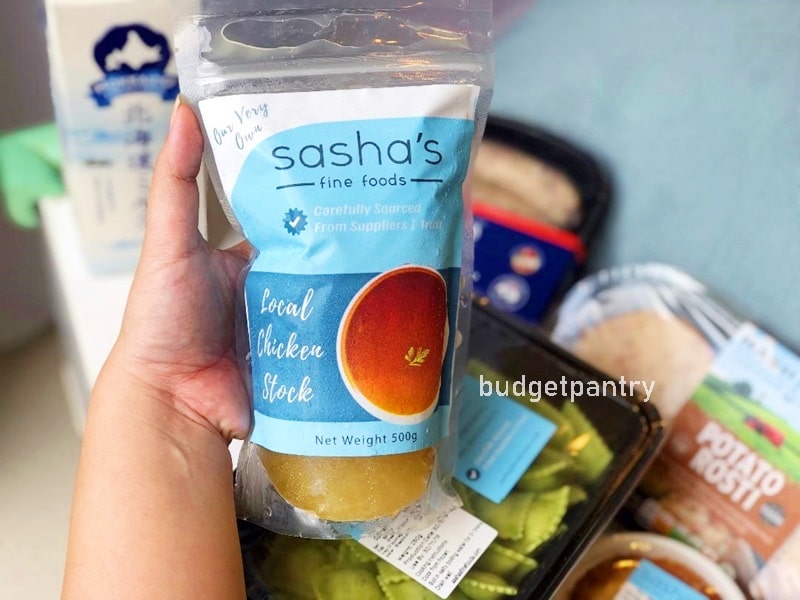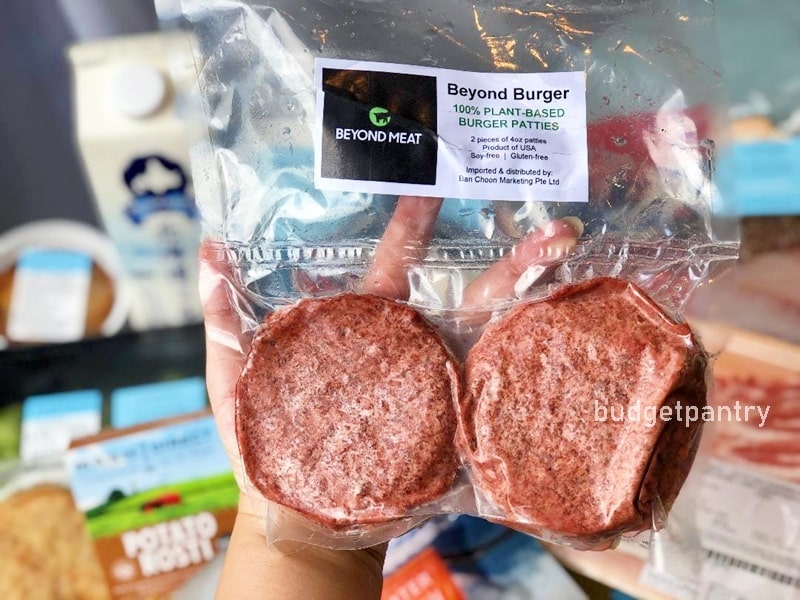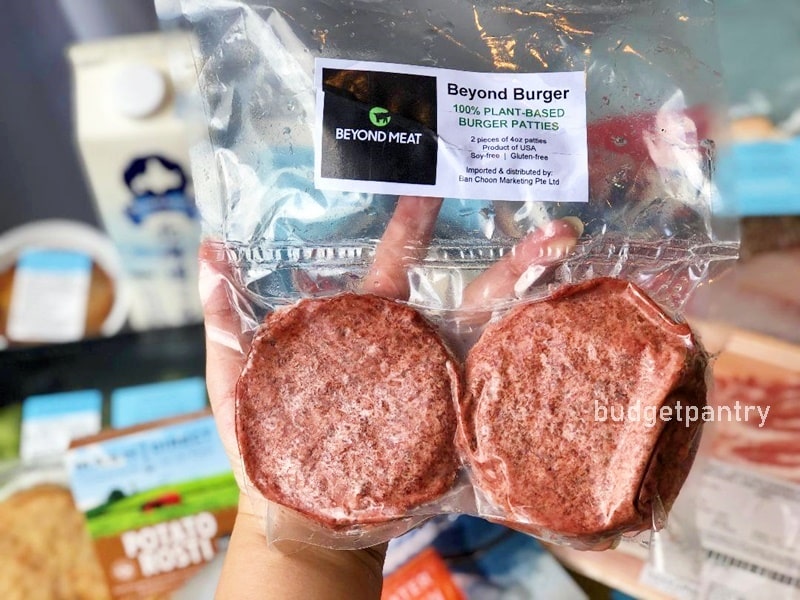 And they also carry the creamiest Hokkaido Fresh Milk!
What I like about Sasha's Fine Foods
Carefully sourced, sustainable food that you can trust
The ingredients are REALLY fresh. Like the local chicken thighs that I ordered – it was packed on the same day of delivery. The salmon was wonderful – moist, delicious and almost melt-in-your-mouth. And all the produce are carefully sourced all over the world from reputable suppliers that their founder Sasha has personally met herself. Her suppliers are based in Australia, New Zealand, Europe as well as Singapore.
Clean ingredients in their ready meals
Many ready meals in the market contain lots of preservatives – that's why I stay away from them. The range of Homemade Meals at Sasha's Fine Foods contains absolutely no preservatives. Here's a snapshot of the ingredients for their Seafood Lasagne that I have tried in this order:

Free same/next day delivery with a low minimum order
– Free Next Day Delivery when you spend over $100 (order by 5pm)
– Free Same Day delivery when you spend $150 (order by 3pm)
– 2 hour time slot delivery 9-9pm Every Day
– Delivery is 7 days a week!
They also have a generous loyalty programme – one of the best in the market. Every $1 spend earns you two points. Once you have accumulated 1000 points, you can choose to redeem a $15 voucher or continue to accumulate more points for more $ off.
Read Sasha's Story here and find out why she cares so deeply about the source, quality and flavour of what they sell: https://sashasfinefoods.com/pages/sashas-story
Get 10% off your first order with discount code 'BudgetPantry10'!
Experience the freshness, quality and convenience yourself. Go on over to Sasha's Fine Foods to place your first order and get 10% off your first order with my code 'BudgetPantry10'!