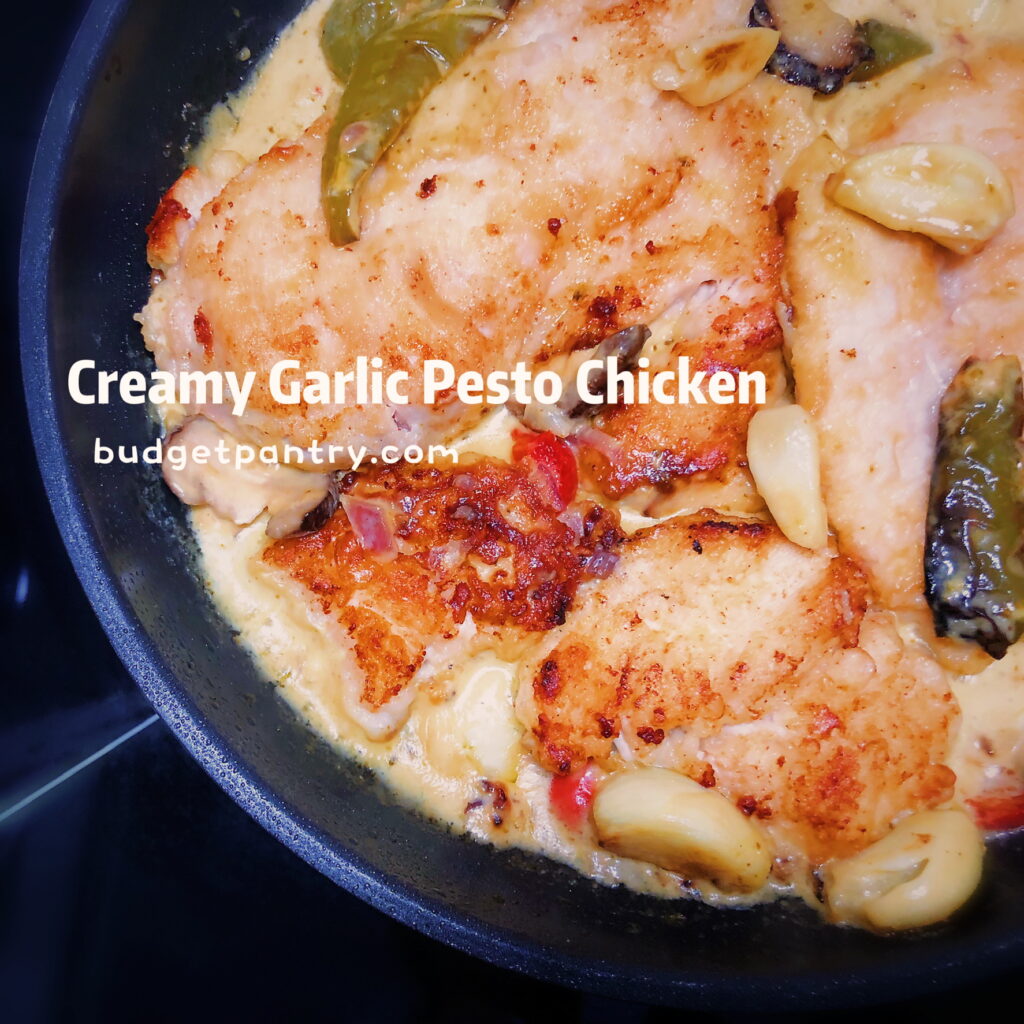 Creamy Garlic Pesto Chicken
Still thankful for being able to work from home because this means I can cook more "fancy" dinners like this. Made this with the cooking cream that a kind neighbour blessed us (contactless blessing ok!) cos she doesn't have the time to cook and doesn't want to waste food.
I served this with chunky potatoes tonight. The best part? The roasted garlic and peppers! Soooooo good!! Crazy burst of flavours with every mouthful. Hope you've had a nice dinner too! 💗
Creamy Garlic Pesto Chicken
(budgetpantry.com)
Makes 2-3 servings
What you need:
2 pieces chicken breast, butterflied
15 cloves garlic, smashed
1 small red onion, minced
1 small red pepper, sliced lengthwise
1 small green pepper, sliced lengthwise
2-3 shitake mushrooms, sliced
200ml cooking cream (I use Bulla)
2 tablespoon green pesto
2 tablespoons butter
1 tablespoon oil
Pinch of salt
Flour for dredging
Steps:
Clean and pat dry chicken breast. Dredge in flour and shake off excess.
Heat up 1 tablespoon butter and oil in a skillet. Brown chicken breast for 4 minutes, then turn over and cook for another 4 minutes till done. Remove and set aside.
In the same pan, add remaining butter and scrape the brown bits towards the center. On low heat, fry minced onion, smashed garlic, sliced peppers and mushrooms till wilted and soft.
Mix in the cooking cream and pesto. Stir everything together. Season with salt to taste.
Return the chicken breast to pan and simmer for a minute. Spoon cream over chicken repeatedly as you're simmering. Serve with chunky potatoes.
ENJOY!!
Note: if you have an airfryer, you can save some time while prepping and extract more flavour out of the peppers and garlic this way: in the baking tray, toss garlic and peppers together with some olive oil. AF at 190C for 15 minutes. Add this mixture along with the oil to step 3.