[Review] YOON Salon: This Mummy's Preferred Hair Salon
I have been majorly neglecting my hair – thanks to a new baby and the fact that I have been working from home since my maternity leave ended in February. The new baby, by the way, isn't so new anymore – he will be ONE next month! Where has the time gone? I guess I was wrong to think that working from home gives me a free pass to ignore my tresses because I don't go out often anyway, but I forgot that my unruly locks, messy fringe (or what used to be a fringe) and faded highlights (and black roots) are revealing themselves in all their glory to my team in the daily video calls for work.
In a bid to refresh my look and get some down time, I was googling for salon recommendations and came across YOON, a salon with years of experience in Singapore helping customers combat their hair styling woes. The reviews look good, with many saying that the stylists are knowledgeable and experienced, and they were able to recommend the most appropriate and tailor-made services for them depending on their needs. I think that's very important because sometimes what we need is a professional's opinion. In other cases, sometimes we just need that little push from an expert to try something new! I noticed that the salon's three outlets are pretty accessible too in Orchard, Queenstown and Chinatown.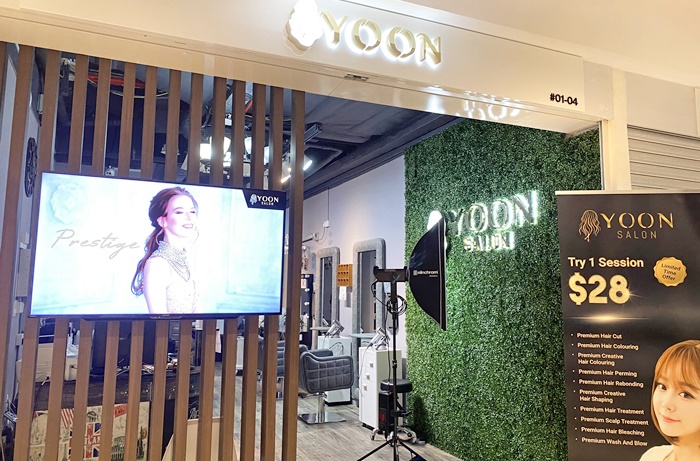 Types Of Services Available at YOON Salon
Browsing the website, it isn't difficult to see why everybody is recommending YOON. Their range of services are super extensive and include cut and blow, highlighting, colouring, perming, rebonding, and a range of specialised scalp and hair treatments. One thing I was surprised by was that they even specify that they cut for kids! Take a look at their variety of services – there's bound to be one right for you:
Premium Creative Hair Shaping: Volume S-Curl and C-Curl Rebonding
I'm in desperate need of a cut but I'm also curious about their Volume S-Curl and C-Curl rebonding services. Volume rebonding is a really popular Korean treatment technique that combines the effects of rebonding + perm in one! Although I am a full-time working mum of two, I am still in tune with the latest trends ok, just that I haven't had time to actually go do it. This Korean technique smooths your tresses without making them look unnaturally straight while introducing soft curls and volume at places you need it most. According to the website, the popular Volume S-Curl and C-Curl rebonding treatments help you achieve soft and natural-looking curls, and your mane will look more voluminous and become easier to manage and style after the session. Sounds like something that is right for me! I've never had any kind of perming or curling done before in my life. Maybe I'm finally ready to have natural-looking soft curls that don't look over the top?
Premium Hair Treatment
Their treatment sessions seem to be waving at me too because although my hair is straight, it is dry and coarse in certain places and can be really difficult to manage. Most of the time it feels heavy and dull, and I feel that the frequent washing recently (two times a day at least – due to hygiene purposes I wash my hair whenever I return home after an errand or after dropping/picking up my girl from child care) has further affected the condition and quality in some way or another. I think it's time for a treatment – I always walk out from a salon with much softer locks and greater confidence after a session! I'm looking forward to taming down the frizz, strengthening my roots and regaining strong, silky locks. They have listed five different types of treatment that they provide to restore your crowning glory to health, and frankly, I'm spoilt for choice! That being said, their Gloss Treatment sounds especially interesting to me and I think it would be extremely suitable for long hair like mine that goes past the shoulder blade. Can't wait to try!
What Others Are Saying About YOON Salon
Having a dedicated and experienced team matters, and it shows in the salon's customer reviews and testimonials:
YOON Salon Outlets & Opening Hours
Their outlets are open every day from 11am – 9pm (including Public Holidays!) so it's really great for mummies like me who can only get out for some me-time when the husband is around, and that is during weekends and public holidays. To make your appointment, give the respective outlets a call or submit the form on their website or someone to get back to you.
Midpoint Orchard:220 Orchard Road, #01-02, Midpoint Orchard, Singapore 238852
(Tel: 6235 3816)
Queensway Shopping Centre: 1 Queensway, #02-29, Singapore 149053
(Tel: 6261 0913)
Havelock II (Chinatown): 2 Havelock Road, #01-04, Havelock II, Singapore 059763
(Tel: 6223 0224)
Being a mum to me means putting my kids first in every aspect of my life– so much so that I sometimes forget not only am I 'Mummy', I am Chris too. I haven't had a proper hairstyling session done in a long time ($10 quick fringe cut at the shop across the road doesn't count), and it's important for mums to also spend time on ourselves, don't you agree? :)
If you are a first-time customer too, don't miss your chance to get a $28 trial that can be redeemed on their website. To get the trial, just click on the 'Redeem' button on the top right corner, submit a form and a service staff will get back to you. This is a great way to try out or switch to a new salon because we all know it can be a little painful on the pocket when you spend to pamper yourself, only to end up with a look that is totally not you. With all that's going on in the world, now's truly the best time to try. Go!
This article was brought to you by YOON.