My secret to losing 5kg and 20cm in 24 days: An experience with Absolute Slimming
If you've been following my Facebook or Instagram, you would know that I recently started some kind of a "weight loss diary", documenting the food that I eat, along with updates on how many kgs I've lost.
In 24 days, I have lost a whopping 5kg and 20cm all over my body. I feel soooo good!

A little background about me
I've always been fat. And by "fat", I don't mean that I just have problem areas like the tummy or thighs. My weight has been in the 70+kg range for the past two years. I know it is hard to believe because I am blessed with a slim face, but I've been overweight for most my life. When I was 16 years old, I weighed 95kg and had a blood pressure of 150/100. My weight dropped to 59kg through a series of doctor's visits and eating well, but I put on the weight again as my metabolism slowed once I reached my 30's. I weighed 89kg on the day I gave birth in May 2016. And due to what I believe is hormonal change and an even slower metabolism, I didn't lose much weight even though I went back to my no-carb diet after stopping breastfeeding last month. I also have severe water retention problems, particularly in my legs. After losing 5kg and dropping two dress sizes, I feel less lethargic and wayyy healthier! I have to show you these two photos as a comparison – (pics taken in Sept and Nov by Jars of Fluff!):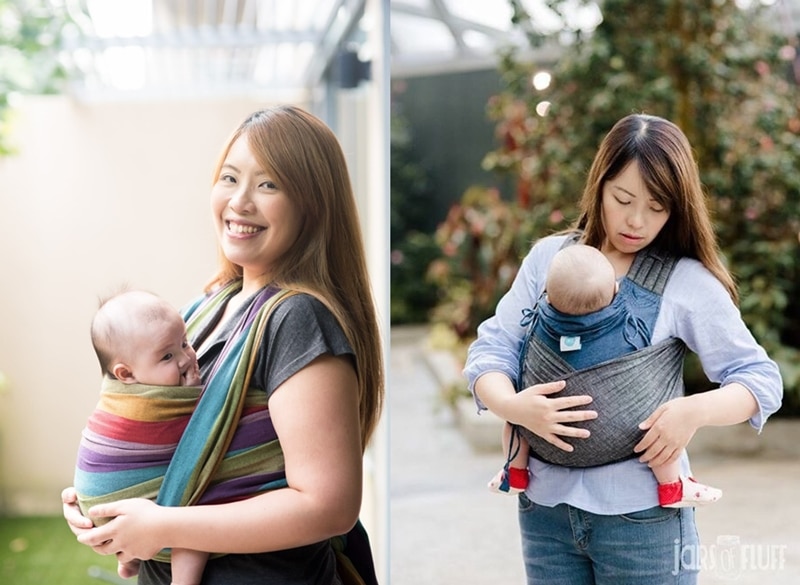 And now I have a confession to make: I didn't do this just by changing what I ate.
Absolute Slimming played a MAJOR part in helping me achieve my weight-loss targets. I know you have questions! But first, take a look at my report card:

Although I'm still far from my ideal weight, I think it's amazing how there's already a marked difference in just 24 days!
Before I continue further, I want to put this disclaimer upfront: I was NOT paid to write this review. I was sponsored 8 treatment sessions, and if I didn't get good results, I was not obliged to write anything for them. My results are so good that I will be continuing the treatments until I reach my target weight.
What is Absolute Slimming?
Absolute Slimming was founded in 2002 and uses a Chinese approach to weight loss. Using a kind of treatment called CSH therapy™, which includes cupping (拔罐), scraping (刮痧) and heat treatment therapy, Absolute Slimming can help produce fast, lasting and natural weight loss with a 99% success rate.
So what are you actually doing to lose weight in such a short time?
Apart from following a clean-eating meal plan, I attend twice-a-week treatments where therapists use a smooth, flat, comb-sized panel to apply repeated strokes throughout my body. This scraping therapy helps improve blood circulation to prevent further fat deposits. Small magnetic bulbs are then cupped on my body, stimulating acupoints that improve metabolic functions. I also undergo the optional heat treatment on my arms, thighs, back, etc, which helps to break down stubborn fat which has made themselves at home throughout the years.
What does your meal plan look like?
Following the plan is quite easy as the treatment actually suppresses your appetite. Plus, going no-carb is not new to me. It's basically about eating till you're 70% full and my daily meals can look like this: 2 hardboiled eggs for breakfast, vegetables and a protein for lunch (I have fish, chicken chop or pork chop sometimes), coffee (I even take 0% sugar gong-cha coffee), a serving of fruit for tea-break, and vegetables for dinner. I'm also allowed to eat wholemeal bread for breakfast but I don't. Due to the effect of appetite suppression, never once did I starve. Let me show you!

Follow me on Instagram to see what I've been eating!
With the kind of food you're eating, wouldn't you lose weight anyway?
My readers would know that I've always watched what I ate. So I thought losing weight after the baby is going to be a breeze once I went back to no-carbs. But I was down maybe 0.2kg, 0.4kg in weeks, and I couldn't understand why the weight didn't drop like it did before. Yes, dieting would have helped me lose weight eventually, but from past experience (and I have A LOT), weight loss is usually from my face and waist but the fat from my problem areas like hips, butt and arms will not budge.
With Absolute Slimming, it was way different. I saw visible reduction, especially in my upper arms (that's a very difficult area to lose inches), after the 1st session. By my 5th session, I could fit into my old jeans which meant that my hips, thighs and butt were losing inches as well. So this is why I am convinced that the cupping, scraping and heat therapy treatments and Absolute Slimming was key to helping me lose so much weight within such a short time. 5kg in 24 days! I couldn't have achieved this on my own, no matter how disciplined I am.
What makes Absolute Slimming different from other slimming solutions?
I don't believe in diet pills, slimming machines, wraps and creams BECAUSE I HAVE TRIED THEM ALL. After all these years, I know for a fact that ANY slimming treatment that does not require you to EAT WELL WILL NOT WORK, simply because it is not sustainable. On top of eating well, a key criteria to losing weight is improved metabolism, which will jumpstart your body's natural fat-burning abilities. CSH therapy™ addresses the root of most weight problems by improving your metabolism, along with your digestive and circulatory functions. An improved metabolism is the ultimate tool that will help you manage your weight with ease in the long run.
Am I losing fat or water?
This is a very important point to address. Treatments aimed at reducing water % (e.g. steam therapies) usually require you to limit water intake, thereby producing a much faster drop in weight. I was never required to drastically drink less water and I was still able to consistently reduce my weight and fat %.
It sounds so easy. Is there anything else about the treatments that I should know about?
I'm not going to lie, scraping is not pain-free at sensitive areas like the outer thighs. But the intensity felt differs from person-to-person. You can ask the therapists to reduce the strength applied but most times I just bear with it and it was over in minutes. Also, cupping is painless, but leaves light maroon cupping marks the size of 50-cent coins which fade in a few days. Wearing long sleeves solves the problem, and if you have an event coming up, you may request for them not to cup areas that will be exposed. Essentially to me, this is a small price to pay for 5kg of weight loss in less than a month.
Overall
My 5kg weight loss is not due to gimmicky quick-loss solutions which make me lose only water. In my 24 days, I have not had one cup of meal-replacement shakes which is not real food. I have not stepped into a sauna, had my body wrapped with cling wrap, or undergone any form of machine slimming. I have eaten with discipline, and the treatments at Absolute Slimming jumpstarted my metabolism and amplified my results by 3-5 times. If you can follow the meal plan, I am sure you will have great results, just like 99% of their customers.
I am very thankful to Absolute Slimming… they made me see light when I thought all hope was lost. Thank you for helping me become healthier for my baby! I am now still undergoing treatment and will update you guys of my progress again.
Special Promotion for Budgetpantry readers!
Quote "Budget Pantry" when you visit Absolute Slimming and enjoy 1 free body treatment worth $200 with the purchase of any package! This exclusive promo will end on 31 January 2017. Call today for a no-obligation appointment, or simply for more info. Like them on Facebook to know about the latest promos and see more success stories!
Absolute Slimming
Website: http://www.absoluteslimming.net/
Facebook: https://www.facebook.com/absoluteslimming/
Outlets:
Bugis Cube
470 North Bridge Road, #04-23
Singapore 188735
Tel: 68370640
Holland Road Shopping Centre
211 Holland Avenue, #03-14
Singapore 278967
Tel: 64630360
————————————-
Disclaimer: I was NOT paid to write this review. I was sponsored 8 treatment sessions, and if I didn't get good results, I was not obliged to write anything for them. My results are so good that I will be continuing the treatments until I reach my target weight. I am also deliberately taking a 2-3 week break in December to see if my weight will rebound after stopping the treatments.. I'll resume the sessions in January. Look out for my progress updates!
If you like my posts and updates, or would like to be informed of baby/cooking-related giveaways and promos from time to time…..
Like my Facebook page or follow @budgetpantry or @chuabeebee on Instagram! Yes, I just started an Insta account for CBB too!