Food review: Monochrome Fusion Bistro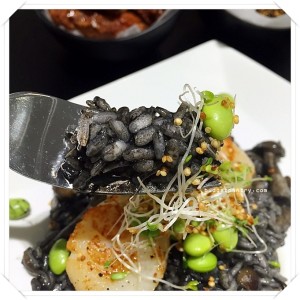 Invited review
Monochrome Bistro is a new café located in Chinatown, just a couple of shop houses from the popular Tong Heng. It is a black and white themed restaurant and many of its signature items have black and white influences, like the Squid Ink Risotto, B&W Meatballs and Black Velvet Cake.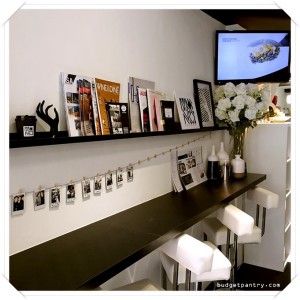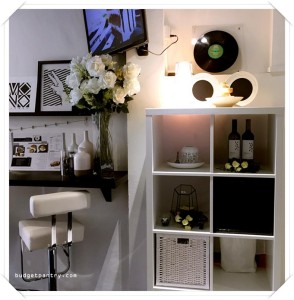 Being a foodie, I think a cafe should always focus on the food and think about aesthetics after getting the food right, instead of the other way round, i.e., making dishes fit into the design concept. But that's just me and maybe that's why I'm not a business person.
We went to the cafe at 3pm on a Saturday. We ordered a side, main, dessert and drink each. The meal also included Soup of the Day, which was (surprise!) mushroom soup that day. I don't know if it is just me, but when I hear 'mushroom soup' as soup of the day, I get real disappointed because that's what you would expect everywhere else. What about Cream of Asparagus, Cream of Tomato or Broccoli with a crispy cheese tuile? Anything but mushroom soup. I hope they didn't choose mushroom soup because its colour would fit into the theme but I suspect so.
For starters, the Monochrome B&W Chorizo Meatballs came highly recommended by the café manager, but because Jason doesn't eat beef, we settled on the Chicken Meatballs ($9.80) instead.
Described as "Handcrafted meatballs coated with black and white sesame, served with Japanese mayo and bonito flakes", the meatballs were moist and passable. I didn't think the black and white sesame crust would work, but they're ok. Every bit of ingredient that goes into a dish needs to have a purpose in taste, and again I suspect the sesame seeds were there for aesthetic/themed reasons. Jason's verdict: 7.5/10. My verdict: 7/10. Could have served it with something other than plain Japanese mayo, which was a bit predictable. I think the meatballs were better on their own.
And now for the STAR of the day: Thai Sauce Coated House Wings (9.80)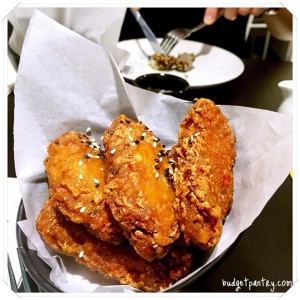 I love fried chicken. They're my #1 favourite food. And I have eaten A LOT of fried chicken. These were extremely good! Super crunchy mid wings with a slightly sweet sauce, almost like Korean wings but wayyyyy crispier and juicier. We didn't get any icky oily feel from the chicken wings, and they stayed crunchy even til the end of the meal. I could eat this everyday! Jason's verdict: 8/10. My verdict: 8.5/10. Ok, maybe 8.75.
For mains, we ordered Monochrome Squid Ink Risotto ($24) and Pan-Seared Barramundi ($22.80).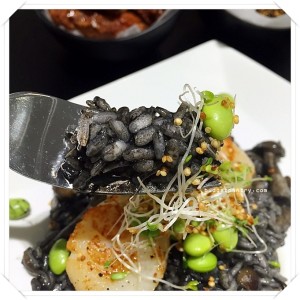 I have never been a fan of squid ink but Jason wanted to try it. I was concerned if the squid ink would come across too strong for an entire risotto dish, but the manager "allayed" my fear by saying we can't really taste the squid ink and "it's there for the colour only". Again, design comes first? Sorry, squid ink, you're but a design element. If you think I didn't like it, I actually did, taste-wise. The pan-seared scallops were perfect. The crunchy quinoa lent an interesting texture (I thought the chef was very clever – eating an entire plate of rice is hardly exciting) and the amount of parmesan cheese was just the right. Plus, the edamame beans were cute (I love edamame beans). The combination of flavours was enjoyable.. I didn't think I would like it (I'm not a squid ink fan) but the taste is quite good. Can't say the same for rice texture though. I would prefer the rice softer. I don't mean mushy, but don't go overboard with the al dente! Jason's verdict: 8.5/10. My verdict: 7.75/10.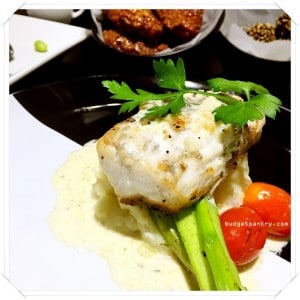 The barramundi was served with mashed potatoes, cherry tomatoes and asparagus in a Béchamel sauce (white sauce la, made of butter, milk and flour plus seasonings). Barramundi is dense and meaty, not delicate and flaky – and that's the way it is. This dish was also highly recommended so that's probably why I expected a little more taste-wise. The seasonings could have been more amplified but the fish was actually cooked very well. Jason's verdict: 8/10. My verdict: 7.5/10.
The desserts we tried were good. We asked the manager to simply bring us two of their best, and he presented the Black Velvet Cake, $8 and Chocolate Peanut Butter Tart, $7. I shall let the pictures do the talking.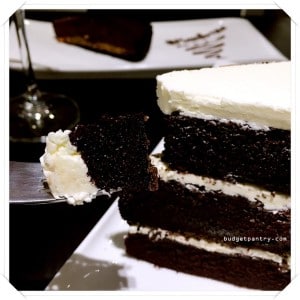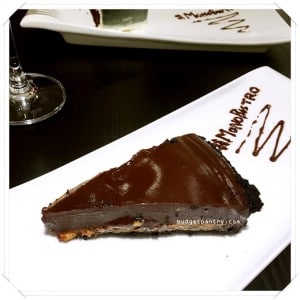 Extremely satisfying end to our meal!
Overall, I think Monochrome Bistro has some kinks to iron out but has potential in the way they constantly ask for feedback. I hope they manage to find an edge in this competitive cafe scene – and not just through their black and white theme. Something in their food needs to stand out because food is what makes us return. I'm sure I will return to try all their desserts, and if they have a fried chicken main dish which is as good as their House Wings!
Monochrome Fusion Bistro
291 South Bridge Road, 058836
(near Tong Heng Confectionery, Chinatown)
Reservations: 6221 1798
Mon – Thu: 11:00 am – 10:00 pm
Fri – Sat: 11:00 am – 12:00 am
Sun: 10:00 am – 5:00 pm
http://monochromebistro.com
https://www.facebook.com/monochromesg
(This was an invited unpaid review and opinions are my own.)