And I continue to lose weight at Absolute Slimming! 10kg and counting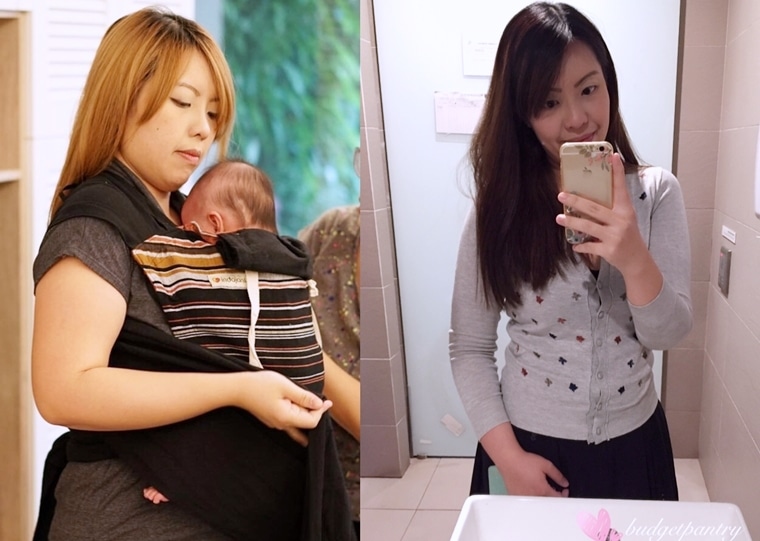 It has been a while since I last updated on the blog about my slimming progress at Absolute Slimming! Read my first entry if you haven't! But if you have been following me on Facebook, you would know that I have continued to lose weight through the holiday season (ok Christmas and CNY are so last century I can't believe it's already April!) even though I didn't follow the meal plan strictly. What's more, I stopped going for treatments again for 2-3 weeks in March when CBB was down with (and I was suspected to have) HFMD.

I'm quite amazed at how the weight started to drop again once I resumed the meal plan. Till date, I have lost a total of 10kg in weight, 46cm in measurements and a 5.6% in body fat overall! And I have never been hungry. My Facebook updates since January: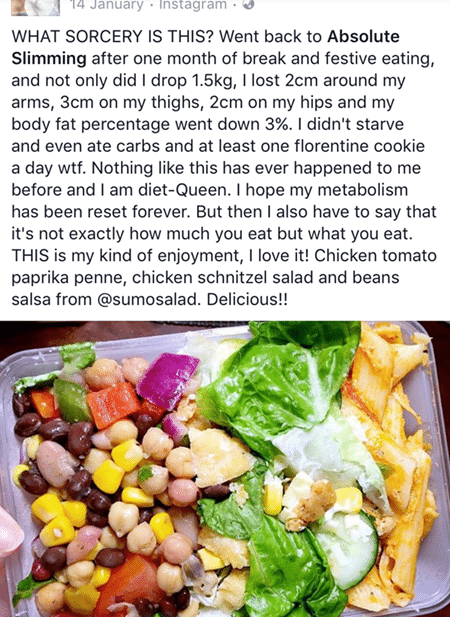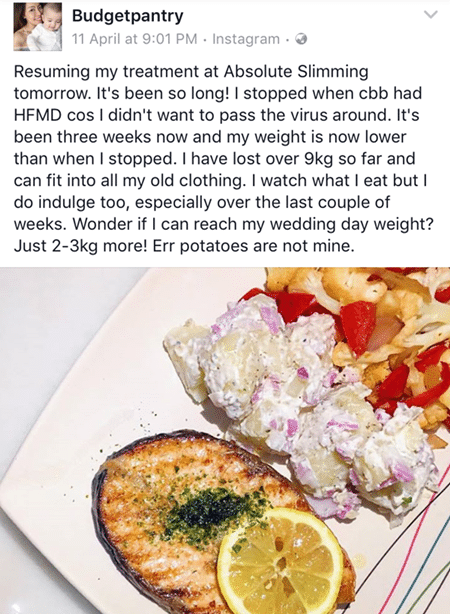 I was 74.1kg in November before starting the program. One month later, I became 69.1kg, and that was just before Christmas. I stopped going for treatments to see if the weight would rebound. It didn't, and through the festive eating I still lost weight. When I went back to Absolute Slimming mid-January (just before CNY hahaha), I weighed 67+kg. And it wasn't before long that CNY came and went. I did put on less than a kg during the CNY period, but as of last weigh-in in April, I was 64.1kg – a whopping 10kg weight loss since November. To know what exactly I do at each 1hr+ session, read my first post.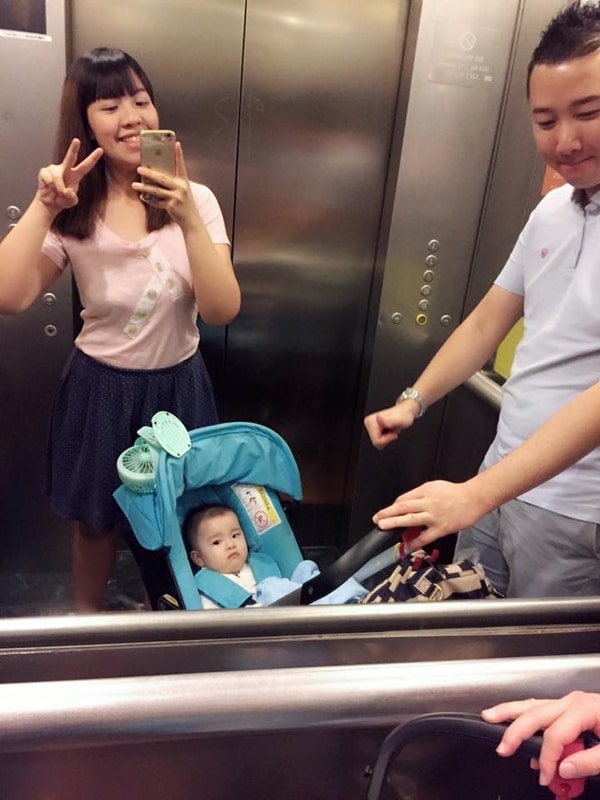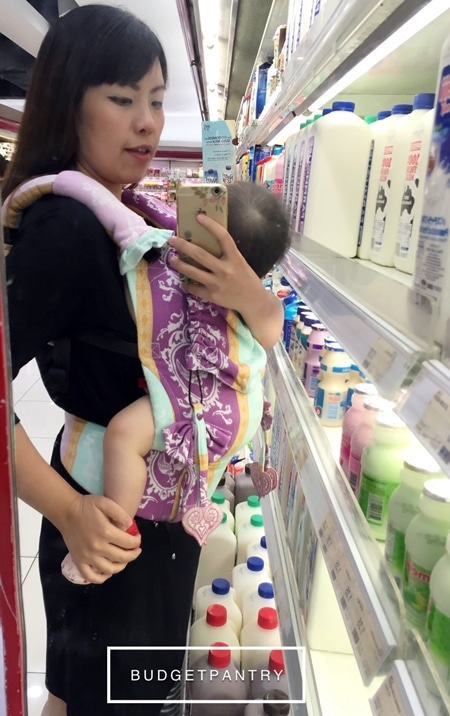 I can now fit into my old clothes! Not only is my weight coming down, I have lost quite a bit in fat % and my arms especially look way slimmer. And for many women, the arms are the most stubborn when it comes to inch loss! Here's my cm loss from Nov to April, which I can now monitor easily thanks to the recent launch of their 'MyScale' app: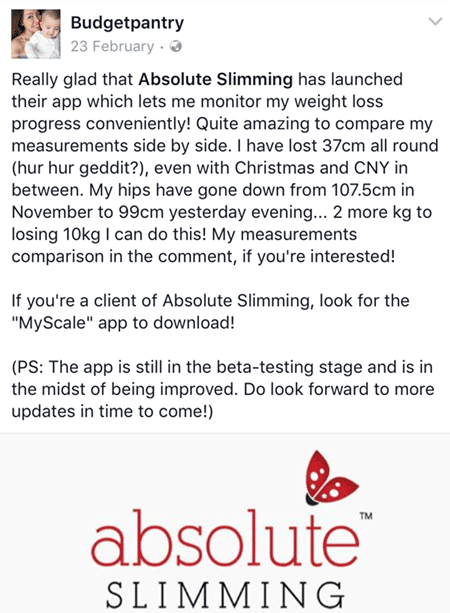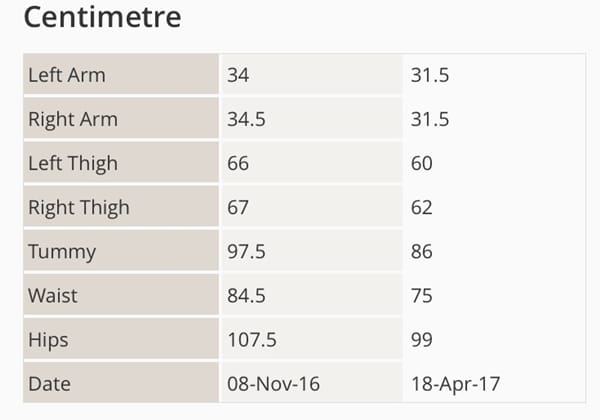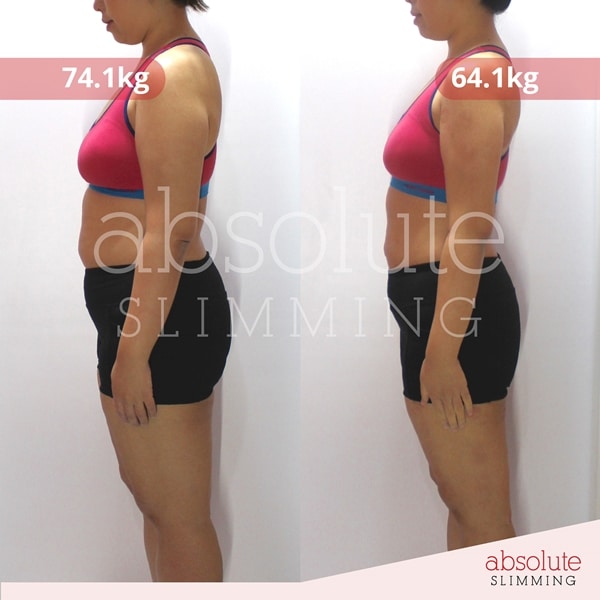 I'm far from being slim and am working towards losing more, but work and baby commitments have made it harder for me to go for consistent treatments (I now go once a week instead of the earlier twice a week). Still, a 10kg weight loss so far has changed and improved my everyday life for sure. I am more confident. I feel and look better. I don't feel heavy and tired as often.. which is perfect because taking care of CBB is the most exhausting thing I've had to do ever!
My initial target back then was 65kg. Now I have gone below it!
Absolute Slimming has recently revamped their website, switched up their uniforms, introduced a line of consistently-branded merchandise and launched their mobile app – all part of their year-long rebranding exercise (and it's just the beginning!). Why not start rebranding yourself and discover a new you today?
Absolute Slimming
Website: http://www.absoluteslimming.net/
Facebook: https://www.facebook.com/absoluteslimming/
Outlets:
Bugis Cube
470 North Bridge Road, #04-23
Singapore 188735
Tel: 68370640
Holland Road Shopping Centre
211 Holland Avenue, #03-14
Singapore 278967
Tel: 64630360
————————————-
Disclaimer: I was NOT paid to write this review. I was sponsored 8 treatment sessions initially (lost 5kg during this first round) and if I didn't get good results, I was not obliged to write anything for them. My progress was so good that we decided to continue with another 8 sessions to see how it goes. And sure enough, another 5kg off!
If you like my posts and updates, or would like to be informed of baby/cooking-related giveaways and promos from time to time…..
Like my Facebook page or follow @budgetpantry or @chuabeebee on Instagram! Yes, I just started an Insta account for CBB too!